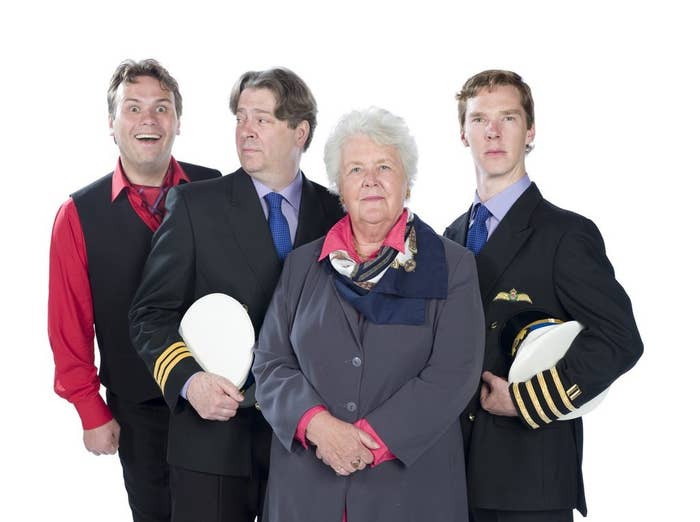 Cabin Pressure began in 2008 on BBC Radio 4 and follows the exploits of MJN air, a tiny airline with one jet, barely avoiding bankruptcy and closure.
The show follows the misadventures of Martin (played by Benedict Ubiquibatch) and Douglas (Roger Allam), two barely competent pilots who for different reasons have found themselves stuck with MJN air. They are joined by the innocently joyful cabin steward Arthur (John Finnemore, writer of the entire series) and formidable matriarch and MJN owner Carolyn (Stephanie Cole)
So far so good. But what makes Cabin Pressure quite possibly my favourite series, on any medium?
In a large part the writing:
Douglas: Your attention, please. This is an important message for all passengers hoping to fly to Nottingham: raise your ambitions.
The one-liners come thick and fast, and are almost without exception extremely funny. There are also longer flights of fancy, notably in the episode entitled 'Ottery St. Mary', after Arthur asks if Douglas knows the origins of the name:
Douglas: Yes
Martin: Do you?
Douglas: Certainly I do. You see St. Mary is the patron saint of Devon, and she, of course, was famously martyred by being eaten alive by otters.
Arthur: Really?
Douglas: Oh yes. Rabid otters. And so she's always portrayed in pictures absolutely covered in otters.
Arthur: What, eating her?
Douglas: Sometimes, in the more fire and brimstone churches. Elsewhere, the assumption is they're all in Heaven now and have made up, so they're just shown milling about her, nuzzling her affectionately and offering her ottery kisses and gifts of haddock.
Martin: Douglas…!
Arthur: Why would the otters go to Heaven, if they ate a saint?
Douglas: You've put your finger, Arthur, as is so often your way, on the crux of a thorny theological problem. So far, our best guess is simply that St. Peter's got a real soft spot for otters. He looks into those whiskery faces and goes "You guys, I can't stay mad at you" and lets them into Heaven.
This exchange not only highlights the constantly funny and clever script, but the completely believable characters that John Finnemore has created. The reason Cabin Pressure inspires such affection on my part is that the characters are fully fleshed out and completely human, their motives and desires are clear to the audience without having to be explicitly stated.
Each episode so far has corresponded with a letter of the alphabet: beginning with Abu Dhabi progressing through Douz, Gdansk, Qikiktarjuaq and Xinzhou, to name but a few, before making its final descent towards Zurich this Christmas. The episodes have been moving and hilarious in equal measure, and all have been, as Arthur would say, 'Brilliant!'