Mango Tart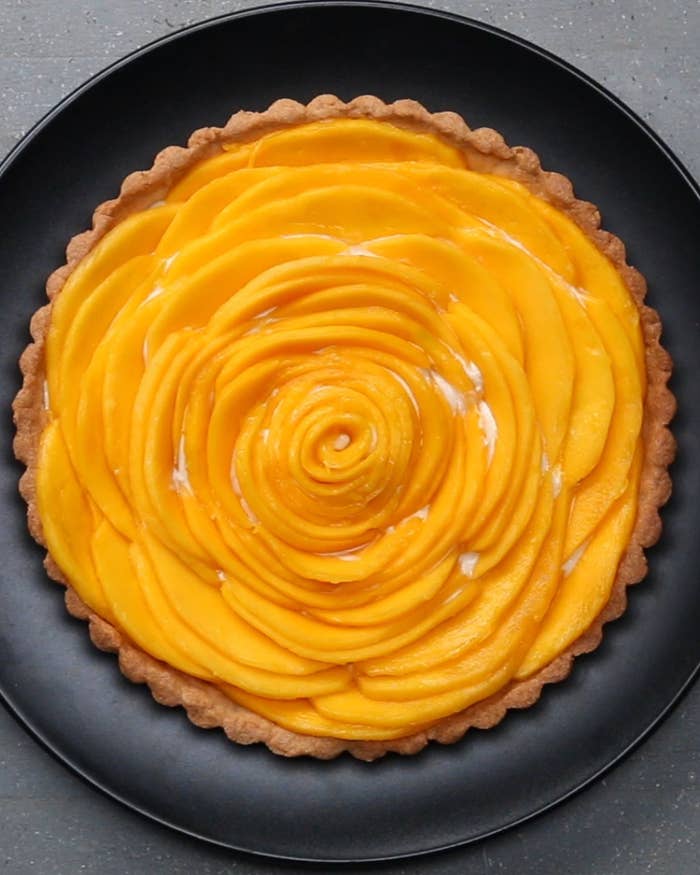 INGREDIENTS
Crust:
1 egg
½ cup butter, softened and cut into 1-inch cubes
⅔ cup sugar
2 cups flour
Filling:
2 mangoes
2 ounces cream cheese, softened
⅓ cup Greek yogurt
½ teaspoon orange zest
2 tablespoons sugar
2 tablespoons orange juice
1 teaspoon vanilla
PREPARATION
1. Preheat the oven to 375˚F/190˚C.
2. In a large bowl, beat the egg. Then add the butter and sugar and mix. Add the flour and mix until combined. The dough will be crumbly in your hand.
3. Transfer the crust mixture into a greased 8-inch tart pan one handful at a time, pressing it down to create an even, thin layer over the entire pan, about ¼ inch.
4. Prick the crust with a fork to prevent it from puffing up in the oven.
5. Bake the crust for 30-40 minutes, or until golden brown.
6. On a cutting board, cut off a half inch off the bottom and top off the mango to give it a flat base. Standing it upright, make exterior slices from the top to bottom to take the skin off. Remove the meat from the sides and thinly slice.
7. In a medium bowl, combine the cream cheese, Greek yogurt, orange zest, sugar, orange juice, and vanilla.
8. Transfer the yogurt mixture to the cooled tart crust. Starting from the outer edge, place mango slices in a circular pattern, making full rotations all the way to the center.
9. Chill the fruit tart for at least an hour.
10. Enjoy!