Birthday Cake Bottom Cheesecake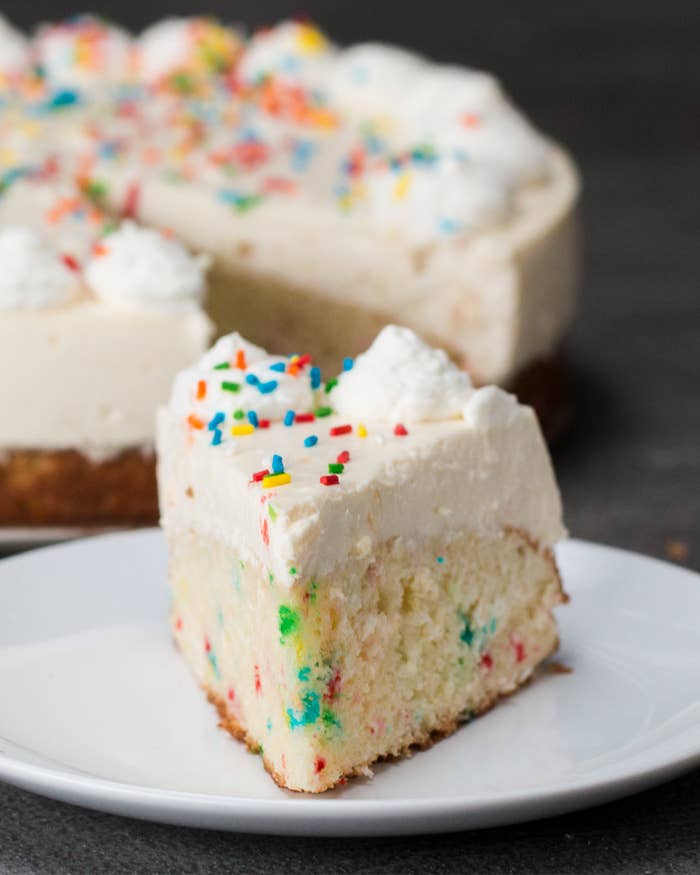 INGREDIENTS
Birthday Cake Layer:
1 box birthday cake, with additional ingredients according to box instructions
Cheesecake Layer:
32 ounces cream cheese, softened
1 cup sugar
1 tablespoon vanilla extract
1 cup milk
1 tablespoon gelatin powder
Whipped cream, to taste
Sprinkles, to taste
PREPARATION
1. Preheat oven to 350˚F/180˚C
2. Prepare cake mix according to the directions and pour batter into a greased springform pan.
3. Bake for 35 minutes, or until a toothpick will come out dry when inserted.
4. In a large mixing bowl, combine the softened cream cheese, sugar, and vanilla. 5. Whisk until combined.
6. Microwave the milk for 90 seconds, then whisk in the gelatin powder.
7. Pour the gelatin mixture into the cream cheese mixture and whisk again until smooth.
8. Pour the cheesecake mixture over the cooled birthday cake and chill in the refrigerator for at least 3 hours.
9. Pipe whipped cream along the edge of the cake, then follow with sprinkles all over the top.
10. Enjoy!