Steak and Lobster Dinner for Two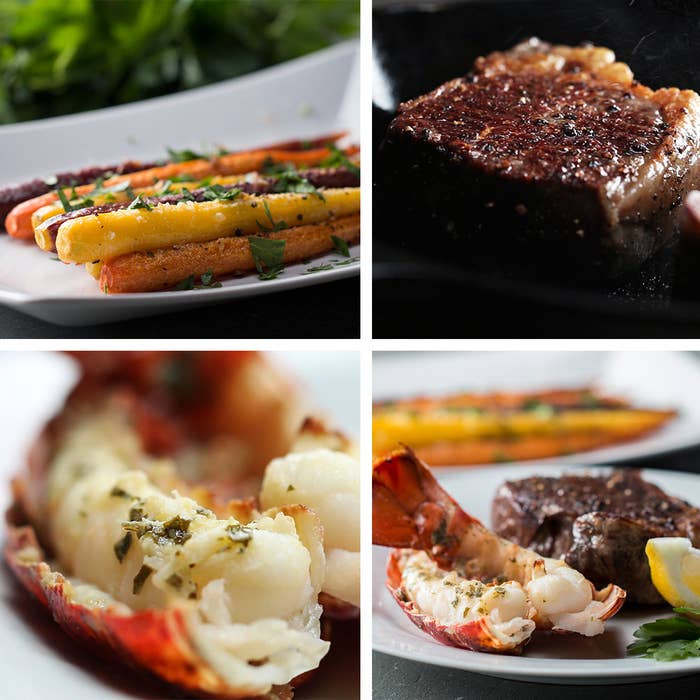 GARLIC PARMESAN CARROTS
INGREDIENTS
8 carrots
2 garlic cloves, minced
2 tablespoon butter, melted
1 tablespoon Parmesan, grated
Salt, to taste
Pepper, to taste
2 tablespoons parsley, chopped
PREPARATION
1. Preheat the oven to 400˚F/200˚C.

2. Peel the carrots and line on a baking tray lined with parchment paper.

3. In a small bowl, combine melted butter and garlic. 

4. Brush the butter mixture over the carrots and finish with salt and pepper.

5. Roast in the oven for 15 minutes at 400˚F/200˚C.

6. Top with Parmesan and roast for another 10 minutes.

7. Finish with chopped parsley.

8. Enjoy!
NEW YORK STRIP STEAK
INGREDIENTS
Servings: 2
New York strip steak, 2 inches thick
2 tablespoons butter
2 cloves of garlic, peeled
6 sprigs of thyme
Salt, to taste
Pepper, to taste
PREPARATION
1. Cut the steak in half and generously season all sides of the steak with salt. Cover and refrigerate for a minimum of 1 hour to overnight.

2. Preheat oven to 275˚F/140˚C.

3. Take out refrigerated steak 20-30 minutes before adding to the oven.

4. Cover the steak with freshly ground, coarse black pepper and roast in the oven for 30 minutes at 275˚F/140˚C, or until internal temperature reaches 90˚F/32˚C-95˚F/35˚C for medium-rare.

5. Heat canola oil in the skillet, and sear steak for 1-2 minutes then flip.

6. Add in the butter, garlic, and thyme and baste the steak with a large spoon for another 1-2 minutes.

7. Sear off the remaining sides to render off any excess fat.

8. Let the steak rest on a wire rack or cutting board for 10 minutes.

9. Enjoy!
GARLIC LEMON BUTTER LOBSTER
INGREDIENTS
Servings: 2
3 tablespoons melted butter
½ teaspoon salt
1 teaspoon garlic powder
1 tablespoon lemon juice
1 teaspoon parsley, chopped
1 teaspoon Dijon mustard
2 lobster tails
PREPARATION
1. Preheat oven to 450˚F/230˚C.

2. In a small bowl, combine together the butter, lemon juice, parsley, Dijon mustard, garlic powder and salt.

3. Cut the lobster tail in half, lengthwise.

4. Generously brush the lobster meat with the butter mixture and bake in the oven for 12 minutes, or until meat is cooked but not rubbery.

5. Enjoy!