Salmon Meal Prep For 2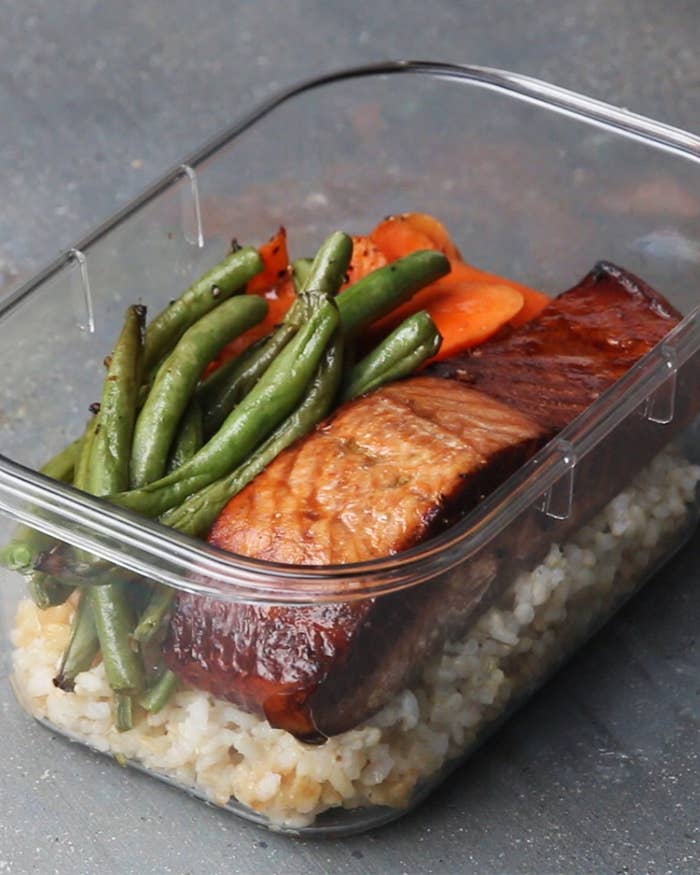 INGREDIENTS
Balsamic Soy Salmon:
½ cup soy sauce
½ cup balsamic vinegar
¼ cup olive oil
2 garlic cloves, minced
2 6-ounce salmon filets
Garlic Paprika Salmon:
1 teaspoon paprika
1 teaspoon garlic powder
1 teaspoon onion powder
1 teaspoon salt
½ teaspoon pepper
2 6-ounce salmon filets
Vegetables:
1 large carrot, thinly sliced on the bias
5 ounces green beans, ends trimmed
5 ounces asparagus, ends trimmed and chopped
1 medium yellow squash, chopped
Olive oil, to taste
Salt, to taste
Pepper, to taste
PREPARATION
1. In a square baking dish, combine the soy sauce, balsamic vinegar, oil, and garlic, and whisk to combine.
2. Put 2 of the salmon filets in the soy and balsamic mixture, making sure all sides are coated. Transfer to the refrigerator for 30 minutes, up to 2 hours.
3. Preheat oven to broil on high.
4. In a small bowl, mix together the paprika, garlic powder, onion powder, salt, and pepper.
5. Evenly coat the remaining 2 salmon filets with the spice rub.
6. Place the salmon and vegetables on a baking tray lined with parchment paper.
7. Drizzle olive oil and sprinkle salt and pepper to taste over the vegetables.
8. Broil for 11 minutes per inch of salmon thickness.
9. Divide the salmon and vegetables into 4 tupperwares, mix and matching the vegetables to your liking.
10. Enjoy!