This post has not been vetted or endorsed by BuzzFeed's editorial staff. BuzzFeed Community is a place where anyone can create a post or quiz.
Try making your own!
John Megrue; The Art of Maximizing Your Professional & Philanthropic Impact Simultaneously
As an active Business leader as well as active philanthropist, John Megrue's latest campaign BORNFREE strives to eliminate the transmission of HIV from mother to baby by the end of 2015.
There used to be a fairly consistent progression in the business world's approach to philanthropy. You would start a business, make your fortune and then, later in life, take that fortune and put some of it towards making the world a better place. With profits being the major driver of business, there doesn't always seem to be room for giving back at the same time.
John Megrue, however, strongly believes that business and philanthropy can and should be blended and giving back should not be left as an afterthought at the end of a successful business career. "I've always believed that you can't just separate; you can't do business for some period of time and then retire and go do philanthropy. There's a really important overlapping role for the two," John explained to Deepak Chopra when they recently sat down for a discussion on NEWSWIRE.FM's program ONE WORLD. "And there needs to be a specific time in everyone's career, regardless of your giving ability, to start to give back."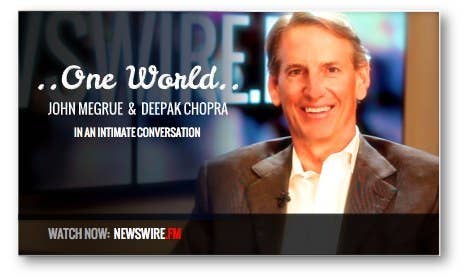 For John, giving back has been focused primarily on the fight against HIV/AIDS. He is a founder of the BornFree Campaign, which is a campaign the stop the transmission of HIV from mother to child at birth. "It's one of the great global health stories actually, over the last few years we had 600 thousand babies born with HIV per year…now we've gotten it down to 260 thousand babies born per year with HIV. That's an extraordinary success." But John doesn't want to stop there. He is confident that they can drive that number down further and virtually eliminate cases of children being born with the disease in the next three years and he has enlisted the help of some very famous mothers to achieve that goal.
BornFree is a collaborative effort that has brought together some interesting partnerships. John has asked Anna Wintour and Diane Von Furstenburg to be a part of Born Free and together they have approached 23 of the most famous fashion designers in the world, who are also mothers, to create products in their own style with the proceeds supporting BornFree. Designers like Victoria Beckham, Donna Karen and Tori Burch have all lent their designs to this cause; helping other mothers globally to ensure the health and wellbeing of their children. It is a cause that that all mothers can empathize with and John Megrue has provided these businesswomen with a platform from which to give back at the height of their careers.
John is paving the way for a new breed of business; one that measures success not just in profits but also in the ability to create lasting global change. By blending his passion for business with his passion for global health issues, he not only has been able to give back himself but has also allowed other savvy entrepreneurs to follow suit and assist in causes that they can connect with. Mothers, no matter where they live or work, no matter how wealthy they are, care deeply about their children. BornFree speaks not only to the connection between business and philanthropy but also the connection between mother and child. It's certainly a cause worth being passionate about.