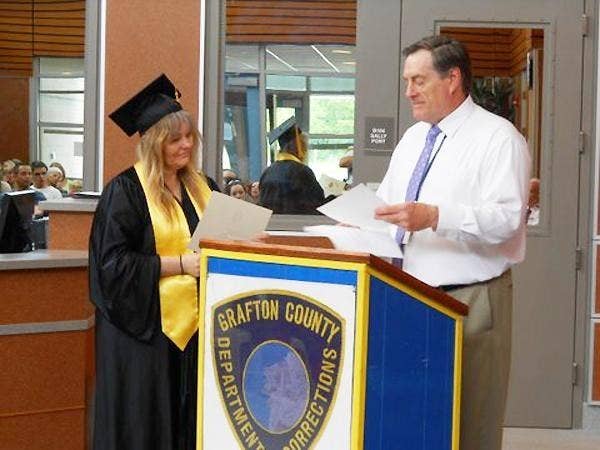 With undeniably green mountains serving as a backdrop to a picturesque New England landscape, you would think the audience gazing down over the sea of caps and gowns below were looking at soon-to-be graduates of Harvard, Yale or some other Ivy League institution.
Instead, a different kind of success predominates this part of New Hampshire, where stu-dents are forced to wear traffic-cone-orange jumpsuits and study from jail cells.
Grafton County Department of Corrections in North Haverhill (located 35 miles north of its more famous college counterpart, Dartmouth) prides itself on the number of inmates it is able to graduate from the state's new high school equivalency test called HiSET.
"We're the HiSET jail—we get inmates an education," said correctional educator Kenn Stransky. A teacher for the last 15 years (eight at the facility), Stransky has led numerous initiatives borrowed from more conventional education. To have a real impact on these students, it's about creating an education-focused culture, he said.
"A student is a student," says Stransky on how he views this particularly unique student body.
One such vision that has come to fruition, has been an alumni tutoring program, in which inmates who have earned their high school equivalency certificate help current inmates study for tests.
"I'm here only once a week, so that's a limited opportunity, but their inmate peers are here all the time and can provide continuous support," Stransky said.
Support for the success of the program and the education it provides the inmates goes be-yond those directly involved with the program. Everyone, down to each correctional officer, shares the responsibility to motivate inmates to enroll voluntarily and earn their high school equivalency degree.
"We want them to be a more prepared and a better person when they leave the facility," program officer Sgt. Mark Deem said. "Confidence that they could achieve something really makes a difference on whether we'll see them again."
Inmates tend to gain a sense of purpose by graduating from the program, which has been shown to reduce recidivism.
Bolstering that theory is a 2013 RAND Corporation study funded by the U.S. Depart-ments of Education and Justice that found inmates who participated in education programs have a 43 percent lower chance of recommitting a crime versus those who did not.
The facility's honor graduate during this recent graduation is 45-year-old Mary Howard. Howard said that coming from a broken home, hanging around with the wrong crowd and illegal substance use led her to drop out of school early. However, the support and encouragement she received from fellow inmates and the facility's staff kept her focused and driven.
"I have a completely different outlook on my future because there are more opportunities for me when I get out," Howard said.