1.
A transparent masturbator boasting a tight, convex, textured interior that you can twist, stroke, and watch through its case until you're finished. Your dick will feel just like a Fudgsicle when it encounters the suction on this bad boy.
Yes, it's waterproof, so go ahead and play with it in the shower.
Promising reviews: "I bought this as a way to spice things up in the bedroom with my partner. I was skeptical at first, as this was my first stroker toy. Well I was pleasantly delighted upon first use! I would recommend for anyone!" —Harry
"I had been skeptical and honestly nervous to purchase a toy for a long time. Not sure why... I regret not buying this years ago. Cleanup can be tricky. Yes you can just shoot water thru it via a faucet, but as you know, our sauce tends to thicken when water hits it. So even after a good while of cleaning, I was still getting 'bits' out. Also, I don't know if this could handle a larger fella. I'm textbook average and it really, really took a good push to go in. But once in, great googly moogly... feels extremely real, a little tight but that's absolutely not a bad thing. The suction gets a little intense, you can unscrew the back plate to allow for air flow, but be warned if you lubed it up good, you're gonna drip out the end. I had seen some users mention warming it up, that sounds nice. Personally, mine was quite cold at the time and that didn't feel bad at all. I immediately called my friends and sent share links for them to check it out. Cannot believe I went so long without getting something like this. My only fear, is I start purchasing other toys and they'll never compare. This thing really slaps." —Levi Burns
Get it from Amazon for $29.98 (available in three colors).
Want more? Definitely peruse this round-up of sex toys specifically for penises!
2.
The OG Magic Wand that's been delivering *relief* to loyal users for decades with two rumbly speeds and a simple single switch. Not to mention, the handle and size are perfect for when you want to get off, but it's too hot to move.
The OG Magic Wand is also formerly known as the Hitachi, just to avoid confusion. The same beloved classic is now available in Plus (an upgraded, corded version with multiple speeds), Rechargeable (cordless version with multiple speeds) and Mini (a travel-friendly, cordless version).
Promising reviews: "I had the original magic wand for a long time but was sad that it only had two speeds. I bought this because I liked the idea of a magic wand without a cord and with different settings. I was worried it wouldn't be as powerful as the original wand. It's actually better! With the different speeds and settings you can pick how powerful it is, even as powerful as the original. And so far the battery life has been pretty great." —A. Stott (on Rechargeable)
"I broke my vibrator two weeks ago. I've had that vibrator for many years. It was very sad. So, I decided to try the Hitachi out because of the reviews. It came today...and so did I. Oh....my....goodness. This thing is better than my last vibrator. Actually, I didn't realize I had started it out on the lower setting. Nothing was 'happening' and I was getting a little worried. Turned the switch to the high setting and . . . hello! It is a bit noisy but nothing like my last vibrator. Ladies, I would never recommend a battery operated device. They just don't cut it. And guys, my husband always says, the best gift a man can give his lady is a corded vibrator. He even rigged a nice little outlet in my 'naughty' drawer so it will always be ready. Now the attachments. I've never been one for attachments usually because they are just too small and don't do anything for me. However, the attachments for the Hitachi are substantial. I'll be using those from now on. I love my Hitachi!!" —D. Novak (on Original)
Get it from Amazon $64.99+ (available in four styles).
3.
A vibrating anal plug, featuring graduated beads and 16 vibration modes, so you can feel every little thing as you explore the rear. All for under $25!
Promising reviews: "Feels amazing going in and even better once it's turned on, the vibrations are enough to hit that special spot and leave you begging for more!" —Anonymous
"If you're looking for a product to send shockwaves through your body, this is it! This toy will keep you excited and pleasured for hours. Try it with your partner or enjoyed by yourself. You will not be disappointed!" —Jerome Monegan
Get it from Amazon for $20.99.
Into butt stuff? Here's a round-up of the best anal vibrators to keep that booty buzzin'.
4.
A palm-sized vibrator designed with a "tongue" that has nine vibrations and nine licking motions, meaning it can l-l-l-lick you from your head to your toes, but no really. If it's sweltering outside, the last thing you want is a sweaty face between your thighs — opt for this instead (unless sweat is your thing, I guess).
Promising reviews: "After my first use (shoutout for arriving in the mail charged) I came like NO OTHER! I didn't know how I was going to feel about the tongue but it reminded me of the best head I've received so obviously I was in love. I mean it when I say my first immediate thought was, I will no longer need a man because I have this toy. 😂 So if you wanna ditch your man, woman, person, and whoever else, this toy will keep you satisfied probably better than they can. 12/10" —TJ
"With the price of this I didn't expect much...but WOW. I am shocked at how awesome this little gadget is; so awesome in fact I don't even get two minutes in using before it's game over for me (in a really good way). It's easy to use alone or during intercourse for extra intensity (good lordy), waterproof, soft/smooth and easy to clean, charged fast and holds the charge for a shockingly long time. It has more speed/intensity options than I need but having the option to go up is nice. Overall very very happy I stumbled across this little gem." —Kieley Sue
Get it from Amazon for $39.98+ (available in four colors).
Check out this round-up for more sex toys that simulate oral sex!
5.
A hefty 8-inch stainless-steel dildo boasting a delectable weighted feeling if you want to treat yourself to a unique sort of pleasure. The metal design already makes this toy a chilly companion, but give it an ice bath before use and you might just squirt.
This stainless steel beauty weighs 2 pounds, so you'll definitely feel it.
Promising reviews: "Product will make your partner squirt. I would recommend pairing this with a Magic Wand as well. Problem my girlfriend and I encountered is it's actually too intense for her, and now she requires to be tied up, so I had to make a follow up trip to HomeDepot. Solid rating at 5/5, will spice up your intimacy time." —M. Allen
"Holy buckets of pussy juice! I had an experience with a lover who made me squirt. I was mortified! But then I began to think...what if I had been able to squirt my whole adult sexual life and never tapped into my own g-spot potentials?! I googled 'toys that make a woman squirt' and the Njoy wand rose like the Excaliber: shining and majestic. I read the reviews, clicked 'buy now' and squealed with delight when it arrived. It's heavy...only downside. Other than that...it has really intensified my sexual experiences...mostly with myself. I recommend this toy to all women. Harness your inner flow ladies!" —River Luver
Get it from Amazon for $72.
6.
A dual cock ring designed with stretchy silicone to help your penis-packing partner stay harder for longer, so you both get yours.
This versatile ring can be worn in several ways: solely on your dick, one ring wrapped around the D and the other around the balls, or wrap them both around your balls! Pick your poison, it's your pleasure!
Promising reviews: "Just buy it now! This item has increased everything! Made this guy feel like a like a 20-year-old bull again! It was stretchy yet tight, and the rubber material is soft to the touch — not like a rubber washer, which I was expecting. Very easy to clean and no weird rubber smell some toys have. I can say this left a lasting impression on my wife." —JohnH
"I loved the product! Works amazing and is comfortable to use but after a while it becomes bothersome. I would put some lube around the area where it will be on to help with that. It was sort of too tight for me at first but then it let up somewhat. It is very soft and easy to use. I can definitely tell the difference when I use it and creates more sensation." —BDogg
Get it from Amazon for $8.99 (available in two sizes).
If you're only interested in putting a ring on *it*, then definitely check out this round-up of cock rings to introduce into your play.
7.
A dapper penguin clitoral stimulator designed with Satisfyer's unique air-pulse technology for non-contact suction and pulsation sensations at 11 different intensities. Whip out the penguin on those days when just thinking about something cold helps cool you down...the pleasure is just an added bonus.
It's also waterproof and makes a perfect go-to bath toy that no one would even suspect.
Promising reviews: "I was a little concerned at first about this toy not working out for me. I'm a transgender man and I've been on hormones for three years. When you transition from female to male you uhh.... experience some growth below the belt. Being on testosterone for so long, I've gotten most of my downstairs growth done. As a result, finding toys that conform to my new anatomy are hard to come by, especially 'male' toys that I'd like to use but don't have the length or girth to be able to use it. Beyond buck angels toy line there's nothing out there for guys like me who wish to engage in intimate activities that do not trigger dysphoria. Although this is a toy geared towards women, I highly recommend this to other trans/nb guys like myself whether you're pre/non T or on T, especially if penetrative sex is not something you're comfortable with! I also recommend this for guys like me who've been on T for a while and want more toys. I was worried the opening wouldn't be deep or big enough since it's tailored to cis women's anatomy, but as a trans guy on the above average side of things, trust me, you'll fit!" —Skyler
"I was a bit nervous that my growth would be too big to fit in the hole, but it was just the right size! (I've been on T for 3.5 years.) I have been trying to find a toy like this for so long. I came so quickly it was unbelievable. If you are a trans guy, (or not), I couldn't recommend this product more." —Kindle Customer
Get it from Amazon for $49.90.
8.
The powerful Ollie wand vibrator that boasts eight vibrating speeds and patterns for you to explore through its flexible, waterproof silicone head. Important to note that this vibe is rumbly, not buzzy. Enjoy it as much as you enjoy standing in front of the freezer on those ridiculously hot days.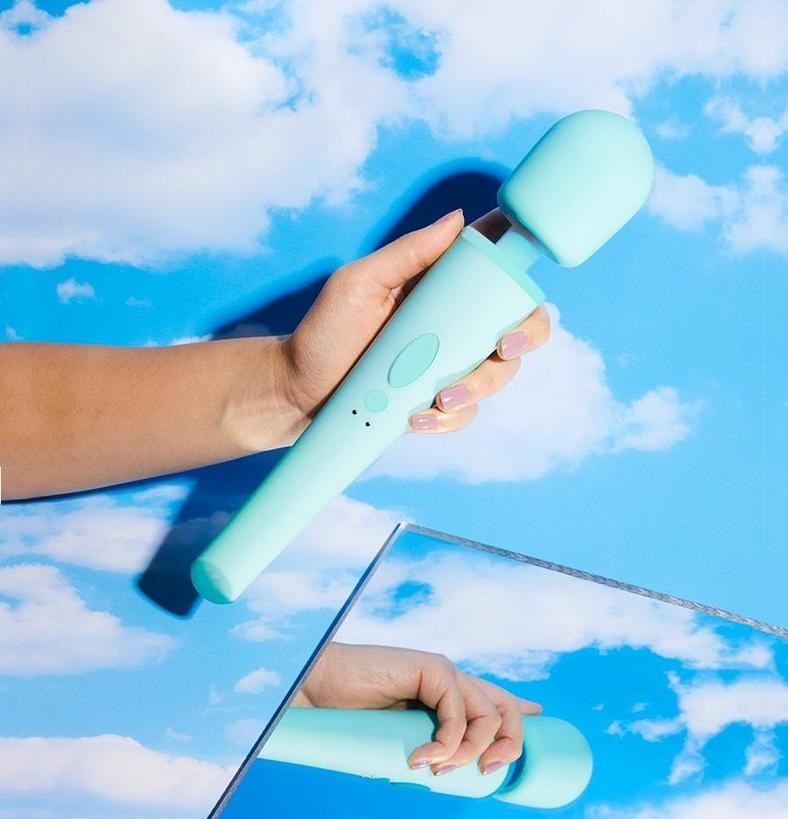 There's also a glow-in-the-dark version of this wand, in case you like to do it with lights off.
Promising reviews: "Y'all, this thing is the TRUTH. If you are looking for a quiet or small vibe, Ollie is NOT the one, but dear god, it's worth the noise and foot-long stature. It has (from what I've experienced so far) fairly powerful vibrations, which is great if you're like me and need the bean jackhammered. One feature I really like is how big the 'head' is—it covers a lot of area, which diffuses the vibrations and takes things from overwhelmingly intense to pleasant and comfortable. The battery life is also really good- i can get a good few uses out of it before I charge it again. The only thing I don't like is the volume level, because I have roommates, but that's necessary given the level of vibration/product quality. If you're a fiend for a good wand, i'd absolutely buy this. It slayed 100%." —Evelyn
"My partner and I both love Ollie so much, we consider them a part of our polycule. We are trans/enby and have trauma where sex is concerned, but with a little (a lot of) communication and this toy, we have had some of the best sex either of us have EVER had." —L.L.
Get it from Unbound for $76.
9.
The Jubilee clitoral-licking butterfly, which has nothing to do with X-Men and everything to do with pleasure via dual stimulation from its nine vibration settings and 10 "licking" modes. That means it creates the kind of orgasm that makes you see fireworks.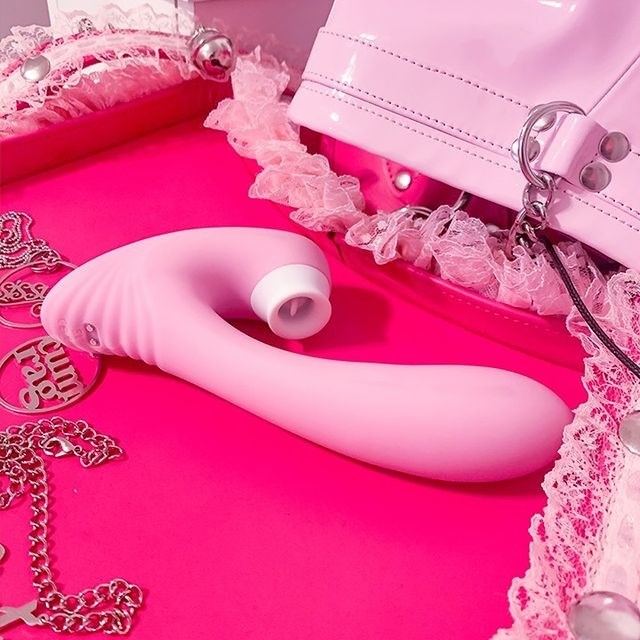 @honeyplaybox / https://www.instagram.com/p/CK2hZcKLAuz/?utm_source=ig_web_copy_link
Promising reviews: "Long story short, this thing had me climbing the wall LOL! Because of the suction, it is hands-free. The 'tongue' is surprisingly soft and flexible. It looked like hard plastic initially. But it definitely does the job, whether on the nipple or clit. Highly recommend." —Atalanta_J
"I am not sure why this product doesn't have more reviews, but oh my GOD, I just thought I'd share my personal experience. Hands down the best sex toy I've ever used. This made my body do things I didn't know I was capable of. If you are considering purchasing this product, take this review as your sign to purchase. I promise you and your body will NOT regret." —Sadie
Get it from Honey Play Box for $68.99 (originally $109; available in pink and purple).
Honey Play Box is a sexual wellness company in California run by a group of sex educators and self-proclaimed lesbian meme queens who are passionate about all things pleasure being positive, inclusive, and accessible.
10.
A classic rabbit vibrator by PlusOne with 10 vibration settings and dual motors, so you can feel everything in the shaft and external tip. So, basically this is the Strawberry Shortcake of rabbit vibrators.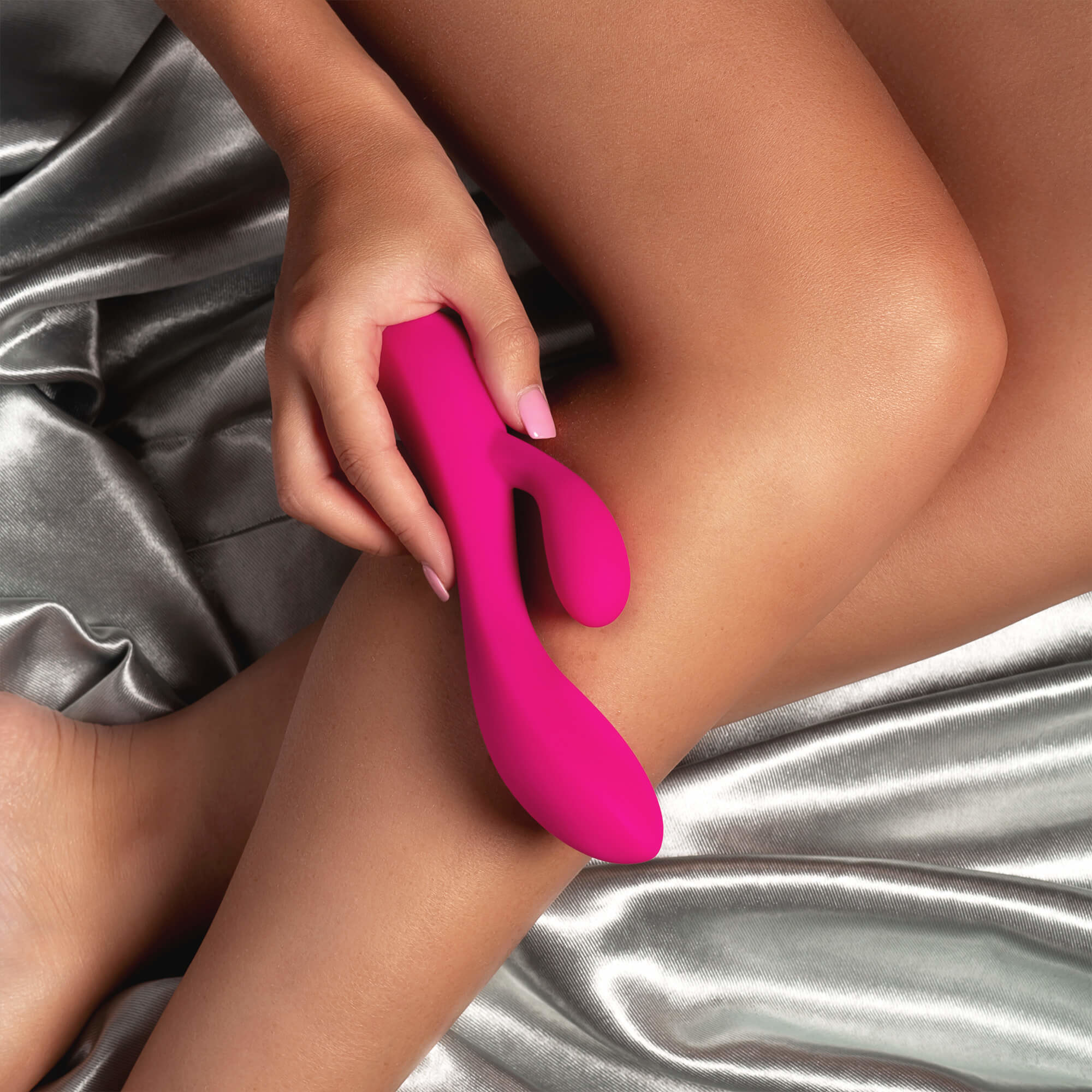 Promising reviews: "I bought this as a break-up treat for myself because I was getting depressed and horny, which is a terrible combination. It ended up being one of the best purchases I've ever made. I don't even want to call it a toy, it's more like an appliance for everyday living. Magnetic rechargeable internal battery (yeah, no scrambling to find the remote when you need battery life), multiple settings (separate for the main shaft and the clitoral stimulator LIKE THEY KNEW WHAT A CLITORIS IS!), and pretty easy to clean (some ridges around the buttons take more than a quick swipe, but nothing to cry over). I squirted for the first time in a decade. I literally wept. This thing is magic and the future is now." —Rachel Foster
Get it from Amazon for $27.99.
11.
A flexible vibrating butt plug that'll sync to the beat of your favorite songs, mimic your own custom patterns, or buzz along to user-created vibration modes already on the app. TBH, you could use this remotely so you can monopolize the window unit in one room while your boo gets the rotating fan in the other...just saying.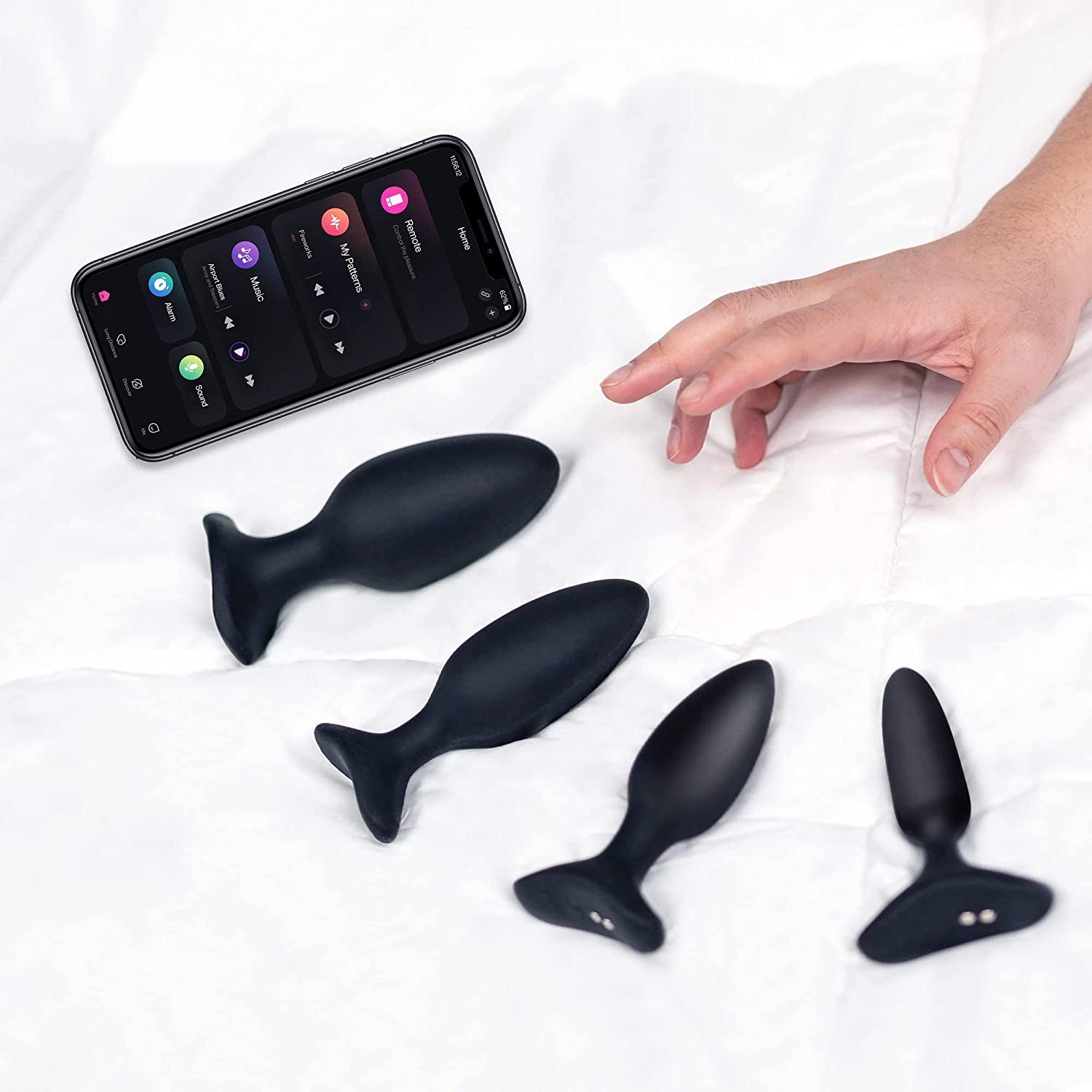 Supple, body-safe silicone offers a waterproof exterior and a flared base helps the plug stay put.
Promising reviews: "Exactly as described, and exceeded expectations. This is a great buy for individual's who seek self satisfaction. This (Multi Pattern Vibrating) plug is also a fantastic idea of fun for couples who look to spice things up a bit. Personal Care Products couldn't get any better. Extremely happy with this purchase, and look forward to purchasing more products by this brand." —William Gardener
"We have had a great time with this. I bought the largest and it took a bit to get used to it. We are a couple of states away from each other and he has had a great time setting me off while I'm at work or doing things around home. The vibration is very intense at the highest setting and at the lowest just keeps you on edge. Being made of the material that it is, you have to keep it clean and let it air out, so it doesn't smell if you get any fecal matter on it. Definitely recommend!" —JayyDee
Get it from Amazon for $89+ (available in four sizes).
12.
A high-tech oral simulator with Airflow technology for stroking and sucking sensations at 10 different intensities. It's like a real mouth, minus all of the blah blah blah.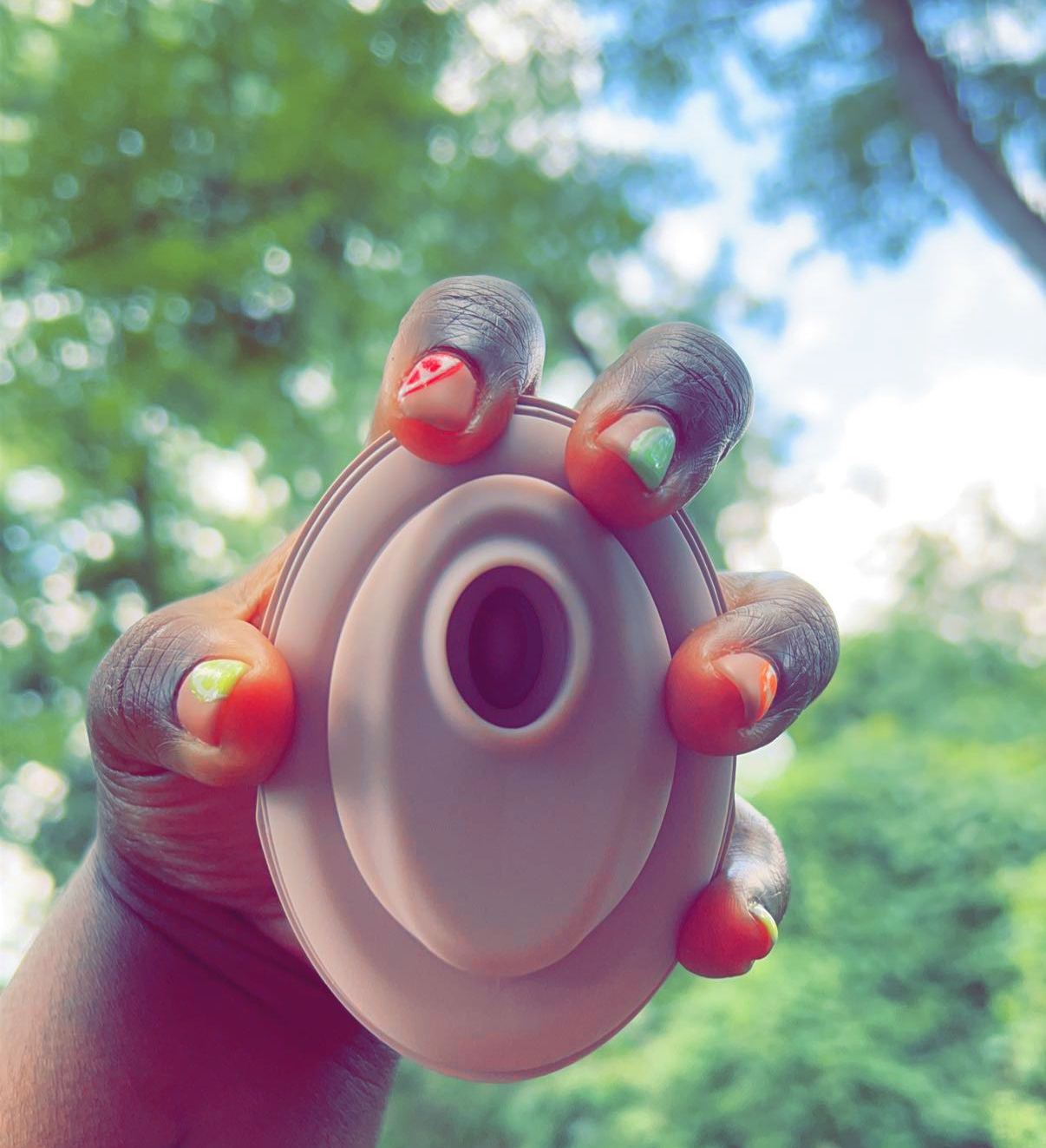 BTW, it's waterproof!
Promising review: "I love this toy. It's extremely intense. I'm on T therapy and have experienced a lot of clitoral growth and size over the past two years. So when I saw how big the opening was I couldn't wait to try it. I enjoy my clit being highly stimulated. Which the Baci does well. I could actually use a few more higher settings. Maybe a turbo in the controls. I'm looking forward to my nights alone." —Miguel R.
Get it from Lora DiCarlo for $140 (originally $160).
13.
A Jack 2-in-1 stroker and packer, boasting representational hues and a ribbed cavity that provides suction to the wearer for a stimulating stroke session. This is a great option for any FTM who has ever wanted to be slurped up like an ice pop on a hot day.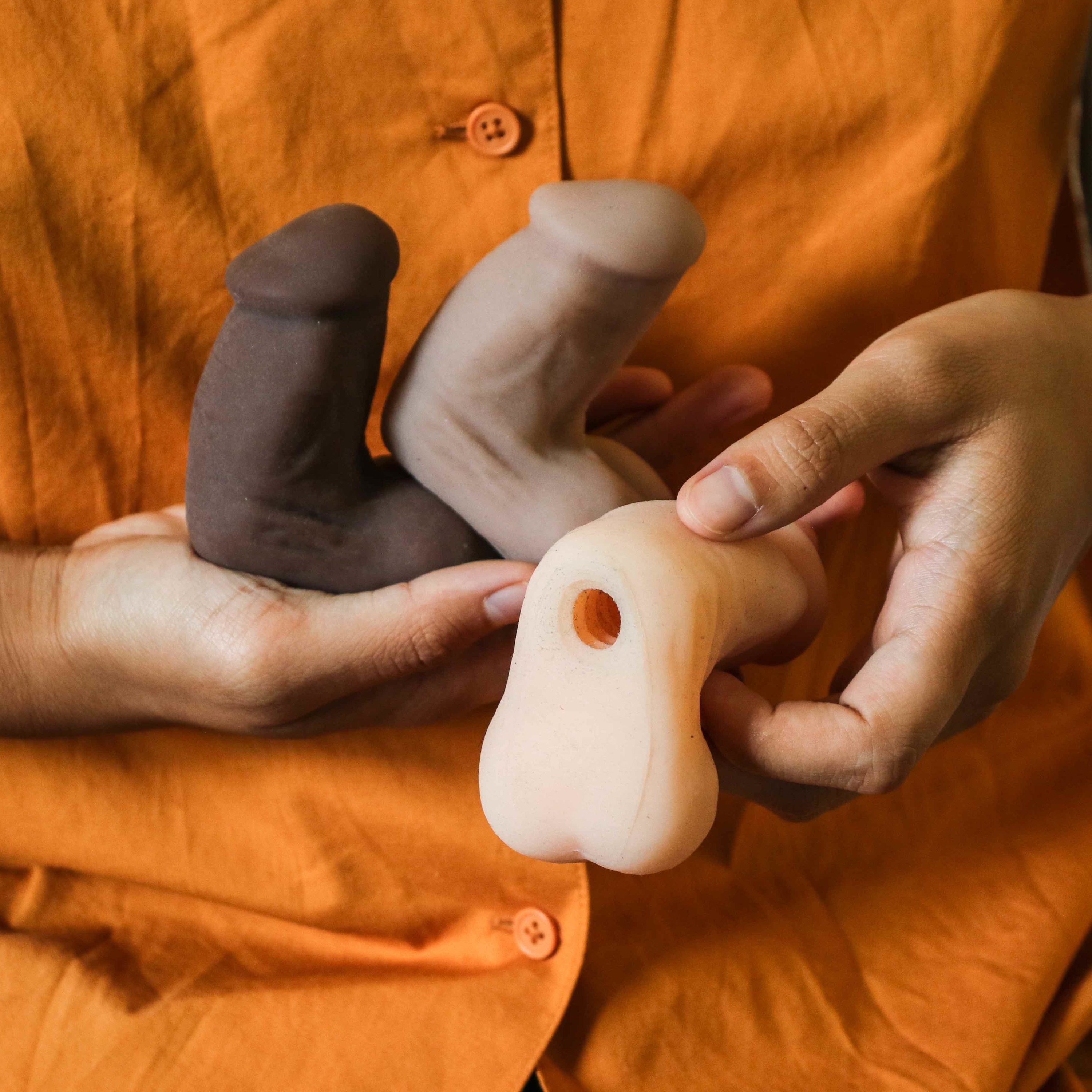 For packing, it's recommended to be worn with a strap-on / harness, so that it stays put. The stroker cavity stretches and works best for anatomies at least 0.5" in diameter because it will create suction, any smaller and the suction will not be activated.
Promising review: "My partner and I used the Jack yesterday. They are trans masculine and three years on testosterone. We used it in two different ways. The first way, I used a nice amount of lube, opened the stroker and suctioned it and stroked. It worked best with reinforcement by hand. Most FTM strokers we come across seem as if they are designed for trans masculine folks who are more developed growth-wise physically. With that being said we improvised and the toy wound up giving amazing results for my partner. They give it a 9/10 and said that they are interested in seeing this develop in different shapes and sizes. I also suctioned it, applied pressure with fingers and performed oral sex. He said it was very pleasurable to be able to receive head and have the point of view visual that Jack creates. It helped with his dysphoria." —Summer
Get it from New York Toy Collective for $59 (available in four fleshtone hues).

New York Toy Collective is a Black- and queer-owned retailer that creates high-quality, gender-affirming intimacy toys and products, ranging from packers and binders to dildos and accessories.

14.
A dual-stimulating vibrator with 10 vibration settings and 11 intensities, not to mention innovative suction technology that stimulates your clit all the way to nirvana.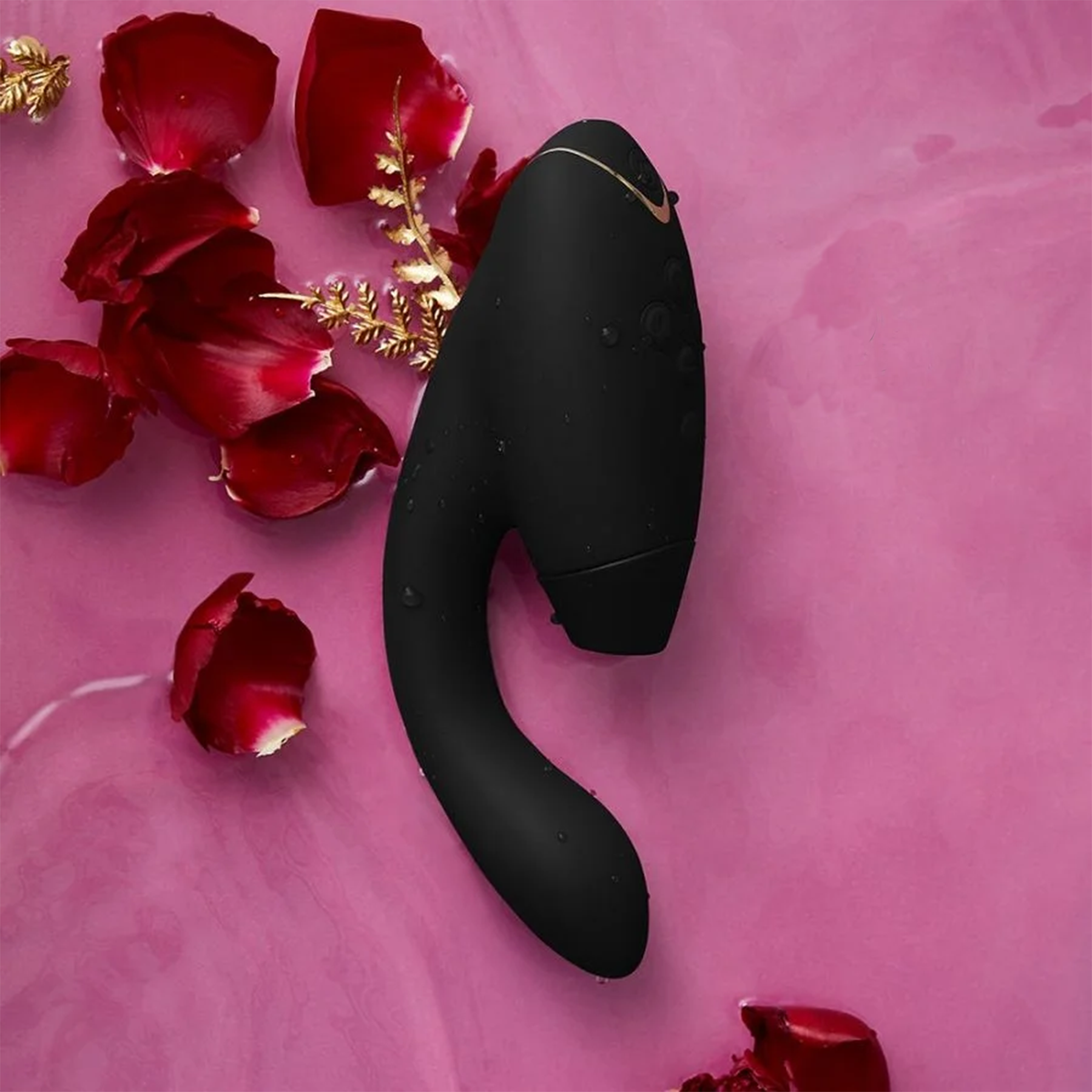 It also has Smart Silence technology, which means it turns itself off when not touching your body. And it includes a secondary suction tip, to make sure you have the perfect fit for a custom (kinda) blended orgasm. 
My colleague Taylor Steele owns this toy and loves it, saying it's definitely worth the price: "This is the toy that, if it somehow went missing, I'd probably die. I'm. Serious. I love the size and feel of the Duo. Its 12 pressure *and* vibration modes leave nothing to be desired...because everything you could want is right here in one luxurious package! And I love that it senses when it's no longer needed and goes into sleep mode (until I'm ready for more, of course)! Please treat yourself to this toy. It *will* make your life better."
Promising review: "Worth every penny. I have owned of the original Womanizers since 2015 and it worked without fail until recently, so I didn't have a problem spending the 200 bucks on this one because I knew that the quality would be unmatched. I'm very happy to report though that the Duo outperformed my expectations and I'm looking forward to enjoying it for a few years to come. The Duo is top-notch, however if it doesn't look like the toy for you, you really can't go wrong with the Womanizer brand." —Rachel
Get it from Womanizer for $219 or Amazon for $214+ (available in four colors).
15.
The scintillating Satisfyer Pro 2, boasting 11 intensities of no-contact clitoral or T-growth stimulation, so you can ride wave after wave of pleasure. The heat is coming from your undercarriage. 😳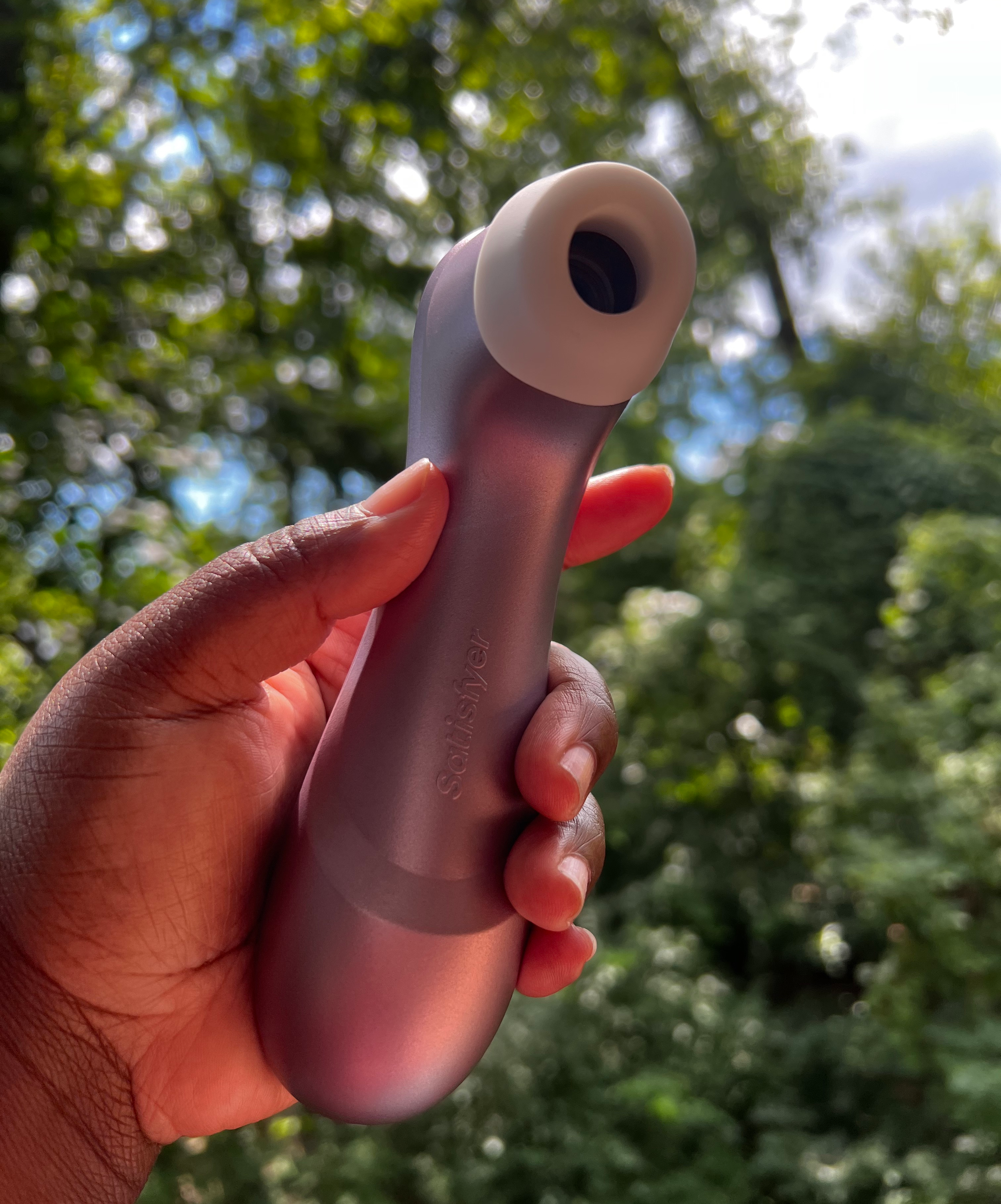 There's also a more in-depth review written by an Intersex Male person, if you're interested.
Promising reviews: "There aren't many reviews on here from trans men, so I thought I'd throw my opinion out there in case there are other guys out there looking for something to spice things up. This toy is heavenly. It works well on many different parts of the body, and I have had fun exploring different places to try it: clitoris, nipples, etc. I love the simplicity of the vibration settings. You can turn the vibration up one level at a time, making it easy to build up to a climax slowly, or you can jump up multiple levels and get things done quickly, if that's your thing. I am so glad I bought this toy, and when this one finally dies, I will buy another one. I've had it for a couple months, and it's held up great. 12/10, seriously recommend this product for anybody with a clitoris. You will NOT regret it." —a. b.
"When I first tried it, I thought it wasn't so great. I gave it a few more tries, and now I LOVE IT. The secret for me was to start off at the lowest setting and gradually work up. I can easily have 3 orgasms back to back with this little device. Highly recommend. You won't be sorry!" —Satisfied Woman
Get it from Amazon for $38.95 (available in three colors).