The movie, which starred Maddie Ziegler in the titular nonverbal role, was met with considerable backlash from the moment its trailer was released. The movie itself was further called ableist and has a 7% on Rotten Tomatoes, with one review calling it "offensive and poorly judged."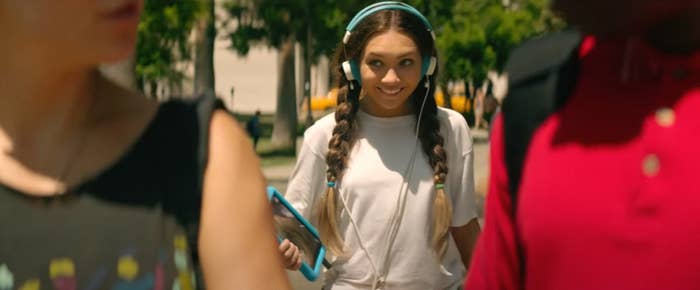 One of the major points of criticism was over Maddie's casting, rather than an autistic actor. It reached the point where Sia even responded to one autistic actor who accused the movie of making "zero effort to include" people with autism by writing, "Maybe you're just a bad actor."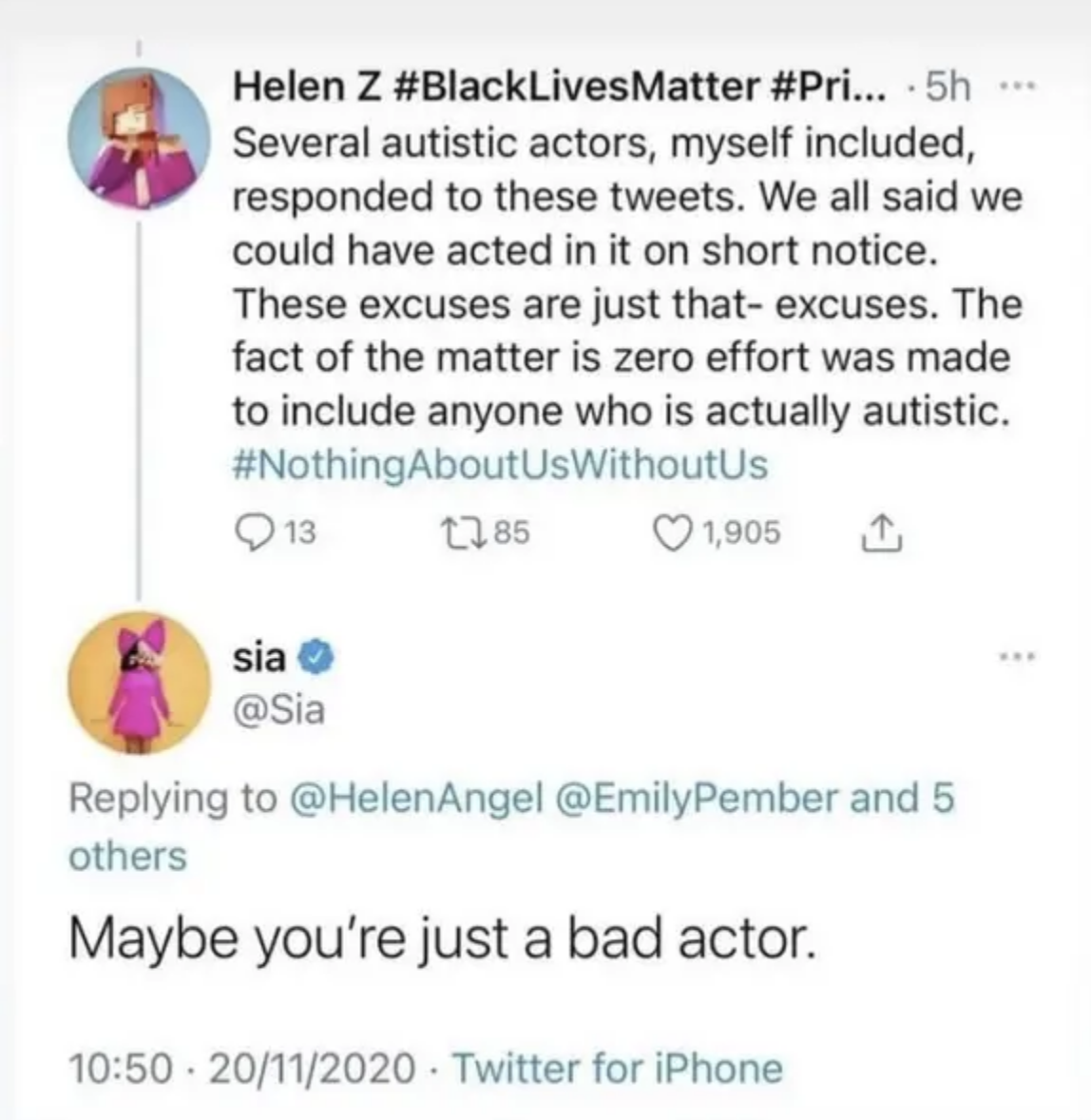 After revealing earlier this year that she was diagnosed with ASD, Sia spoke about Music in an interview with Zane Lowe. "It took me 20 years to make that movie. I wrote the music and wrote the film with my friend, and it took me 20 years of thinking about it and then five, six years to make it and then edit it. And then I got into a stupid Twitter spat with somebody autistic," she began.
Sia then said that the online storm led to her being diagnosed with autism: "Kathy Griffin, one of my friends, said to me, 'I think you're autistic.' And so I went and I had a neuropsych eval, and it took 18 hours over the course of like five, six days. And it turned out that I'm a level 2 autistic."
When Zane then said that Sia's own autism was likely why she was drawn to the movie's "subject matter," Sia replied, "What was extra funny was someone said, 'I should have gotten Maddie's part, these are the parts I miss out on that I should get.' I just wrote back, like an arsehole, 'Maybe you're not a very good actor.'"
When it came to people accusing her of being "ableist" for her response, Sia told Zane, "Actually, I think it's the opposite of ableist. I think I just treated her like I would treat anybody on the internet."
"Of course, when it comes out that I was just speaking to a peer, oh the irony! It was so interesting," she continued, going on to attribute the online "negativity" to QAnon, Reddit, and algorithms. "I thought it was my fans and that they hated me, that they had turned against me. But actually, it was people pretending to be my fans that turned against me."
Zane then affirmed that "the movie will forever exist" and said that people will view it differently with "time." Sia agreed and said, "I think it will have a little renaissance, that would be really nice."
Here's the thing: Sia and Zane chalking criticism of Music to Twitter nonsense over Sia's own neurodivergence feels willfully ignorant at best. Regardless of whether or not Sia responded to an autistic actor like an "arsehole," it doesn't change the fact that a neurotypical actor played a role that numerous people, professional critics included, deemed offensive, stereotypical, and even harmful.
On the note of harm, the movie shows the use of prone restraints, a sometimes-deadly technique that has been used to restrain autistic people. While Sia said that she would ensure that the scenes were removed and a warning was added, the scenes are still present in at least the Amazon Prime version. "I am not [hurting her], I am crushing her with my love," Leslie Odom Jr.'s Ebo says while restraining Music. Numerous autistic children have died from prone restraints.