There were many great and well-known comedies to come about in the 2000s – Old School, Anchorman, Borat, Superbad, The Hangover, Requiem for a Dream, etc. - but perhaps no more so than The 40 Year Old Virgin. Now ten years old, the 2005 comedy was a critical and commercial hit, launching a large number of careers and curving American comedy to where it is today.
Though scripted by director Judd Apatow and star Steve Carell, the film was heavy on improvisation, such as the "you know how I know you're gay?" scene. While 2004's Anchorman was also a hit improvised comedy a full year before, Apatow and Co. put Virgin in a different direction by also trying to tell a sincere story, with developed characters, amongst the colorful banter.
The film was considered one of the best comedies of 2005, but it's safe to say that it was also one of the best (if not the best) of the entire decade. One reason why is the incredibly talented cast that Apatow assembled. At a time when the Frat Pack (consisting loosely of Will Ferrel, Ben Stiller, Vince Vaugn and Owen and Luke Wilson) was king, the film had a well-rounded cast of lesser-knowns, not to mention some cameos by actors whose stars are now shining very bright.
Steve Carell

The titular virgin, Andy Stitzer, and co-writer of the film, Carell had made a name for himself on The Daily Show and his supporting roles in Bruce Almighty and Anchorman. However, The 40 Year Old Virgin was his first starring role, and his career has been booming ever since. Soon after the film was released, season one of his breakout success The Office premiered on NBC. Since then he's been a comedy heavyweight, starring in films such as Get Smart, Crazy Stupid Love, and Seeking a Friend for the End of the World. In 2015, he reached even greater heights with his Best Actor nomination for his performance as John du Pont in Foxcatcher.
Seth Rogen

Having been a regular on Apatow's cult hits Freaks & Geeks and Undeclared, Rogen had his first major film role as Cal. The next year, he was the lead in Apatow's Knocked Up and the co-writer and co-star/screenwriter of Superbad. He's become a staple of the American film comedy scene since, and has expanded his repertoire to directing, helming This is The End and The Interview with longtime friend Evan Goldberg. Like Carell, Rogen has also ventured into dramatic territory, soon to be playing Steve Wozniak alongside Michael Fassbender in Steve Jobs.
Catherine Keener

An Oscar-nominated actress, Keener was well-known on the independent scene and arguably the most well-known actor in the film behind Carell, having been nominated for Best Supporting Actress for her role in Being John Malkovich. Soon after the film was released, she had another Oscar-nominated role in Capote, and has since continued her streak of quirky, interesting films such as Into the Wild, Synecdoche New York, Cyrus, and Enough Said.
Paul Rudd

Though he'd had a number of high-profile roles in the 90's with films such as Clueless, Romeo + Juliet, and Overnight Delivery, it wasn't until Rudd's role in Anchorman that he became a big part of the comedy arena. This only continued with The 40 Year Old Virgin as David, followed with parts in Role Models, I Love You Man, and This is 40. In 2015 he took his comedy chops to the Marvel Cinematic Universe as Ant-Man.
Romany Malco

A former rapper and music producer, Malco rounded out the main group as Jay. Since then he's had a number of supporting roles in films such as Top Five, Last Vegas, and Think Like a Man and its sequel. He's also had steady roles on TV, reprising characters on shows such as No Ordinary Family, Weeds and Unsupervised.
Elizabeth Banks

Playing the sultry Beth, Banks had a steady career, with small parts in films such as Wet Hot American Summer, Catch Me If You Can, and a recurring role in Sam Raimi's Spider-Man series. Since Virgin, she's continued broadening her horizons, starring in comedies such as Zack and Miri Make a Porno, dramas such as The Next Three Days, and YA adaptations such as the Hunger Games franchise. However, in 2015 she added 'Director' to her resume, when she had the second-most successful opening weekend for a female director after Pitch Perfect 2 hit theaters.
Jonah Hill

Perhaps the biggest rise in the last ten years belongs to Hill, who made only his second film appearance in the film as 'eBay Customer.' His breakout hit came two years later in Superbad, where he played a teenaged version of screenwriter Rogen, and has since had much success with 21 Jump Street (and its sequel 22 Jump Street), Moneyball, and The Wolf of Wall Street, the latter two of which garnered him an Oscar nomination each. Next, Hill will continue the Jump Street franchise with 23 Jump Street, which may or may not take place in medical school.
Jane Lynch

Playing Paula, Andy's sexually-suggestive boss, Lynch already had a great career in TV and film, with a laundry list of roles dating back to the late 80's. This only continued on after the success of Virgin, with roles in shows like The L Word and movies like Role Models, but reached new heights when she signed on to play Sue Sylvester in the Fox hit Glee.
Mindy Kaling

Making her film debut as Amy, David's ex-girlfriend and the object of his obsession, Kaling was just at the start of her career. Things would only get better as she was a huge part of the success of The Office, not only as a supporting character but as one of its writers. In 2012, she became the star of her own show, The Mindy Project, serving also as its main writer. The show was canceled by Fox, but will find second life on Hulu.
Leslie Mann

After a steady film career dating back to the early 90's, Mann had a small part as Nicky, the party girl who tries to take Andy home. Married to director Apatow, she became a regular in his films, with big roles in Knocked Up, Funny People, and This is 40. She's also a notable comedic actress in her own right, with roles in The Change-Up, I Love You Phillip Morris, and Vacation.
Kevin Hart

With a bit part as 'Smart Tech Customer,' Hart was a known stand-up comedian who had appeared in a handful of film and TV projects. Though his star did not immediately take off after Virgin, he has since become one of the biggest superstars in comedy, starring in hits like Think Like a Man and Ride Along, as well as his own show, Real Husbands of Hollywood.
Kat Dennings

As Marla, the teenage daughter of Trish, Dennings came in with a number of previous roles in film and TV. Since Virgin, she's had starring roles in films like Nick and Norah's Infinite Playlist, a lead role in the hit sitcom 2 Broke Girls, and a recurring supporting role in the Thor films.
Jenna Fischer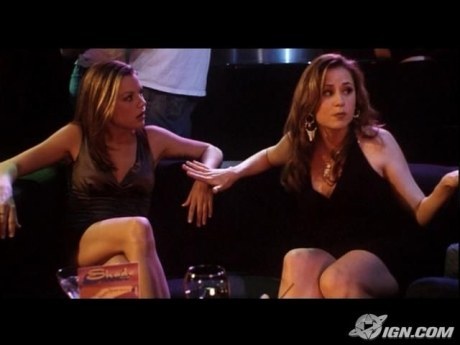 Her scene was deleted, but she did have a small part with Carell in the beginning of the film. Think of it as Pam Beesly and Michael Scott in an alternate dimension.
And the director: Judd Apatow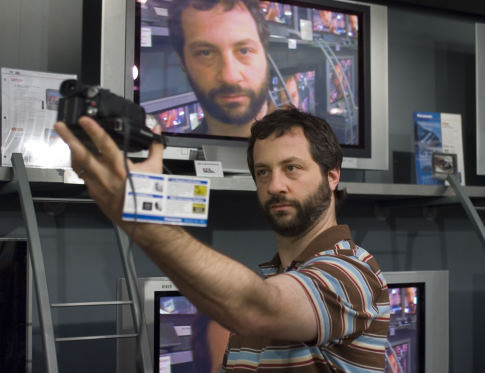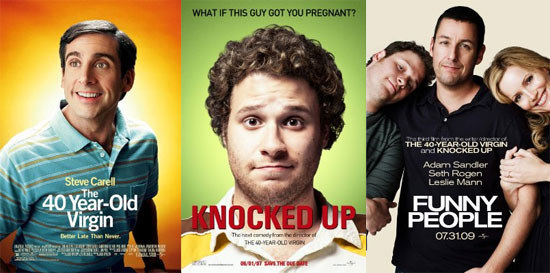 Although well-known for his cult TV hits Freaks & Geeks and Undeclared, The 40 Year Old Virgin was Apatow's feature film debut. He would follow with Knocked Up, Funny People, This is 40, and 2015's Trainwreck. He has also become a well-known producer, working on projects such as Talladega Nights, Forgetting Sarah Marshall, Bridesmaids, and the HBO hit Girls.