I Got Lululemon, Aerie, And Target Leggings To See Which I Liked Best, And Spoiler Alert: It Wasn't The Expensive Ones
I went from one workout a month to five!
We hope you love the products we recommend! All of them were independently selected by our editors. Just so you know, BuzzFeed may collect a share of sales or other compensation from the links on this page if you decide to shop from them. Oh, and FYI — prices are accurate and items in stock as of time of publication.
Hi, I'm Morgan! (And this is my son, Dandelion.) One thing you should know about me is I am notoriously terrible at getting enough exercise.
I usually average one workout per month. And now that I'm in my late 20s — cue millennial existential crisis — I felt like I should finally find something that inspires me to exercise more. I want to keep my body strong and fit as I get older so I can stay healthy. Also, I've got these noodle arms with absolutely no strength in them. I'd love to use weights enough that I can carry my own crap instead of always relying on my boyfriend to carry the heavy stuff.
Naturally, I thought cute workout clothes might be the solution! I figured if I got some pretty outfits, it would make me want to exercise more.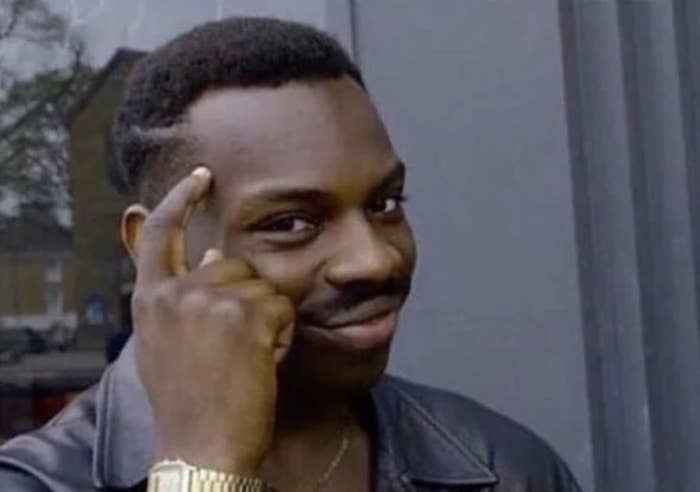 So I decided to buy three different leggings at three different price points. I wanted to find the most comfortable and cute leggings, plus I wanted to see which, if any, inspired me to work out more during the month of September. I decided that I would rate them by comfort, how cute they were, and how they felt during exercise.
First up were the All in Motion Ultra High-Rise Capri Leggings from Target in the color rose. They were only $30 so I thought they were worth a shot.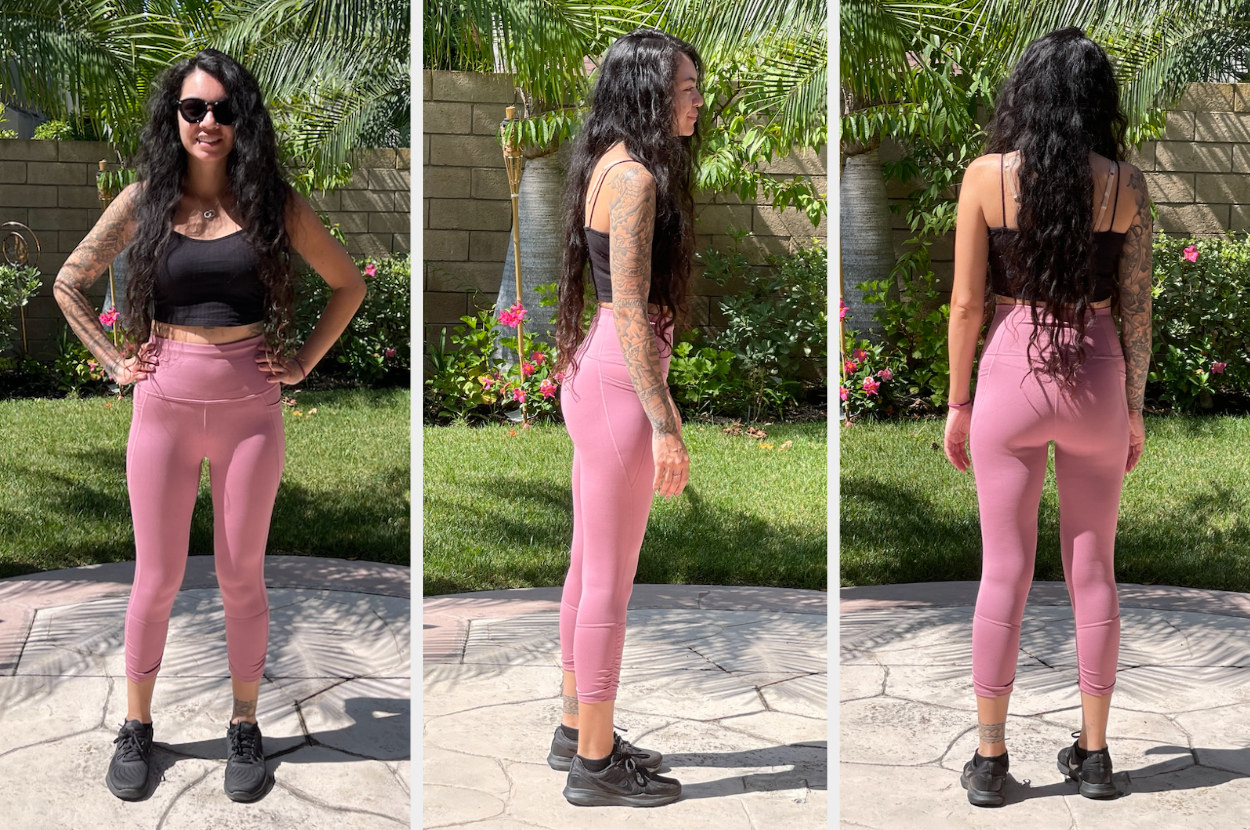 Next up were the Offline Real Me High Waisted Crossover Leggings from Aerie in the color granola groove. I absolutely loved the crisscross look at the top. And these have been on sale all month from $44.95 to $31.46!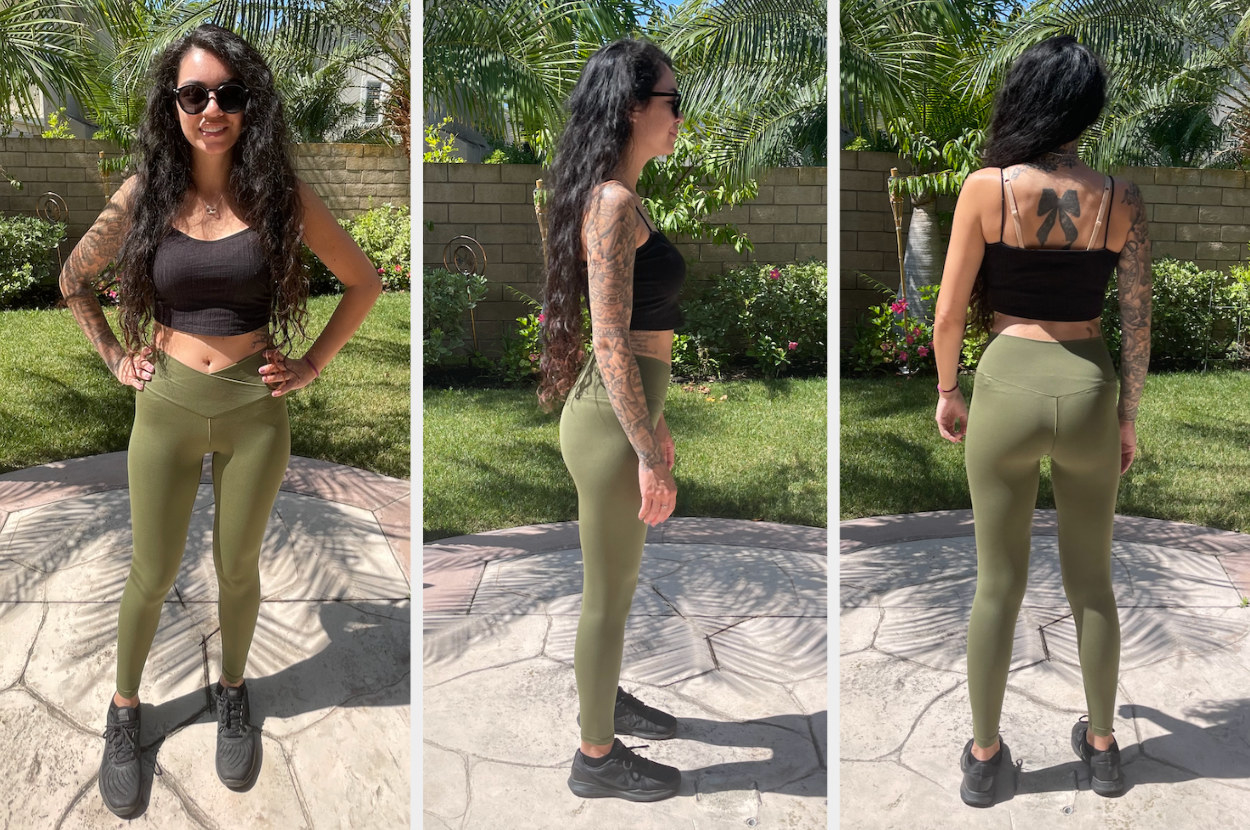 And finally, I got the Invigorate High-Rise Tight 25" Leggings from Lululemon in black. These were a whopping $128, but I'd heard so much about the brand that I wanted to finally try them out.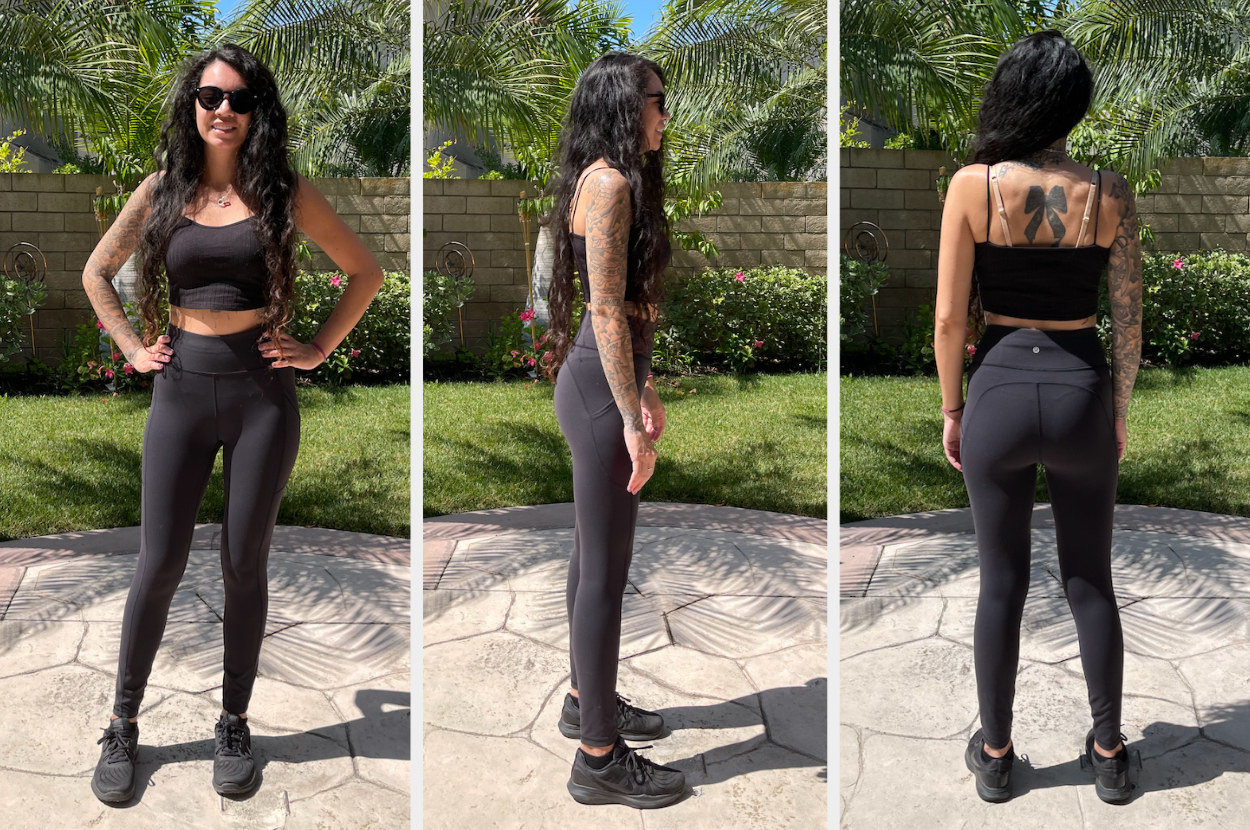 And the new clothes DEFINITELY inspired me to exercise more! I told my BFF about my little experiment, so she invited me over for some lower body exercises.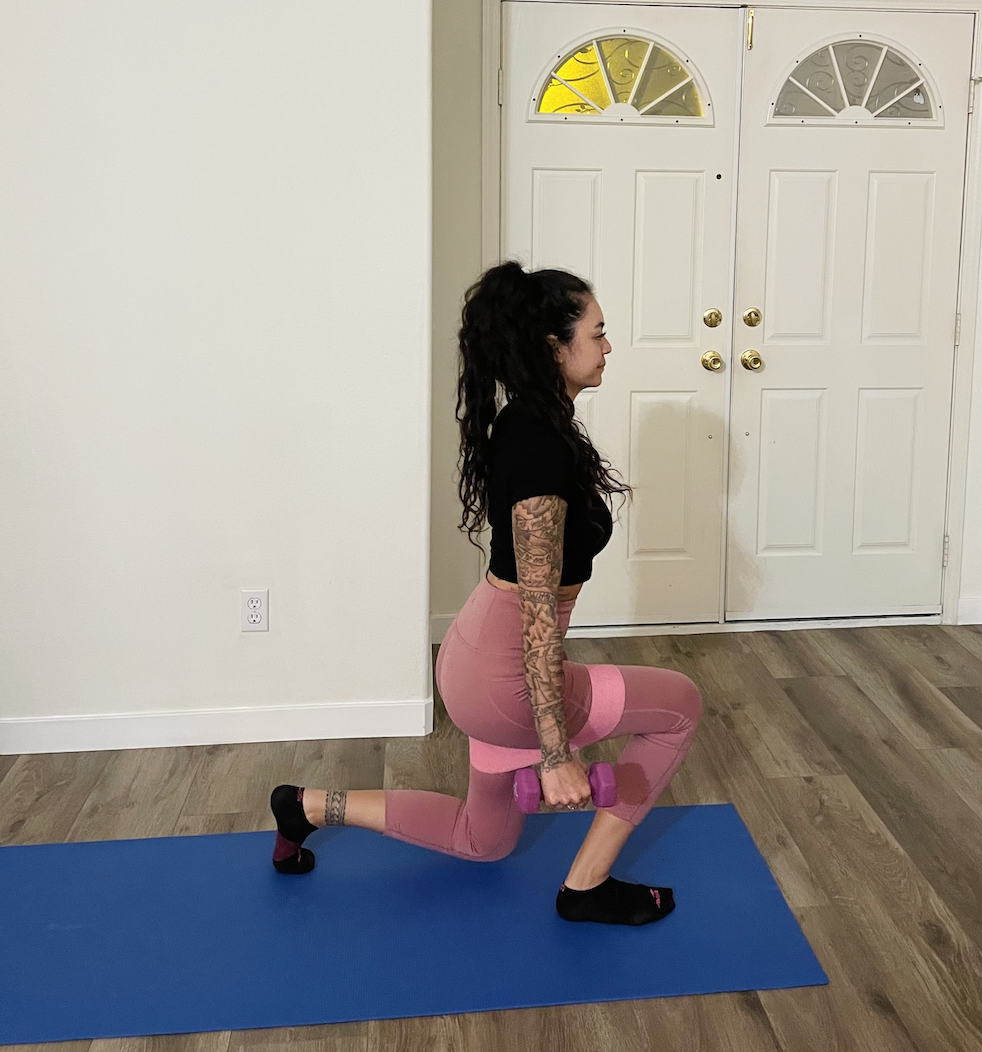 The following week, I went back to her house for some upper body exercises, too.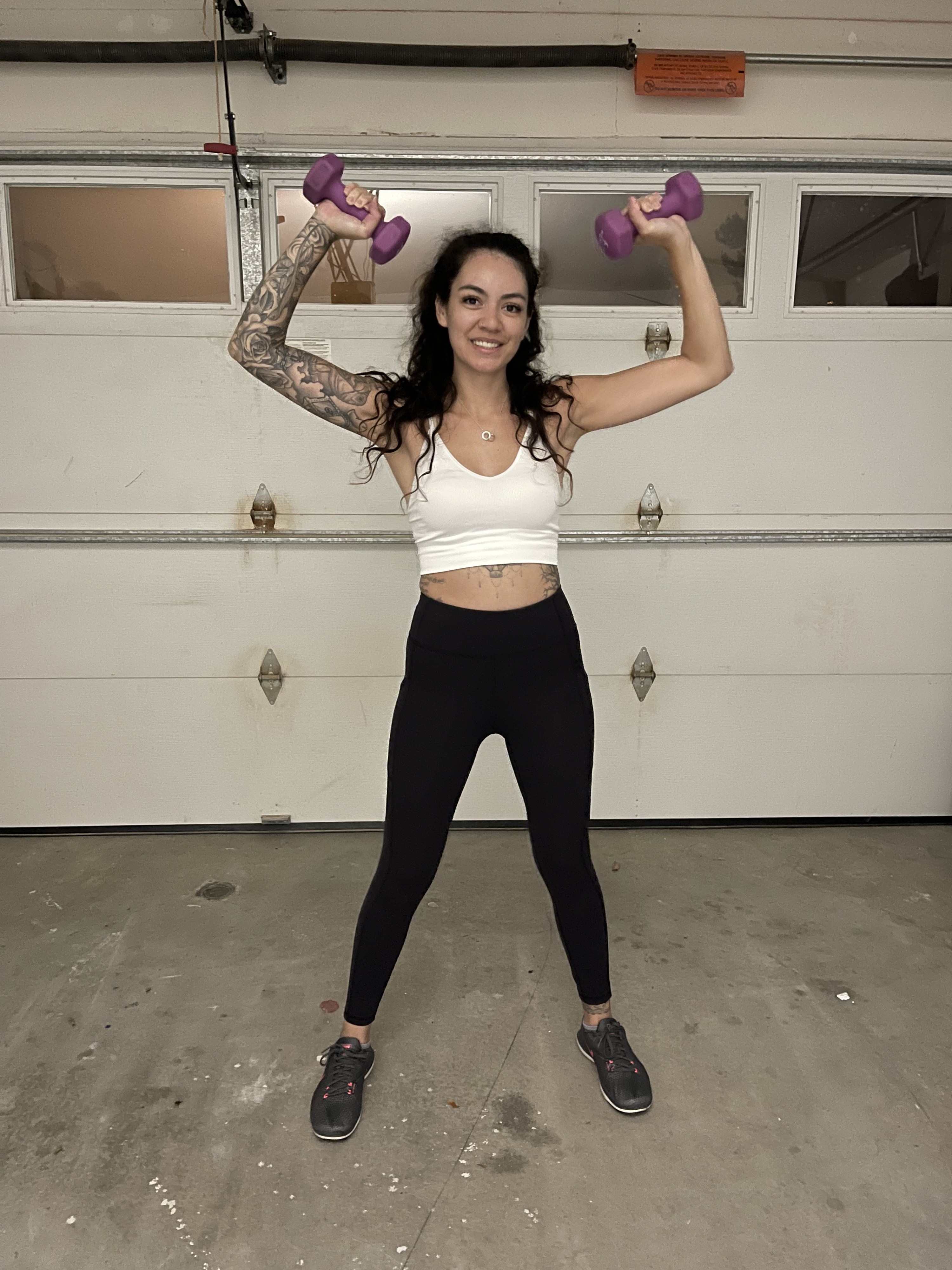 And I took Dandelion on a run around my apartment complex (but as you can see, we got really tired and had to rest in the grass a couple of times).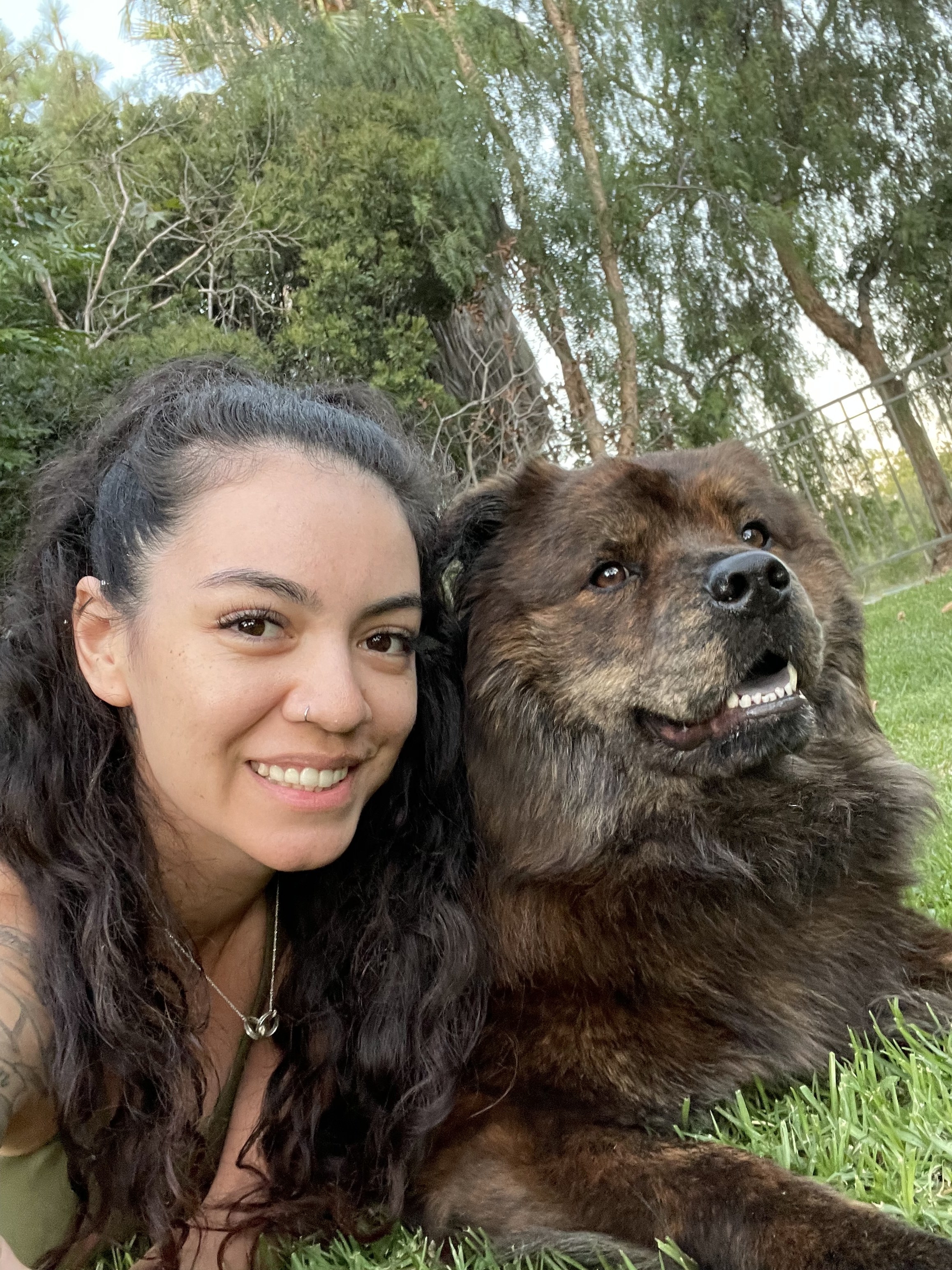 Even though I was just comparing the leggings for this experiment, the Aerie leggings had a matching sports bra that I couldn't resist, so I got that, too. And I thought it was super cute! I wasn't able to take a pic of the back, so I included a pic from their website here.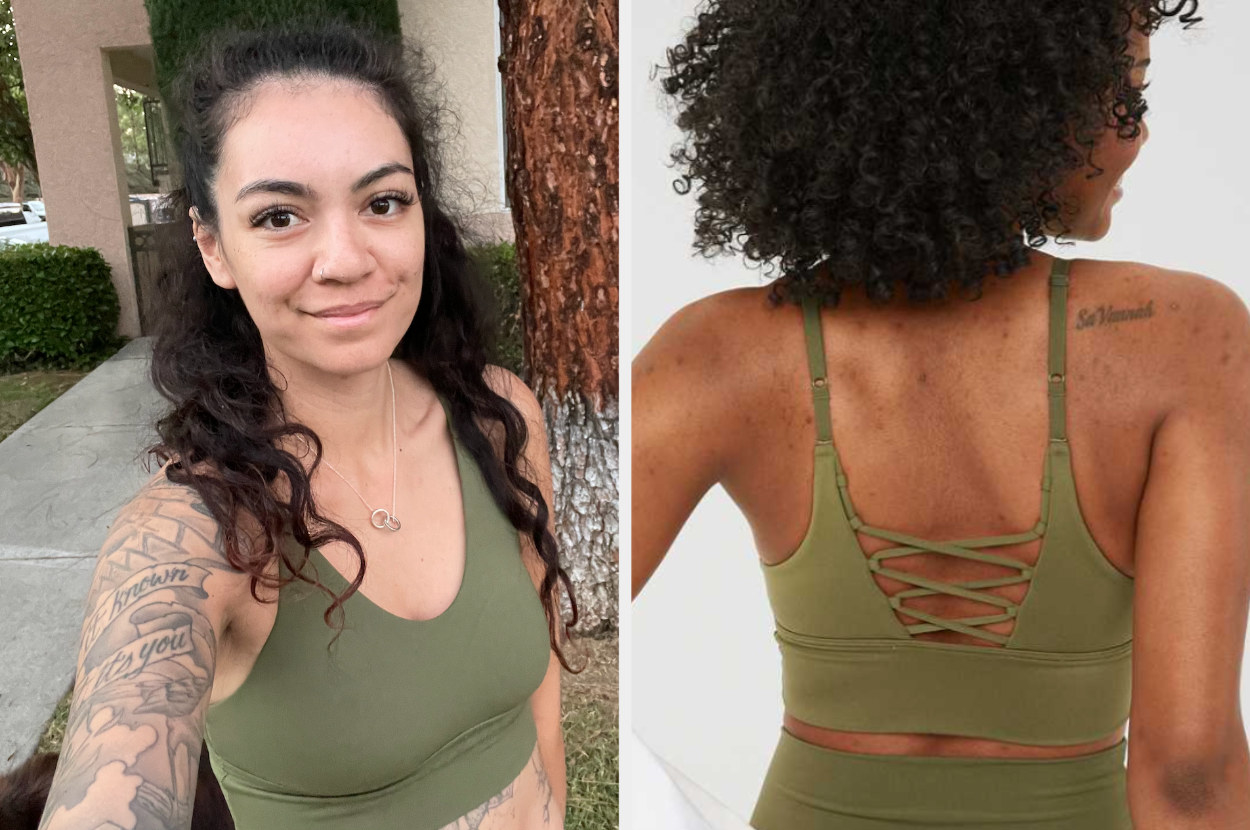 So, I'll be honest. I totally thought I'd wear the Lulus the most. Not only are they the most expensive, but I've always heard they're the absolute best. However, the band at the very top dug into my stomach after a while. If I wore them for more than a couple of hours, it became pretty uncomfortable. It's totally possible that I got a size too small, but they fit perfectly everywhere else? Other than that, they were amazing. Great for working out, super soft, flexible, and really cute. They inspired me to exercise — I just had to take them off right after. So I gave them a 7/10.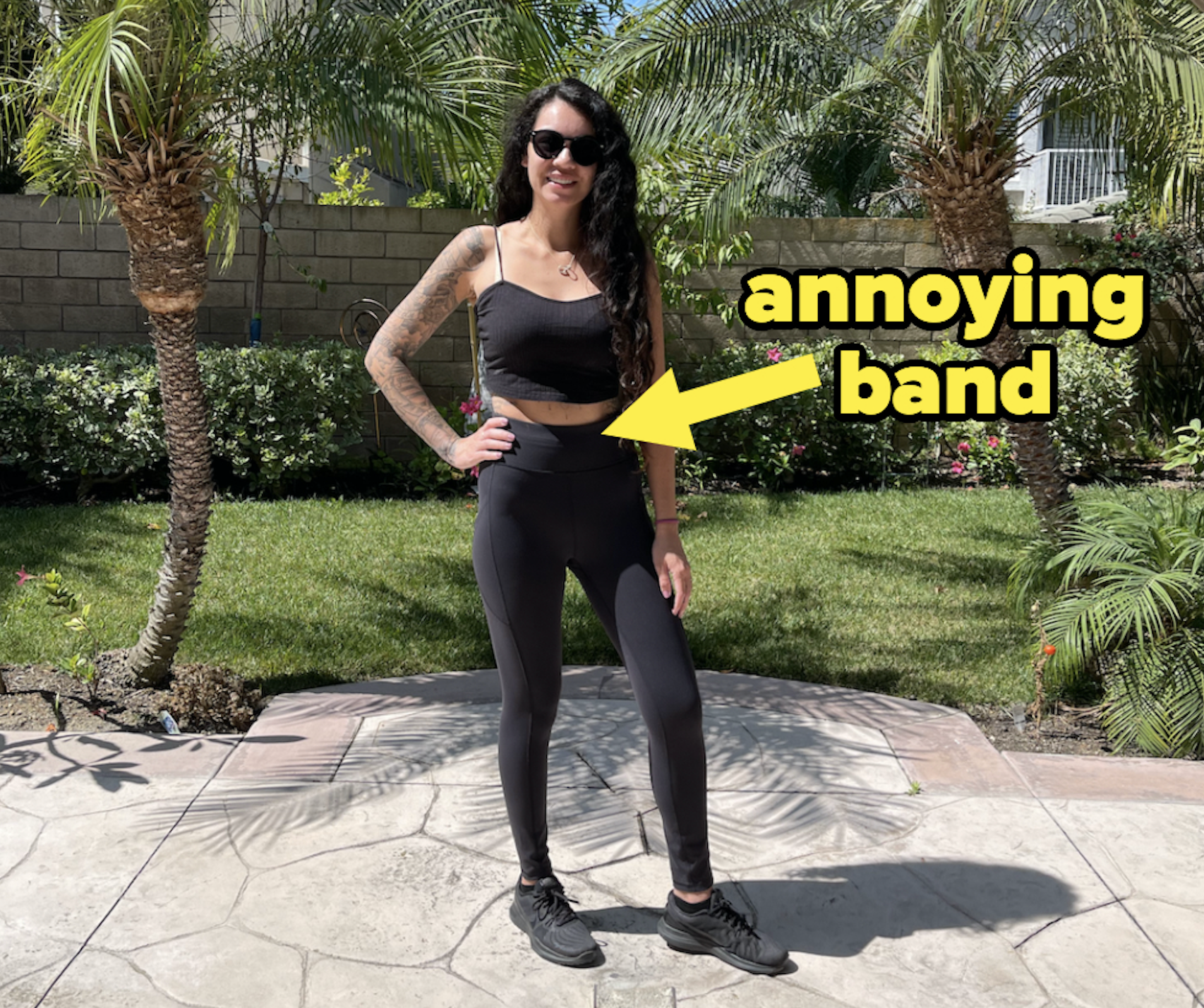 The Target leggings turned out to be pretty good. The fabric definitely wasn't as smooth as the Lulu and Aerie leggings, and that's what bothered me the most. But the band at the top of these didn't dig into my stomach if I wore them for a long time, so that's a plus! I didn't find them to be quite as flexible as the Aerie leggings, and they really didn't inspire me to exercise much. But I did love the rose color! Of the three leggings, I'll probably wear these in the future the least because the fabric isn't soft enough for me, so I gave them a 6/10.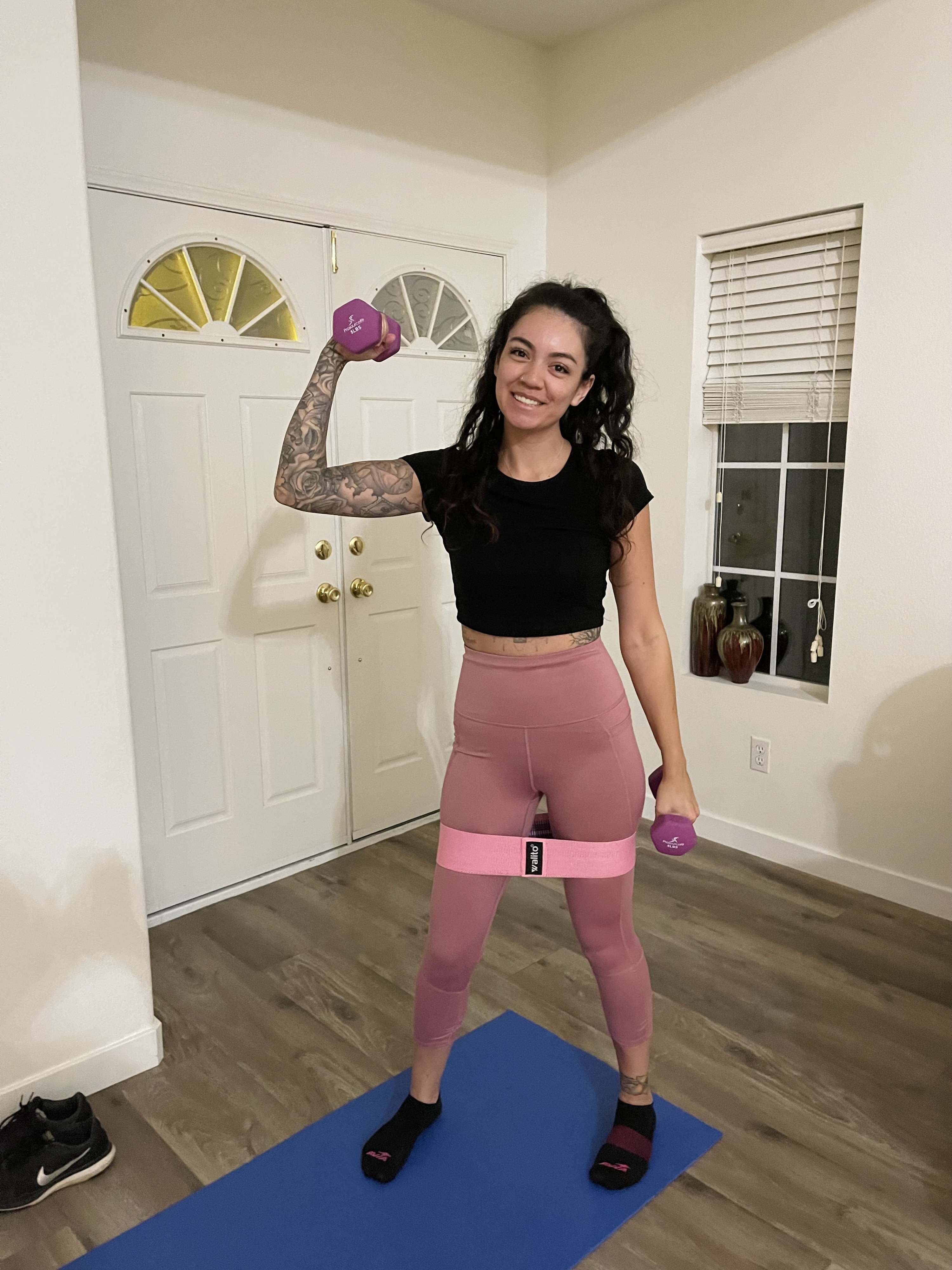 The leggings that I surprisingly fell IN LOVE with were the Aerie ones! They were buttery soft, and I almost forgot I was wearing pants when I had them on. Not only was the crisscross design at the top a cute detail, but it wasn't digging into my stomach at all. They were awesome while I was working out, super flexible, and inspired me to exercise just so I could have another excuse to put them on. I rated these a 10/10!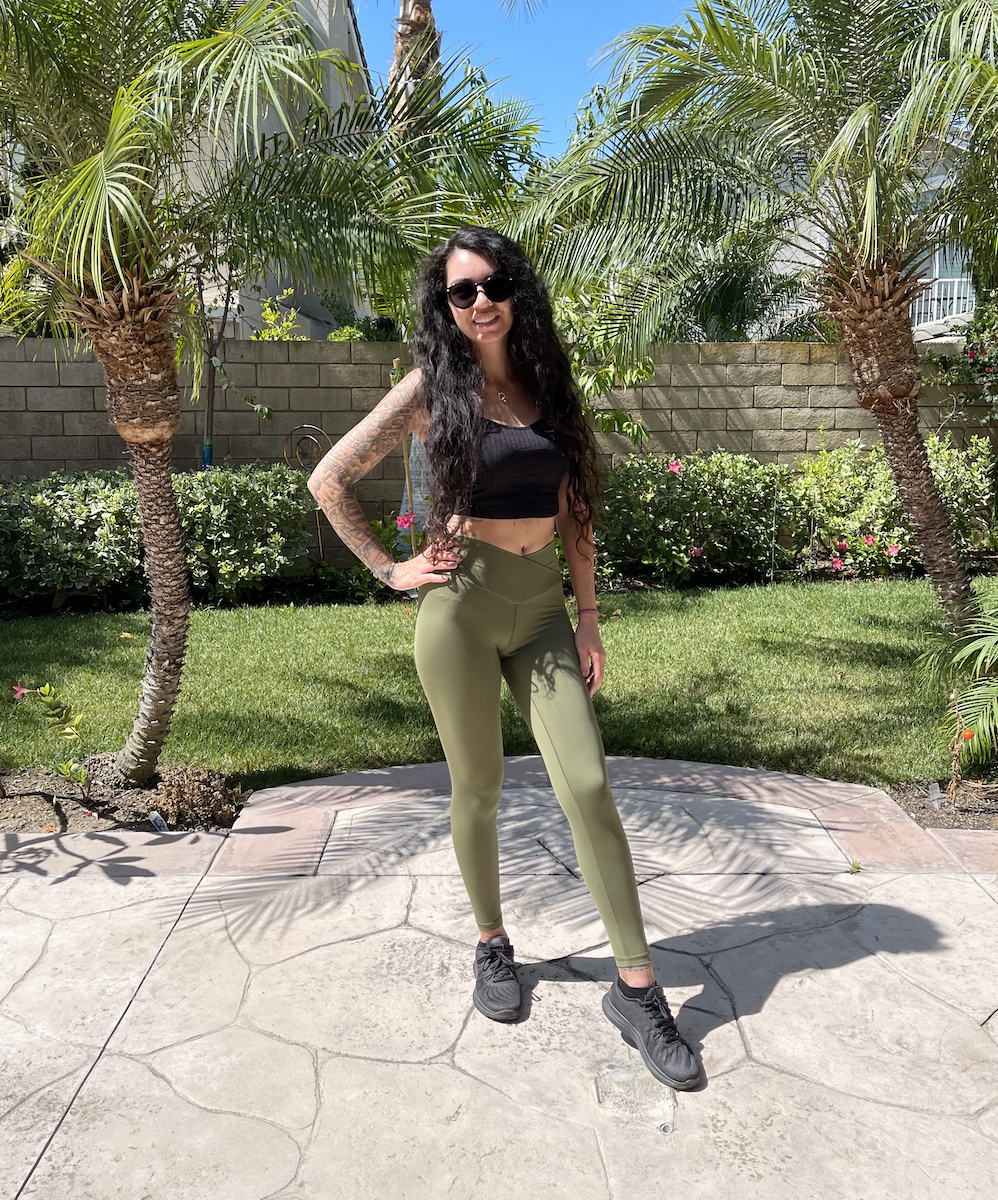 Now that it's the end of September, I can definitely say the experiment was a success. I worked out FIVE TIMES this month!! I think part of it was that I felt really cute in the Aerie leggings and sports bra combo. So whenever I buy new leggings in the future, I'll be sure to splurge on the matching sports bra whenever I can afford to. And I think another reason why I exercised so much was that I spent some hard-earned money on these clothes, so you'd better believe I was going to get some use out of them!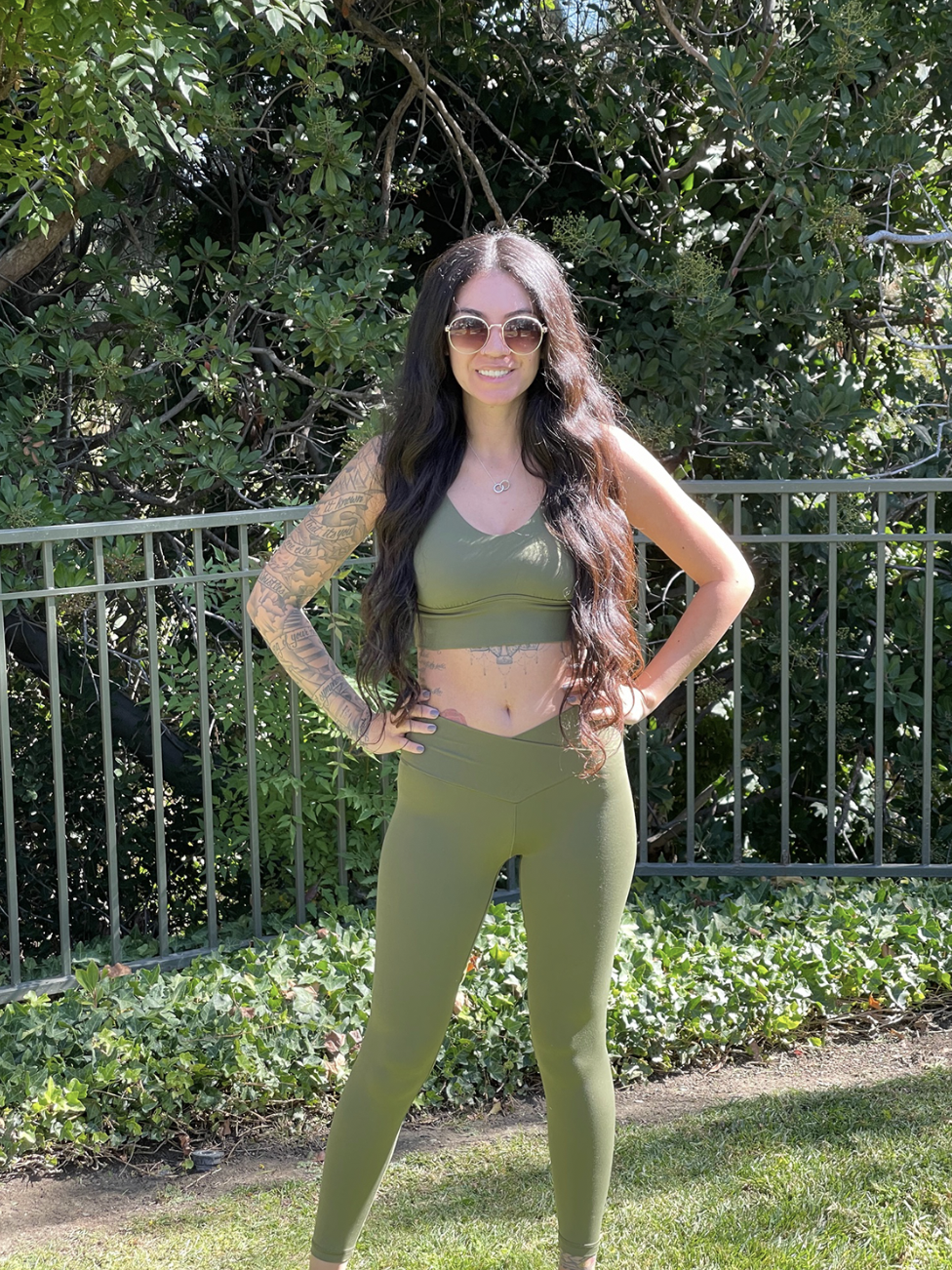 Fingers crossed that I can keep up my new exercise routine!