This Viral Photo Shows What Actually Happens To Your Bump When You Give Birth
It doesn't just disappear.
Elise Grossman is an Australian mother of three, and body image stigma slayer to humans everywhere.
In July, Elise shared a photo on Instagram of her nude body right after giving birth to her youngest daughter, Willa, in hopes of starting a conversation about realistic postpartum bodies. This week that conversation suddenly took off.
"It's a strange feeling to look down and still see a bump, even though you're holding your baby in your arms," Elise shared in her viral caption.
The post reads in full:
Let's talk postpartum bodies! I asked @belleverdiglionephotography to take this photo, just hours after giving birth to Willa, in my rawest and most vulnerable state. I was in pain and I was overcome by a flood of emotions. Elated to have welcomed our beautiful girl and so empowered and proud of what my body and I had just done! It's a strange feeling to look down and still see a bump, even though you're holding your baby in your arms, even after doing it three times. It's not easy to go home with a baby and still have to wear maternity clothes. With my first I was adamant I would just "bounce back". Everyone would say "you're young, you'll loose the baby weight in no time!" But you know what, I didn't, I never have in fact. With each baby I've gained a few more kilos and a few more stretch marks. I used to feel the need to cover up in this newborn stage, I didn't want to see my body in this state, so why would anyone else? It's taken me three babies, but I've finally realised this postpartum body isn't something to hide! I am beyond proud for what this body has given and sacralised. I am thankful that my body is able to carry and birth babies naturally. I am NOT ashamed of my (many) new stripes and my postpartum body. And neither should you! Let's celebrate postpartum bodies, in all their glory. The female body is incredible and I am so proud of what mine has done!
"Your post reminded me that my body did something wonderful and looks [this] way for a wonderful reason," user @mamiramey, a mother to seven children, commented.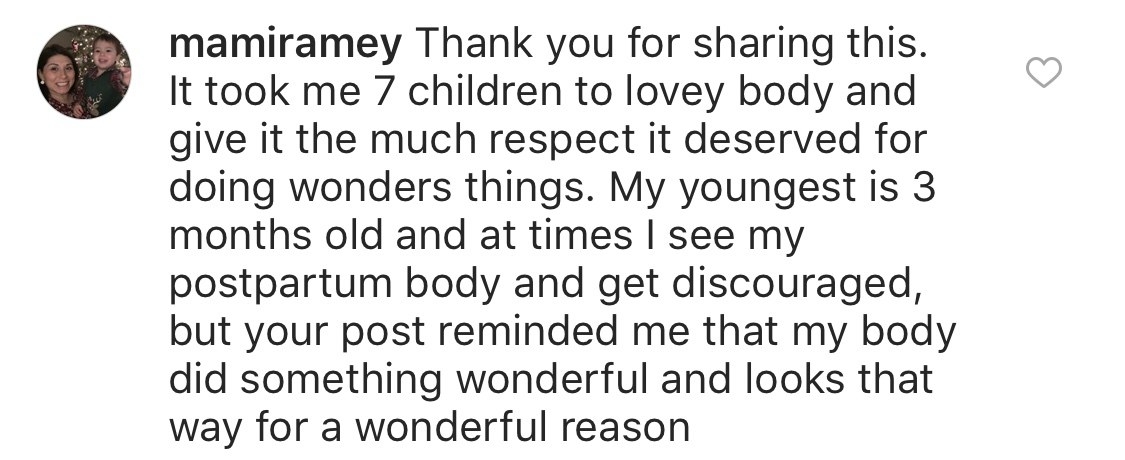 In a second post, written in response to the attention her original post was getting, Elise addressed those who would question her motives for sharing such a raw personal photo.
This time Grossman told followers:
Just like many women do, I too used to look up to the media, celebrities who would show off their supermodel like post baby bodies just weeks after giving birth! I thought thats how it would be for me too. So when I went home from hospital four days after giving birth, still looking six months pregnant, I thought I must have done something wrong. ... How come it took me a year to fit back into my pre baby jeans? Well, because for many women, and for me, this post baby picture that was painted in my head just wasn't realistic!
Those girls are lucky to have you as a role model, Elise Grossman, and so are the rest of us.