These "Halloweentown 2" Costars Are Dating Now And My Brain Is On Nostalgia Overload
What type of sorcery is this?
Holy Halloweentown! The Internet just discovered Marnie Piper and Kal actually ended up together IRL and my childhood memories are shaking.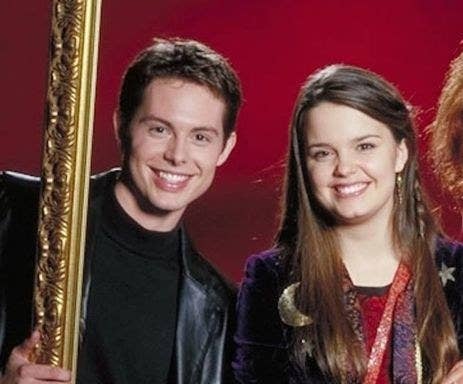 Kimberly J. Brown (Marnie Piper) and Daniel Kountz (Kal) might've played nemeses in Halloweentown II: Kalabar's Revenge, but that didn't stop the sparks from flying between them off camera.
That's right, Kimberly and Daniel are dating! On Friday, Kimberly celebrated International Kissing Day by posting this adorable photo of them hugging a lamp post.
And as I continued to scroll through her page, the images of them together only got cuter and cuter.
Who would've thought a warlock and a witch could live in harmony? Not 11-year-old me, that's for sure.
Although it's unclear when the two became a couple, they have been hanging out for quite some time. According to Kimberly's Instagram, they reunited in May 2016 for her YouTube channel.
But when she gave Daniel a birthday shoutout in October 2017, fans immediately realized they were more than just friends.
Honestly, I'm loving every second of it. What can I say, I save a special place in my heart for costars who date.
The Disney Channel alums have already spent some major holidays together. Here they are taking a hilariously awkward Christmas photo.
And, of course, they served us costume cuteness on Halloween.