1.
The world needs an alternative to boutonnieres. They're impossible. There has got to be an easier way. 2.
The best way to hide your tears at a wedding is to take pictures with your camera. See, during this picture I was crying. That's why this picture is blurry. 3.
This guy had the most important job. Tissue Man had to strategically place all the tissues around City Hall. He also had to fluff open the boxes. Voila! Perfect! 4.
The pen tester was pretty important too... ...but as you can see, even she knows Tissue Man had a more important job. 5.
Probably the most touching thing that you could tell your spouse is, "I just love being with you. Always." 6.
If you show up to a place holding mass weddings and you aren't on the list... chances are you'll probably get in. 7.
Protesters are so 2011. 8.
The paper "wedding licenses" are basically just souvenirs.
9.
People in Washington really take their beards seriously. 10.
Everyone is into lists nowadays. 11.
Being part of the wedding party is serious business. 12.
I also learned all about the different types of things people wear to their gay weddings, like matching suits: 13.
Sailor uniforms: 14.
Custom t-shirts: 15.
Song lyrics on a custom t-shirt: 16.
And matching glasses: 17.
You can also just wear a little name tag saying how long you've been together. 18.
Or you can be like Dan Savage and do the tux and suit combo: 19.
Ultimately, I think subtle matching is the way to go: With, of course, matching Converse shoes! 20.
The first embrace is way more emotional than the first kiss. It was the best part of the weddings. 21.
The second best part of the weddings was watching the couples walk into the cheering crowds. 22.
The third best part was watching the couples have their own little moments at the reception. 23.
The fourth best part was watching the wedding parties. 24.
Putting on the ring is the most awkward part of a wedding.
25.
Weddings take about 5 minutes. 26.
The best way to hand out flowers is with a giant top hat. 27.
No one really has a wedding song any more. 28.
But some people make up and create their own songs. These two women sing a song whenever they need to find parking in Seattle.
29.
Just about the only acceptable place to fist pump nowadays is after waiting years and years to be married. 30.
BRING COOKIES! 31.
After your wedding, you eat and drink as much as you want. 32.
KISS! 33.
If you're going to be the wedding witness, then you should dress like this woman. 34.
Seeing the kids of the gay couples was incredibly inspiring and heartwarming.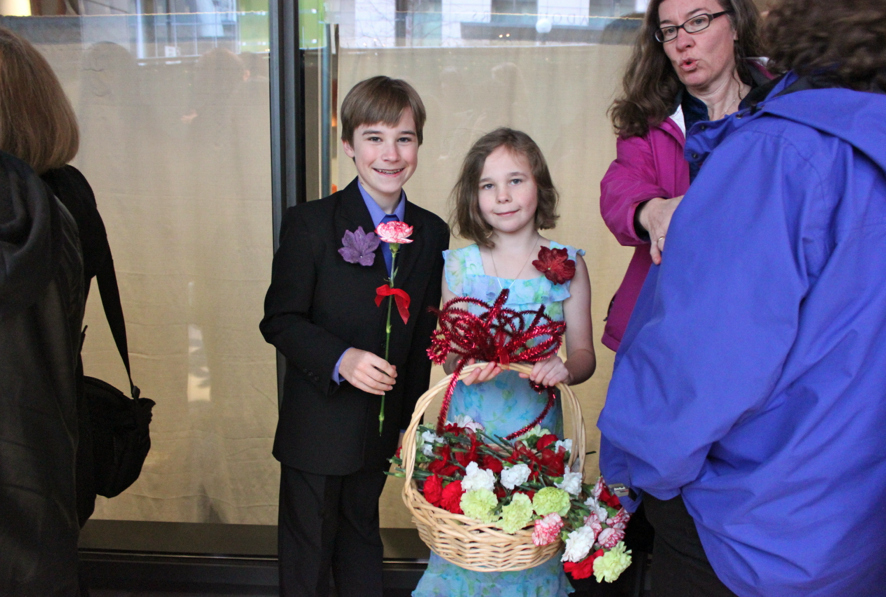 35.
This is a really adorable outfit to wear to your wedding reception.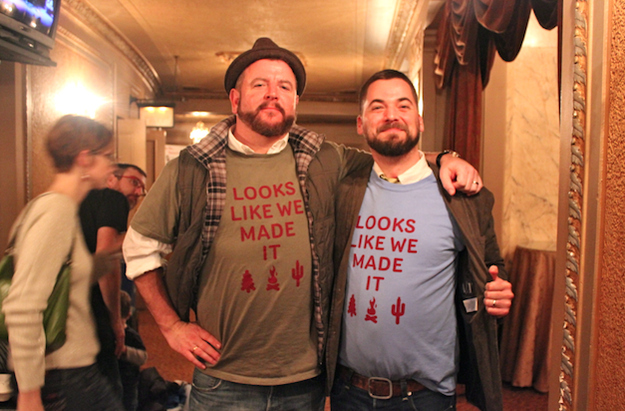 36.
One cake ball is enough.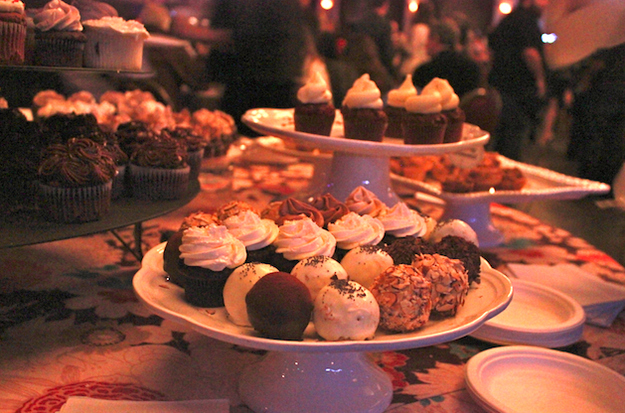 37.
First dance selfies are now a thing.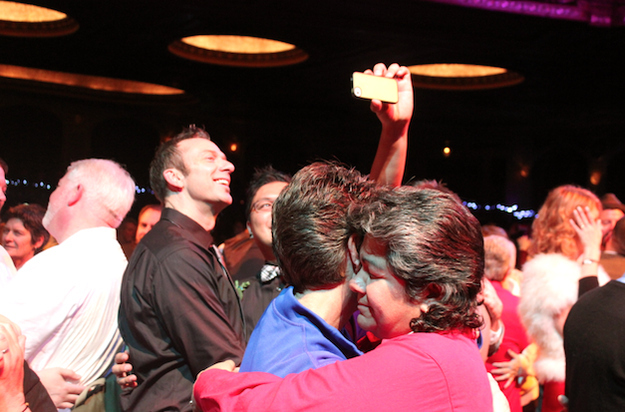 38.
Seattleites REALLY like their Starbucks!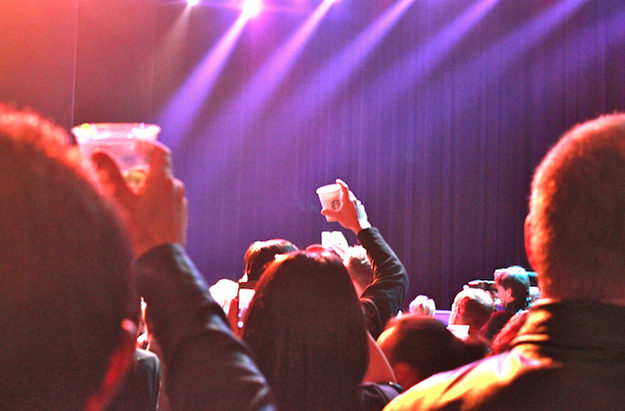 39.
This is an awesome shirt to wear to a gay wedding reception.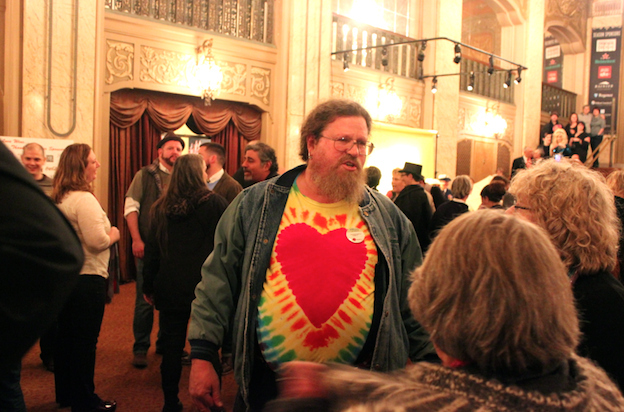 40.
The best party favor at a mass gay wedding is a cute little tote. 41.
They're probably going to play Madonna at your gay wedding. 42.
All couples, regardless of sexual orientation, begin to look alike after a while. 43.
If it's raining, and you're about to be married in a mass gay wedding, you go with a rainbow umbrella. These guys did it right, too. 44.
There's not much you can do to get over your pre-wedding jitters. 45.
Last, but not least, I could watch people getting married all day. There is no greater joy!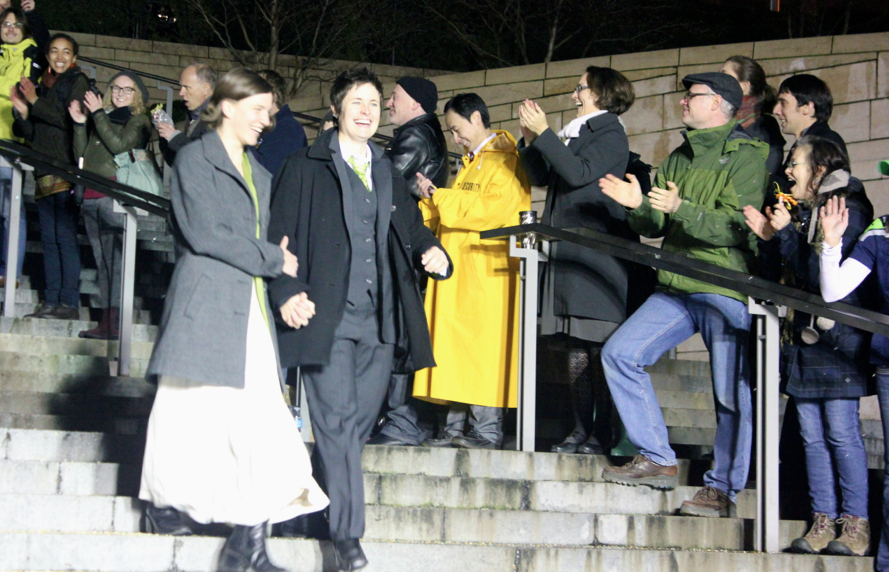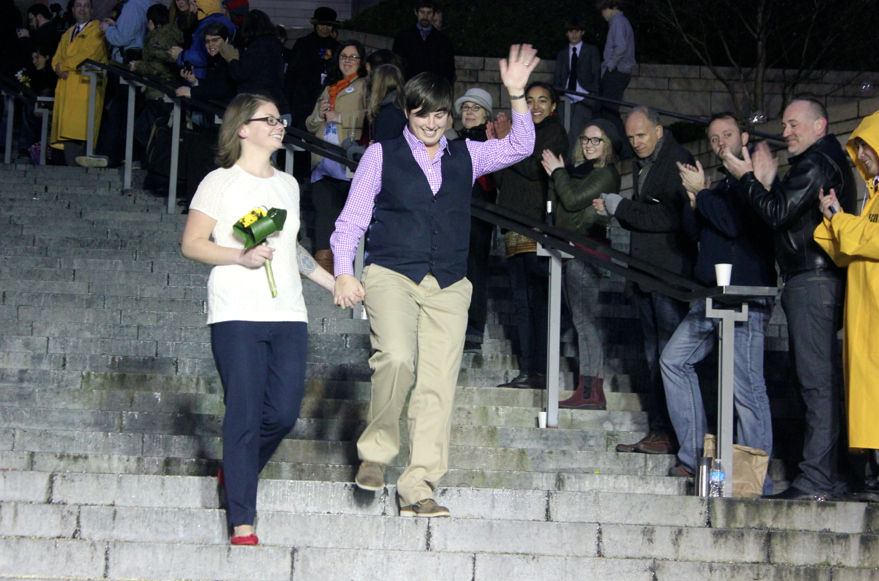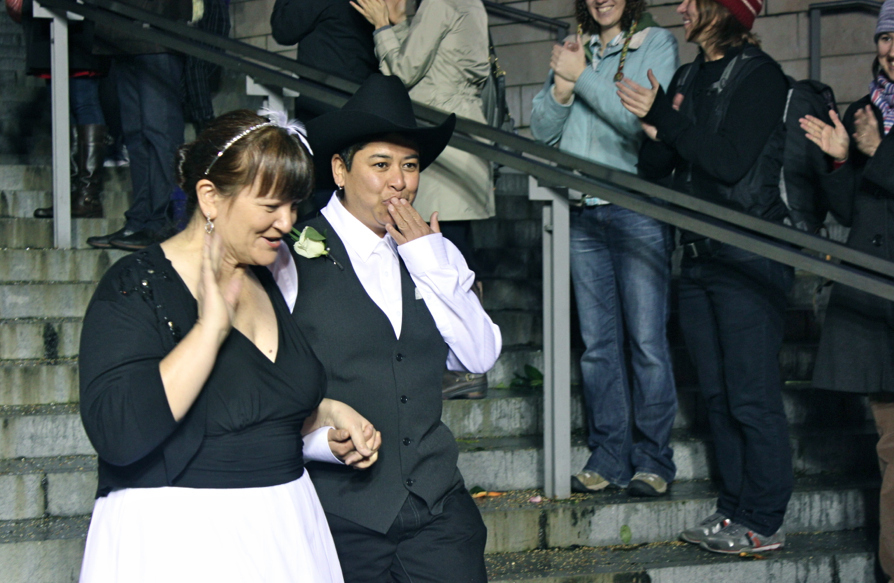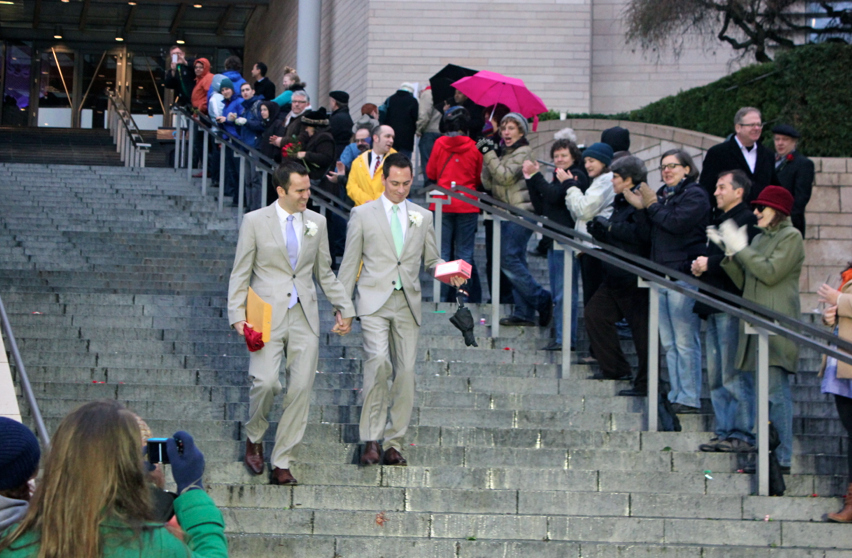 See, when they kiss it's the best!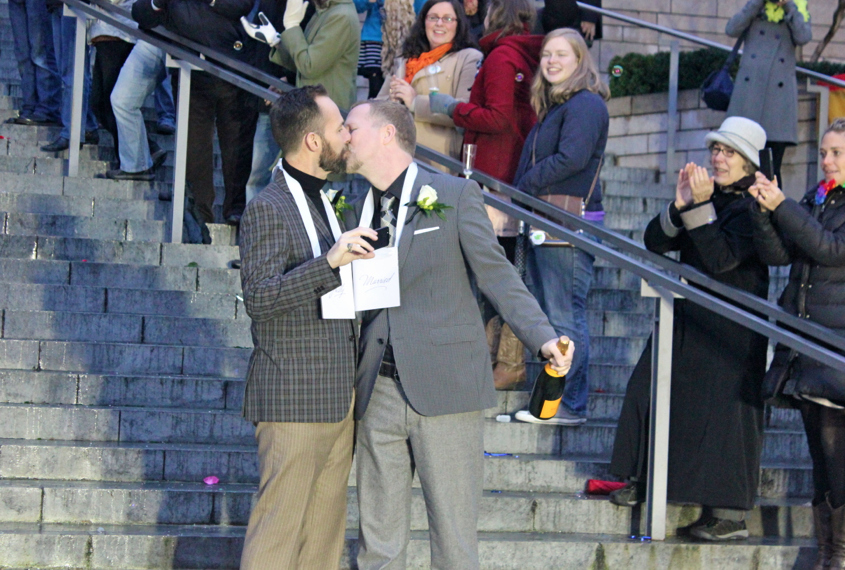 All photos by me, Matt Stopera.
If you liked this, then you will definitely like these: