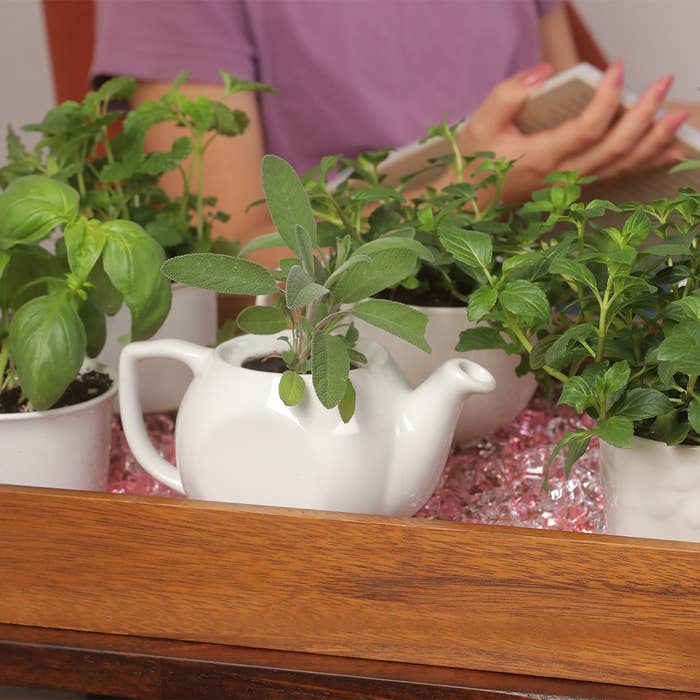 MATERIALS
Mugs
Teacups
Bowls
3/16" glass and tile drill bit
5/16" glass and tile drill bit
Drill
Towel
Masking tape
Spray bottle
Water
Miracle-Gro® Moisture Control® Potting Mix soil
Bonnie Plants herbs
Tray
Vase fillers
INSTRUCTIONS
1. Grab an old ceramic mug and set it on a towel.
2. For traction, place masking tape over the spot you want to drill into.
3. Spray water onto the area to keep it from smoking as you drill.
4. Start by drilling with a 3/16" bit. Apply some pressure and spray more water if needed.
5. After the bit goes through, drill into it again with a 5/16" bit, spraying water on it throughout the process.
6. Fill the mug halfway with Miracle-Gro® Moisture Control® Potting Mix soil and plant a Bonnie Plants herb.
7. For an energy pick-me-up, plant peppermint. Take a break with calming lavender. Re-focus with some rosemary!
8. Place planters on a tray lined with pebbles or vase fillers.
9. Enjoy the benefits of your aromatic herbs!