A Mom Used A Vibrator To Clear Her Baby's Chest Congestion And It Inspired A Lot Of Jokes
"Funny, mine usually takes my breath away when I use it."
Melons and Cuties is a Texas-based birth, breastfeeding, and wellness center that recently uploaded a post to its Facebook page that raised a lot of eyebrows.
The post shared a customer's remedy for relieving their baby's chest congestion — using a, uh, vibrator.
While Melons and Cuties noted that "many hospitals and respiratory therapists use these (vibrators) in the treatment of respiratory issues," not all parents were totally sold on the idea.
Nevertheless, the post sparked a LOT of conversation from parents — racking up more than 26,000 comments! Some, as you can imagine, were just there to bring the LOLs:
But — while wisecracks were to be expected — the conversation also discussed the idea seriously: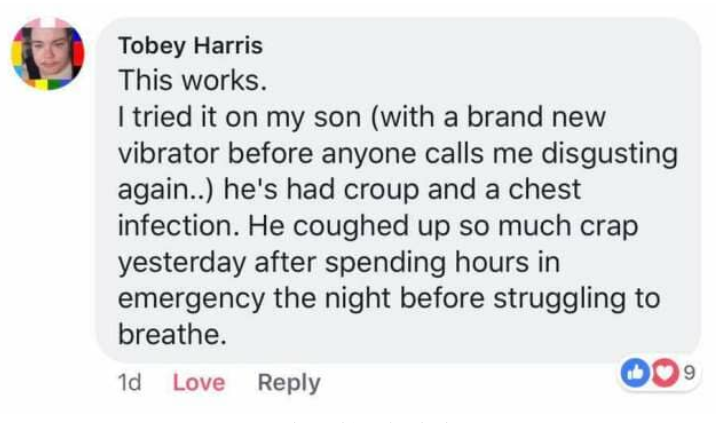 As with anything related to the care of your baby, you should discuss it with your pediatrician BEFORE trying it. But, it's awesome to see parents sharing their knowledge in an "it takes a village" way while simultaneously bringing the laughs!