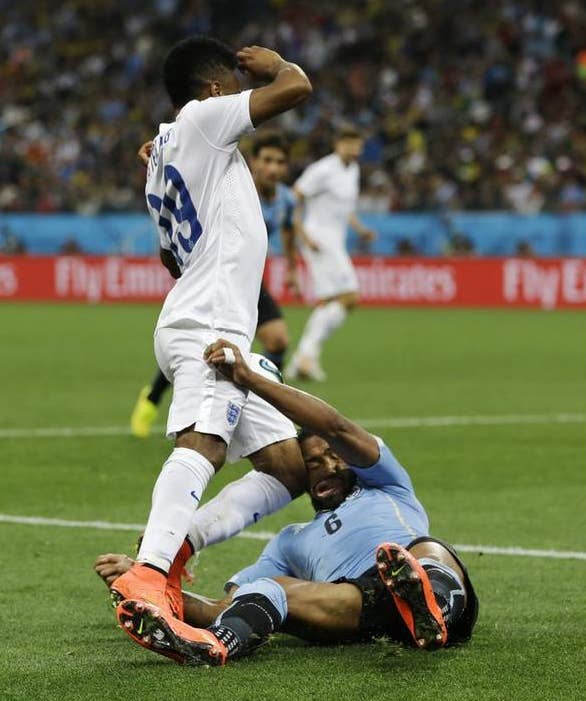 On Tuesday, U.S. Reps. Bill Pascrell, Jr. (D-NJ) and Thomas J. Rooney (R-FL) — co-chairs of the Congressional Brain Injury Task Force — wrote to FIFA President Sepp Blatter urging him to address FIFA's "inadequate approach toward traumatic brain injury."
In the letter, the members of Congress claim that FIFA's handling of collisions at the World Cup, where players suffered nasty blows to the head but continued playing, raise questions about FIFA's injury protocol:
"This threat was on full display during the World Cup, where several players were left in obvious pain after receiving blows to the head. Of note, Álvaro Pereira, Javier Mascherano, and Christoph Kramer all endured brutal head injuries during play. Unfortunately, their pain wasn't the only thing that these players had in common: each of them returned to the field almost immediately after a brief, sideline evaluation by a team doctor. In the case of Mr. Pereira, the team doctor even signaled to the manager that a substitution was necessary; however, the player insisted that he continue and he was reintroduced to the game. While Messrs. Periera and Mascherano continued to play for the remainder of their matches, Mr. Kramer collapsed on the field after fifteen minutes and was finally substituted out. He stated the next morning that he had little memory of the game."
As far as what is and is not a threat when it comes to head blows, Rooney and Pascrell suggest that FIFA leave it to the team doctors to decide:
Unlike in many other professional sports, following a player injury, the decisions of team doctors, who are rarely neurologists, can be overruled by coaches or the players themselves. This flies in the face of everything we know about TBIs, inadequate diagnosis and treatment, and the severity of this condition. Even after his team's doctor advised him to leave the field, Mr. Pereira refused. This strategy is not sufficient in adequately diagnosing and treating players who have sustained head injuries. In the National Football League, for example, an independent doctor, unaffiliated with the team, must be present to evaluate all potential head injuries and make final decisions about whether it is safe for a player to return to the field.
The guidelines for head injuries on FIFA's website state, "Do not take a head injury lightly. No match is that important."
However, the rules of FIFA matches state that any player who is substituted cannot reenter the game — creating the incentive for a player who thinks they might be OK to try to play through the initial pain.
FIFPro, the World Footballers' Association, accused FIFA of negligence and demanded that they "conduct a thorough investigation into its own competition concussion protocol" after the Pereira collision vs England. FIFPro also wants FIFA to change the rule so that players suspected of being concussed could temporarily be substituted while they're properly diagnosed.
During the World Cup semifinals Argentina's Javier Mascherano collided with Netherlands' Georginio Wijnaldum. He initially staggered off the field, but came back in.