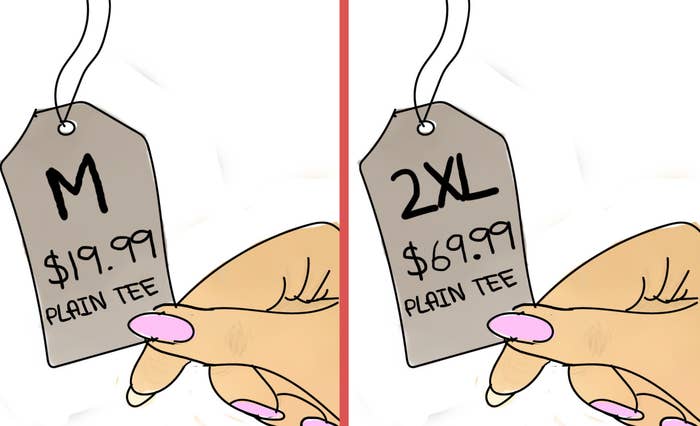 1. "One size fits all" isn't a game you can even think of playing.
2. You're no stranger to walking out of a store because they don't carry anything above a size 12.
3. And you know not to bother with sales because the largest size that's ever in stock is an M.
4. Strapless bras are just a no-go zone for you.
5. Plus, all the bras that are comfortable and offer that perfect support cost an arm and a leg.
6. Actually, no. All clothes are more expensive than anything "normal" sized.
7. You have to try EVERYTHING on before you buy it.
8. Which really makes online shopping a chore because you never know what your size is.
9. Especially because all stores think people looking for plus-size clothing just want to look like a shapeless sack.
10. And forget about even thinking about getting jeans online.
11. You really can't go to a cheap market or a random eBay seller because you already know nothing will fit you.
12. Damn, most of the time you have to tie your clothes up to fit your body the right way.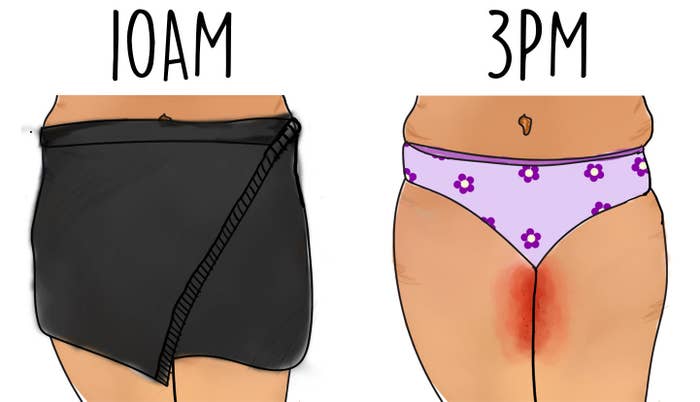 13. All your belt loops are broken from you constantly trying to pull your jeans up.
14. And your pants always rip on your inner thighs because of them always rubbing together.
15. Not to mention all the little balls of fabric that build up there too.
16. But even worse than that? The painful chub rub you get when you wear dresses or skirts.
17. You're constantly buying baby powder to combat all the chafing.
18. But when you do chafe, you're forced to wear pants for at least a few weeks.
19. Your pants fit perfectly around your booty and thighs but are always baggy down near your ankles.
20. Or are massive around your waist and give you major butt gap.
21. And jeans that actually fit well everywhere are usually two metres too long on you.
22. Most jeans you own are in that shitty stretchy material, so you always get a bad case of saggy butt syndrome.
23. Any time you wear jeans with holes, you're left looking like a wrapped leg of lamb with marks everywhere.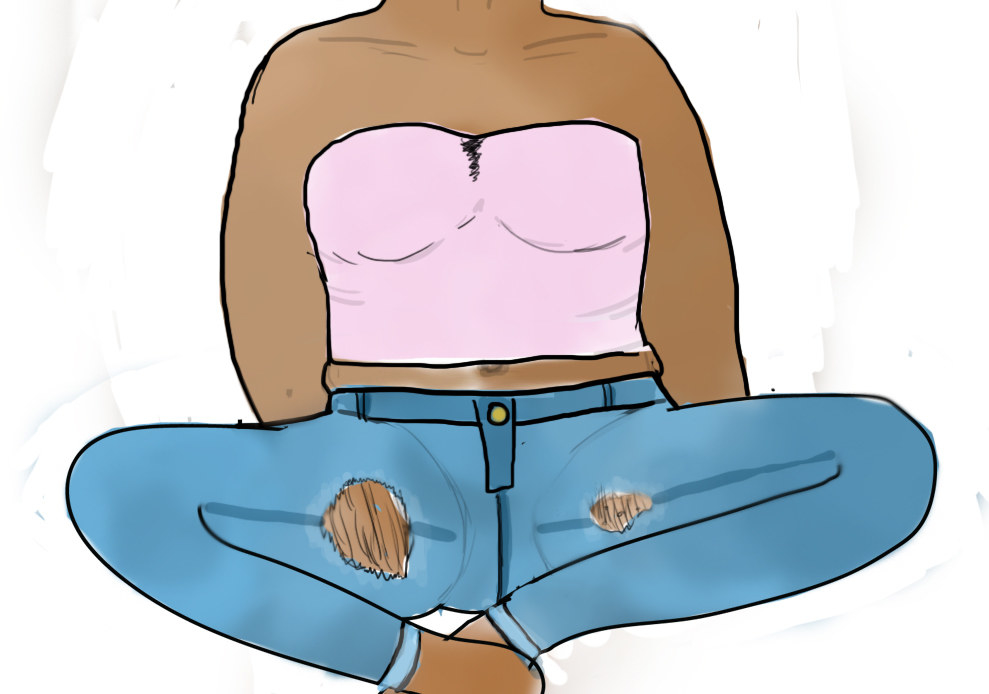 24. Button-up shirts always pop open as you walk. Or sit. Or breathe. Or exist, really.
25. You're constantly pulling dresses out of your ass crack.
26. In the summer, cute lil' shorts really just look like underwear on you.
27. And whenever you walk with shorts on you have to constantly pull them out of your thighs because they really love to bunch up.
28. Actually…any tight clothing loves to creep up.
29. Skirts and dresses never sit the same at the front as they do in the back, thanks to your booty.
30. You have to stay away from any tops or pants with text on them because they warp out of control.
31. Fabric at the seams of all your pants and shorts always pull and go see-through from the strain.
32. And if you're sitting in the middle of anything, you feel like your entire, kinda see-through ass is in everyone's lap as you get up to leave.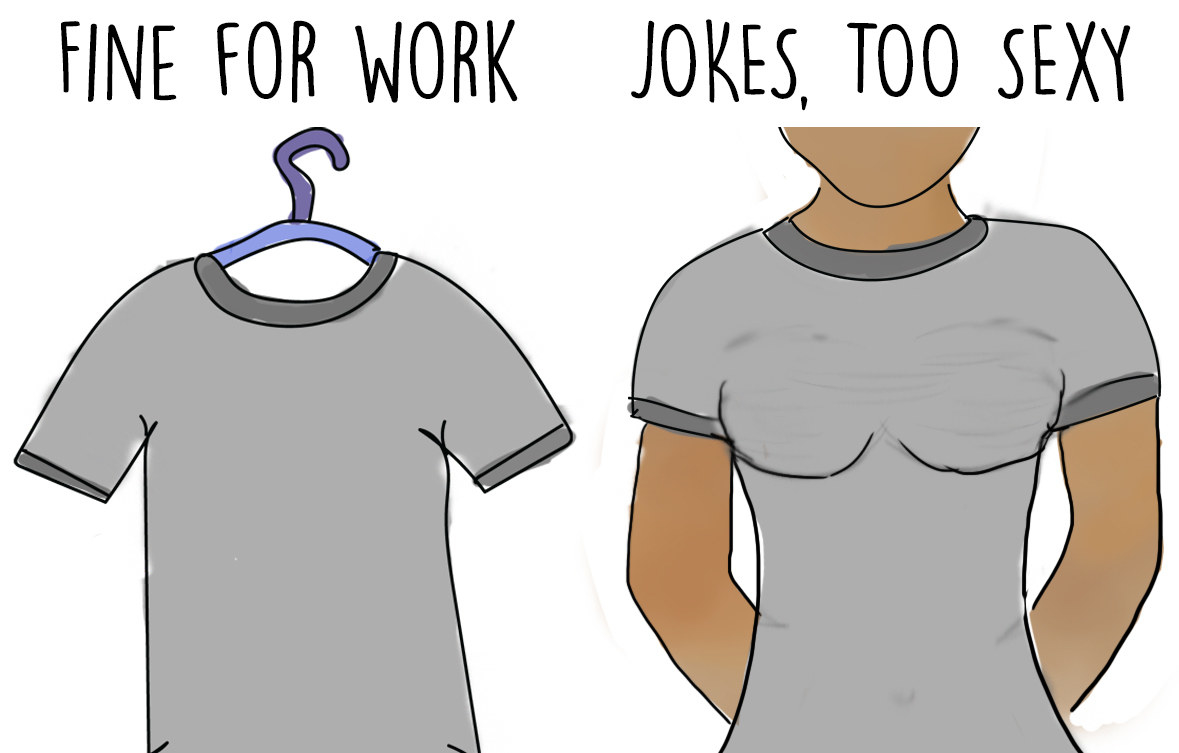 33. Every time a song references anything about bass or booty, all eyes are on you.
34. When you work out, your boobs and ass get so damn sweaty.
35. To the point where you're always afraid of leaving ass sweat marks on the ground when you stand up.
36. You have to hold your boobs as you run so you don't knock yourself out.
37. And you don't need anyone else to clap for you as you run because your thighs gladly do it for you.
38. A lot of swimwear either cuts into your hips or slides right off them.
39. So you're usually forced to buy mismatched tops and bottoms for that perfect fit.
40. Normal clothes like singlets are deemed "too sexy" when they they're on your body.
41. Which means everything casual you own is no longer work-appropriate. Even if it's just a T-shirt and jeans.
42. You have to deal with people thinking they're complimenting you by saying they "love a girl who's not afraid to eat".
43. And worst of all, people try to offend you by calling you fat, like it's anything more than a word. Mmmmm boy, bye.