Jennicet Gutiérrez woke up at 8:30 a.m. last June 24, on a mattress in a friend's studio apartment in Washington, D.C., unsure about whether she could get inside the White House that afternoon to carry out her mission. She was an undocumented transgender immigrant with a criminal record because of multiple DUIs from a decade before, back when she used alcohol to mask the pain of living as male. She was terrified that a background check would bar her from entering — or worse, that she would be arrested and deported. Nevertheless, she steeled herself to attend the LGBT Pride Month Reception at the White House that day, where she planned to interrupt President Obama in the middle of his speech.

The apartment belonged to one of her activist friends, Carlos Padilla. Gutiérrez got ready in his tiny bathroom, putting on an elegant strapless black dress and bright red lipstick. She wanted to look presentable even though she had barely slept the night before. She'd been recalling the spirits of other trans activist ancestors, like Sylvia Rivera and Marsha P. Johnson, and repeatedly asking herself whether she could actually do what she intended to do.
Gutiérrez walked out of the apartment to an unfamiliar neighborhood and wandered around until she found a nail salon and got a manicure, picking a color that was the same red as her lipstick. Then she got her hair blown out at a nearby beauty parlor. By the time she finished getting ready, she had only enough time to go to Padilla's office, so he could walk with her to the White House.
On the way there, Gutiérrez found herself holding on to Padilla's arm because she was getting tired walking in her three-inch white heels and hadn't eaten anything all day. They were joined by Angela Peoples, the co-director of the queer grassroots organization GetEQUAL. A week before, the White House had invited Peoples to the reception; she was permitted to bring a plus-one. Upon receiving the invitation, Peoples had contemplated carrying out a plan that she and other activists had been discussing for several months.
GUTIÉRREZ WAS GIVEN GENERAL ADVICE ON WHAT SHOULD HAPPEN, BUT FEW SPECIFICS ABOUT HOW TO ACCOMPLISH HER GOAL.
Peoples reached out to Familia: Trans Queer Liberation Movement, a Latinx LGBT organization, to potentially find an undocumented trans woman to interrupt President Barack Obama's speech at the Pride Reception. Peoples and other queer organizers had formally advocated for the humane treatment and ultimate release of trans prisoners in Immigration and Customs Enforcement (ICE) detention centers since early 2013 through the #Not1More campaign, a coalition of grassroots organizations that work together on behalf of undocumented immigrants. Along with other #Not1More activists, Peoples felt that an undocumented trans woman interrupting Obama could gain unprecedented attention for the cause of LGBT detainees, especially trans women of color. When Jorge Gutierrez, the head of Familia, got the call from Peoples, he reached out to Jennicet, who had been participating in the group's protests over the last year and fit the profile he and Peoples were looking for. When asked, Gutiérrez said yes without hesitation.
Now, Gutiérrez was determined as she neared the reception, but as soon as she caught a glimpse of the White House and felt the enormous power it held, she found herself feeling overwhelmed. Nonetheless, she tried to appear normal, took a few pictures in front of the White House gate as she waited to be let in, and made small talk with the other people in line with her. A white man who Gutiérrez assumed to be gay was particularly friendly as he chatted with her, welcoming her to D.C. and expressing pleasure that women like her were invited to the reception. She started feeling more at ease, until the man told her that he was a White House employee, and she wondered whether she had said anything that might have given him a clue about her intentions.
Gutiérrez had consulted Jorge Gutierrez and Isa Noyola, two activists with significantly more experience, about what she should do once she got inside. She was given general advice on what should happen, but few specifics about how to accomplish her goal. What exactly would she shout, and how? What time should the interruption happen? At what point in his speech? There were many unknowns, but her conviction to carry on with the plan held firm.
Suddenly, Gutiérrez found herself at a checkpoint on the White House lawn, where a guard asked her for identification. She presented her Mexican passport, which showed her male-assigned name, because her undocumented status has prevented Gutiérrez from acquiring legal identification as a woman. The guard checked her name against a list, then handed Gutiérrez's passport back to her; she felt an enormous wave of relief. She went through another checkpoint, where she passed through some metal detectors and found herself opening a heavy door to the White House and going inside.
Gutiérrez mingled among the jubilant guests, who were thrilled to be at the center of power — a place where LGBT people had been historically unwelcome. The Supreme Court was expected to rule in favor of same-sex couples' marriage rights nationwide in the next few days, and the crowd of mostly gay, white men were ecstatic as they laughed and smiled broadly while posing for selfies.
Among these happy guests, Gutiérrez did her best to belong. But in her mind she thought of Nicoll Hernández-Polanco, a trans woman who fled Guatemala to escape repeated physical and sexual violence, only to be housed in an all-male facility in Florence, Arizona, where she alleged that she was forced to sleep and shower with men and was the victim of sexual assault. Gutiérrez thought of Christina Lopez, a trans woman from Peru whose record of driving under the influence led to her detention in Santa Ana, California, and who was being refused treatment for hepatitis C.
Gutiérrez, who originally came to the United States from Tuxpan, Jalisco, in southern Mexico, got involved in activism because she felt that she could easily have been a woman like Nicoll or Christina, an undocumented trans woman of color held in ICE detention under uncertain conditions. But once she carried out her plan at the White House, Gutiérrez worried that she risked becoming an ICE detainee herself. She took careful note that there were guards everywhere around her, from military personnel in uniforms to Secret Service agents in suits, to the White House security team in white button-down shirts.
As these fearful thoughts swam in her mind, Gutiérrez heard strains of Spanish, coming from a small band of young LGBT singers. They were singing a song she knew, Marc Anthony's "Vivir Mi Vida" ("Live My Life"), a song whose chorus — voy a reír, voy a bailar, vivir mi vida — emphasizes joy in the face of suffering.
The song assuaged some of her nervousness, but it also reinforced her determination to follow through, with lyrics like: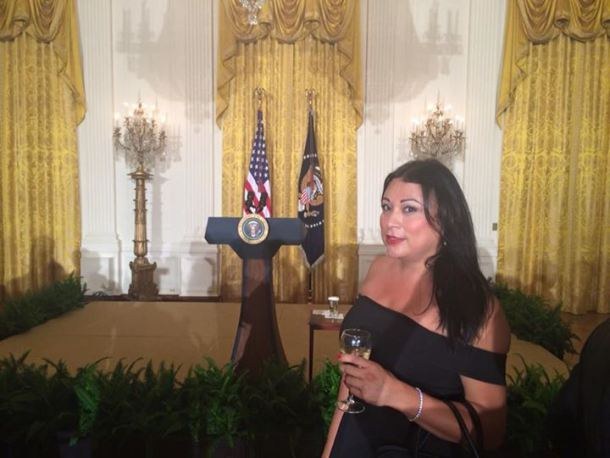 "Voy a vivir el momento

Para entender el destino

(I'm going to live in the moment
To understand my destiny)"
As the reception went on, Gutiérrez felt more and more sure of what she was destined to do.
But she found her body rebelling against her mind. Her heart was still beating too fast, and she felt dizzy from not having eaten all day. A waiter passed by with a glass of champagne, and she took one to calm her nerves. As she joined the crowd being ushered to the main reception room, Gutiérrez asked Peoples to take a picture of her, champagne in hand, in front of the podium where Obama would give his speech.
Hoots and hollers greeted Obama as he entered the room, prompting the president to declare: "This is a rowdy crowd!" Gutiérrez, on the other hand, fell silent, intimidated to be in that space with him and elite members of the LGBT community, in her first year as a public trans activist. As Obama began his speech, Gutiérrez was unable to focus.
But less than a minute later, Gutiérrez heard Obama bring up the "civil rights of LGBT Americans." Suddenly, she found her indignation unleashed — because she believed that her undocumented community, and especially that community's LGBT members, were also a vital part of this nation, and there had been little progress in securing rights for them.
"President Obama," Gutiérrez began, "release all LGBT detention centers!"
The leader of the world's most powerful nation turned his head to find the woman who had interrupted him. Gutiérrez didn't break her gaze. For a moment, she felt she and Obama might just be two people, playing on the same field. The life that Gutiérrez led as an undocumented trans woman of color — a life in which she often feels she has little power — suddenly seemed to have new meaning. She felt, in that moment, just as powerful as the president.
"President Obama, stop the torture and abuse of trans women in detention centers!" Gutiérrez continued. "President Obama, I am a trans woman. I'm tired of the abuse. I'm tired of the violence!"
Gutiérrez kept going, but she was drowned out by the crowd's cheering reaction to Obama's assertion, "You're in my house." He told Gutiérrez from the podium that she shouldn't behave disrespectfully as his invited guest. The two of them kept sparring. Gutiérrez refused to stop shouting for over two minutes, continuing to assert her status as an undocumented trans woman. She yelled that she was tired of Obama's policies on immigrants in ICE detention as the crowd booed her and shouted, "Obama! Obama!"
She was vaguely aware of the crowd's antipathy, but Gutiérrez felt protected by the spirits of Rivera, Johnson, and other trans activists of color who had preceded her — an entire legacy of ancestors who fought for her to be there. She refused to be interrupted, not just by Obama but by an entire room of people who were supposed to be members of her community.
For over two minutes, Gutiérrez switched back and forth between English and Spanish, ending with the chant, "Not one more deportation! ¡Ni uno mas deportación!" even as she was being led to the White House door and into the hands of the Secret Service.
"I'M PUTTING EVERYTHING ON THE LINE, INCLUDING MY OWN FREEDOM."
Three months later, Gutiérrez sat down for breakfast in a dining room at a midtown Manhattan hotel. She was set to speak at an event at the CUNY Graduate Center that evening, having flown in from her home base in Los Angeles the previous night. Unlike the strident woman in the video of the LGBT Pride event, Gutiérrez spoke in measured tones, her voice only hinting at her power to shout when she relived the Obama incident.
"It was really surprising to me to see the community, and obviously the media and the blog people, commenting on my action," Gutiérrez said of the days that followed the interruption. She was so focused on making sure that she completed the plan, and that she wouldn't be stopped because of her immigration status, that she had little idea of how much national attention her actions would gain.

Though the crowd at the White House was almost entirely unsympathetic to Gutiérrez, opinion diversified over the 24 hours after the interruption as video of the event spread online. A number of journalists and bloggers defended Gutiérrez, pointing out that the issues she advocated for warranted the drastic step she took.
"Then you have unfortunate critical pieces like Dawn Ennis from The Advocate, who just totally missed the point," Gutiérrez said. Ennis had compared Gutiérrez's action on behalf of LGBT detainees to Kanye West interrupting Taylor Swift at the 2009 MTV Video Music Awards. The piece also particularly irked Gutiérrez because Ennis is trans. "That's the one that really pushed me to write a response and to clarify that, hey, you know, this is a serious issue that's affecting many of us."
Over time, Gutiérrez came out of the White House incident as one of the most prominent transgender activists today. She has spoken at a number of colleges, including Harvard and Dartmouth, as well as at major conferences like the AFL-CIO Human Rights Conference and the 2016 Creating Change Conference. She even earned a spot in the 2015 Out100 list published by Out magazine, a publication that has long since catered to the kinds of white gay men who booed her at the White House.
Gutiérrez agreed to become part of the list because it was another opportunity for the undocumented queer community, especially trans women, to be part of a national LGBT discussion they've previously been left out of. She also felt vindicated by the experience.
"For me, [the spot on the Out100 list] is like a slap in the face to all these people who were saying that I was just looking for 15 minutes of fame, that I was just wanted to be on television, you know? How lame is that?" Gutiérrez said. "I'm putting everything on the line, including my own freedom."
Gutiérrez's advocacy emerged out of conditions that broadly affect people from the marginalized groups she belongs to — trans women, undocumented immigrants, people of color. The fact that she lives at the intersection of these groups has exposed her to numerous challenges. But according to Gutiérrez, these obstacles have only fueled her determination to fight against political and social institutions that she views as oppressive. And as her public profile has grown, Gutiérrez has become even more determined to prove that her interruption was not a one-time event, but the beginning of her long-term commitment to grassroots activism and ensuring that transgender immigrant priorities are heard in the LGBT rights movement.
"It's always been this disconnect with the mainstream LGBT movement, that some communities are still facing challenges but only certain people seem to have a priority," Gutiérrez said. "It's like they forgot how in order to get into the White House people had to fight back the system to be given a place."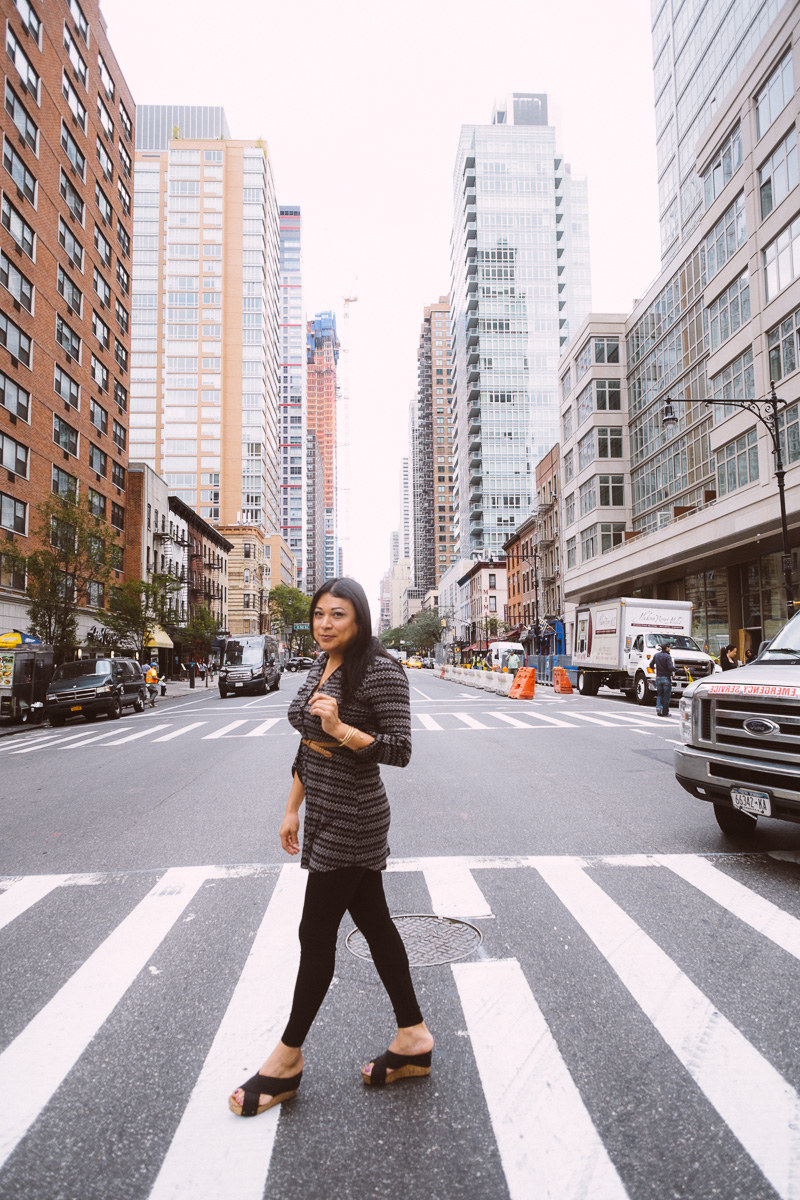 Gutiérrez has been fighting the system ever since she crossed the border from Mexico at 15 and went to Ulysses S. Grant High School in Van Nuys, California. Two years later, she became determined to go to college even though she was undocumented.
"I remember meeting up with the counselor and she was like, 'Well, what's your social security number?' and I'm like, 'Oh, I don't have one,' and she's like, 'Oh, you need one to apply and you need to get financial aid,'" Gutiérrez said, California-influenced "likes" peppering her words. "So that was like the first wake-up call for me and knowing that I was undocumented and that I was going to be facing obstacles."
Nevertheless, Gutiérrez took a risk and applied to college as a U.S. citizen, which enabled her to go to classes, first at California State University, Northridge, then at the University of California, Davis. Though she didn't graduate, Gutiérrez did take classes in Chicano/Chicana studies, which planted the seeds of her political awareness as a Latina immigrant in America.
Simultaneously, Gutiérrez also struggled with her gender identity. Even as a child, she had a habit of putting on her mother's clothes. But it was at a neighbor's, when she was around 8 years old, that she played dress-up and found herself looking in the mirror, fully dressed as female. "I remember I had a dress on, I had a wig on, and nylons and heels, and they even took a picture, and I just felt so liberated, like I connected with that identity so strongly," Gutiérrez said.
When she moved to the U.S., she began making queer friends who went out to clubs in L.A. "It was on the Halloween night senior year when I first got dressed as a woman with my friends, who were mostly gay Latinos. And it was just something I couldn't let go." Nevertheless, Gutiérrez was aware of how difficult transition would be, so it wasn't until she was in her mid-twenties when she finally decided to present as a woman full-time.
"I called my sister and said, you know, 'I feel very depressed, I'm sad. Because I see other friends of mine who are trans and they're living their lives,'" Gutiérrez said, referring to Gisela, the youngest sibling of the nine children in her family (Jennicet is eighth). "I told her I needed to transition and just broke down, and she said, 'Yeah, that's fine, but just make sure to do it properly.'"
By "properly," her sister meant that Jennicet needed medical supervision, which she managed to get through a program at the BAART Clinic in L.A., a facility that provided free hormones to low-income trans women regardless of documentation status.
"But then it came to the point when the funds were being cut for the program," Gutiérrez said, "so they really needed to provide only to people who had documentation. So we were told, 'We're not going to be able to serve you anymore.'"
During her transition, Gutiérrez worked illegally and at great risk as a paralegal at a family law office, where her employers were not aware of her undocumented status. She felt keenly aware of how badly the system was treating her, but was too mired in her own personal struggles to get involved in political action, even though she met and admired Latinx activists like Bamby Salcedo and Jorge Gutierrez from Familia, the grassroots activist organization that would eventually bring her into national spotlight.
Yet over time, the continued violence against transgender women of color began weighing on her, and she became increasingly interested in political activism, attending meetings and protests on behalf of trans women of color who've been killed, as well as a range of social justice issues like poverty, minority rights, and immigration reform.
But by early 2015, she found herself heavily focused on an issue that bisected her own marginalized identities: the treatment of LGBT and especially transgender detainees in ICE centers. She got involved in protesting around the Free Nicoll campaign, a movement by several grassroots organizations to get a trans woman seeking asylum, who had endured sexual and physical violence in her native Guatemala, out of detention. A Fusion investigation revealed that this type of treatment was not unusual.
"The Free Nicoll campaign, that was when I started making this connection to my own personal situation being trans, being undocumented," Jennicet said as she took a deep breath. "Like wow, this could happen to me. If I get pulled over by the police for any minor infraction, they can do a background check and turn me over to immigration. So to me, why am I not doing something about this?"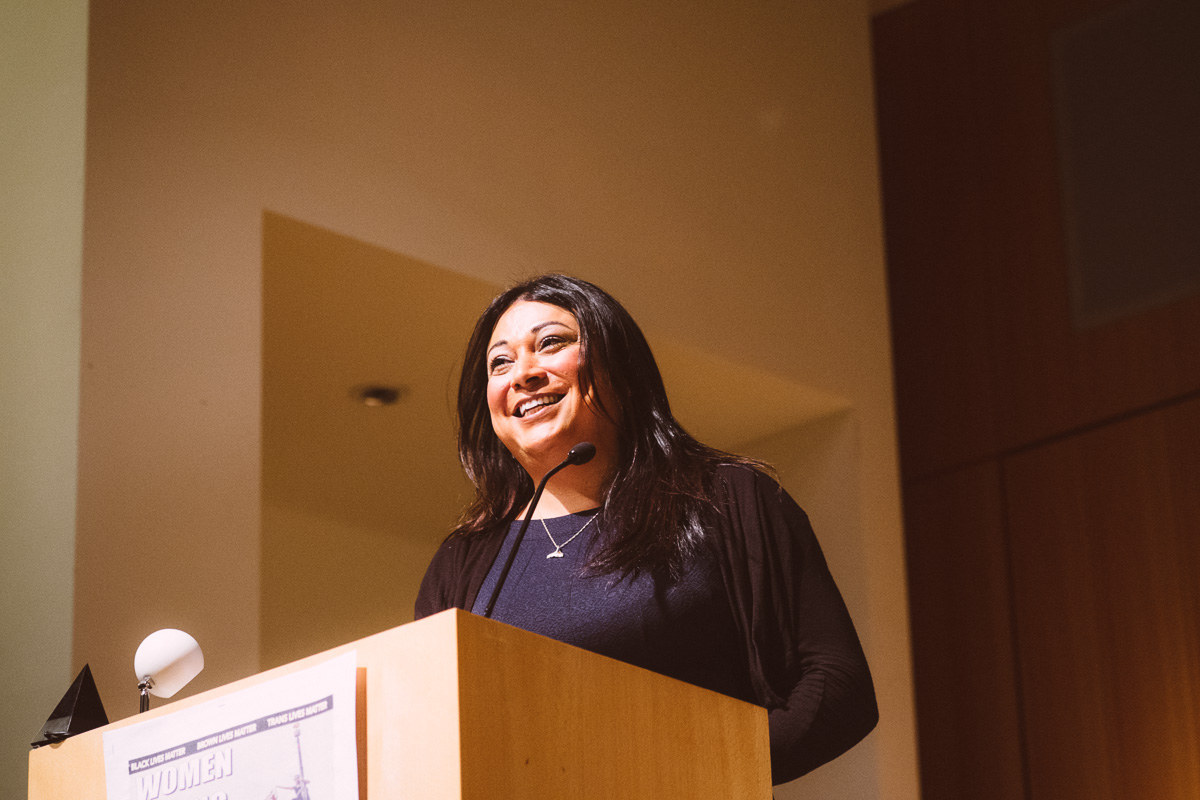 Less than a week after Gutiérrez's action, ICE issued new guidelines that call for transgender women to be housed with other women, and for searches to be conducted in a respectful manner. Despite these guidelines, 14 transgender women among a group of 31 recently filed a complaint to federal and local authorities in California that alleges they were subjected to degrading strip searches in violation of ICE's own policies.
"It's unacceptable that they have to put people through searches again, and dehumanize them again. They've already been through that experience," Gutiérrez said. "I'm extremely disappointed. That's one issue we're pushing forward, to stop this procedure."
Gutiérrez also emphasized that while trans people have made significant civil rights gains, the resulting visibility has led to backlash. Gutiérrez cited the recent repeal of the Houston Equal Rights Ordinance (HERO) as a key example of how opposition groups are using trans people to work against the entire LGBT community. The law provided comprehensive protections not just for LGBT people but for other marginalized groups, yet voters repealed it largely based on fears that it would have left women and girls vulnerable to predators because of the potential for male-assigned people to enter public restrooms as women under false pretenses.
Gutiérrez considers her activism not just a reflection of her political concerns, but of her own personal struggle to be proud of who she is. "For many years I used to be in the shadows, I used to be really shy to speak up about who Jennicet is as a person, who Jennicet is as a human being," Gutiérrez said. "So I think now, with that interruption, I have the possibility to highlight my humanity and those of people like me, that oftentimes it gets questioned or it gets stripped away from us because of who we are."
"HOW COULD I NOT INTERRUPT AND BE DISRESPECT-FUL, WHEN OUR LIVES ARE BEING INTERRUPTED DAILY?"
Apart from her publicly visible work, the panels and talks she gets asked to do, the press attention that she gets, Gutiérrez plans to do the hard, day-to-day work of political organizing, and is being mentored by veteran organizers at Familia.
"I'm learning. This is totally new to me," Gutiérrez said, as though reminding herself that it's been less than a year since she got heavily involved in activism. "This year I want to continue to work, day in and day out, on issues that I care about … I think it's crucial to build coalition with other movements. I want to do it in a way that I won't be co-opting anything instead of listening and supporting each other in the struggle for liberation."
For Gutiérrez personally, liberation means being treated like any other person in American society, regardless of her gender or documentation status; it would mean that she could get a job or go to the doctor without being harassed or looked down upon. "Liberation means I can go into any space and be able to be part of it and contribute without any harassment, without any violence, without being murdered simply because of who we are."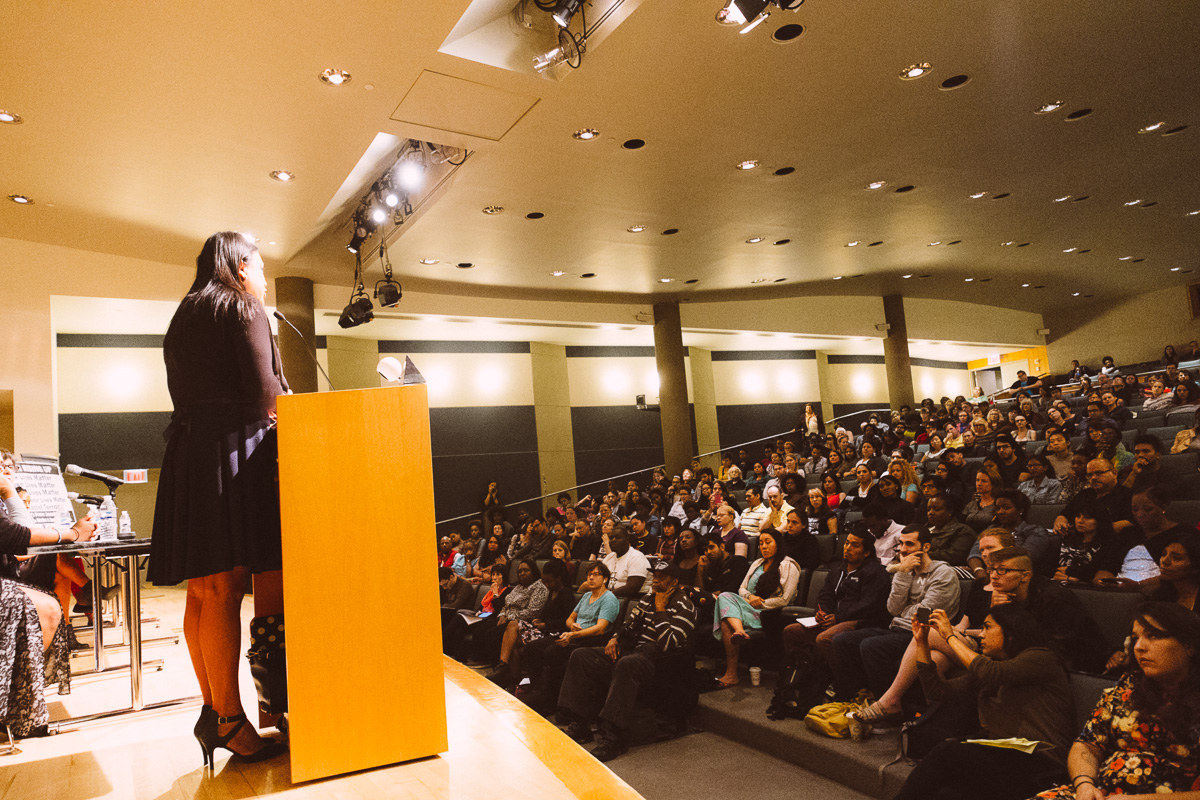 Gutiérrez basked in her publicly visible role as she addressed a crowd full of people at the CUNY Graduate Center in both English and Spanish at a panel last September. Clad in an elegant dark dress not so different from what she wore when she interrupted the president, she spoke to a friendly crowd. Gutiérrez emphasized that she has no regrets about her actions, and that she would do it again if given the chance.
"How could I not interrupt and be disrespectful," she said, "when our lives are being interrupted daily?" She then listed the ways in which trans women's lives are regularly interrupted — by medical gatekeepers, by family, by their workplaces, and by people who inflict violence upon them — emphasizing that her own action at the White House paled in comparison to the ways that transgender women like her, especially those who are undocumented, are impeded at every turn.
"I have a vision," she said with steely determination as she concluded her speech, "that our community will continue to unite and show our power. We all must develop a vision of change and leadership, and commit to acts of resistance. We must not assimilate into a system that wants to destroy our mission and our movement, mostly led, now and always, by the voices of those who have been constantly ignored: trans women of color."
As Gutiérrez stood placidly during the standing ovation that followed, it was as if she was transmitting that moment of power she felt in those two minutes that she contended with the president of the United States, trying to persuade her audience to believe that they, too, can fight the powerful forces that oppress them. After a lifetime of enormous obstacles, Gutiérrez has found herself continuing her advocacy as an undocumented trans woman of color, on behalf of people like her who are unable to fight for themselves. So far, she has not been interrupted.