You Should Make These Chewy Oatmeal Breakfast Bars To Take With You To School Or Work
Meal prep 4 eva.
by
,
Chewy Oatmeal Breakfast Bars To-Go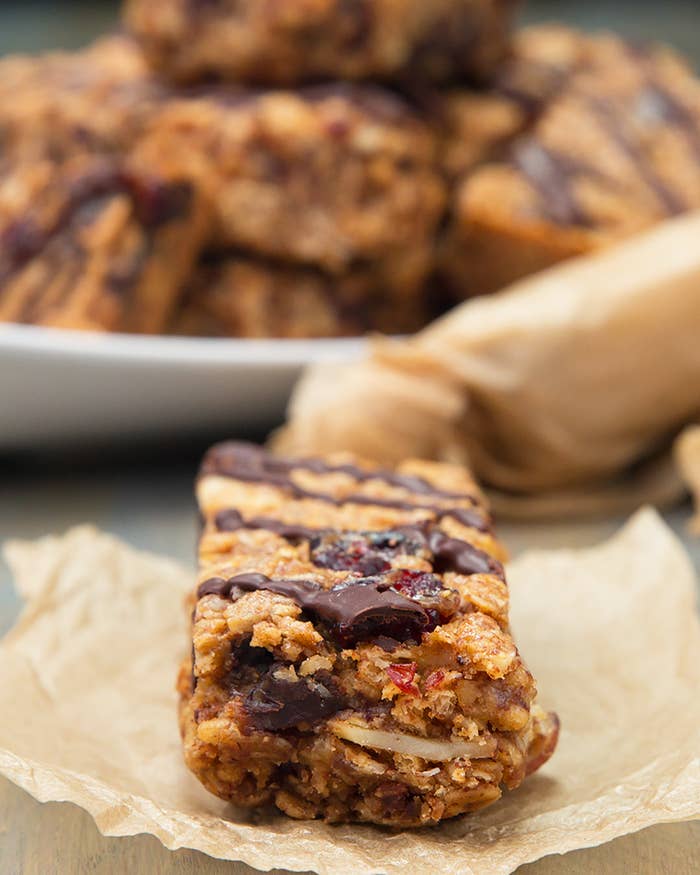 INGREDIENTS
1 cup almond butter
½ cup maple syrup
½ cup almond milk
1 teaspoon vanilla
2½ cups rolled oats
1 cup brown rice cereal
½ cup slivered almonds
½ cup dried cranberries
½ cup dark chocolate, chopped
Drizzle:
¼ cup dark chocolate, melted
PREPARATION
1.Preheat oven to 325˚F/160˚C.
2.Combine wet ingredients together in a large bowl, then add in all the remaining dry ingredients.
3.Add mixture into a 8x8 baking pan lined with greased parchment paper. Firmly press down mixture until it is one smooth layer. (if you grease the spatula as well it will prevent the mixture from sticking to it!)
4.Bake 15-20 minutes, or until golden brown. Let cool 10 minutes.
5.Drizzle top with melted dark chocolate. Chill for 30 minutes, or until dark chocolate is solid.
6.Cut into 8 equal pieces. Wrap each bar in parchment paper or foil. Store in the freezer for up to 3 months or in the refrigerator up to 1 week.
7.Enjoy your breakfast bar to-go!