Berry French Toast Cups
INGREDIENTS
4 eggs
1 cup almond milk
1 tablespoon vanilla
2 teaspoons cinnamon
12 slices whole grain bread
½ cup strawberries, quartered
½ cup blueberries
½ cup raspberries, halved
½ cup blackberries, halved
Filling:
2 cups plain Greek yogurt
¼ cup maple syrup
½ teaspoon cinnamon
PREPARATION
1. Preheat oven to 350˚F/180˚C.
2. Combine eggs, milk, vanilla, and cinnamon in a large bowl.
3. Dip bread slices into egg mixture and gently press into muffin tin coated with cooking spray.
4. Bake for 20-25 minutes or until golden brown.
5. Prepare filling and fruit slices while cups bake.
6. Fill up the slices with the filling and fruit.
7. Serve with a drizzle of maple syrup.
Enjoy these perfect little bites!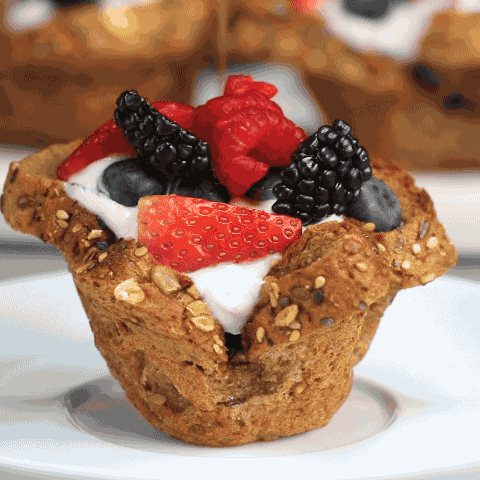 Looks like there are no comments yet.
Be the first to comment!