1. What did you have for breakfast this morning?
Oatmeal and quinoa with blueberries.

2. What are the first three dishes a beginner cook should master?
Scrambled eggs, pan-fried steak, and simple roasted vegetables.

3. Most common mistake you see new cooks make in the kitchen?
Temperature. So for example: stewing instead of sautéing. But temperature is also the hardest thing to teach because there aren't any real indicators that you're doing it wrong.
4. What's a weeknight dinner you make more often than you'd like to admit?
A Cornish game hen, butterflied, then cooked on a panini press.
5. What's your drink of choice?
Classic gin martini. Straight up, three olives.
6. And related: go-to hangover cure?
French fries.

7. What's something that you taught on Good Eats that you now wish you could take back?
That you need to cook dry pasta in a large amount of boiling water. I now very much prefer the texture of pasta when it's cooked in just a little bit of cold water. Add your pasta to a pot, then pour in just enough cold water to cover the noodles. This method works for any type of dry pasta too — just make sure the pot is large enough if you're using longer strands like linguine.
8. Any chance of bringing back Good Eats?
I'm actually working on something right now that's a continuation of Good Eats. I wouldn't say it's a reboot exactly — but it's picking up where the show left off, and has the same sensibilities. It's happening later this year on my website, so it'll be distributed digitally. Good Eats for cable cutters!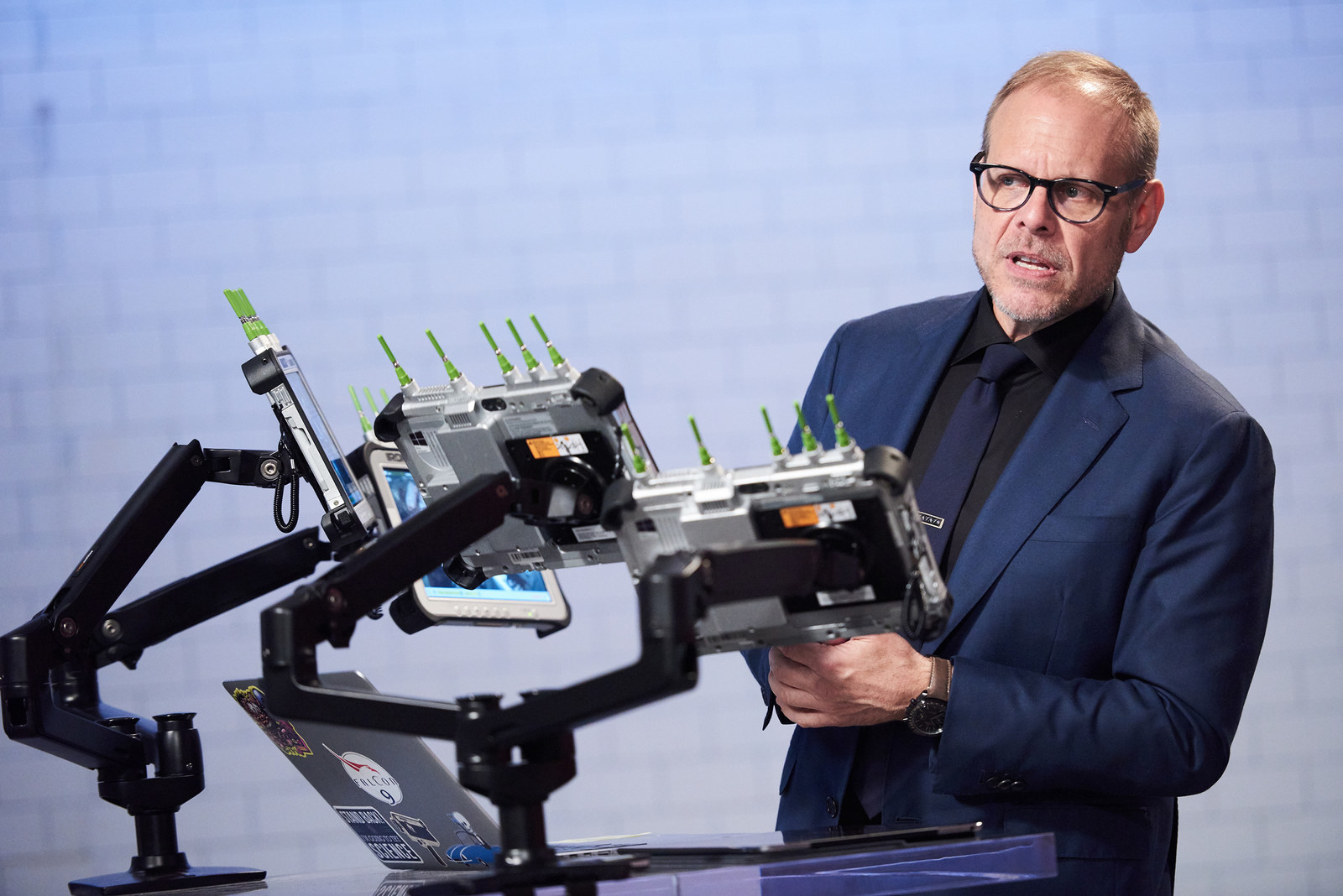 9. And speaking of reboots: Iron Chef Gauntlet premieres this month. What made you want to revisit the series?
I finally feel like I'm getting to do Iron Chef the way I want to do it. There's no gimmicky personal drama. We're really concentrating on ingredients and technique, and this time, it's completely about the food.
10. What's your favorite food to cook with that comes in a can?
Sardines.

11. Junk food you could never give up?

Little Debbie Nutty Bars.

12. Top three US cities for food?
Los Angeles is definitely number one for me. Then Charleston and Minneapolis.
13. Favorite emoji?
I actually don't think I've ever used one. (But I'll doodle all day long.)
14. Workout of choice?
Boxing.
15. Go-to karaoke song?
Frank Sinatra's version of "The Lady Is a Tramp."
16. If you could be on any non-food reality show, which one would it be?
I hate reality shows.
17. All of them?
All of them. Categorically.
18. Best road trip you've ever been on?
For [my Food Network show] Feasting on Asphalt, I rode cross-country on a motorcycle from South Carolina to Los Angeles. Downside was I got into an accident and broke my collarbone — but it was still the greatest road trip ever.
19. Best piece of advice you've ever received?
Bobby Flay once told me, "Never take money from a partner that you can borrow from a bank."
20. Last TV show you binge-watched?
Billions. And before that: The Man in the High Castle, and The Crown. I'm a total binger — I'll specifically wait until all of the episodes are available so I can watch everything at once. It's the only way to go.
For more on Alton, tune in to Iron Chef Gauntlet — airing Sundays at 9 pm ET/8 CT on Food Network — or follow him on Instagram.