1.
A bleach-free, no-scrub weekly shower spray so soap scum and shower grime buildup goes bye bye without you ever having to wipe. Rinse it clean the next day, and you'll be amazed to see those hard water stains on your shower door are *poof* gone.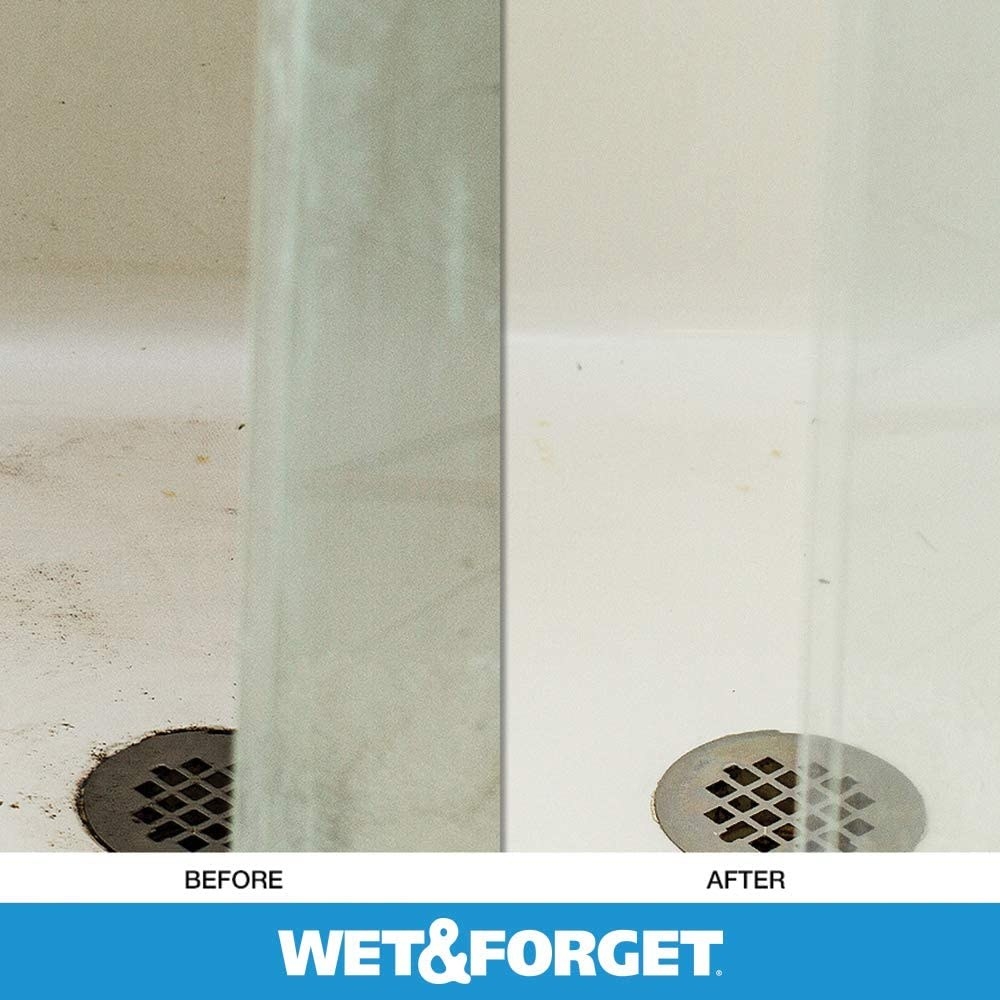 Promising review: "We cannot BEGIN to tell you what a lifesaver this is! We have two old fiberglass tubs with vinyl shower enclosures that no matter what amount of scrubbing we have done with everything from bleach to cleanser to vinegar and baking soda would NOT come clean. After I took my shower last night, I sprayed down the tub and walls. Within minutes, all the built-up water deposits and dirt and grime began to melt away in front of my eyes. I left it on overnight, and when I got up this morning, it did not look like the same tub and shower. This product is a godsend, especially for old folks like us who have difficulty getting down on our hands and knees and scrubbing anything. More importantly, it performs as advertised. We plan on using it as part of our weekly cleanup routine. This is truly an overnight sensation!" —Amazon Customer
Get it from Amazon for $19.54+ (available in two scents).

2.
And on the topic of "spray and walk away" products = a mold and mildew remover because you can set it, forget it, and come back in a few hours to see grout that looks like new. I'm talking basically every speck of black mold is gone! *Cues up "Do You Believe in Magic"*
Promising review: "This stuff is amazing. I live in an older apartment complex and even though I scrub and clean my bathtub every week, the caulk around the edge still managed to grow mold and turn brown/ black. I scrubbed with many different products and it didn't seem to make a difference. I found this product and the transformation is huge. First, it's easy to apply because of the squeeze top. I was able to just really focus on the caulk. Then, because it's a gel, it stayed put and didn't ooze everywhere. It really surprised me on those vertical sides. In the first picture, I already scrubbed my tub and even used some sturdy brushes attached to my power drill. The second half of the picture is after five hours of letting this mold remover soak and just wiping it off." —Rochelle
Get it from Amazon for $14.99.
3.
A two-tier sliding shelf if there are cabinets in your home that everyone knows to absolutely never open for fear of triggering an avalanche of junk. These durable baskets are up to the task of corralling all the random bits and bobs you own, so every bit of storage space is usable.
Promising review: "I saw great reviews on this item, so I took the plunge and ordered two sets of them. They were a little pricey, but I am so happy with the product that I think the price was completely worthwhile! These organizers are much better than other plastic drawers I have used in the past. With the way they are designed, items don't get stuck in the drawers, they are easy to slide, they are spacious, and they have little removable 'sectionals' that you can use to organize the inside of the drawers. All in all, this was a great purchase, and I would make it again in a heartbeat." —Tess De Pretis
Get it from Amazon for $22.99+ (available in two colors and three styles).
4.
A stand mixer cable wrap that'll keep the cord safely and neatly tucked away when your mixer isn't in use.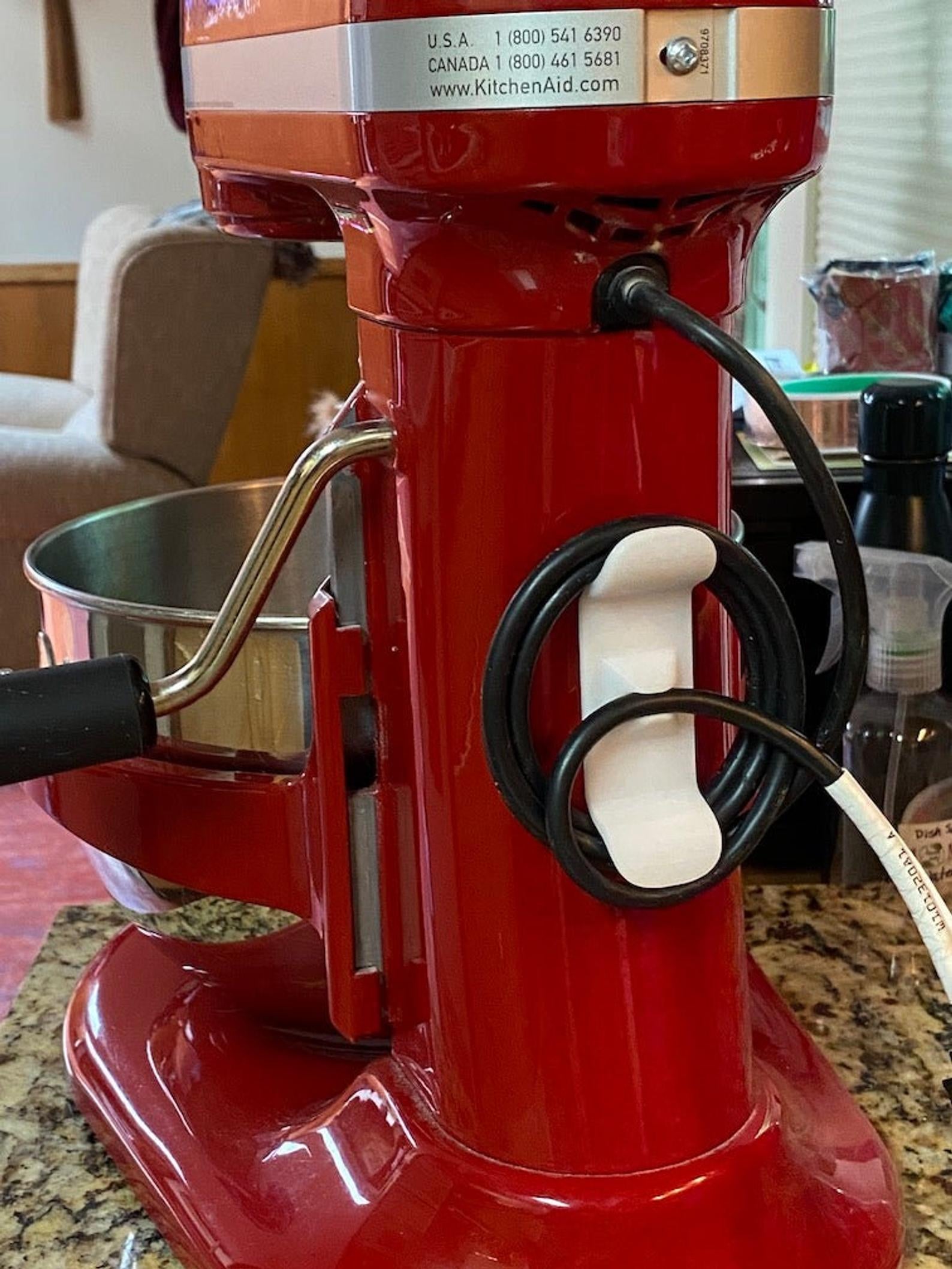 The wrap also comes with a Command strip for easy mounting.
McMaster3D is a small business based in Langhorne, Pennsylvania. Paul McMaster, the store owner, is a self-taught 3D printer! 
Promising review: "Great accessory for mixer cord! Matched my silver KitchenAid mixer perfectly. Great product!" —Nancy McDonald
Get it from McMaster3D on Etsy for $6+ (available in 12 colors and two styles).
5.
A jewelry cabinet cleverly disguised as a mirror for anyone who's basically given up on wearing jewelry because detangling the pile of necklaces in your jewelry box is not something you have the time or or desire to handle.
Promising review: "Why the heck didn't I get one of these years ago?? This is a quality product. Sturdy and well made. At first I thought the light was a little gimmicky but it totally helps me see what I'm doing in my dimly lit bedroom. This is soooo much better than a jewelry box or trying to figure out your own clever storage like I have for years (trying to put off splurging for a product like this). I totally regret not getting one sooner. A lot of earring capacity, ton of everything capacity and ease of use for someone as lazy as me is critical! If you're on the fence, get one, you won't regret it! So worth the money!" —PHILLIP G.
Get it from Amazon for $139.99 (available in eight colors).
6.
A beeswax wood polisher so you can revive your embarrassingly worn, dinged, and dented cabinets and table quick as a flash. Plus, this method is a heck of a lot cheaper than actually replacing the wood or furniture piece, and using this polish on a regular basis can actually help keep the wood hydrated so it lasts longer.
Promising review: "Works as incredibly as the reviews said! Super fast, no strong smelly chemicals, amazing results!" —Michelle B
Get it from Amazon for $9.98.
7.
A pack of stain-removing pads because owning a pet is messy but these pads are up to the task. Pee? Check! Poop? Check! Vomit? Check! (You can even use them to clean up your wine spills.) Just lay them over the spot, give 'em a stomp to activate their cleaning powders, and watch the stain disappear — no bulky carpet steamer necessary!
Promising review: "WOW! Honestly, I was a little skeptical of the promise of these pads, but I bought them just to try out. THEY WORKED AMAZINGLY WELL! Seriously. I have some stains that are 1.5–2 years old. I've tried everything to get them out. I put these pads on the stains (two to cover the spot), let sit for about an hour, pulled them up, and the stain was gone. I truly couldn't believe it. The pad was yellow. Somehow the old urine was soaked up into the pad. My carpet looks like new. I couldn't recommend these any higher for what I wanted and what I got. Wish I could give this more than five stars." —Matt
Get a pack of 20 from Amazon for $27.49.
8.
An EasyWring microfiber spin mop if you're envious of the sparkly clean floors you see on #CleanTok. Its specially designed microfiber mop head (which is machine washable, btw!) is so effective at grabbing dirt and grime that you can skip the harsh chemicals and clean with just water! And ofc it has a built-in wringer and splash guard (no one wants dirty water splattered on their face!).
Promising review: "I had had it with my broken basic mop and bucket. I tried to just get a dollar store Swiffer to get us by, but that wasn't cutting it at all. With three boys and a dog that makes his rounds on all the furniture and every exposed corner, I had to do something. After seeing a TikTok where a woman demonstrated this mop to clean her walls, and hearing my boss raving about it, I decided to click the Amazon button. Let me tell you, I HATE cleaning, I HATE mopping, but I LOVE for things to be clean. I was able to mop the entire house TWICE (Because it was that dirty. Please don't judge.) within an hour. A few days later I mopped the entire house again within 10 minutes because they weren't quite as dirty. On another positive note, my boys love the spinner and think it's a toy! So, every time I get the bucket out my 10-year-old and 4-year-old ask to mop the house because they think it's fun. MAJOR BONUS!" —Molly
Get it from Amazon for $34.97. 
9.
A plant-based stainless steel cleaner and polish that'll help you conquer the very time-consuming task of wiping down all the appliances in your kitchen. Reviewers say it helps keep your surfaces smudge-free for longer, meaning less cleaning for you!
Therapy Clean is a family-owned small business based in Dover, New Hampshire.
Promising review: "I live in an apartment. The sink is about 35 years old and has become badly stained and scratched from neglect and indifferent care. This has made a noticeable difference. This sink will never look brand new again, but your product removed, I would say, about 80% of the stains, without any extraordinary effort, and put a really polished look on the sink. It is gleaming and actually looks very clean for the first time since I have lived here. I am betting that with continued and consistent use of Therapy cleaner, it will continue to improve. Thank you for a most excellent product." —David Brennan
Get it from Amazon for $19.95.
10.
A pack of shelf dividers to organize your clothes into neat and distinct piles. These dividers provide stability for soft clothes that tend to fall over into one big pile of mess.
11.
A pumice cleaning stone for powering through tough rust, lime, and calcium streaks that have retired many a toilet scrubbing brush. Give your tired arms a break and let this little guy rub away discoloration with ease. This nontoxic cleaner is tough on dirt but gentle on porcelain so you can sit atop the glistening throne you deserve.
Promising review: "I'm doing a happy dance right now! My toilets have had mineral rings in the bowls from well water since we bought our house five years ago. During those five years, I have purchased NUMEROUS products to try to remove the rings. Every single one failed. I had come to terms with the idea that if I wanted pristine looking crappers, I was going to need to replace them. Three of them. Ugh! I ordered the pumice cleaning stone as a last ditch attempt. Received it today, and immediately went to town. My extreme enthusiasm for scrubbing johns was actually a bit odd, but I was feeling optimistic. Turns out I had reason to. THIS PRODUCT IS AMAZING!!! SO amazing, it actually inspired me to take a picture of my TOILET!!!! My hoppers are saved!!!!! Seriously, the rings are COMPLETELY GONE. If I could give 10 stars, I would." —Sassyscribbler
Get it from Amazon for $12.99.

12.
A Scrubbing Bubbles toilet cleaning stamp so you can polish your toilet without ever having to pick up a dirty toilet brush. *shudders* The stamp releases the cleaning gel, which foams and cleans your toilet.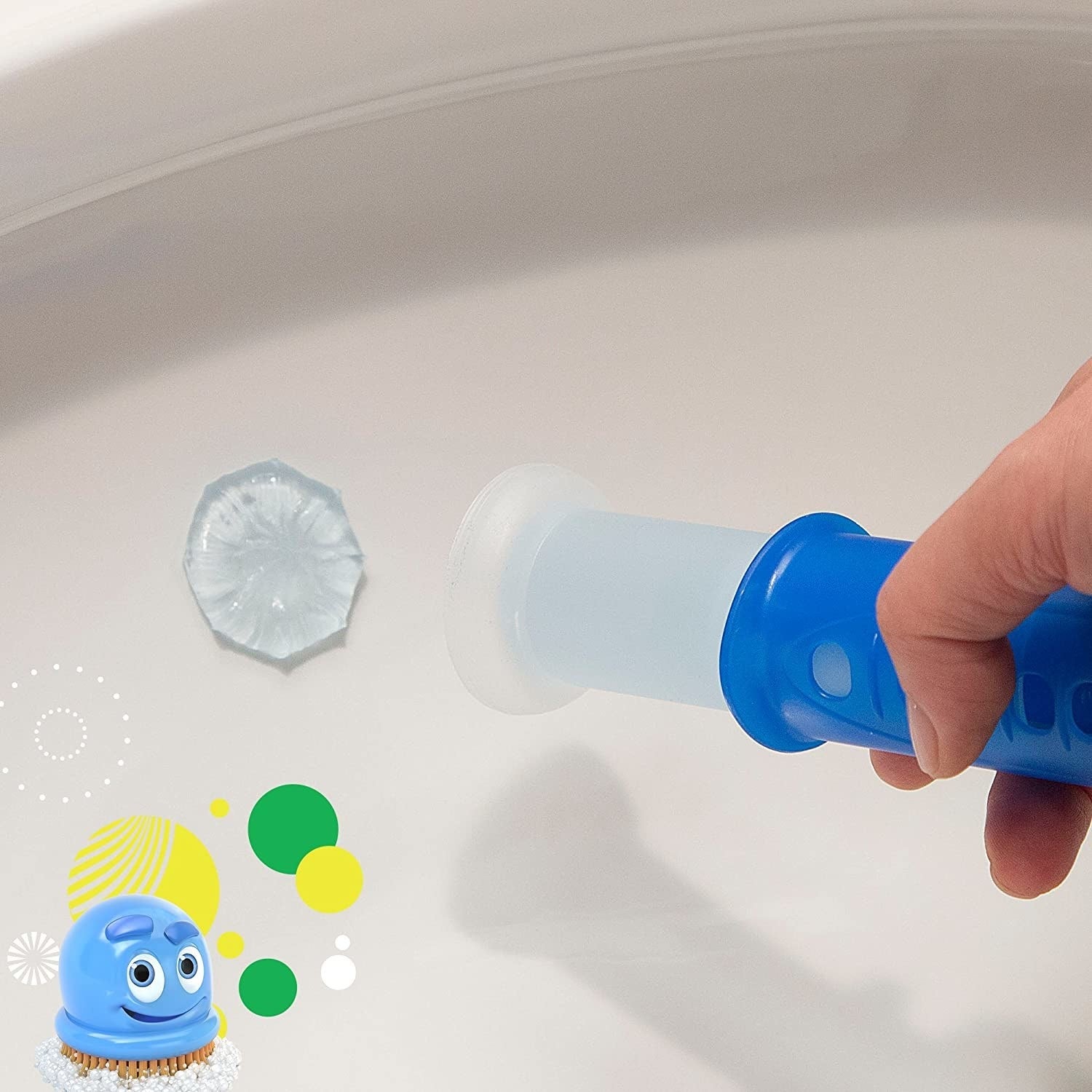 Promising review: "I was sooo skeptical and was confused about how they'd work but the gel solidifies and with every flush, suds wash through with the water and it really makes a fresh difference. Also the scent is light but really nice and fresh! I recommend these 100%! They're super interesting but they do the job." —Janet
Get six stamps from Amazon for $5.19.