1.
A lightweight primer so you can apply your makeup to a smooth, even surface and have it stay all day. It's made with green tea extract and collagen to protect and moisturize the skin.
Promising review: "I wanted to give this product 10 stars but was only limited to five :( This stuff is AMAZING!!!! I'm almost 30 and my face has become super oily — like I can fry chicken on it by the end of the day. So for months I've neglected wearing any kind of foundation or makeup in general. After reading reviews I figured O would give this a try. The glow it gives you is AWESOME!!! It makes my skin so soft. I'm probably going to wear just this and no foundation 50% of the time. After the Texas heat..and the sun..and amounts of sweat...my face was PERFECT......STILL! No oil...no smears...no pores... This is literally sent from heaven!!!! My ONLY dislike is the fact that you cant purchase this in five-gallon buckets!" —Jessica
Get it from Amazon for $15.50.
2.
A pack of stain-removing pads because owning a pet = a lot of messes. Just lay them over the spot, give 'em a stomp to activate their cleaning powders, and watch the stain disappear — no bulky carpet steamer necessary!
Promising review: "WOW! Honestly, I was a little skeptical of the promise of these pads, but I bought them just to try out. THEY WORKED AMAZINGLY WELL! Seriously. I have some stains that are 1.5–2 years old. I've tried everything to get them out. I put these pads on the stains (two to cover the spot), let sit for about an hour, pulled them up, and the stain was gone. I truly couldn't believe it. The pad was yellow. Somehow the old urine was soaked up into the pad. My carpet looks like new. I couldn't recommend these any higher for what I wanted and what I got. Wish I could give this more than five stars." —Matt
Get a pack of 20 from Amazon for $24.99.
3.
A set of wad-free pads from Shark Tank for keeping your bedsheets from tangling in the wash. If you've ever opened the dryer expecting...well...dry sheets, only to find them tangled in a damp ball, you need this. Doing the bare minimum = having to dry your bedsheets only once.
Wad-Free is a small biz that was launched during the pandemic. Cyndi Bray, the founder, learned CAD (computer-aided design) to create the pads.
Promising review: "Wow!!! You wonder if things like this really work and well, I can absolutely confirm it does! First, I was impressed that the package came with two of the devices because I was only expecting one. So there was one for the fitted sheet, and the flat sheet. Finally, I tried it out and my sheets not only did NOT wad up, they came out of the dryer feeling fresher, feeling more dry, and unwrinkled! I will be buying a set of these for each of my immediate family members and close friends! What a great gift!!!" —katy
Get it from Amazon for $18.99.
4.
A box of cleaning K-Cups that'll get rid of residue in your machine and prevent flavors from transferring in just one cycle. Or have fun descaling it multiple times. Your choice!
Promising review: "Thought I was having problems with my machine. Used two cups to flush the entire coffee maker out and it started working like new. Totally satisfied!" —Dara Pazooki
Get a box of six pods from Amazon for $9.95.
5.
A pair of super soft high-waisted leggings if you put together at least five outfits this morning, hated all of them, cursed your closet for being so mid, and then curled up in bed because it feels like there's no point in getting dressed anymore. These cozy, comfy, go-with-everything, not-opaque-at-all leggings take the guesswork out of getting dressed, and have earned more than 52,000+ 5-star reviews.
Promising review: "These leggings are really fantastic! They're deliciously soft, breathable, and stretch nicely without becoming see-through. Also, it says to wash and air dry them, but I have put them in the dryer many times and they still remain true to size/fit. You really can't best the price either. I'm very satisfied and would highly recommend these glorious leggings to anyone!" —Kelsey T.
Get them from Amazon for $9.99+ (available in one size and plus size; capri or regular lengths; and a variety of colors).
6.
An adorable octopus-shaped blackhead remover to exfoliate your skin while pulling out whiteheads, blackheads, and other pore-clogging yuckies. 
Promising review: "After just two days of use, this adorable little octopus has done wonders for me, smells great too. Here's how I used it: I wore down the stick just a little to where the texture from the salt is visible, scrubbed around on my face so there was plenty of product, then I used my fingers to gently massage all the gunk away. Rinse, pat dry, and enjoy the softness. Highly recommended for people with sensitive skin like myself." —LuckLocust
Get it from Amazon for $12.50. 
7.
A bleach-free, no-scrub weekly shower spray so soap scum and shower grime buildup goes bye bye without you ever having to wipe. Rinse it clean the next day, and you'll be amazed to see those hard water stains on your shower door are *poof* gone.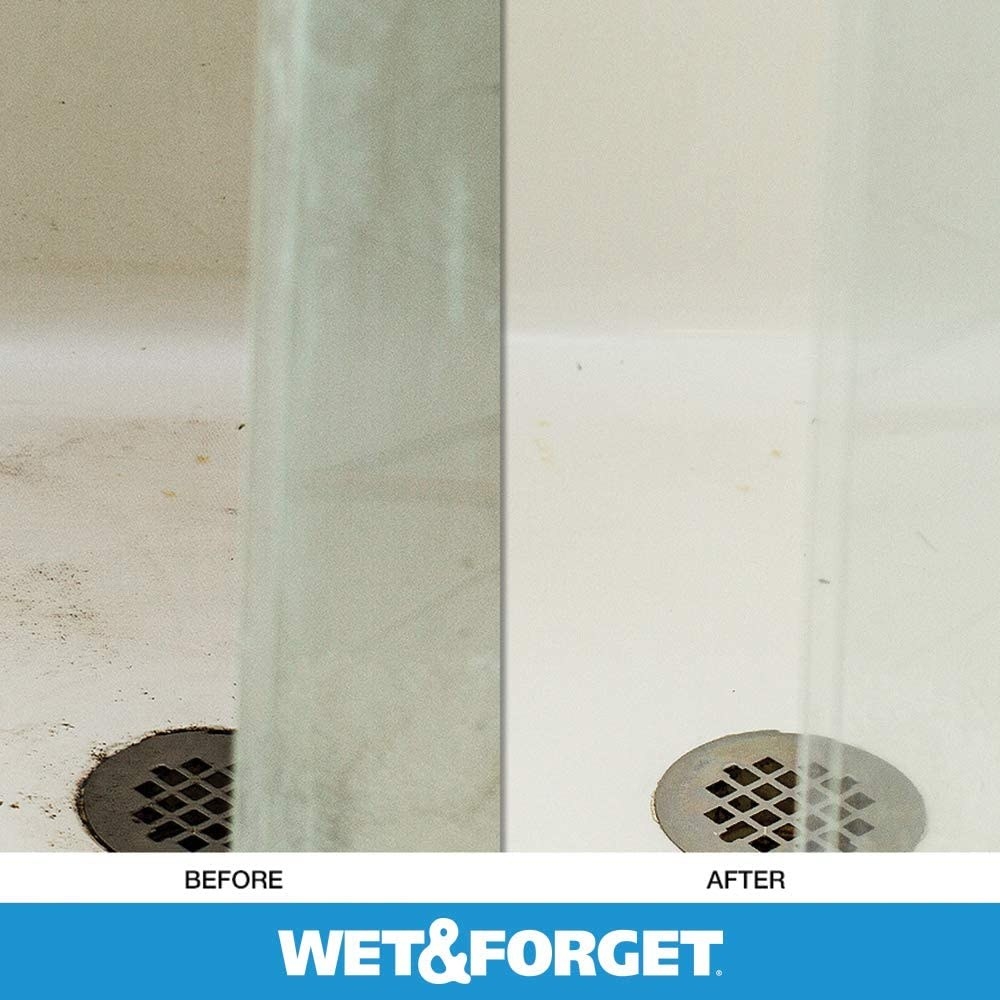 Promising review: "We cannot BEGIN to tell you what a lifesaver this is! We have two old fiberglass tubs with vinyl shower enclosures that no matter what amount of scrubbing we have done with everything from bleach to cleanser to vinegar and baking soda would NOT come clean. After I took my shower last night, I sprayed down the tub and walls. Within minutes, all the built-up water deposits and dirt and grime began to melt away in front of my eyes. I left it on overnight, and when I got up this morning, it did not look like the same tub and shower. This product is a godsend, especially for old folks like us who have difficulty getting down on our hands and knees and scrubbing anything. More importantly, it performs as advertised. We plan on using it as part of our weekly cleanup routine. This is truly an overnight sensation!" —Amazon Customer
Get it from Amazon for $16.89.
8.
A pack of AirPod cleaners because the last time you offered your buddy an earbud to listen along with you, they actually recoiled in disgust when they saw how gunked up your AirPods were. Squish the flexible square into your AirPod speaker, peel it off, and gasp in horror at the ear goop that's been dulling the sound quality.
Promising review: "I bought this after seeing it on some BuzzFeed list and thinking about how gross my AirPods probably were. When they came in the mail, I used them immediately. They got all the gunk out that was in the little holes. THEN my husband comes in and sees and wants to use them for his. I learned he has never even tried to clean his own AirPods (?!) DISGUSTING and amazing. It got everything out of his." —Amazon Customer
Get 24 from Amazon for $16.99.
9.
A leave-in conditioner for curly-haired and tender-headed tots (and adults!) that harnesses the hydrating, reparative, and detangling abilities of vitamin B5, jojoba oil, keratin, and more.
Promising review: "This stuff is beyond 5 stars. I initially bought this for my son who is tender-headed. I have really curly hair and happened to break my ankle and was in the hospital for two weeks and couldn't wash and condition my hair like I do at home. I had what felt like dreadlocks in three places! I was hoping this would work on my hair and it was amazing! I completely soaked my hair with this stuff, waited a little while, and gently combed through it. I absolutely cannot believe how well it worked!!" —Bea
Get it from Amazon for $7.99.
10.
Some washing machine cleaning tablets that'll clean and freshen the inside while dissolving residue because you keep your washing machine open when it's not in use yet it still smells moldy. What gives?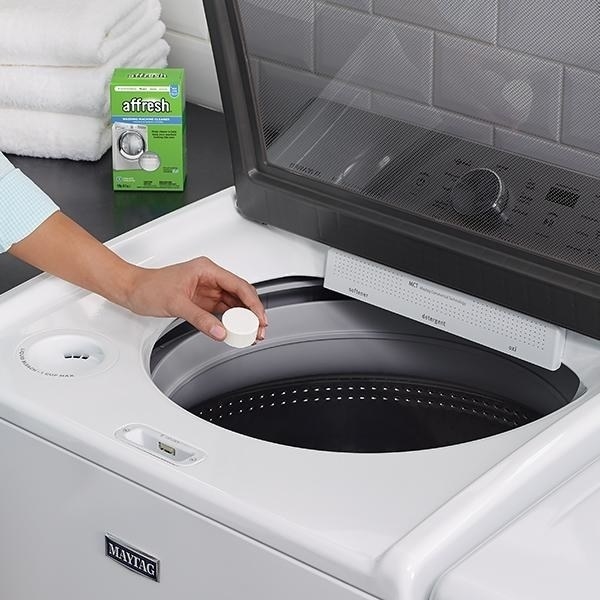 They're safe to use with pretty much any type of washer: HE or regular, top-loading and front-loading.
Promising review: "I have been using bleach to clean my machine for some time, but decided to give this a try a few months ago. My very first clean with Affresh left me surprised and delighted for not only did it clean my machine, it eliminated the nasty smell that always transferred to my clothes thanks to a build up of mold I didn't even know about. Every month now, I toss a tablet into the drum and let it work its magic. Now, my machine is cleaner than ever, and my clothes always smell wonderfully fresh." —Kelli Crawford
Get a pack of six from Amazon for $11.98.
11.
A set of produce storage containers if you're tired of your fruits and veggies going bad approximately two seconds after you buy them. Your meals for one will taste better because you're cooking with produce that's still at peak freshness instead of soggy and overripe.
Read my colleague's in-depth Rubbermaid FreshWorks storage containers review to see why she loves them.
Promising review: "This thing is awesome! I am single and live alone. Every time I buy produce it goes bad well before I can eat all of it. These REALLY work! I have put both grapes and strawberries in these containers and after a week they are just as good and fresh as the day I bought them. Same with lettuce and other veggies. It worked so well I ended up buying the bigger one as well. I have been recommending them to friends and they all love them. If you are thinking about getting this, just do it! You won't be sorry." —Knarferr
Get a four-piece set from Amazon for $56.56.
12.
A Bluetooth sleep mask to help lull you to sleep with the soothing sounds of your favorite song, podcast, or ASMR video. Each charge lasts up to eight hours, so they're also great for long road trips (as long as you're a passenger and not the driver!). Plus, they're wireless meaning no more untangling cables!
Promising review: "I suffer from insomnia, so I decided to try this gadget. It was easy to connect with my Samsung phone. I played some relaxing music and turned it on; I was asleep in less than 15 minutes. My husband took a picture after I knocked out LOL. I am hoping that it continues to help me with my insomnia problem...so far two nights of peaceful sleep! I am happy!" —Los Kositos
Get them from Amazon for $22.97.
13.
A heavy-duty oven scrub so it's like the years of baked-on dinner explosions and drippings that coat the inside of your oven — poof! — never happened. It'll clean stains right before your eyes; no need to let it sit overnight!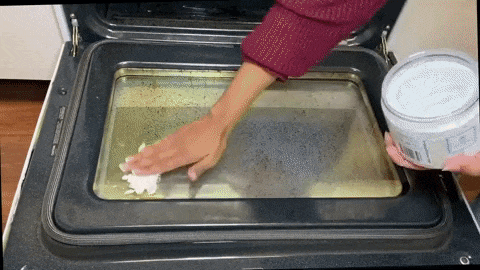 Everneat is a small business based in Fairfield, Connecticut, that specializes in natural cleaning products.
Promising review: "This product is amazing! It works fast with pretty minimal elbow grease. The stainless-steel sponge that comes with it makes it easier. And it smells great!" —Melissa C.
14.
A creamy paw butter because your pet deserves a little spoiling. This balm moisturizes dry, cracked paws and snoots and is safe if licked or swallowed.
Promising review: "We live in Chicago and the winters are brutal on our black lab's paws. The salt and snow were cracking his pads and although our dog wasn't whining or showing any pain, there is no way that a crack in his pad felt good. We put this on his paws once a day and noticed an improvement. We would take him out to play fetch and apply it the second we came back inside while he was still tired and panting so that he wouldn't lick it all off. It worked well enough that we'll buy it again next winter." —Todd Snyder
Get it from Amazon for $7.87.