1.
A bleach-free, no-scrub weekly shower spray so soap scum and shower grime buildup goes bye bye without you ever having to wipe. Rinse it clean the next day, and you'll be amazed to see those hard water stains on your shower door are *poof* gone.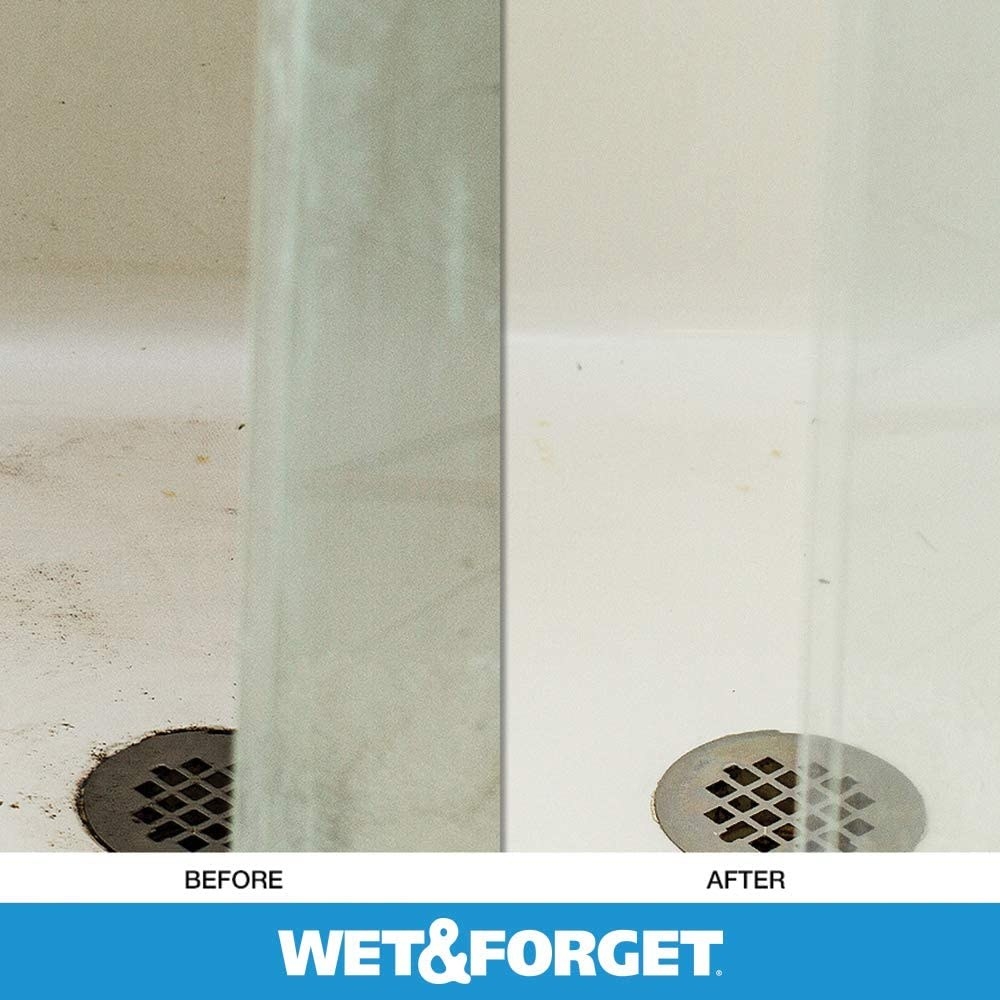 Promising review: "We cannot BEGIN to tell you what a lifesaver this is! We have two old fiberglass tubs with vinyl shower enclosures that no matter what amount of scrubbing we have done with everything from bleach to cleanser to vinegar and baking soda would NOT come clean. After I took my shower last night, I sprayed down the tub and walls. Within minutes, all the built-up water deposits and dirt and grime began to melt away in front of my eyes. I left it on overnight, and when I got up this morning, it did not look like the same tub and shower. This product is a godsend, especially for old folks like us who have difficulty getting down on our hands and knees and scrubbing anything. More importantly, it performs as advertised. We plan on using it as part of our weekly cleanup routine. This is truly an overnight sensation!" —Amazon Customer
Get it from Amazon for $19.54+ (available in two scents).

2.
A pet hair remover if you're tired of getting fur all over your clothes. Roll it over your couch, bed, favorite blanket, you name it, and watch it lift the fur away. See, we can own nice things!!
Promising review: "If I could give this product six stars, I would. My husband and I use it almost every day. We have three furry dogs and six fluffy cats, which makes for A LOT of hair. We were using a lint roller before we bought our ChomChom Roller. The lint roller didn't work very well and had to be replaced. We have had our ChomChom Roller for months and it still works just as well as it did when we first got it. We can actually invite our friends over now without worrying about all the pet hair." —Morgan Willis
Get it from Amazon for $29.95.
3.
A teeth-whitening pen because it's a heck of a lot quicker (and tastes a lot better) than those irritating whitening strips that slip and slide all over your teeth. You can use each pen ~20 times and should expect your teeth to lighten 4–8 shades.
Promising review: "I was hesitant to try a new teeth-whitening product after using harsh whitening strips that caused pain and lingering sensitivity. But, as a coffee and red wine drinker, I wanted to find a solution. This teeth whitening pen is terrific. Easy to use, works well and does not have the downside of either the strips or the $450 option at the dentist. I also really love this product since whitening my front teeth is the objective. It is a great value as I anticipate the two pens that are included will last one year. I will definitely buy this again and am very happy to recommend it." —Rebecca Shehee
Get a two-pack from Amazon for $19.99.
4.
A reparative K-beauty snail mucin essence for rejuvenating your face, lightening hyperpigmentation, and prepping your skin so it's ready to drink up all the benefits of your moisturizer.
Promising review: "This stuff is incredible. I have suffered from minor acne for almost two years and I finally realized the products I was using were far too harsh for my dry, sensitive skin. After using gentle products and eventually moving onto K beauty, I found this to lighten all the scarring from the years of picking at my breakouts. My scarring is still a bit noticeable but it was gotten tremendously better thanks to this product and this product alone." —Marc

Get it from Amazon for $22.86.
5.
A roomy and water-resistant duffel bag that'll be your travel bestie on your next weekend getaway. There's a side sleeve to slide it over your suitcase handles, and a handy dandy wet pocket to store damp or dirty clothing (so it's also a nice gym bag!).

Promising review: "Exactly what I was looking for in a weekend bag. It is very well made, good construction from zippers to straps, inside and out. I was able to pack all my needed items for the weekend, including laptop. Extremely happy with this bag. Will gladly use this bag on longer trips as well. I purchased the light pink color and it's perfect." —pixie trinket

Get it from Amazon for $17.99+ (available in so many colors).
6.
A tiered metal hanger to give you back very valuable drawer space. Instead of stuffing your drawers with sports bras and tank tops, move them over to this space-saving hanger. And this way you can actually see (and enjoy) your full collection!
Promising review: "Love this product. My closet has so much space now compared to before using these. I have so many tank tops and these have been a great help to making my closet have more room. I'm so happy I bought these. They're great quality and exactly as described." —Mariah Blair
Get it from Amazon for $9.99+ (available in three colors and in multi-packs).
7.
A beeswax wood polisher so you can revive your embarrassingly worn, dinged, and dented cabinets and table quick as a flash. Plus, this method is a heck of a lot cheaper than actually replacing the wood or furniture piece, and using this polish on a regular basis can actually help keep the wood hydrated so it lasts longer.
Promising review: "Works as incredibly as the reviews said! Super fast, no strong smelly chemicals, amazing results!" —Michelle B
Get it from Amazon for $9.98.
8.
A collagen-coating hair treatment if your dry, damaged, and overprocessed strands could use a little TLC. This reparative five-minute hair mask will revive your mane and leave it soft, silky, and smooth.
Promising review: "My hair used to be really soft, and then I discovered hot tools and hair dye. While my hair looks good I really missed the soft texture. This works so well. There are no instructions on the box but I washed my hair with my usual shampoo, towel dried it, worked about two quarter-sized dollops through my hair, let it sit for 20 minutes and then rinsed out. I went to bed with wet hair which usually results in my hair being kind of tangled and rough-looking but I woke up and my hair was as soft and silky as it was before I started coloring it. I'm totally in love with this product, I have long fine hair but this doesn't leave it greasy or weigh it down. I'll definitely buy again." —Ellie

Get it from Amazon for $7.48.
Read our Elizavecca CER-100 Collagen Coating Hair Protein Treatment review to learn more about why my colleague calls it, "the miracle product I've been searching for."
9.
A Bissell Little Green machine because your living room looks like you're running a doggy daycare out of it. This portable upholstery and carpet cleaner cleans deeply, penetrating household fabrics and even car interiors to erase any sign of your pet's accidents.
Promising review: "Two months ago we got an 6-month-old puppy who has needed some time to get adjusted. That included more than a few accidents in our living room and on his bed. This machine has made clean up of everything so much simpler and I love that it's deep cleaning and has a nontoxic pet cleaner so that our not-so-little puppy can isn't harmed through exposure or smells. Also helpful since my teenage sons like to camp out on the couch with their friends on long weekends and our couch gets that fresh clean smell in an hour." —Kindle Customer
Get it from Amazon for $109.59.
10.
A bottle of professional grade callus-removing gel for dissolving hard dead skin in literal minutes. (Seriously, reviewers say you should only let it sit for two to three minutes!) Then, give it a good scrub with a foot file and your heels will be baby bottom smooth.
Promising review: "This is a Hail Mary! This is hands-down the best product ever!!!! I have been using this product on my clients and it has made my job so much easier and less time consuming." —Diamante Valentine
Get it from Amazon for $13.49.
11.
A sturdy, lightweight eight-compartment pill organizer that'll neatly house your mini pharmacy (leave the bulky individual bottles at home!) and help you fulfill your promise to yourself that you would learn to travel lighter.
Promising review: "My husband and I travel a lot and take a number of prescription drugs. It was always a hassle accessing our medication when needed, so I purchased this organizer to make things easier. I used a label maker and labeled each little compartment and it has performed wonderfully. I highly recommend this organizer to anyone who travels and needs medications throughout the day." —Jacqueline
Get a three-pack from Amazon for $11.97.
12.
HiccAway, a genius Shark Tank invention to potentially put an end to pesky hiccups. Insert in a glass of water and forcibly sip for three seconds while inhaling — that's it!

Promising review: "There is nothing worse than an annoying hiccup that just doesn't seem to go away. My wife gets them almost every time she has a fizzy drink. I was skeptical at first but became a believer after trying it for the first time. Mind blown. This little magic straw is worth every penny. If you have kids, this is a must-have." —Pauly J.

Get it from Amazon for $13.42.
13.
A TikTok-famous pink cleaning paste so you can restore your walls and dressers when your little ones go Baby Picasso on your furniture with a permanent marker.
Promising review: "If this stuff isn't in your arsenal yet, you need it. I accidentally got GREEN hair dye all over my white sink. Bleach, CLR, Magic Erasers — nothing touched it. The Pink Stuff was my Hail Mary while I was panicking about what I would tell my landlord. The stains are completely gone and I have a white sink again!" —Courtney Foltz

Get it from Amazon for $5.97.
14.
A wedge pillow if you're tired of losing your pillow in the valley between your headboard and the mattress. This comfy bolster plugs the gap — you can even it use it right against the wall if you don't have a headboard — and offers some support under your pillows. There's even a pocket on the side for essentials: the remote, glasses, a phone, lip balm, etc.

Promising review: "I've had trouble with my pillows always slipping down between my bed and the wall. Not anymore. This is a great product to have. I don't have a backboard, but it really doesn't matter as it stays firmly in place. It fits my full-size bed perfectly, and the way I got it set up is just as shown. It helps lift my pillow slightly, and this adds some support to a floppy pillow. Now it my not be for everyone, but I like this bed wedge a lot. It was worth buying." —Jeff Brown Jr.

Get it from Amazon for $34.99+ (available in sizes Twin–California King and with or without a pillowcase).