1.
An immunity-boosting allergy supplement so your poor pup can find relief from itchy skin and allergies. These soft chews deliver a dose of probiotics and other nutrients to help improve immune function, aid digestion, promote healthy skin, and add shine to a dog's coat.
Promising review: "Absolutely the best product. It saved my itchy goldendoodle! We tried changing food, Benadryl, medicated shampoo, fish oil, everything you can imagine... nothing worked long-term. He was itching his face so badly he would make himself bleed. Had sores and scabs all over his face and neck. I bought these because they had good reviews and I was desperate. It changed his life! He no longer scratches AT ALL! His coat looks great and all of his sores are healed. He's the happiest he's been which makes me a very happy momma. He is also very picky and never eats treats... he eats these every time so that's an added bonus!" —Darcie Nation
Get them from Amazon for $26.97.
2.
A cuticle oil that'll restore your shredded nails after a gel mani. A combination of sweet almond oil, vitamin E, and jojoba softens the cuticle and strengthens your claws so you'll be proud to show them off.
Promising review: "This product is amazing. I've always had acrylic or dipped nails because my real nails have always been brittle and always break and peel. I decided to give my nails a break and wanted to try and grow them out. I can't even believe the outcome! They are stronger than ever and growing! I really wish I had taken a before pic to show the difference!" —JOE D.
Get it from Amazon for $8.50.
3.
A collagen-coating hair treatment if your dry, damaged, and overprocessed strands could use a little TLC. This reparative five-minute hair mask will revive your mane and leave it soft, silky, and smooth.
Promising review: "My hair used to be really soft, and then I discovered hot tools and hair dye. While my hair looks good I really missed the soft texture. This works so well. There are no instructions on the box but I washed my hair with my usual shampoo, towel dried it, worked about two quarter-sized dollops through my hair, let it sit for 20 minutes and then rinsed out. I went to bed with wet hair which usually results in my hair being kind of tangled and rough-looking but I woke up and my hair was as soft and silky as it was before I started coloring it. I'm totally in love with this product, I have long fine hair but this doesn't leave it greasy or weigh it down. I'll definitely buy again." —Ellie
Get it from Amazon for $6.80.
Read our Elizavecca CER-100 Collagen Coating Hair Protein Treatment review to learn more about why my colleague calls it, "the miracle product I've been searching for."
4.
A teeth-whitening pen because it's a heck of a lot quicker (and tastes a lot better) than those irritating whitening strips that slip and slide all over your teeth. You can use each pen ~20 times and should expect your teeth to lighten four to eight shades.
Promising review: "I was hesitant to try a new teeth-whitening product after using harsh whitening strips that caused pain and lingering sensitivity. But, as a coffee and red wine drinker, I wanted to find a solution. This teeth whitening pen is terrific. Easy to use, works well and does not have the downside of either the strips or the $450 option at the dentist. I also really love this product since whitening my front teeth is the objective. It is a great value as I anticipate the two pens that are included will last one year. I will definitely buy this again and am very happy to recommend it." —Rebecca Shehee
Get a two-pack from Amazon for $19.99.
5.
A pack of dishwasher cleaning tablets to clean your machine as it runs. No need to sigh in frustration every time you open your dirty dishwasher to remove your "clean" dishes.
Promising review: "Convenient, easy, quick way to keep the dishwasher fresh and working at peak." —Amazon Customer
"I rarely post reviews, but this stuff has completely changed our lives. Our dishwasher, utensils, plates, and glasses were covered with dry scale and nothing we tried came close to helping. After using the tablets three times our dishwasher looks like new; our glasses are sparkling like fine china and everything else looks fabulous. Highly recommend, worth every penny, best product BY FAR!!! One great advantage is you can use it with your dishes. Some other products are used to clean the dishwasher but not to clean dishes and glasses. Buy this, you will be blown away!!! It is astounding!" —Jenny
Get a pack of six tablets from Amazon for $5.99.
6.
A set of wad-free pads (from Shark Tank!) for keeping your bedsheets from tangling in the wash and forming one large damp ball.
Wad-Free is a small biz that was launched during the pandemic. Cyndi Bray, the founder, learned CAD (computer-aided design) to create the pads. 
Promising review: "Wow!!! You wonder if things like this really work and well, I can absolutely confirm it does! First, I was impressed that the package came with two of the devices because I was only expecting one. So there was one for the fitted sheet, and the flat sheet. Finally, I tried it out and my sheets not only did NOT wad up, they came out of the dryer feeling fresher, feeling more dry, and unwrinkled! I will be buying a set of these for each of my immediate family members and close friends! What a great gift!!!" —katy
Get it from Amazon for $18.99.
7.
A bleach-free, no-scrub weekly shower spray so soap scum and shower grime buildup goes bye bye without you ever having to wipe. Rinse it clean the next day, and you'll be amazed to see those hard water stains on your shower door are *poof* gone.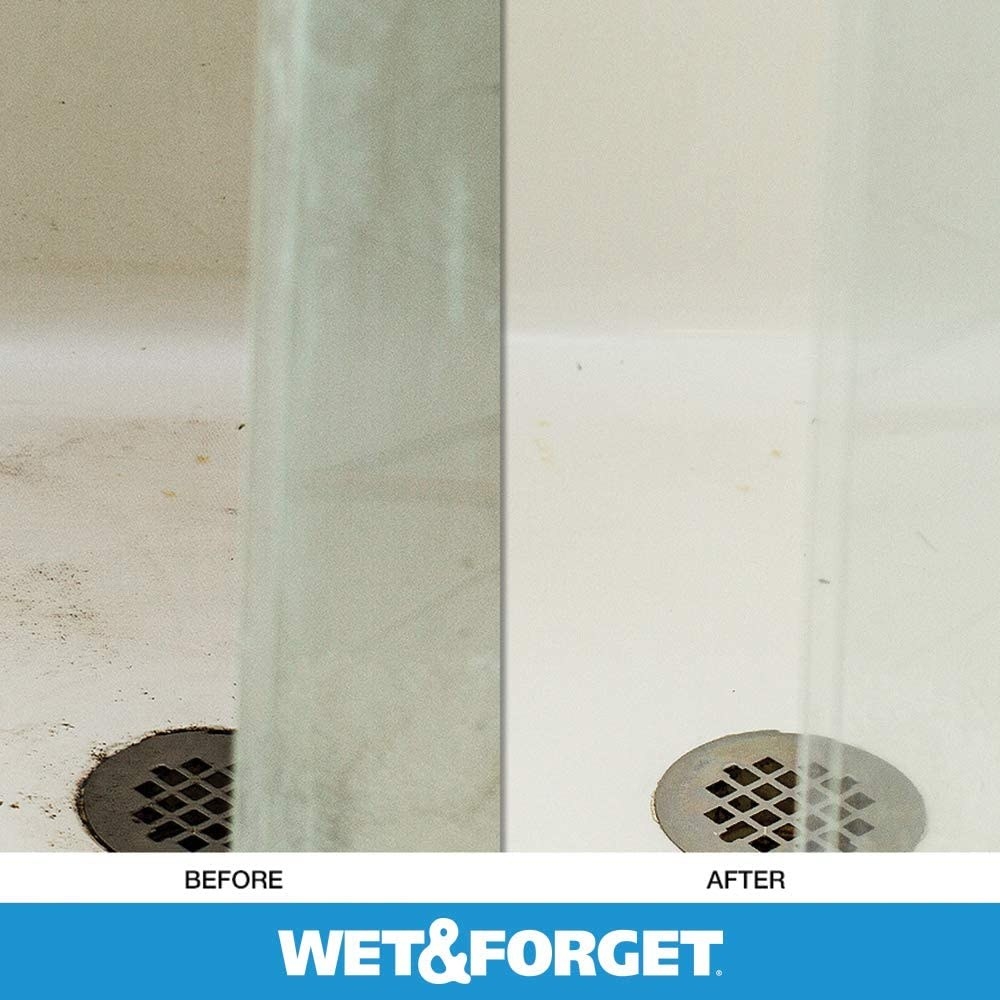 Promising review: "We cannot BEGIN to tell you what a lifesaver this is! We have two old fiberglass tubs with vinyl shower enclosures that no matter what amount of scrubbing we have done with everything from bleach to cleanser to vinegar and baking soda would NOT come clean. After I took my shower last night, I sprayed down the tub and walls. Within minutes, all the built-up water deposits and dirt and grime began to melt away in front of my eyes. I left it on overnight, and when I got up this morning, it did not look like the same tub and shower. This product is a godsend, especially for old folks like us who have difficulty getting down on our hands and knees and scrubbing anything. More importantly, it performs as advertised. We plan on using it as part of our weekly cleanup routine. This is truly an overnight sensation!" —Amazon Customer
Get it from Amazon for $16.89.
8.
A pack of underarm shields that'll come in handy even when it's cold. If you're the type of person who would overheat in a snowstorm (it me!), you'll know that heavy winter layers can leave your pits swampy and force you to surrender undershirts and sweaters to the washing machine prematurely. That's where these sticky pads shine. They're also designed to stop odors so you don't look *or* smell like you just sweat through your top.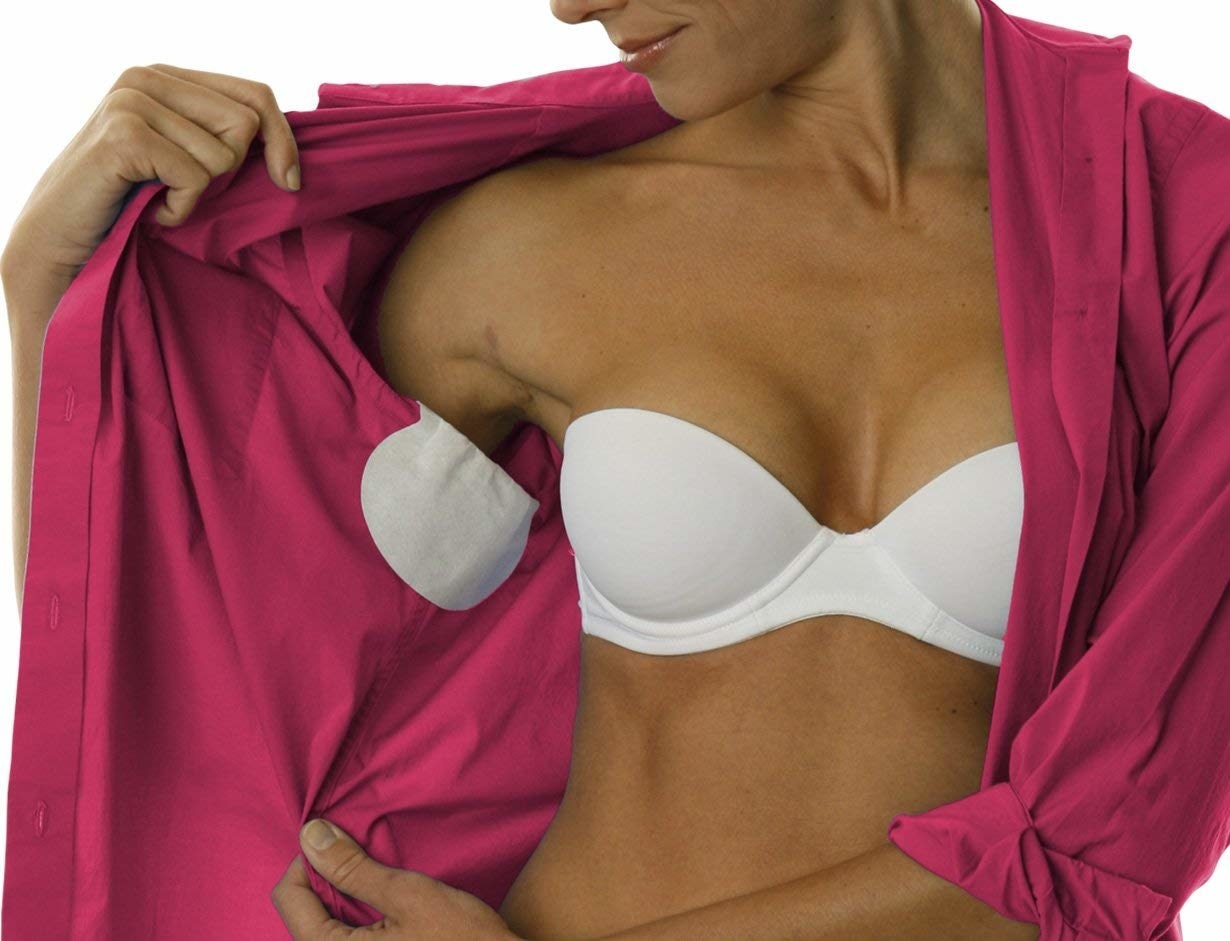 Promising review: "I love these. I have a few cute summer dresses with sleeves — eeek! The first time I tried the shields it was 104 degrees at an outdoor event, and I was sweating bullets! The shields worked BEAUTIFULLY. Not a sweat stain in sight." —Cosmic Girl
Get a pack of 24 from Amazon for $14.24.
9.
A CeraVe salicylic acid body wash if rough, bumpy skin is annoying the heck out of ya. It exfoliates without the harsh microbeads, lifting away dead skin while leaving behind moisturizing hyaluronic acid and calming niacinamide.
Promising review: "I never do reviews...but this product WORKS! I have KP on my legs and it got rid of it 10000%. It must be used consistently and you have to also exfoliate with an actual natural loofa or something similar, but YOU WILL SEE RESULTS. Great product for a great price! Would give 100 stars if I could!" —layla mahmoud
Get it from Amazon for $12.15.
10.
A pack of stain-removing pads because owning a pet = a lot of messes. Pee? Check! Poop? Check! Vomit? Check! (You can even use them to clean up your wine spills.) Just lay them over the spot, give 'em a stomp to activate their cleaning powders, and watch the stain disappear — no bulky carpet steamer necessary!
Promising review: "WOW! Honestly, I was a little skeptical of the promise of these pads, but I bought them just to try out. THEY WORKED AMAZINGLY WELL! Seriously. I have some stains that are 1.5–2 years old. I've tried everything to get them out. I put these pads on the stains (two to cover the spot), let sit for about an hour, pulled them up, and the stain was gone. I truly couldn't believe it. The pad was yellow. Somehow the old urine was soaked up into the pad. My carpet looks like new. I couldn't recommend these any higher for what I wanted and what I got. Wish I could give this more than five stars." —Matt
Get a pack of 20 from Amazon for $24.99.
11.
An electrical outlet cover with a power strip to organize cluttered cords stat. It's also pretty great if you want to push your furniture right up against the wall but can't because your phone charger adapter is in the way.
Promising review: "I have an outlet above our mantel that's meant for a wall-mounted TV. We have a large painting covering it. We wanted to use the plug to power two Wi-Fi speakers on the long mantle. The thinness of the plug is perfect behind the painting. The power strip is hidden by a mantle clock. So, we have our two speakers to either side and no visible wires. This product may not work for every application, but for us, it's 10 stars." —Chashum
Get it from Amazon for $23.95+ (available in four lengths).
12.
A produce wash for eliminating pesticide residue without affecting the taste of your fruits and veggies.
Promising review: "I was pretty skeptical. I read about how much pesticide can be on produce so I thought I'd try a fruit spray to see if it did anything... I could not believe how clean it got my blueberries. I tried to wash the other fruit with just water and could not get the wax off. Strong work Arm & Hammer...strong work. It also smells really good too (lemony) and it didn't mess up the taste of my blueberries. (I was worried about that; I don't want lemon-flavored blueberries)." —N. Shah
Get it from Amazon for $11.49.
13.
An easily washable drip catcher so the counter space between the back of your faucet and the wall just turn into a puddle after you wash the dishes. This absorbent mat sits snugly around your faucet so the back section of your sink area stays dry.
Hustle & Sew is a small shop based in Saint Helens, Oregon.
Promising review: "LOVE these splash catchers! They save me from having to chase the puddles that form around the base of our faucet before they start creeping over the counter. So reasonably priced, made well with neatly finished edges, and packaged with gift-ready care." —Alina
Get it from Hustle & Sew on Etsy for $13.50+ (available in four sizes and six colors).
14.
A box of cleaning K-Cups that'll get rid of residue in your machine and prevent flavors from transferring in just one cycle. Or have fun descaling it multiple times. Your choice!
Promising review: "Thought I was having problems with my machine. Used two cups to flush the entire coffee maker out and it started working like new. Totally satisfied!" —Dara Pazooki
Get a box of six pods from Amazon for $9.95.