1.
A wall-mounted retractable clothes rack for anyone who lacks a dryer or a lot of extra space. Each rack can hold up to 60 pounds, making it a great drying rack or extra storage for winter clothes in the garage.
Promising review: "We needed something in our laundry room to hang clothes to dry that we were not putting in the dryer. This, well made, little invention is perfect. It folds into itself to stay out of the way when not in use. We love it!" —S. Albright
Get it from Amazon for $16.99+ (available in five colors).
2.
An electrical outlet cover with a power strip that'll hide cluttered cords stat. It's also pretty great if you want to push your furniture right up against the wall but can't because your phone charger adapter is in the way.
Promising review: "Amazing product! I have tried like six of these from different companies and this one is by far the best. It fits so easily behind anything!" —Lexie Valade
Get it from Amazon for $23.95+ (available in seven styles).
3.
A two-tier sliding shelf if there are cabinets in your home that everyone knows to absolutely never open for fear of triggering an avalanche of junk. These durable baskets are up to the task of corralling all the random bits and bobs you own, so every bit of storage space is usable.
Promising review: "I saw great reviews on this item, so I took the plunge and ordered two sets of them. They were a little pricey, but I am so happy with the product that I think the price was completely worthwhile! These organizers are much better than other plastic drawers I have used in the past. With the way they are designed, items don't get stuck in the drawers, they are easy to slide, they are spacious, and they have little removable "sectionals" that you can use to organize the inside of the drawers. All in all, this was a great purchase, and I would make it again in a heartbeat." —Tess De Pretis
Get it from Amazon for $22.99+ (available in two colors and three styles).
4.
A toothbrush station because it automatically dispenses toothpaste for you = fewer opportunities for messy kiddos or roommates from getting toothpaste all over the cap and counters.
It holds five toothbrushes and four cups, and the two toothpaste dispensers use vacuum tech to get every last drop out of the tube. 
Promising review: "I am SO happy I bought this for my bathroom! It looks so clean, it is easy to install, and it is easy to clean when toothpaste gets on it! The design is simple, yet genius! My 5-year-old uses it with ease and she doesn't make a mess with the toothpaste tube anymore! I am extremely satisfied and I have had it for 3 months now. TikTok made me buy it LOL!" —Stephanie Mendoza
Get it from Amazon for $17.99+ (available in three colors). 
5.
A headrest hook to keep your purse nearby so you're not the driver who turns around to dig through their purse in the backseat and misses the green light. It'll also help prevent the contents of your purse spilling all over the car floor if you take a turn too fast or have to slam on the brakes.
6.
A vertical shoe tower so you can organize the pile of sneakers, sandals, and boots that's sitting in your entryway.
Promising review: "This little guy is great. Normally, my staircase has shoes all over it. Now, the shoes are in their tower by the staircase and it's pretty awesome...maybe in part because my partner and I can now see who isn't putting their shoes up! It's a great, sleek design and takes up so little space. I can walk around with it if I need to because it's durable and sturdy, and was ridiculously easy to put together. Yes, it's more than many other shoe trees but it's worth it for the footprint (or lack thereof!) and that it's going to last for a really long time." —Skyrocketocelot
Get it from Amazon for $63+ (available in black and white and in two styles).
7.
A jewelry cabinet cleverly disguised as a mirror for anyone who's basically given up on wearing jewelry because detangling the pile of necklaces in your jewelry box is not something you have the time or or desire to handle.
Promising review: "Why the heck didn't I get one of these years ago?? This is a quality product. Sturdy and well made. At first I thought the light was a little gimmicky but it totally helps me see what I'm doing in my dimly lit bedroom. This is soooo much better than a jewelry box or trying to figure out your own clever storage like I have for years (trying to put off splurging for a product like this). I totally regret not getting one sooner. A lot of earring capacity, ton of everything capacity and ease of use for someone as lazy as me is critical! If you're on the fence, get one, you won't regret it! So worth the money!" —PHILLIP G.
Get it from Amazon for $139.99 (available in eight colors).
8.
A large capacity rotating makeup organizer that'll neatly store your makeup and skincare so you can reclaim the already limited counter space in your bathroom. 
9.
Some space-saving vacuum storage bags if your bulky winter clothes are taking up wayyy too much closet space. Chuck 'em in these bags, vacuum out the excess air, and store them out of sight until fall.
Promising review: "It's amazing how much these bags compress. Plus you can see what's in them without opening multiple bins. I packed RV bedding (pillows/comforter) in one jumbo bag. They are great for travel, too, just compress wrinkle free items prior to placing in suitcase." —Mary
Get a variety six-pack from Amazon for $29.99.
Check out my coworker's Spacesaver vacuum storage bags review for more deets!
10.
Or a pack of hanging vacuum bags because you can vacuum all the air out *while* your clothes are on the hanger instead of trying to fold and smush them in a regular vacuum bag.
Promising review: "Bought these storage bags to pack my winter clothes for summer, and they did the job perfectly. They are large and sturdy. I like its five-hook design. I can store five women's jackets or four big men's jackets in ONE bag. The long bags also fit my dresses. The biggest reason I bought these bags is that I do not need to fold my seasonal clothes; just hang, zip, vacuum, done! Super convenient. Extremely happy with this space bags. I will definitely order more!" —Jia Yan
Get a set of four from Amazon for $25.99+ (available in five styles and in six-packs).
11.
A shower curtain liner with mesh pockets to save your toes from a barrage of heavy shampoo and conditioner bottles that fall from your itty bitty ledge every time you shower.
Promising review: "This is the perfect storage solution for our tiny NYC bathroom and so much better than a shower head hook caddy. It's great that the pockets are mesh so as not to hold water/get gross." —Emily Tozer
Get it from Amazon for $20.14+ (available in clear or gray).
Check out our full Maytex storage shower curtain liner review.

12.
An over-the-tank TP holder so you never have to text your roommate in a panic and ask them to leave a spare roll outside the door. It's also better than toilet paper stands, which always seem to be an inch too far away whenever you reach for the roll.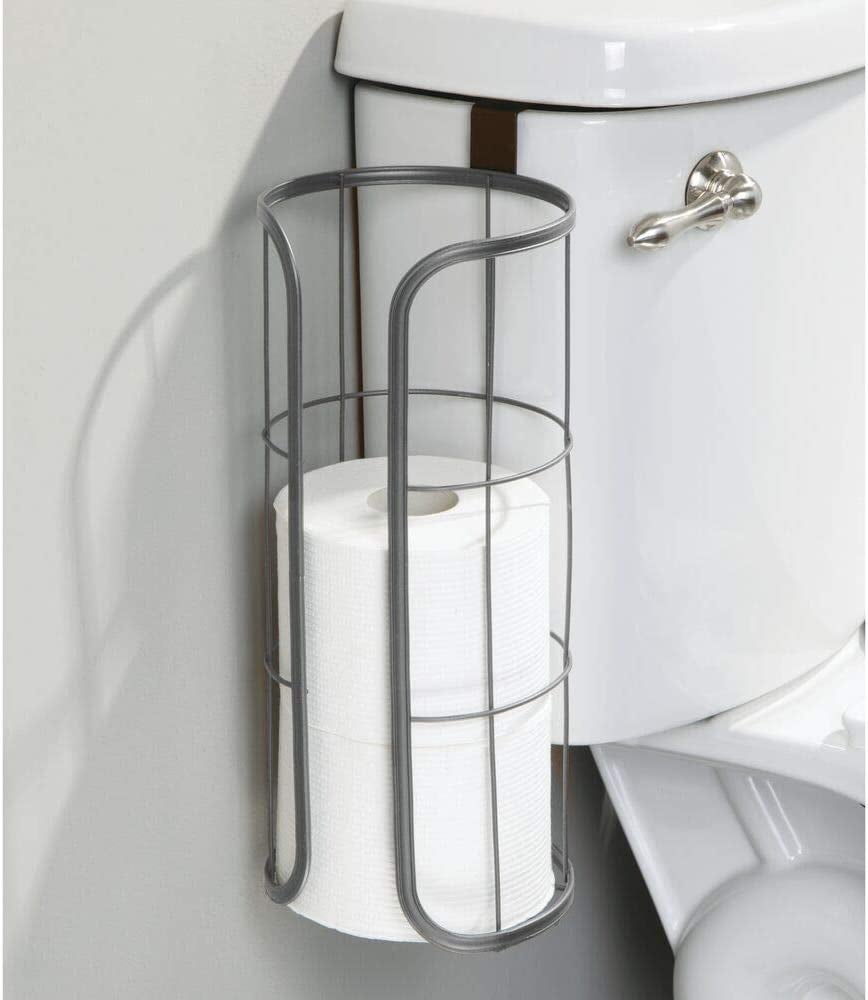 Promising review: "The over-the-tank toilet paper holder is so much better than one that is on the floor. I love it." —Eileen Rios
Get it from Amazon for $17.49 (available in two colors).
13.
A 15-piece set of airtight food containers for helping you achieve a pantry that looks a professional organized it. Sure, pasta is great and all but aren't you tired of buying boxes of spaghetti only to realize you had an unopened box shoved in the back of your cupboard? This'll help you figure out what you do and don't have at a glance.
Promising review: "I have tried other brands of containers for airtight storage but they are a hassle to clean. This system is fantastic for an airtight seal yet easy to clean. I like the variety of sizes, the cute labels, and the chalk marker. I will be ordering more!" —mds2006
Get it from Amazon for $23.99+ (available in three colors).
14.
A flexible silicone kitchen sink organizer that'll neatly hold your sponge, dish soap, hand soap, and more. (I can't be the only one who gets annoyed when my roommate leaves a wet sponge just sitting on the counter!) And it wipes clean since it's made of silicone so you don't have to worry about yucky mold and mildew.
Promising review: "I have been looking for something to put my dishwashing soap in and not worry about spills around my sink. Tried so many and then I finally found this. It's easy to wash, soft rubber, does not collect water underneath and keeps everything nice, clean and organized. I love it!" —karmen haik
Get it from Amazon for $12.98+ (available in three colors).