1.
A pack of Crayola Globbles that'll keep 'em busy sticking, squishing, squeezing, stacking, and slinging without worrying about sticky residue on the ceiling and walls. 
Promising review: "I waited over two months to write my review! My 4-year-old daughter plays with these DAILY! YES they do attract dirt and hair. HOWEVER they are so easy to rinse off it's not a big deal! We took these to a family gathering and ended up giving two away because they were SO loved! The two we gave away went to a 12-year-old and my 19-year-old brother. They discovered throwing them at the ceiling fan and watching them shoot across the room, which was pretty entertaining! None of them have busted or ripped and they are definitely NOT gentle with them! I will definitely be buying more!" —Kindle Customer
Get a pack of six from Amazon for $10.27.

2.
Taco Cat Goat Cheese Pizza, a fast-paced card-slapping game so they can destroy their family and friends at the next game night.
Promising review: "Bought this by accident because I thought these were baby flash cards. Saw these were actually a card game and tried it with my husband and fell in love with this game. It's fun and competitive. :D" —ChocorateChippu
Get it from Amazon for $9.84.

3.
A stunning claw clip for the friend who loves romantic and whimsical hair accessories.

Promising review: "These hair clips are really good quality. My hair is a couple of inches past my clavicle, about 4 inches past, and medium thickness. The clip holds it very secure. I think these clips could hold thin or thick hair. Thank you for a fabulous product." —Debra DeMattei
Get it from Amazon for $11.99+ (available in 13 designs).
4.
An electric candle lighter to help them light just about anything without a struggle or anxiety that they're going to burn their fingers trying to light a match. This is especially great if they have mobility issues or arthritis as it turns on with a simple switch.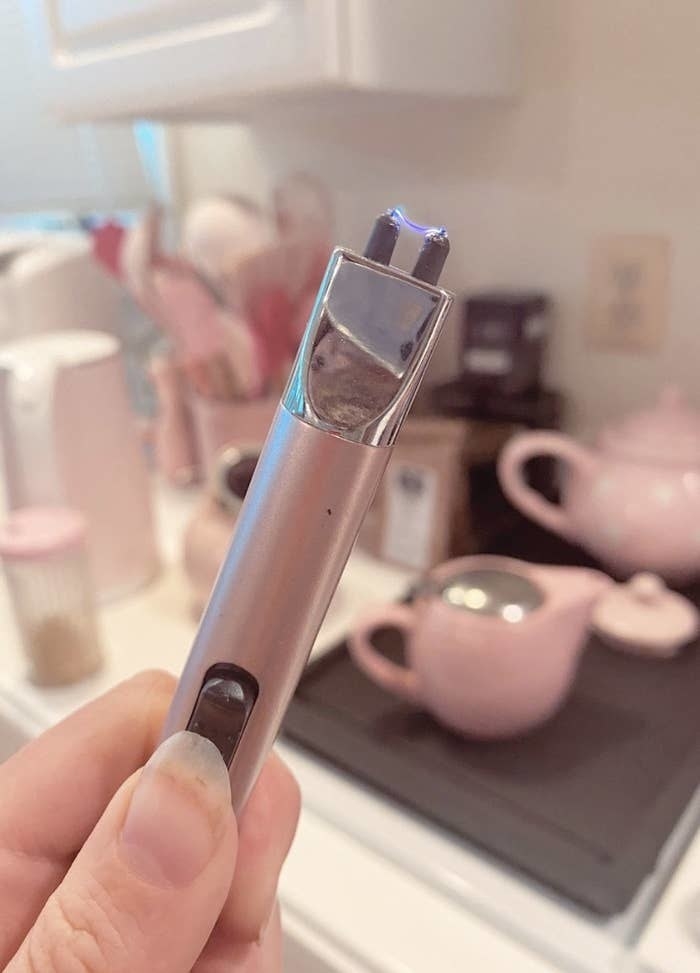 BuzzFeed writer Emma Lord loves hers:
"This also comes in other pretty colors, but I am especially partial to this one because I bought it for my parents (their kitchen is entirely pink and one of my favorite places on Earth), and this was SO EASY to use — not to mention super safe! I'm a big weenie about fire (lol, self-preservation) so I've always stuck to extended arm gas lighters, but this is much better for the environment (plus cuter), so I feel a lot better about using it."
Get it from Amazon for $9.89 (available in five colors).
5.
A Yonanas fruit soft-serve maker because reviewers swear it gives frozen fruit the texture of ice cream or sorbet. Now they can gobble up their dream flavor combinations. And it's great for folks who have dietary restrictions. 
Promising review: "10 out of 5 stars. Status: Legendary! It is a true marvel of science, magically producing perfect frozen yogurt from fruit, yes that's right, magic. It blew my mind how similar it is to real ice cream. If you had placed a bowl in front of me, I dare say I would not recognize its true composition of pure fruit. I can say with confidence, this magic frozen yogurt leaves you feeling full, like you've just had a bowl of ice cream...for breakfast. Which I will admit without shame is my dream breakfast, but a breakfast I have held out on for the sheer sake of dignity, until now my friends. Furthermore, I nominate the creators of this glorious feat of engineering for the Edison Award, or an award of comparable recognition in the categories of invention and nutrition. Bravo! Yonanas inventors, Bravo! You...are...legends." —Tosh
Get it from Amazon for $38.91+ (available in five colors).
6.
A collagen-coating hair treatment if they're always complaining about how their dry, damaged, and overprocessed strands could use a little TLC. This reparative five-minute hair mask will revive their mane and leave it soft, silky, and smooth.
Promising review: "My hair used to be really soft, and then I discovered hot tools and hair dye. While my hair looks good I really missed the soft texture. This works so well. There are no instructions on the box but I washed my hair with my usual shampoo, towel dried it, worked about two quarter-sized dollops through my hair, let it sit for 20 minutes and then rinsed out. I went to bed with wet hair which usually results in my hair being kind of tangled and rough-looking but I woke up and my hair was as soft and silky as it was before I started coloring it. I'm totally in love with this product, I have long fine hair but this doesn't leave it greasy or weigh it down. I'll definitely buy again." —Ellie

Get it from Amazon for $7.48.
Read our Elizavecca CER-100 Collagen Coating Hair Protein Treatment review to learn more about why my colleague calls it, "the miracle product I've been searching for."
7.
A buildable Glimmer Glow Stick lipstick that'll magically transform into a rosy hue that's perfectly suited to their skintone thanks to pH technology.

Check out a TikTok of the Glimmer Glow lipstick in action. 
Promising review: "This is such a pretty pH color lipstick, viral for a reason — it's very pretty to look at, it's not sticky at all, and the more you layer it, the darker the pink shows up. The only thing I don't like is the scent in it, I can almost taste it a bit. It's nice to have in my purse if I need a quick color while I'm out in case of sudden dinner plans or a meeting, because you can control the color saturation to how light or bold it is." —Kristina Brumbelow

Get it from Amazon for $3.99. 
8.
Burn After Writing, a TikTok-famous guided journal so they can spend some screen-free time exploring feelings; reflecting on the past, present, and future; learning about themselves; and letting things go by engaging in thought experiments and answering incisive questions. 
Promising review: "I first saw this book on TikTok and decided to look more into it. I purchased four total because I know some people holding onto things that are difficult to let go of. It's a great way to look at things from a different perspective and truly hold yourself accountable to different things in your life. I love what it stands for and I look forward to when I burn mine after I'm done. Self love, self care, and meditation for a better state of mind tomorrow is always the goal. I definitely recommend it to those susceptible to change and the willingness to try things different. You're so much more than what's been done to you and someone's inability to see your worth does not decrease your value. Choose you for a change." —Brent Helm
Get it from Amazon for $7.32. 
9.
A funny bookmark for the reader who's always nose deep in a very spicy enemies-to-lovers book.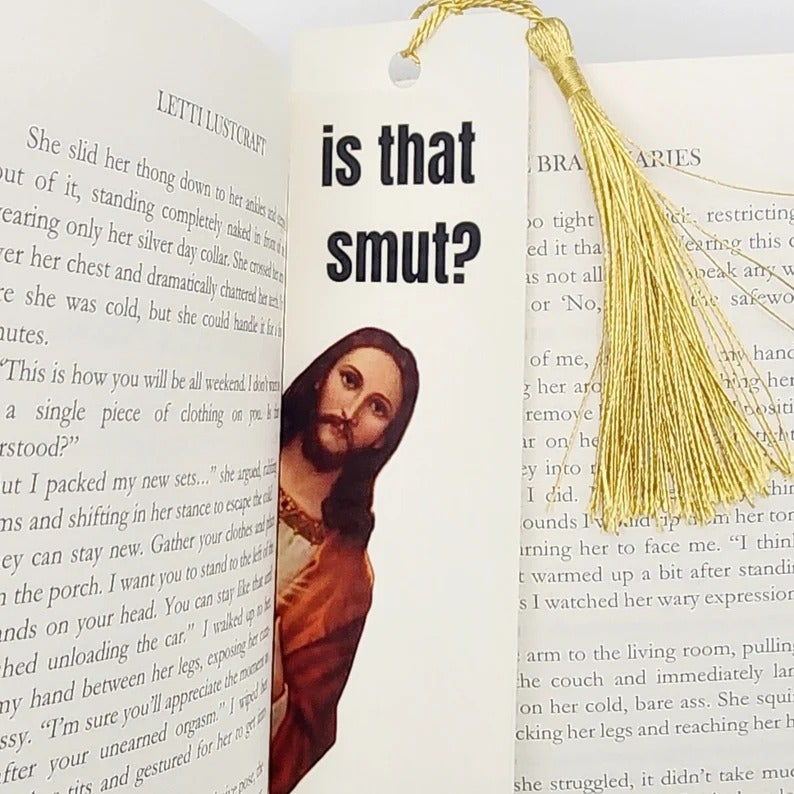 Lustcraft is a small business run by Letti Lustcraft, an author of erotic romance, sex educator, feminist, and LGBTQIA+ advocate and ally.
Promising review: "This bookmark is amazing. I love the quality and the message. I got this for my sister's birthday, and it was a huge hit at the party when she opened it. My entire family was cracking up. I loved it and will have to buy one for myself ASAP." —Brittany
Get it from Lustcraft on Etsy for $3.50+ (available with or without a tassle; tassles come in nine colors).
10.
A color-guessing game called Hues and Cues to spice up the next family get-together. The goal is to get other players to pick a hue (there are 480 of 'em on the board) using strategically chosen one- and two-word clues. Tricky tricky!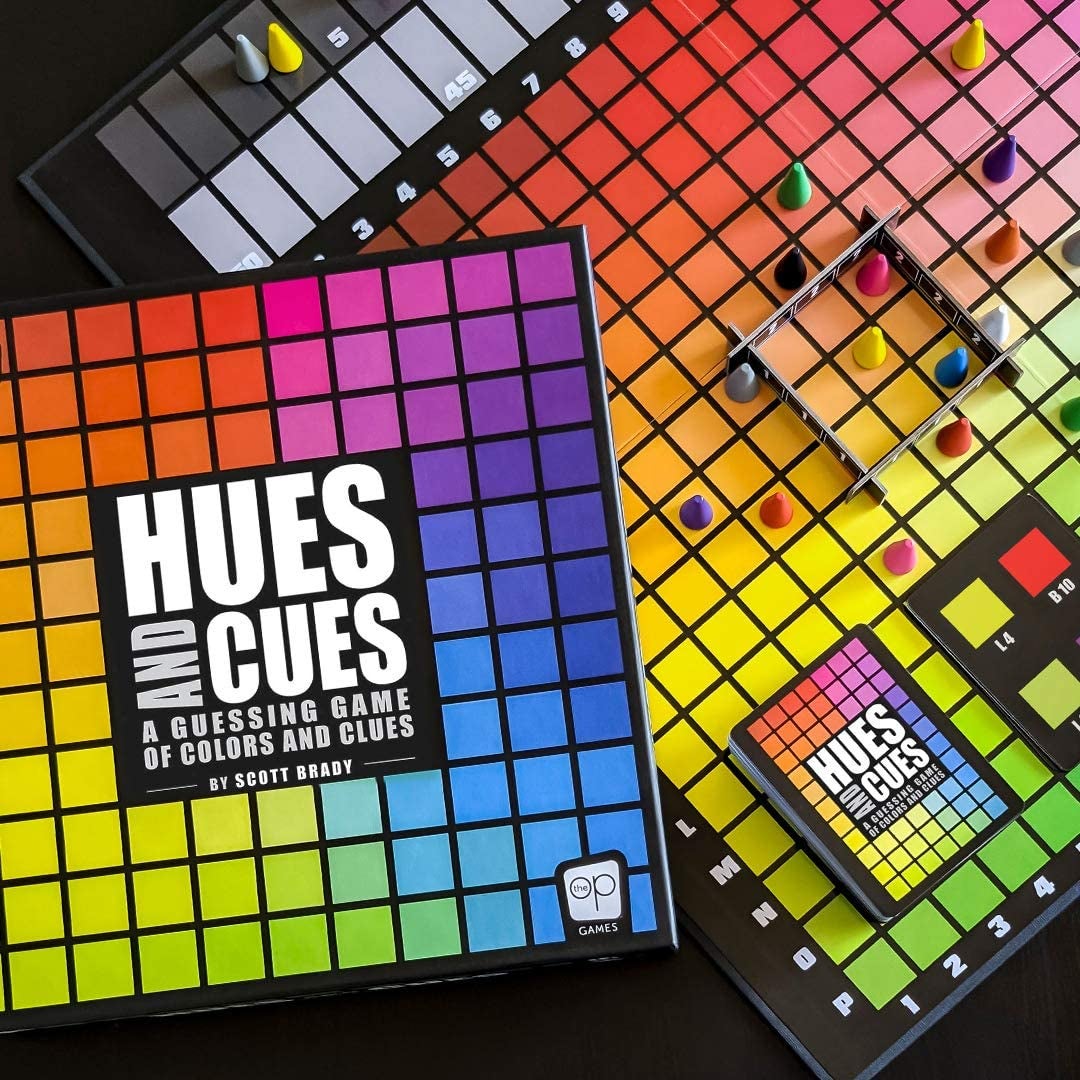 Some reviewers have even played this game with colorblind folks and say it works fine!
Promising review: "I love fast type board games since we play so many in the same night! HUES and CUES is perfect due it being very easy to learn yet, still exciting to play with everybody. Anyone can play instantly and yes, this game gets intense! We usually play with six players and it goes by pretty quick depending on which point tier you choose. No complaints, can be a great gift as well." —Long-Term Product Reviews by Hugh&Co.
Get it from Amazon for $20.99.
11.
A half-pound Reese's Peanut Butter Cup because they're an absolute fiend for anything that involves peanut butter smothered in chocolate.

Promising review: "I ordered this for Valentine's Day for hubby because he looooooves Reese's Cups. They are his favorite candy. I was worried about freshness because while nothing is better than a fresh Reese's, nothing is worse than a stale one. However, this Reese's was fresh and delicious. The chocolate is very thick, which may or may not appeal to some, but there is a nice thick layer of the yummy peanut butter as well. Hubby enjoyed it so it's a win for me." —Tatanisha K. Howard

Get it from Amazon for $9.97.
12.
A dainty refillable crystal perfume dauber if you're looking for a gift that'll ~set their heart aflutter~.

Promising review: "This is a piece of art! Great workmanship. Not only is it beautiful but I love the way it has a screw on top. Any one of those choices? I don't think you would go wrong. I feel that they would all be great for gift giving for yourself." —Lou Ann Roberts

Get it from Amazon for $11.99+ (available in six styles).
13.
A pair of wireless Bluetooth earbuds that'll put those brand-name headphones to shame. Reviewers say the sound quality is surprisingly good given the price tag. And the battery life is equally amazing — listen for over six hours on a single charge (and get up to 30 hours of enjoyment with the charging case).

Promising review: "I misplaced my Samsung wireless earbuds and went on Amazon looking for a replacement. Usually, I don't believe the ratings or hype, but I decided to give these a try because I really can't live without wireless earbuds. This is a real rating so listen carefully...THESE EARBUDS ARE SIMPLY THE BEST PERIOD!!! I paired these up with my Samsung phone in seconds, without reading even the quick start guide. I did glance at the packaging and I noticed that they said WATERPROOF. Again, I didn't believe it because for sub-$50 you don't usually get everything as advertised. Seeing that Sony, Bose (who I love), and Samsung are selling the same type of earbuds with less advertised features for hundreds of dollars more. Well, I decided to wear these in the shower since I purchased the Amazon extended warranty; I figured if anything goes wrong I am covered. Well I WAS BLOWN AWAY!!! They performed flawlessly — hence my long review!! I am totally satisfied with my purchase and you will be too. YOU CANNOT GO WRONG WITH THESE EARBUDS!!!" —John TC
Get it from Amazon for $23.99+ (available in five colors).