1.
A pair of compression gloves that'll give your joints a comforting (and breathable!) bear hug throughout the day that may help relieve pain caused by arthritis, carpal tunnel, and tendonitis.
Promising review: "I got diagnosed about a month ago with pregnancy-induced carpal tunnel. My doctors recommended getting wrist braces, which I did. They helped a little, but every night for the last month I have woken up 2–4 times each night in tears from the pain and numbness. I decided to purchase these to try along with my braces before seeing an orthopedic doctor for cortisone shots. When I first put them on I didn't think they were big enough, but once I got my swollen fingers into them they fit 'like a glove'! They give great compression and are not too binding at all. I knew right away I would still need my wrist braces over them to keep my wrists straight so I put these on and the braces on top before I went to bed last night. I am very pleased to say I slept through the entire night for the first time in at least a month! I have a feeling I will be using these gloves during the day at times at work as well. I love that they go almost all the way up my fingers but do leave my fingertips exposed so I can still do things while wearing them. If I could give these gloves 10 stars I would. I love them more than my pregnancy pillow I got!" —Jessica M
Get a pair from Amazon for $19.97 (available in three sizes).
2.
A hair removal device designed to permanently reduce hair growth at home so you can skip the $$$ laser hair removal treatments.

It's safe to use on your bikini line, upper lip, chin, face, armpits, back, chest, stomach, arms, and legs. Do not use it on your eyebrows or on tanned or tattooed skin.
Promising reviews: "I give 7 out of 5 stars. After two months of using it as directed I am impressed with the results. My face has post-menopausal coarse hair growth. In the past I have spent thousands of dollars to have the hair on my legs and bikini area professionally removed. Rather than risking the possible COVID-19 exposure due to multiple office visits at a professional salon I chose to purchase this device to remove my facial hair. Even the medium and fine black facial hairs have disappeared." —Prague

"10 stars. This is my first time using this product and so far so good, no burning or irritation to the skin. I'm highly satisfied with the design and function of this laser hair remover." —Paige
"Honestly it was an easy process; every now in then it can sting but just put on the cooling gel and it goes away I can already tell it works. I would give it 10 stars if I could." —Mitch
Get it from Amazon for $59.99.
3.
A collagen-coating hair treatment if your dry, damaged, and overprocessed strands could use a little TLC. This reparative five-minute hair mask will revive your mane and leave it soft, silky, and smooth.
Promising review: "I saw this on TikTok, and in between other compares products that were four times the price, I decided to bite the bullet and buy this — let me tell you, best decision ever! I shampooed my hair, then heavily massaged this in, from ends to scalp. The carton says 5-20 minutes... But i ended up leaving it in for two days! And after washing it out, my hair was so shiny, bouncy and CURLY! My curl recovery journey has been long, but this has helped restore so much vibrance and shape to my hair. My mom has been stealing it from my bathroom every couple of days, after having similar results on her hair. Going to need to buy a few more to ward her off." —curlyhead3

Promising review: "My hair used to be really soft, and then I discovered hot tools and hair dye. While my hair looks good I really missed the soft texture. This works so well. There are no instructions on the box but I washed my hair with my usual shampoo, towel dried it, worked about two quarter-sized dollops through my hair, let it sit for 20 minutes and then rinsed out. I went to bed with wet hair which usually results in my hair being kind of tangled and rough-looking but I woke up and my hair was as soft and silky as it was before I started coloring it. I'm totally in love with this product, I have long fine hair but this doesn't leave it greasy or weigh it down. I'll definitely buy again." —Ellie
Get it from Amazon for $7.40.
Read our Elizavecca CER-100 Collagen Coating Hair Protein Treatment review to learn more about why my colleague calls it, "the miracle product I've been searching for."
4.
A bleach-free, no-scrub weekly shower spray so soap scum and shower grime buildup goes bye bye without you ever having to wipe. Rinse it clean the next day, and you'll be amazed to see those hard water stains on your shower door are *poof* gone.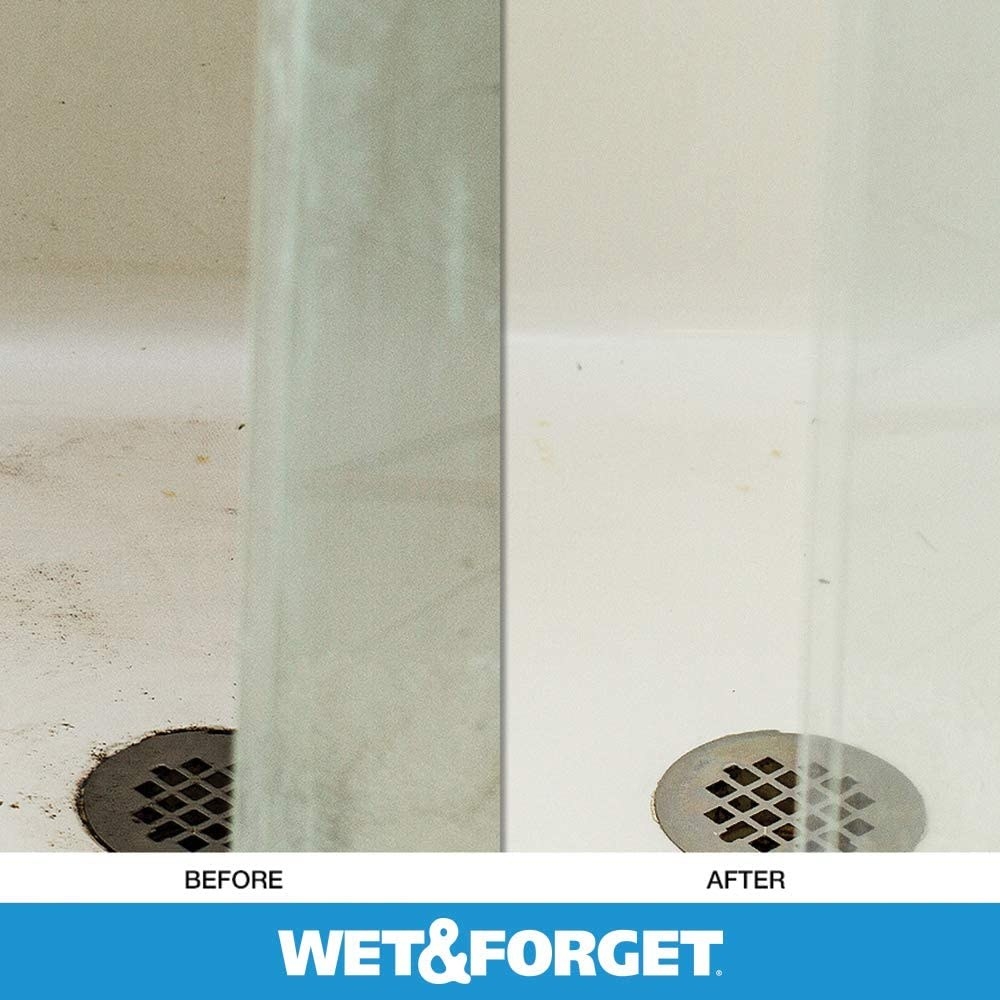 Promising review: "We cannot BEGIN to tell you what a lifesaver this is! We have two old fiberglass tubs with vinyl shower enclosures that no matter what amount of scrubbing we have done with everything from bleach to cleanser to vinegar and baking soda would NOT come clean. After I took my shower last night, I sprayed down the tub and walls. Within minutes, all the built-up water deposits and dirt and grime began to melt away in front of my eyes. I left it on overnight, and when I got up this morning, it did not look like the same tub and shower. This product is a godsend, especially for old folks like us who have difficulty getting down on our hands and knees and scrubbing anything. More importantly, it performs as advertised. We plan on using it as part of our weekly cleanup routine. This is truly an overnight sensation!" —Amazon Customer
Get it from Amazon for $19.54+ (available in two scents).

5.
A teeth-whitening pen because it's a heck of a lot quicker (and tastes a lot better) than those irritating whitening strips that slip and slide all over your teeth. You can use each pen ~20 times and should expect your teeth to lighten 4–8 shades.
Promising review: "I was hesitant to try a new teeth-whitening product after using harsh whitening strips that caused pain and lingering sensitivity. But, as a coffee and red wine drinker, I wanted to find a solution. This teeth whitening pen is terrific. Easy to use, works well and does not have the downside of either the strips or the $450 option at the dentist. I also really love this product since whitening my front teeth is the objective. It is a great value as I anticipate the two pens that are included will last one year. I will definitely buy this again and am very happy to recommend it." —Rebecca Shehee
Get a two-pack from Amazon for $19.99.
6.
A roll of road tape for encouraging your kiddo's imagination and creativity — and perhaps also helping you achieve your dream of being a race course designer.

Promising review: "I was so excited to gift this tape to a 4-year-old boy, and to see how it was. It's very light, and stuck to a table very nicely. Left no residue on the table, and could tear easily to make a turn in the road. You could put this anywhere in your house and not be worried about damage. Very cool!" —Courtney S.

Get a 30-foot roll from Amazon for $9.25 (available in multipacks).
7.
A cuticle oil that'll restore your shredded nails after a gel mani. A combination of sweet almond oil, vitamin E, and jojoba softens the cuticle and strengthens your claws so you'll be proud to show them off.
Check it out in action on TikTok here!
Promising review: "Found it on TikTok and I'm so pleased with the results. My nails are getting stronger and growing. And the best of all not chipping. Love it." —sidna saavedra
Promising review: "This product is amazing. I've always had acrylic or dipped nails because my real nails have always been brittle and always break and peel. I decided to give my nails a break and wanted to try and grow them out. I can't even believe the outcome! They are stronger than ever and growing! I really wish I had taken a before pic to show the difference!" —JOE D.
Get it from Amazon for $8.50.
8.
A Kindle strap to put a stop to the little annoyances that prevent you from being fully immersed in your novel. No more dropping your e-reader on your face (ouch!) or swiping to the next page too soon because your finger accidentally brushed the screen.

Promising review: "This thing has been on my shopping list for quite sometime because I really don't wanna spend 11 bucks for a strap, but the annoyance of trying to hold my kpw comfortably has become impossible to ignored. This strap can easily fix that problem. I don't have to awkwardly support the kindle with my pinky finger or my palm any more, and the bracelets don't seem to damage the bezels. The only worry is we don't know how long before the elastic band wears out and loses hold." —Ruz0042
Get it from Amazon for $12.50.
9.
A pet hair remover if you're tired of getting fur all over your clothes. Roll it over your couch, bed, favorite blanket, you name it, and watch it lift the fur away. See, we can own nice things!!
Promising review: "If I could give this product six stars, I would. My husband and I use it almost every day. We have three furry dogs and six fluffy cats, which makes for A LOT of hair. We were using a lint roller before we bought our ChomChom Roller. The lint roller didn't work very well and had to be replaced. We have had our ChomChom Roller for months and it still works just as well as it did when we first got it. We can actually invite our friends over now without worrying about all the pet hair." —Morgan Willis
Get it from Amazon for $29.95.
10.
A tub of brightening, firming, and rejuvenating eye cream so you at least look like you got some sleep (even if you were up until 2 a.m. scrolling through Instagram).
Promising review: "I never ever write reviews. I have tried every eye cream out there. Not one does what is says. This was immediate! I saw softening of my wrinkles and crows feet. It's amazing. I will be buying this again and again." —melisa delaney
"I have been using this daily for about eight months now. I am 60 years old. It reduced the puffiness and bags under my eyes. I am Sicilian and had dark circles. It has brightened up my eye area. I am very surprised as I have paid much more for eye creams that have done so much less. I recently had pre-cancerous cells removed at the bridge of my nose. After healing, I was left with a dark scar. The dermatologist told me that it would heal over time. Since I began to apply this eye cream, the mark has almost disappeared entirely. I shop constantly from Amazon. This is the first time that I have taken the time to write a review. That's how impressed I am with this product. If you decide to purchase this, you won't be sorry." —Lynda M.
Get it from Amazon for $29.99.
11.
An airplane seat back organizer because air travel can actually be pleasant when all your in-flight essentials are within reach. Thanks to the four roomy pockets, this organizer can hold your snacks, drinks, electronics, books, toys, etc. so you may not need to squeeze past your seat neighbor 10 times in the same flight because you need to grab something else from your carry-on.

12.
A elevated cutting board for making salad prep a breeze. You can lay this board flat on the counter or open its legs and stick a bowl underneath to easily push chopped ingredients straight into the container.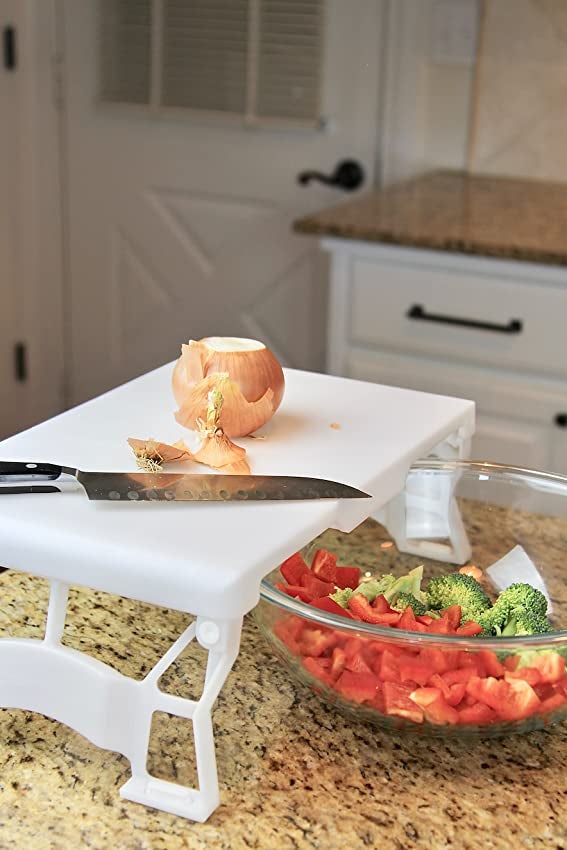 Promising review: "So I'm pretty dang tall, and my counter is the normal 36" height. Chopping on a normal cutting board means I have to bend forward and over and my shoulders and back start screaming at me about five minutes in. This here cutting board is a back saver!! It's perfect for tall people, and you can use it without the legs as well if you're not so tall. Pulling the legs out and folding them back in makes a loud creaking noise, but that's the only negative thing I can say about this board so far. Chop chop all the things!" —Sandra
Get it from Amazon for $39.95.
13.
A darling leather travel wallet that'll not only hold your travel necessities (passport, cards, boarding pass, etc.), but will also commemorate all the destinations you've visited. One side is blank for you to stitch whatever your heart desires, and the other side is a world map where you can mark off your travels.

Needle and thread is included.
Chasing Threads is a small business based in the UK.
Promising review: "A really lovely present and well made. There is plenty of thread as well when you buy one of the extra sets, so don't think who I bought it for will ever run out. A cute idea and worth buying." —Beth Louise
Get it from Chasing Threads on Etsy for $84.96.
14.
An adorable octopus-shaped blackhead remover to exfoliate your skin while pulling out whiteheads, blackheads, and other pore-clogging yuckies. 
Promising review: "After just two days of use, this adorable little octopus has done wonders for me, smells great too. Here's how I used it: I wore down the stick just a little to where the texture from the salt is visible, scrubbed around on my face so there was plenty of product, then I used my fingers to gently massage all the gunk away. Rinse, pat dry, and enjoy the softness. Highly recommended for people with sensitive skin like myself." —LuckLocust

Get it from Amazon for $12.50.