1.
A grout paint pen that'll cover up years of residue from dirty feet, uncleaned spills, and mysterious stains that bother you every time you look down at your floors. It works like a regular marker, so even people who failed art can use it.
Promising review: "This stuff is amazing! After over 10 years of the grout not being cleaned, and a botched repair job, the bathroom floor in this house looked horrendous. Two pens covered the entire bathroom floor, with plenty left over in the second pen, even with applying two to three layers (which you will definitely need as the paint is a bit thin and also absorbs into the grout). Super easy to apply, works exactly like a regular paint marker. Be sure to press the pen tip on a separate (thick) cloth to activate it before actually using on the grout so you don't end up with a huge mess on the tile when the paint floods out at first. If you see the first side of the tip is getting frayed, just pull it out and turn it around to the other side." —regalle
Get a white pen from Amazon for $8.99+ (available in two widths and in other colors).
2.
A pumice cleaning stone for powering through tough rust, lime, and calcium streaks that have retired many a toilet scrubbing brush. Give your tired arms a break and let this little guy rub away discoloration with ease. This nontoxic cleaner is tough on dirt but gentle on porcelain so you can sit atop the glistening throne you deserve.
Promising review: "I'm doing a happy dance right now! My toilets have had mineral rings in the bowls from well water since we bought our house five years ago. During those five years, I have purchased NUMEROUS products to try to remove the rings. Every single one failed. I had come to terms with the idea that if I wanted pristine looking crappers, I was going to need to replace them. Three of them. Ugh! I ordered the pumice cleaning stone as a last ditch attempt. Received it today, and immediately went to town. My extreme enthusiasm for scrubbing johns was actually a bit odd, but I was feeling optimistic. Turns out I had reason to. THIS PRODUCT IS AMAZING!!! SO amazing, it actually inspired me to take a picture of my TOILET!!!! My hoppers are saved!!!!! Seriously, the rings are COMPLETELY GONE. If I could give 10 stars, I would." —Sassyscribbler
Get it from Amazon for $10.99.
3.
A pack of AirPod cleaners because the last time you offered your buddy an earbud to listen along with you, they actually recoiled in disgust when they saw how gunked up your AirPods were. Squish the flexible square into your AirPod speaker, peel it off, and gasp in horror at the ear goop that's been dulling the sound quality.
Promising review: "I bought this after seeing it on some BuzzFeed list and thinking about how gross my AirPods probably were. When they came in the mail, I used them immediately. They got all the gunk out that was in the little holes. THEN my husband comes in and sees and wants to use them for his. I learned he has never even tried to clean his own AirPods (?!) DISGUSTING and amazing. It got everything out of his." —Amazon Customer
Get 24 from Amazon for $17.99.
4.
A bleach-free, no-scrub weekly shower spray so soap scum and shower grime buildup goes bye bye without you ever having to wipe. Rinse it clean the next day, and you'll be amazed to see those hard water stains on your shower door are *poof* gone.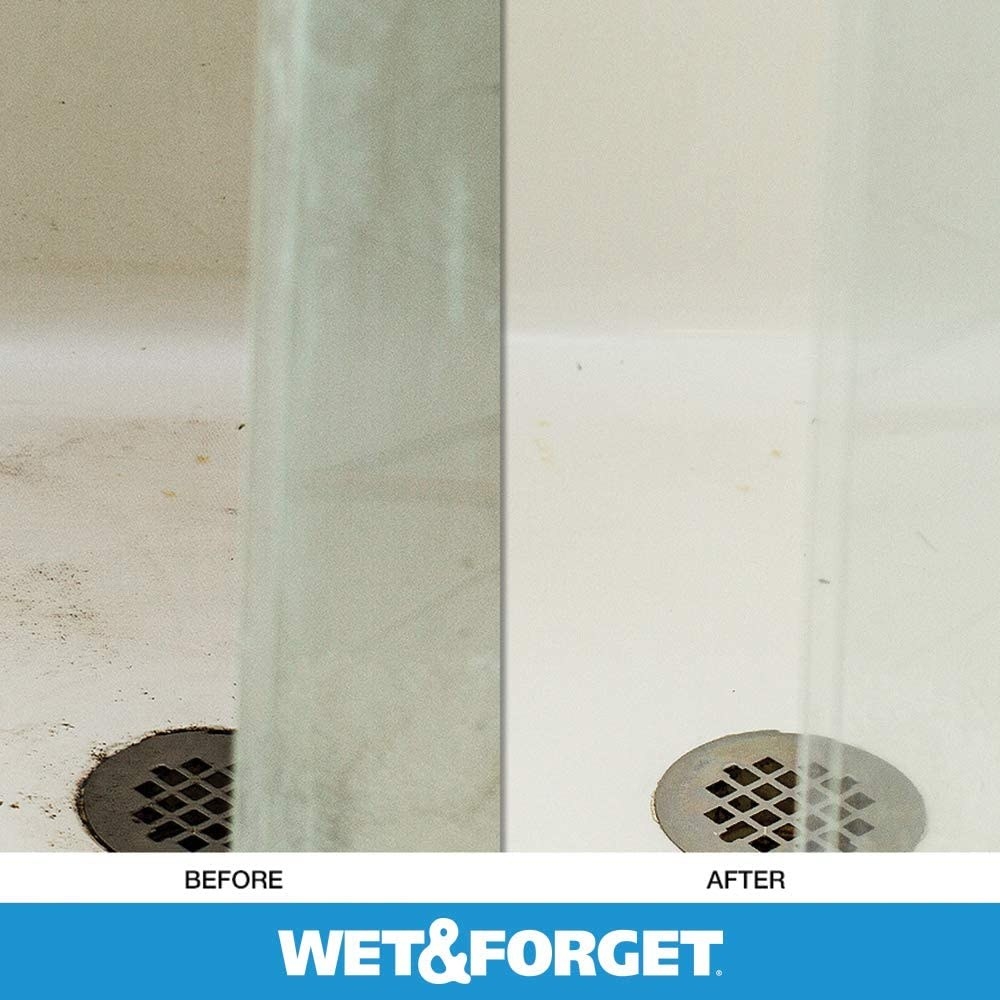 Promising review: "We cannot BEGIN to tell you what a lifesaver this is! We have two old fiberglass tubs with vinyl shower enclosures that no matter what amount of scrubbing we have done with everything from bleach to cleanser to vinegar and baking soda would NOT come clean. After I took my shower last night, I sprayed down the tub and walls. Within minutes, all the built-up water deposits and dirt and grime began to melt away in front of my eyes. I left it on overnight, and when I got up this morning, it did not look like the same tub and shower. This product is a godsend, especially for old folks like us who have difficulty getting down on our hands and knees and scrubbing anything. More importantly, it performs as advertised. We plan on using it as part of our weekly cleanup routine. This is truly an overnight sensation!" —Amazon Customer
Get it from Amazon for $17.97.
5.
A pack of dishwasher cleaning tablets to clean your machine as it runs. No need to sigh in frustration every time you open your dirty dishwasher to remove your "clean" dishes.
Promising review: "I rarely post reviews, but this stuff has completely changed our lives. Our dishwasher, utensils, plates, and glasses were covered with dry scale and nothing we tried came close to helping. After using the tablets three times our dishwasher looks like new; our glasses are sparkling like fine china and everything else looks fabulous. Highly recommend, worth every penny, best product BY FAR!!! One great advantage is you can use it with your dishes. Some other products are used to clean the dishwasher but not to clean dishes and glasses. Buy this, you will be blown away!!! It is astounding!" —Jenny
Get a pack of six tablets from Amazon for $8.99.
6.
A Bissell Little Green machine if your living room looks like you're running a doggy daycare out of it. This portable upholstery and carpet cleaner cleans deeply, penetrating household fabrics and even car interiors to erase any sign of your pet's accidents.
Promising review: "Two months ago we got an 6-month-old puppy who has needed some time to get adjusted. That included more than a few accidents in our living room and on his bed. This machine has made clean up of everything so much simpler and I love that it's deep cleaning and has a nontoxic pet cleaner so that our not-so-little puppy can isn't harmed through exposure or smells. Also helpful since my teenage sons like to camp out on the couch with their friends on long weekends and our couch gets that fresh clean smell in an hour." —Kindle Customer
Get it from Amazon for $99.99.
7.
A drain clog remover that'll conquer the hair monster in your shower drain, simultaneously impressing and disgusting you. Or you can let the hair glob remain in the pipes and at some point your shower will turn into a bath. Fun!
Promising review: "When I pulled the orange plastic spiked strip from the package, I was immediately skeptical and felt like all those five-star reviews were from people who exist in an alternate universe. I was tempted to initiate a return on Amazon but decided that I might as well gamble on a piece of $9 plastic before gambling $200 on a plumber. I slipped the plastic strip down my shower drain and literally FIVE SECONDS LATER I was pulling up gobs and gobs and gobs of hair. HOLY COW!!!!!!!! OHMYGOSH. I can't believe I still have any hair left on my head. SO MUCH REPULSIVE GUNK!!!! I saved my prize hairball on the shower floor to show my husband because I knew he would be as skeptical as I was. We both agree it looks like a small raccoon or a large squirrel lying helplessly on my shower floor. It's a grisly, messy, smelly and oh-so-rewarding job." —Chocolate and Chips
Get a six-pack from Amazon for $12.99.
8.
A carpet cleaner for anyone whose usual MO is to just ignore the mess. This'll lift even the most stubborn old stain, and it doesn't require you to rinse or vacuum after you spray.
Promising review: "This stuff is AMAZING. We have a 1.5-year-old puppy and have make several futile attempts to clean up carpet stains from her potty training days. Another dog owner clued us into this, and we cannot believe we didn't buy it sooner. Seriously, the same night this arrived, I spilled an entire bottle of beer on white carpet (oops), grabbed the Folex, sprayed a bunch onto the stain, massaged it into the carpet with my finger tips, and blotted with a damp towel. You can't see ANY remnant of a stain. I've also attacked old stains (like one-plus year old) and saw the same results. Seriously, buy this!!!" —AKM
Get it from Amazon for $6.86.
9.
Or a pack of stain-removing pads because owning a pet = a lot of messes. Just lay them over the spot, give 'em a stomp to activate their cleaning powders, and watch the stain disappear — no bulky carpet steamer necessary!
Promising review: "WOW! Honestly, I was a little skeptical of the promise of these pads, but I bought them just to try out. THEY WORKED AMAZINGLY WELL! Seriously. I have some stains that are 1.5–2 years old. I've tried everything to get them out. I put these pads on the stains (two to cover the spot), let sit for about an hour, pulled them up, and the stain was gone. I truly couldn't believe it. The pad was yellow. Somehow the old urine was soaked up into the pad. My carpet looks like new. I couldn't recommend these any higher for what I wanted and what I got. Wish I could give this more than five stars." —Matt
Get a pack of 20 from Amazon for $24.99.
10.
A touchless stationary vacuum so you can sweep piles of dirt, dust, and fur right into it. Bending over and sweeping everything into a dust pan only for half of it to not make it into the pan and for the other half to erupt into a dirt cloud that makes you cough? That's a no from me, dawg.
Promising reviews: "I love this. I have hardwood floors throughout my downstairs and I sweep with a broom every day. This is so convenient. I will be getting one for my brother for Christmas this year. I would give it 6 stars." —Ricky Huggins
Get it from Amazon for $159 (available in three colors).
11.
A microwave steam cleaner to melt away the baked-on crud that's clung to the sides of your microwave since, well, we're not exactly sure how long it's been there but suffice it to say it's been awhile.
Promising review: "Something I didn't believe until I tried it. So easy to follow directions, written on Angry Mama. Was disappointed when I opened the microwave to see the filth still on it. Was wishing it would magically taken care of itself. But all it took was a quick swipe with a paper towel and GONE. Loosened everything, which is half the process. My microwave was sooooo white once cleaned!! Would buy as gifts." —JDesmond
Get it from Amazon for $8.99+ (available in four colors).
12.
An EasyWring microfiber spin mop if you're envious of the sparkly clean floors you see on #CleanTok. Its specially designed microfiber mop head (which is machine washable, btw!) is so effective at grabbing dirt and grime that you can skip the harsh chemicals and clean with just water! And ofc it has a built-in wringer and splash guard (no one wants dirty water splattered on their face!).
Promising review: "I had had it with my broken basic mop and bucket. I tried to just get a dollar store Swiffer to get us by, but that wasn't cutting it at all. With three boys and a dog that makes his rounds on all the furniture and every exposed corner, I had to do something. After seeing a TikTok where a woman demonstrated this mop to clean her walls, and hearing my boss raving about it, I decided to click the Amazon button. Let me tell you, I HATE cleaning, I HATE mopping, but I LOVE for things to be clean. I was able to mop the entire house TWICE (Because it was that dirty. Please don't judge.) within an hour. A few days later I mopped the entire house again within 10 minutes because they weren't quite as dirty. On another positive note, my boys love the spinner and think it's a toy! So, every time I get the bucket out my 10-year-old and 4-year-old ask to mop the house because they think it's fun. MAJOR BONUS!" —Molly
Get it from Amazon for $32.97. 
13.
The Clean Ball, a genius German invention that'll get rid of purse sand — y'know, the fine layer of dirt, dust, crumbs, grit, and who knows what else that you scrape your hand against whenever you're rooting around your bag and you brush the bottom of your tote. Inside the honeycomb pink ball is a smaller sticky ball that picks up debris and washes clean so you can reuse it.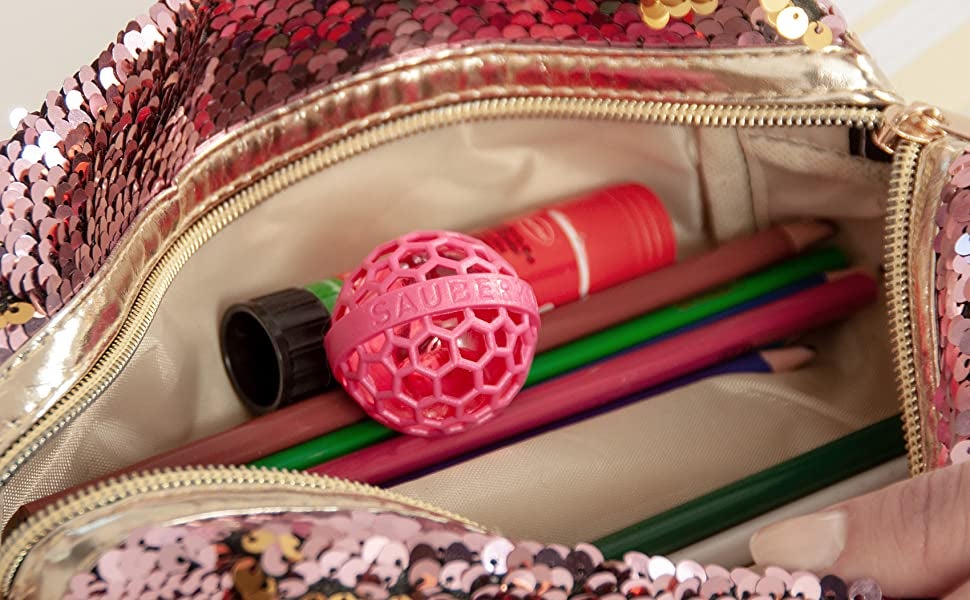 Promising review: "This little ball is genius! It rolls around in my purse, which I live out of. It picks up a lot lint, debris, or even crumbs. It's easy to find with the bright pink. Just remove and wash and it's ready to go again. The price was great and something I can use for years. If you live out of your purse this a must have!!" —dj3biggs
Get it from Amazon for $12.99 (available in pink and gray).