This post has not been vetted or endorsed by BuzzFeed's editorial staff. BuzzFeed Community is a place where anyone can create a post or quiz.
Try making your own!
John Mayer & Katy Perry Are In Bozeman, MT... And People Are Freaking Out!
John Mayer owns a home in the Bozeman, Mont. area and has been spotted over the last few days in the small town. People's reactions to seeing him (or not seeing him) are hilarious.
Some chose to just walk near them
When you see Katy perry at blackbird cafe in downtown bozeman and you make your mom drop u off so you can walk by! @katyperry @johnmeyer

— Sophie (@sophiemay1028) February 12, 2015
One person wants to play Mario Kart with them
.@katyperry @JohnMayer hear you're in bozeman, you guys want to come play Mario kart after my math test? Yes or no?

— Iceberg (@Iceberg7000) February 11, 2015
At least one guy thinks he can get John out of the picture
Katy Perry and John Mayer are in Bozeman.Mr. SteelYoGirl mode is in full affect. Better watch out John.

— BB (@B_Braun3) February 12, 2015
A few people shared a drink at a distillery with J&K
My dreams came true when I saw @JohnMayer & @katyperry at the Bozeman Distillery; tried to play it cool but they knew I was freaking out.

— Nilam A. Patel (@nilamapatel) February 12, 2015
Just sat down next to John Mayer and Katie Perry at a small trendy bar/restaurant in Bozeman , MT, Plonk. Of al the gin joints....really

— Donny Askin (@donnyaskin) February 12, 2015
One person saw them at WalMart and snapped a selfie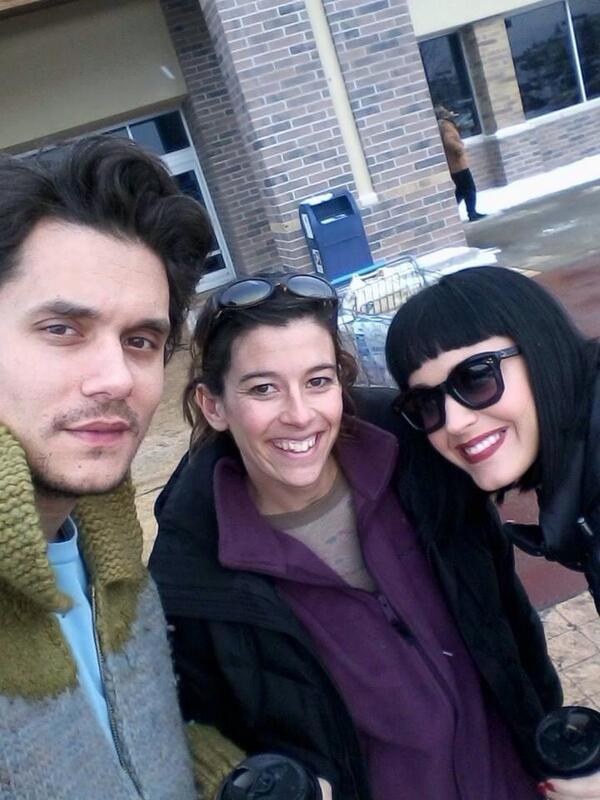 Overall most people are just genuinely excited
‼️KATY PERRY IN BOZEMAN MT‼️

— Josie Clemow (@JosieClemow) February 12, 2015
@Feather_24 @katyperry she's in Bozeman. Road trip? we can tell Jerry we have a delivery there

— Tyson Gentri (@Tybear13) February 12, 2015
I kinda wanna dye my hair lavender cause @katyperry is in bozeman

— Leslie Torbergson (@leslieamandat) February 12, 2015
@katyperry heard you where in bozeman well I live there hope to see you around town your welcome here any time! Our small town loves you :)

— Katie Fire Thunder (@katiefirethun) February 12, 2015