This post has not been vetted or endorsed by BuzzFeed's editorial staff. BuzzFeed Community is a place where anyone can create a post or quiz.
Try making your own!
Romney Signals Break With Republicans On Student Loans
Mitt Romney backs extending reduced interest rates on federal Stafford Loans — though Republicans have opposed Democratic efforts to do just that. "I'm glad he signed on," says Rep. Courtney. But will his party fall in line behind him?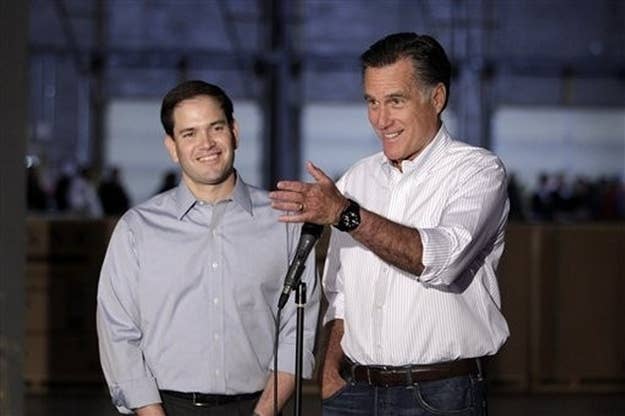 Mitt Romney told reporters today that he supports efforts to extend low interest rates for college loans — appearing to align himself with a Democrat-sponsored bill and against Congressional Republicans.
"I fully support the effort to extend the low interest rate on student loans," Romney said at a joint news conference with Florida Senator Marco Rubio. "There was some concern that that would expire halfway through the year, and I support extending the temporary relief on interest rates for students as a result of student loans, obviously, in part because of the extraordinarily poor conditions in the job market."
In publicly breaking with his own party, Romney is taking away a potential wedge issue for President Obama's campaign — and giving hope to Democrats that they may find new momentum for the legislation. The deadline for the current, low interest rates to expire is July 1.
Rep. Joe Courtney, D-Conn., is sponsor of a bill that would extend the interest rates for another year, and said he hopes Romney's comments will "shake the Republican congressional leadership loose." The Romney campaign did not respond to BuzzFeed's question about whether the candidate specifically backs Courtney's legislation.
"I'm glad he signed on," Courtney told BuzzFeed, but said, "He obviously is responding to the politics of the situation. He has shown no leadership at all."
He added: "With the Republican Party the way it is, I'll take it where I can get it."
Republicans oppose the bill in part on the grounds that it isn't paid for.
But Romney's support doesn't ensure that his fellow Republicans will rally around him — indeed, this may test to what extent the GOP has accepted their presumptive presidential nominee as the party's standard-bearer.
Asked whether House Republican leadership would get behind Courtney's bill, given Romney's comments, a spokesman for Speaker John Boehner was non-committal.
"The rising cost of tuition is a serious problem for students and their families, so it's unfortunate that Washington Democrats put in place a law that would double student loan rates," said Boehner spokesman Michael Steel, apparently referring to a 2010 law backed by Obama that ended federal subsidies for private student loans. "That's why Republicans and Democrats on both sides of Capitol Hill will be working on this issue in the coming months."