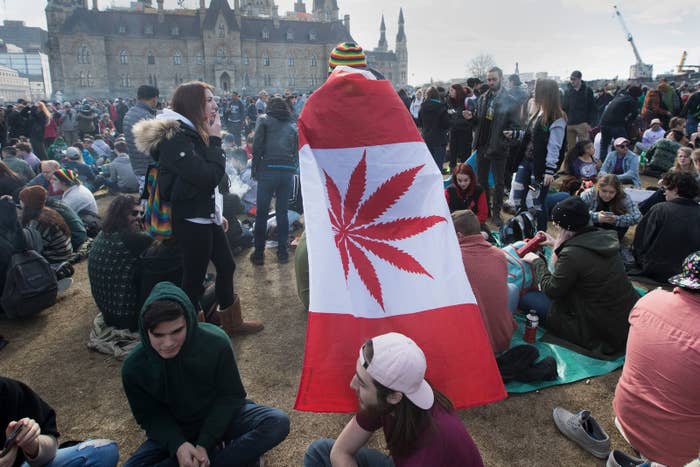 Canadian lawmakers on Tuesday approved landmark legislation that will make it legal for adults to buy and consume marijuana across the country.
Canada now joins Uruguay as only the second country in the world to legalize recreational marijuana nationwide.
The Cannabis Act, approved by the Canadian Senate after passing the House of Commons, allows the federal government to license producers to grow and sell marijuana seeds and products, and for citizens to grow up to four plants.
Under the law, only adults over 18 will be allowed to possess up to an ounce of weed for recreational use, although provincial governments could impose stricter rules for consumption and sales.
Edibles will not immediately be legal but will be allowed for purchase after a year. The delay is meant to allow the government time to figure out how to regulate the products.

There is an eight- to 12-week buffer period for local areas to set up shops and other regulatory infrastructure, but on Wednesday, Canadian Prime Minister Justin Trudeau announced the act will go into effect on Oct. 17.
Trudeau had earlier promised that cannabis would be legal earlier, but it has taken the government at least two years to determine how to create a marketplace.

Certain provinces — Quebec, Manitoba, and Nunavut — wanted the right to ban home-growing, leading to lengthy debates, according to the Canadian Broadcast Corporation. But ultimately the provision was rejected.
"One of the strong recommendations by experts was that we ensure personal cultivation of four plants at home," Trudeau told reporters last week.
The issue of legalizing pot south of the Canadian border, meanwhile, has been relegated to the states. In the US, nine states and Washington, DC, have legalized adult recreational use of marijuana, and another 29 states allow it for medical purposes. However, cannabis remains illegal at the federal level.