If you watched the Tony Awards this week, you might have noticed that in Patti LuPone's speech after winning Best Performance by an Actress in a Featured Role in a Musical, she thanked "Chris Harper, who pays my salary." This joke was a callback to an altercation LuPone had with an audience member after LuPone called her out for not wearing a facial mask properly (but more on that in a second). In fact, multiple award winners mentioned the joke as well, including the actual Chris Harper who said this to Patti LuPone:
In that spirit, I compiled a list of other moments in the theater where performers actually called out audience members of their own show.
1.
First off, let's catch you up if you didn't already know. Last month, Broadway legend Patti LuPone went viral for her interaction with an audience member during a Q&A session after she performed in the musical Company. In audience footage, LuPone can be heard telling the audience member to pull her mask up over her nose, and adds, "If you don't want to follow the rule, then get the fuck out!"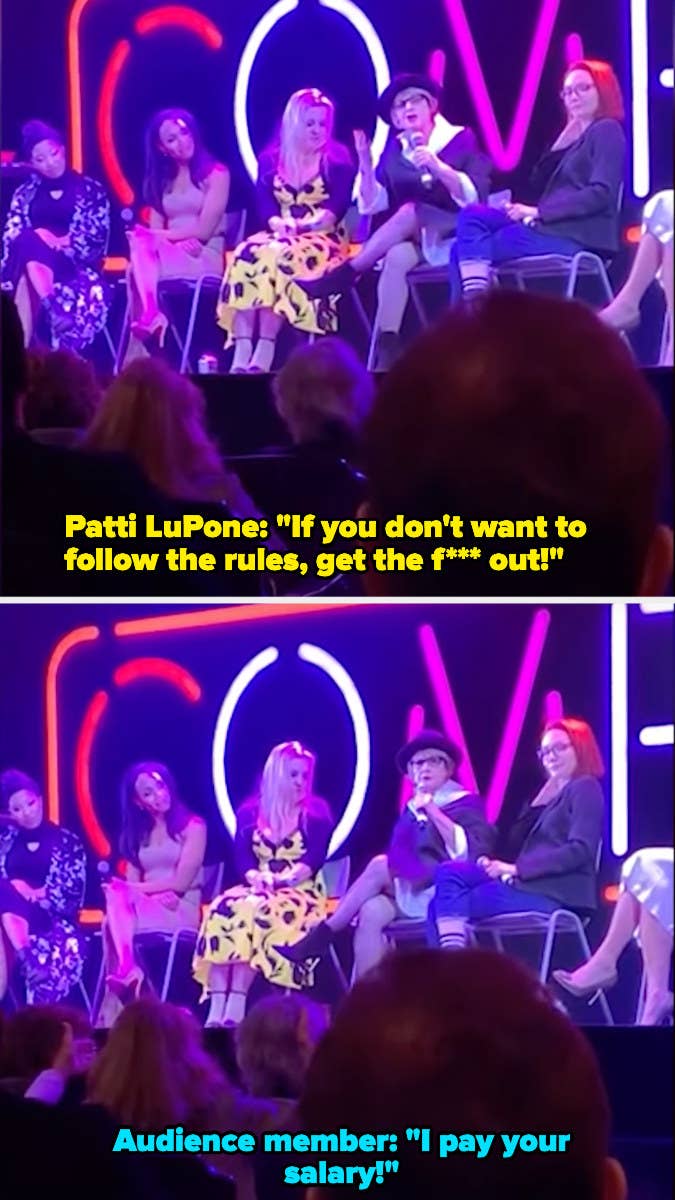 2.
But did you know that this isn't LuPone's first spat with an audience member? In 2009, Patti actually stopped performing mid-song during a revival production of Gypsy to tell an audience member to stop taking flash photographs of her.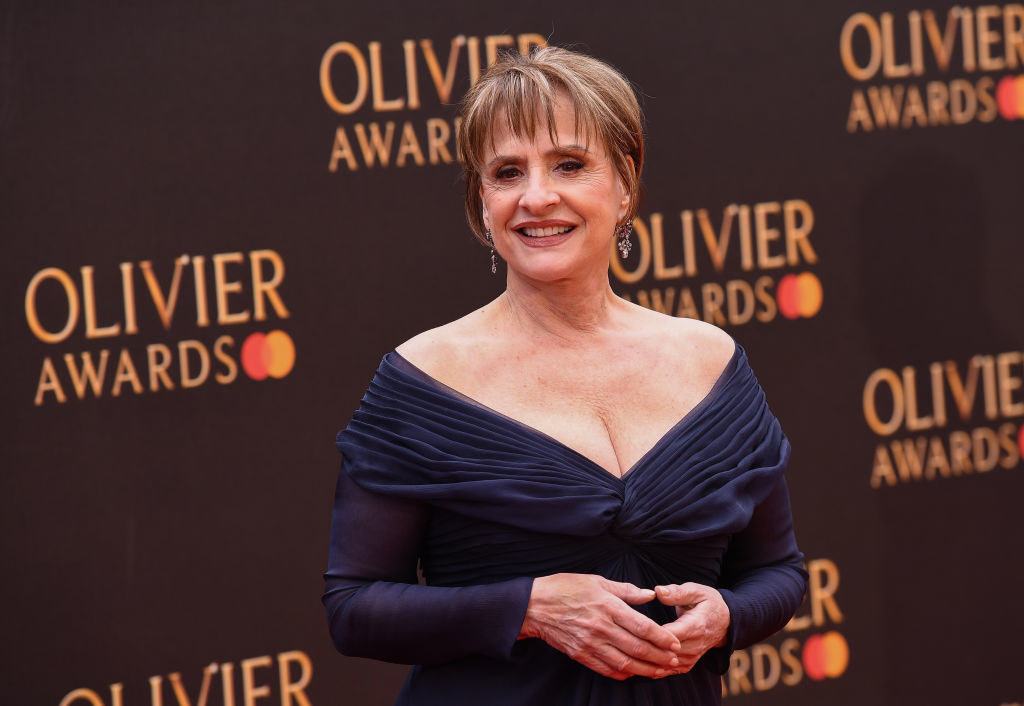 3.
You might remember that Ben Platt originated the title role of Evan Hansen in Dear Evan Hansen. Platt performed in the show from 2015 to 2016 before departing. During an interview on The Late Show with Stephen Colbert, Platt recounted a performance where he became annoyed with a group of teenagers in the first few rows who had spent the performance talking and disrupting the show. Platt said that despite sending some pointed looks in their direction, the teenagers still refused to stop talking. In the interview, he discussed performing a monologue at the front of the stage closest to the audience, and recounted, "God sent me a sneeze" — before elaborating that he sneezed right on the teenagers' faces.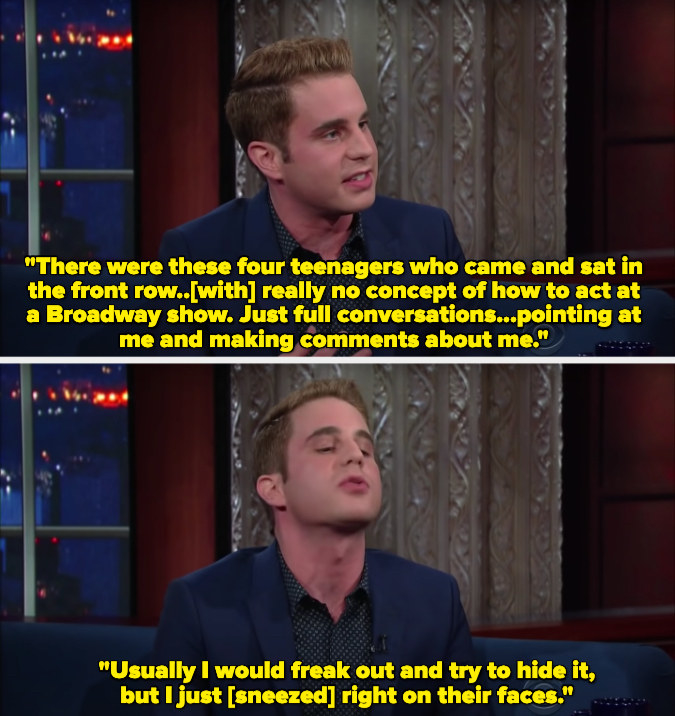 4.
A Los Angeles production of Cat on a Hot Tin Roof was actually canceled mid-run after an actor was fired for fighting an audience member mid-performance. The actor, John Lacy, reportedly jumped off stage after an audience member repeatedly shouted anti-gay slurs at his costar, Anton Troy. Afterward, Lacy defended his actions, and said, "I've stood up to bullies my whole life." Lacy jumped off the stage and addressed the audience member before pushing him. The audience member was escorted out afterward.
5.
During an interview with Conan O'Brien, Daveed Diggs discussed performing with creator and star Lin-Manuel Miranda in the Broadway smash hit Hamilton. Diggs reported that Miranda's vision was so good that he was able to point out audience members who were texting on their phones during performances. Daveed said that once backstage again, Miranda would be able to give security the row and seat number of the audience member who was texting, and they would be removed from the show.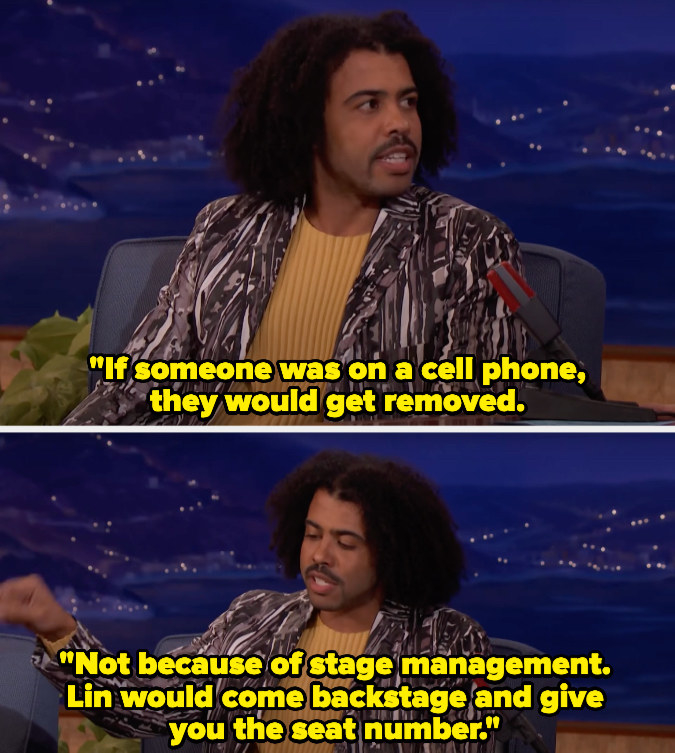 6.
However, Miranda actually took it a step further after catching a disruptive audience member who you may already know. Singer Madonna attended a performance of Hamilton and was reportedly called out by Miranda in a now-deleted tweet that said he refused to allow her backstage to meet the cast after the show due to her behavior.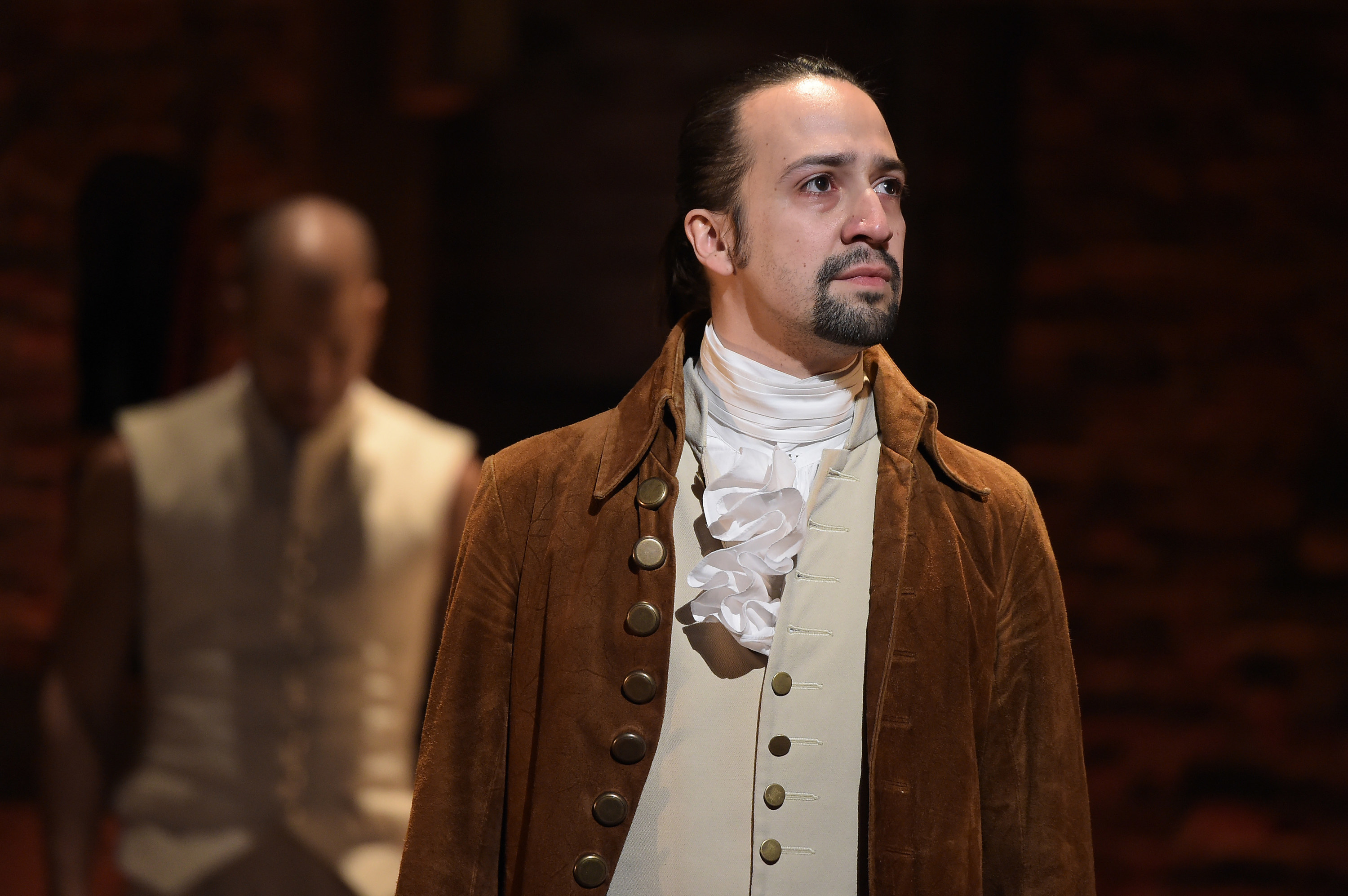 Jonathan Groff, who played King George, later discussed the incident. He said he wasn't upset that Madonna wasn't able to come backstage and "that bitch was on her phone!"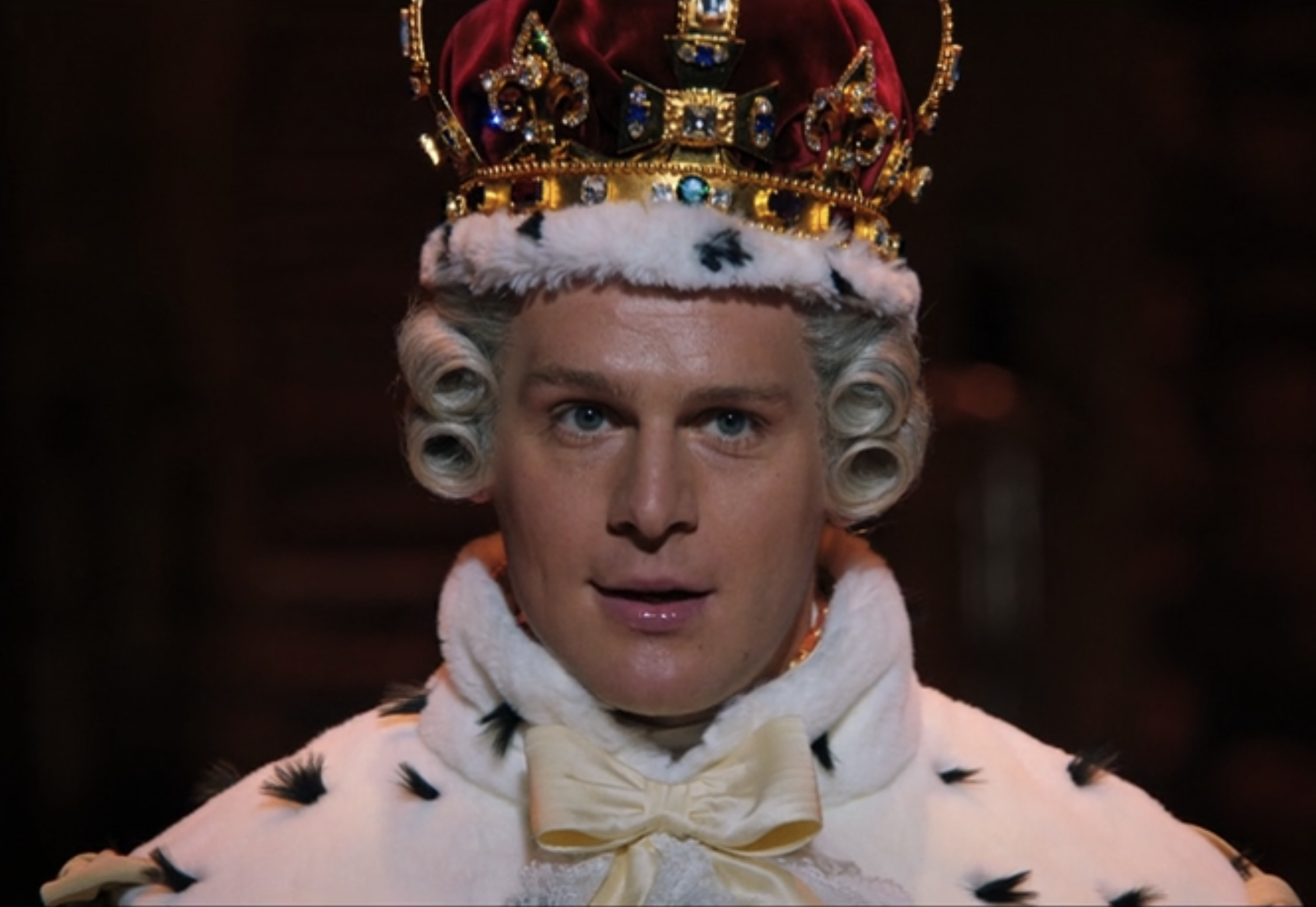 7.
In 2018, Kanye West was actually called out for using his cellphone during the opening night of the musical The Cher Show by actor Jarrod Spector, who played Sonny.
8.
During a 2018 performance of Disney's Frozen, actor Timothy Hughes, who played Pabbie the Troll, reportedly ripped a flag that read "Trump 2020" from the hands of an audience member who held it up during the show's curtain call. Hughes released a video of the incident on his Instagram, where he can be seen grabbing the flag from the audience member while still on stage. In the Instagram post, Hughes added that he was not sorry for his behavior and said that the show's message was one of "love, acceptance, and diversity."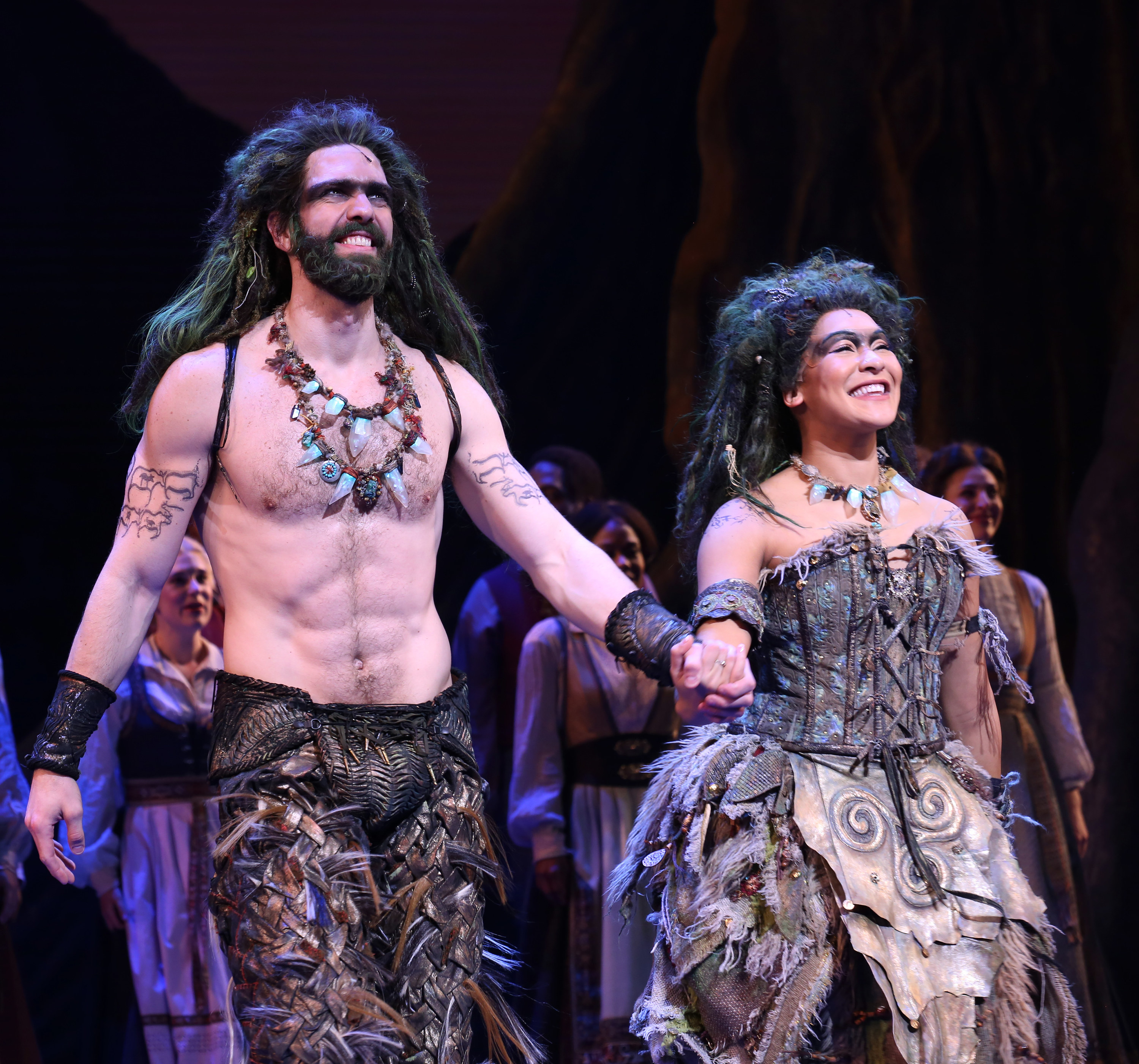 9.
During a 2018 performance of The Wrong Man, actor Joshua Henry reportedly left the stage mid-performance to grab the phone of an audience member who was texting and proceeded to throw the phone under the risers, all while continuing to sing. Afterward, the crowd applauded the action.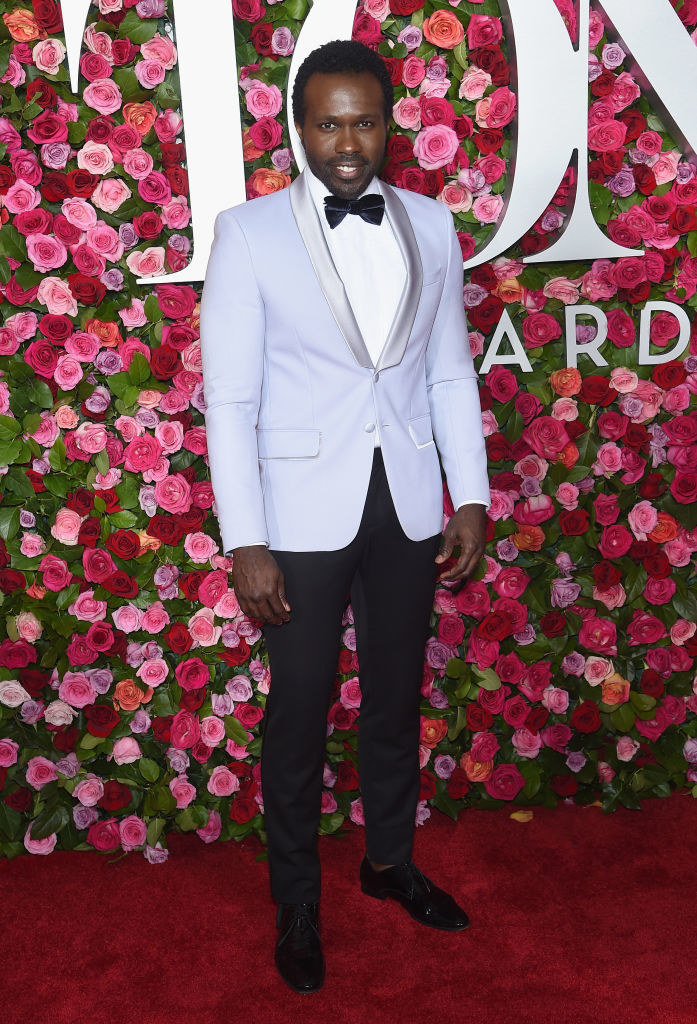 10.
In 2016, actor Laura Benanti reportedly stopped a performance of She Loves Me after an audience member's cellphone repeatedly went off. Benanti apparently stopped mid-song and told the audience member "I'll wait," before she added, "We'll all wait" as the orchestra stopped performing as well. After the ringing stopped, Benanti finished her song and the performance continued.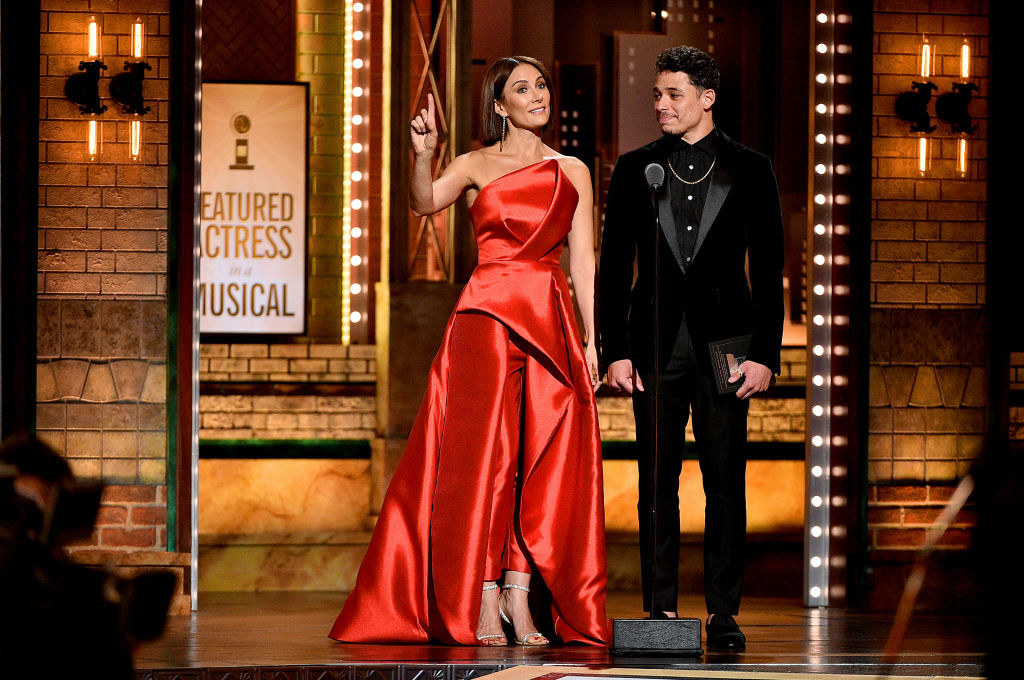 11.
And finally, Patti LuPone again! During a performance of Shows for Days, LuPone reportedly took an audience member's phone out of their hand mid-performance. The phone was returned to the audience member after the show, but LuPone chastised the use of cellphones during live performances in a later statement.