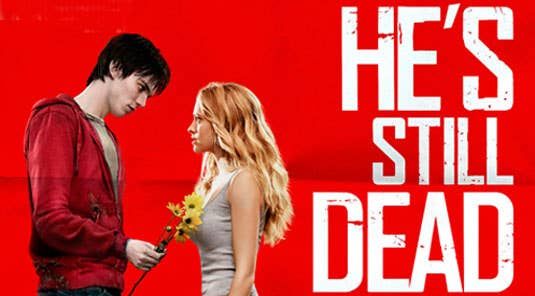 Usually, there isn't much hope for zombies. Movies and books depict werewolves and vampires living fairly normal lives and blending in with humans, but zombies are goners from the moment they turn. They become rotting corpses with no memory or emotion, lacking any vestige of their human selves. Warm Bodies, based on the book by Isaac Marion and in theaters February, calls into question that preconception of the zombie.
The zombie subgenre is uniquely malleable because unlike the werewolf, vampire, and other creatures, the zombie didn't get its start in literature and so there are few immutable generic tenets. Writers and directors have had more room to get creative and that's why we've seen so many different kinds of zombies, from George A. Romero's iconic slow ones that crave brains, to the infected ones in Danny Boyle's 28 Days Later that move with super speed and turn while still alive. Warm Bodies introduces us to yet a new type of zombie, one that has human emotions and, through finding true love, can undergo a de-zombification. "He's changing," the zombie's human love interest says in the trailer. "He's learning to become human again."
Despite so many different takes on the zombie narrative, surprisingly few involve de-zombification. According to the earliest accounts of "real" zombies, Haitian vodou priests could zombify the dead by using spells and powders and then reverse the effects, returning the corpse to its initial dead state. Some fiction has dealt with curing zombie infection in the living, like the G-Vaccine in Resident Evil and amputating limbs on The Walking Dead, but rarely does the creature have the chance to become human again.
Why are human characters so unforgiving of zombies? Perhaps they've spent so long convincing themselves to let go of those who have turned that it's too hard to accept the possibility of their salvation. This dilemma has played out on The Walking Dead, as Rick and the gang have to convince those they meet (Hershel and his family, the Governor) that there is no hope for those who have turned and keeping them around will only cause harm to the living. Another reason for the lack of de-zombification narratives may be disassociation. Zombies are so gruesome, so abject, that we're quick to disassociate ourselves. Think back to the Miami man shot dead by police after chewing off a homeless man's face last spring. The media called him a "zombie" somewhat facetiously, but surely we found relief in the label and its disassociating effect instead of accepting that a cognizant human could do such a thing.
Perhaps it's no coincidence that now is the time of the re-humanization narrative. In an age when we're all trying desperately to connect with the people around us, there's hope in the idea that someone we've lost may be able to return. Further, if you consider the symbols for which the zombie has signified over time, de-zombification now makes sense. If the zombie of the 1980s expressed societal fears about AIDS and infection, for example, today's de-zombification narratives come at time when testing positive for HIV isn't necessarily a death sentence.
Early reviews of Warm Bodies have yet to come in, but let's hope the film goes beyond its Twilight-esque story about love between humans and the formerly human, and gives zombies the second chance they deserve.