It's hard to watch a game these days without being bombarded by that cringeworthy Apple commercial featuring Brad Garrett as a Christmas caroling Frankenstein. But within all the awkwardness is a timeless message that may turn out to ring particularly true on this week's board: There's no place like home for the holidays.
With Christmas falling on a Sunday this year, most of the Week 16 slate is set for Saturday. That means a shorter week of preparation than usual, especially for the road teams when factoring in travel time and the distractions of holiday obligations to be fulfilled around an already condensed schedule.
Bears +3 vs. Redskins
Nobody faces a shorter workweek than Washington, who goes from Monday night to the early wave of games on Christmas Eve in Chicago.
While motivation isn't in question as the Redskins fight for their playoff lives, their outlook wouldn't be as bleak had they simply taken care of business in on Monday as heavy home favorites against the Panthers. As the saying goes, if a team is in a must-win situation, then it must not be very good. Only getting four days to rebound from a startling letdown doesn't help.
Also working in the Bears' favor is that, in a matchup that could boil down to which coach can get the most out of his players, John Fox gets the nod over Jay Gruden. On that note, one is left to wonder if it won't be just the home team at Soldier Field that's competing with eyes wide open.
Steelers -5.5 vs. Ravens
It could be tempting to give the Ravens the upper hand in this matchup considering what transpired last time these teams met in Week 9 in Baltimore. With less than 10 minutes remaining in the game the Ravens held a commanding 21-0 lead, the Steelers only managing a couple of garbage-time touchdowns to make the final score look more respectable. But as is often the case, it's not that simple.
It was Ben Roethlisberger's first game after rushing back from a knee injury, neither he nor his supporting cast on offense playing with any semblance of their current rhythm. And in amassing a three-touchdown lead, Baltimore didn't exactly dominate offensively - the Ravens only scored two TDs, one on a short slant route that Mike Wallace broke open and the other on a blocked punt return. Baltimore can't rely on those kinds of plays consistently, especially when the venue shifts to Heinz Field.
The Ravens might also not be able to rely on their defense the way they normally would, with defensive back Jimmy Smith's likely absence capable of transforming the unit from fearsome to futile. Even if Smith does play he'll be hobbled by a bad ankle, leaving Baltimore with slim pickings to defend the Steelers' well balanced and high-powered attack led by Big Ben, Antonio Brown and Le'Veon Bell.
Pick of the Week: Texans -1 vs. Bengals
While max motivation isn't an issue in the Windy City or the Steel City, it would be easy to forgive the Bengals for bringing a little less intensity to their late Christmas Eve contest at the Texans. Cincinnati's out of playoff contention, Houston isn't an NFL player's ideal place to spend a holiday, and the Texans aren't the type of opponent that excites anyone.
Furthermore, the Bengals could come in reeling after blowing a two-touchdown lead to Pittsburgh last week, a golden opportunity missed to play spoiler at home against their archrival. And emotional letdown aside, Cincinnati's slugfests with the Steelers always take a physical toll that they get one less day to recover from in this setting.
Meanwhile, Houston is rallying around Tom Savage at QB as the Texans only enhance their chances of winning this game and ultimately the putrid AFC South by finally relegating Brock Osweiler to the bench.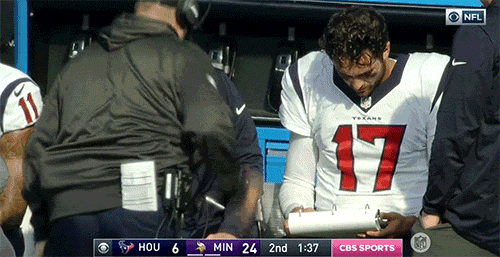 Scoreboard
Last Week: 0-3
Season: 20-25
Picks of the Week: 8-7
This post was created by a member of BuzzFeed Community, where anyone can post awesome lists and creations.
Learn more
or
post your buzz!