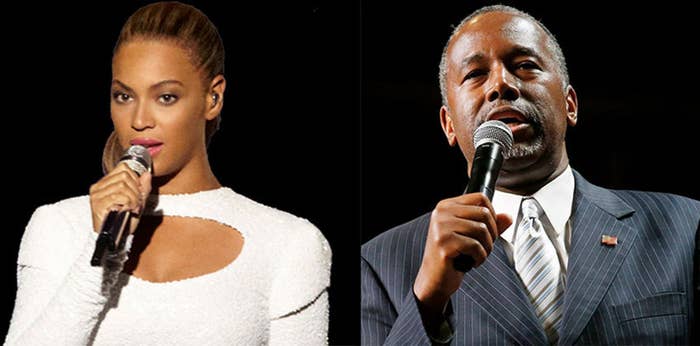 Well, we'll see about that... In their speeches and song lyrics, respectively, Bey and Ben sound more alike than you'd think.
So... can you tell who said/sang it?
"Knowing Him and knowing that He loves me gives me encouragement and confidence to move forward."

"It doesn't matter who you are, you're always welcome. It only matters that your heart believes and you confess. If you committed any sin you'll be forgiven."

"First check her brain to see if she's sane... Deranged or strange or crazy as hell, you never can tell these days."

"You need an incredible amount of self-confidence to go digging around in someone's brain."

"We have much more in common with other people than we have apart."

"He opens the right doors, he shuts the right doors."

"The laws of the world never stopped us once, because together, we got plenty of super powers."

"You can understand why I'm a believer. I have seen miracles."

"Believe me, come harder this wont be easy. Don't doubt yourself trust me you need me."

"Never too late for a person to recognize that they have potential in themselves."

"We take care of our own. We always have."

"Maybe we reached the mountain peak and there's no more left to climb. Or maybe we lost the magic piece and we've been too blind to find."

"If you need a personal trainer or a therapist, I can be your piece of sunshine, inner peace, entertainer, or anything else."

"If God thinks proportionality is fair who are we to say that it is unfair?"

"Daddy, you given me a taste of your honey, but I want the whole bee hive."

"You know, I thought I was stupid, all my classmates thought I was stupid, so there was general agreement."

"Let's let everybody believe what they want to believe."

"Rise up, little man, don't be scared. I'm holding your hand, so know that life holds more than what we see and what we get."
This post was created by a member of BuzzFeed Community, where anyone can post awesome lists and creations.
Learn more
or
post your buzz!