David Bowie: A Life In Pictures
The legendary singer, songwriter and actor died on 10 January at the age of 69. Here is David Bowie's life in pictures.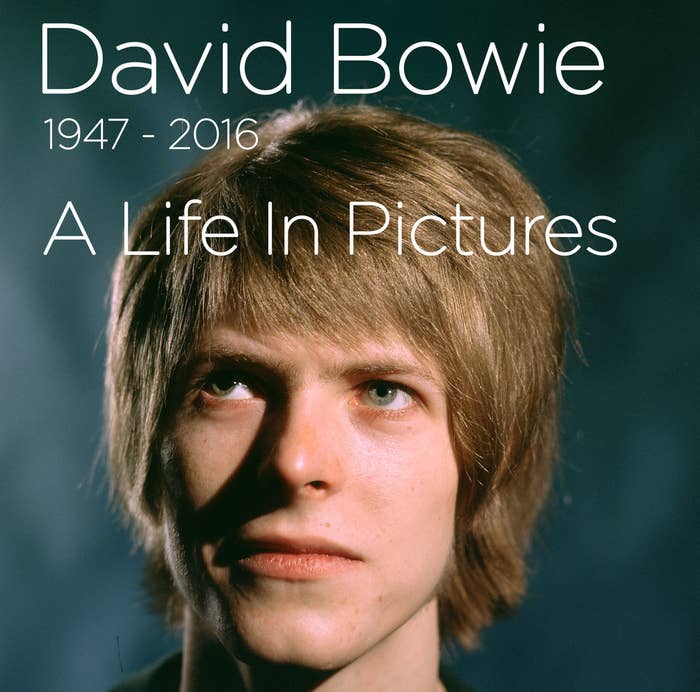 Davy Jones in 1965, before he changed his name to David Bowie.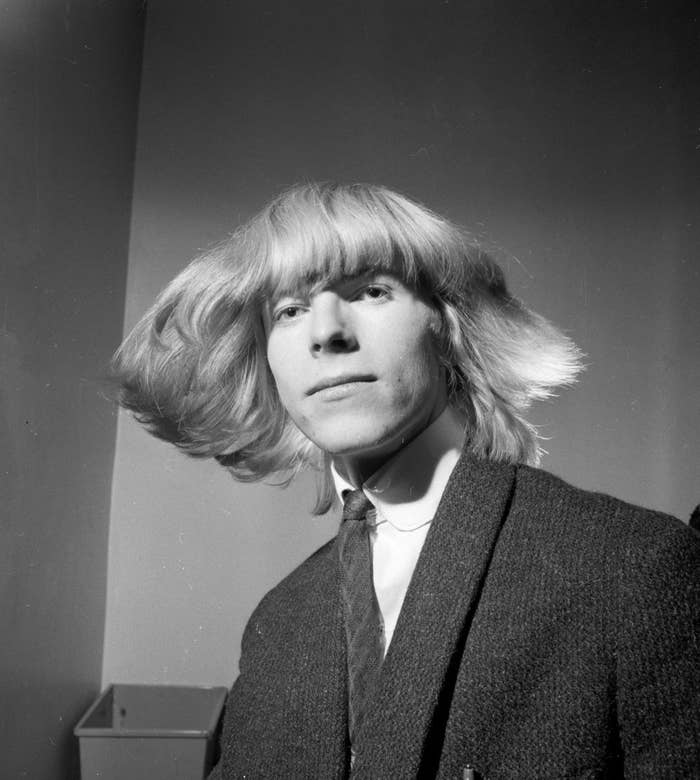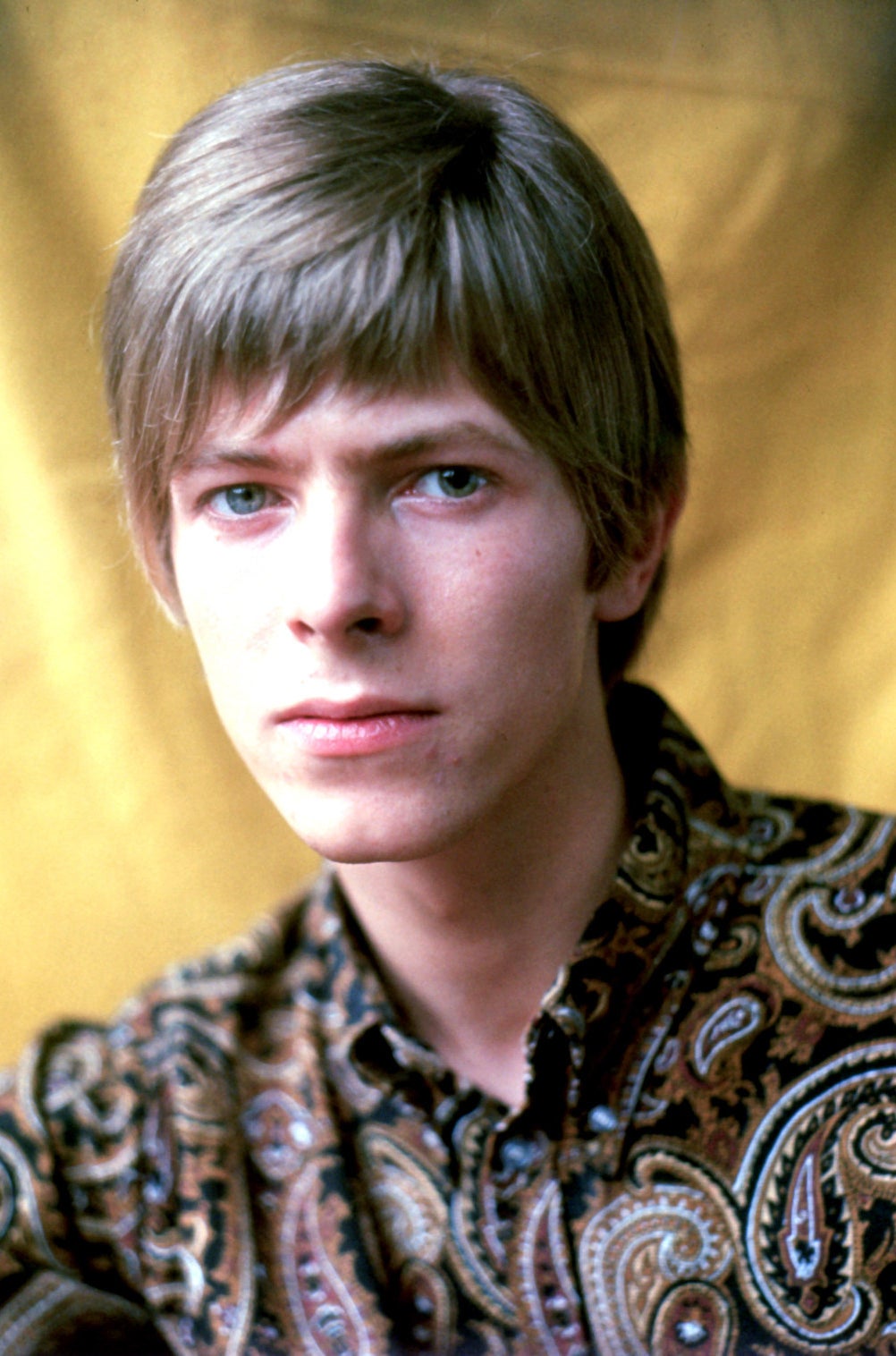 Bowie seen in portrait in 1967 (left) and as a mime artist in London in 1968.
Bowie, reflecting on his youth, in an interview with The Daily Telegraph in 1996:
"We know what can happen... you can get a job, go to work, you can follow that line of perceived security. But I think there's a different kind of security, which is trusting to and living by a code, of almost drifting where the wind takes you. And I spent well into my 20s doing that – throwing myself wholeheartedly into life at every avenue and seeing what happened."
Bowie at home in Beckenham in 1969.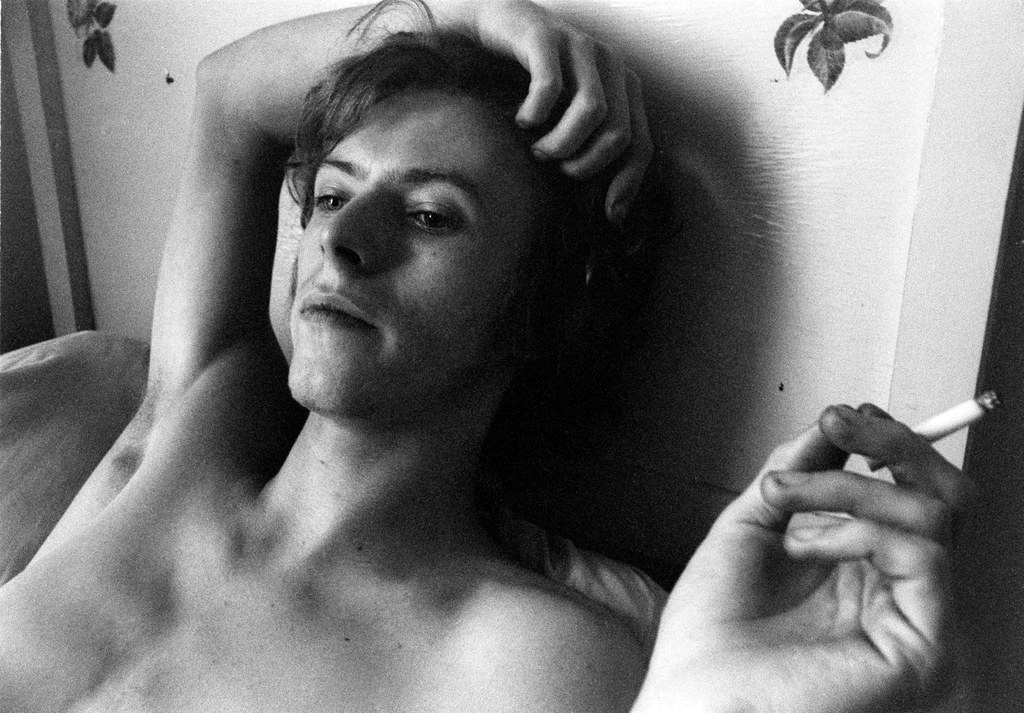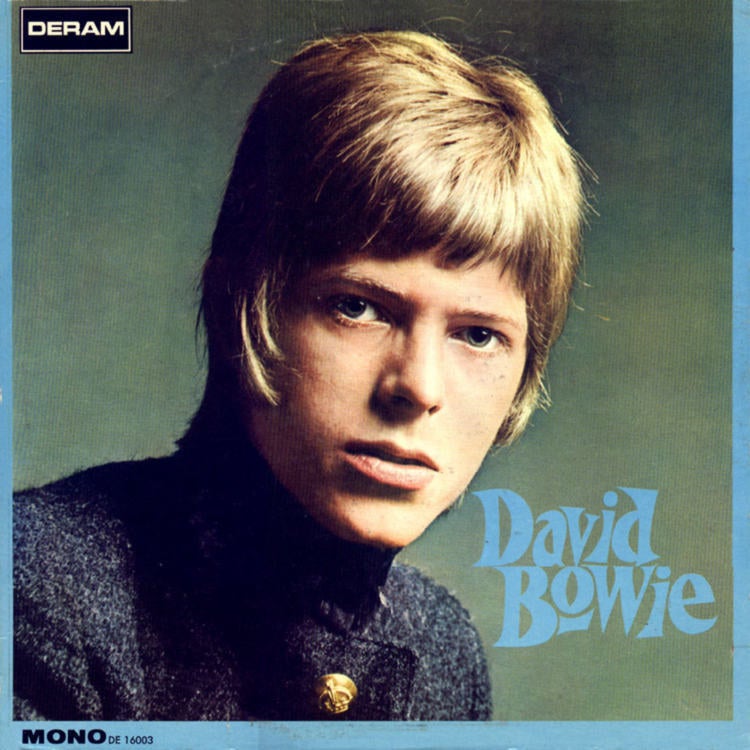 Bowie's debut album released in 1966 (left) and his second album Space oddity released in 1969.
Posing for a portrait in 1970.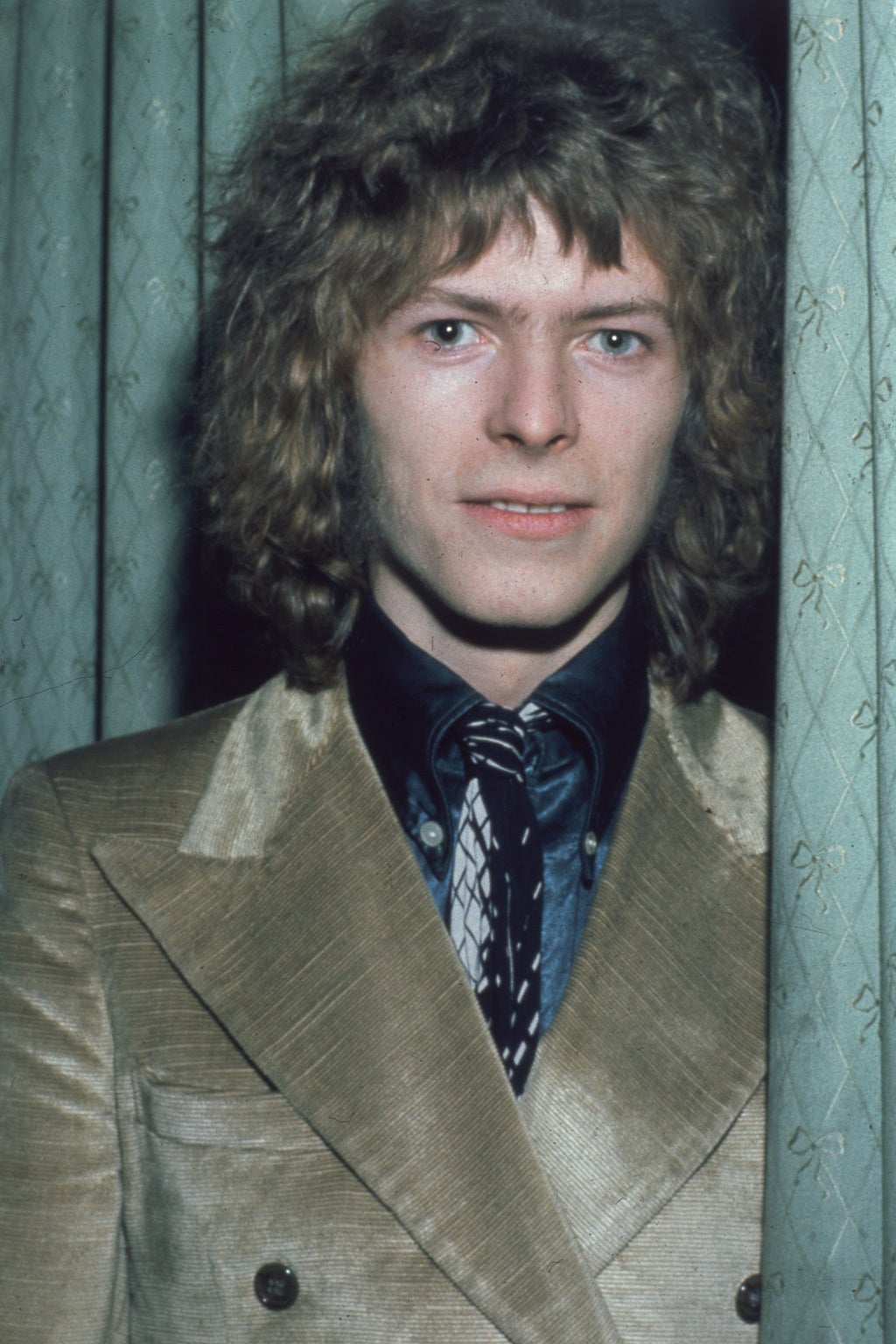 At the Disc and Music Echo Valentine Awards in London, 1970 (left). At home in Beckenham in 1972 (right).
Posing as alter ego Ziggy Stardust for a portrait in 1972.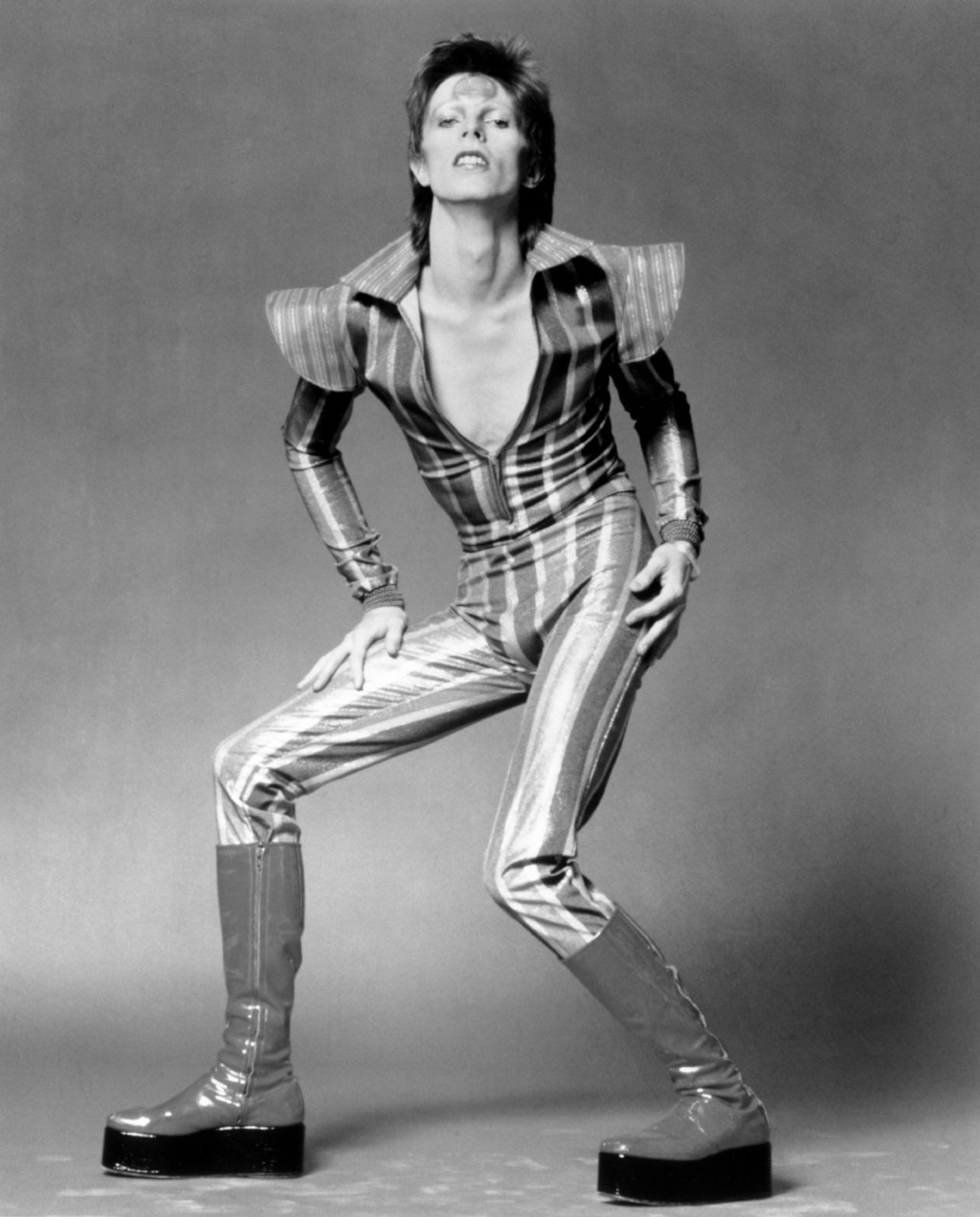 Bowie performing with Mick Ronson in 1972.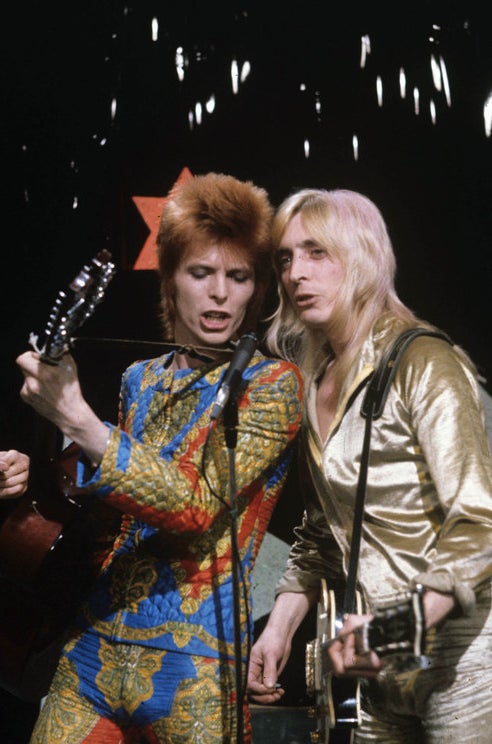 Bowie seen on the day of the release of his album The Rise and Fall of Ziggy Stardust and the Spider from Mars at the premiere of Live and Let Die, Odeon Leicester Square, London, 6 June 1972.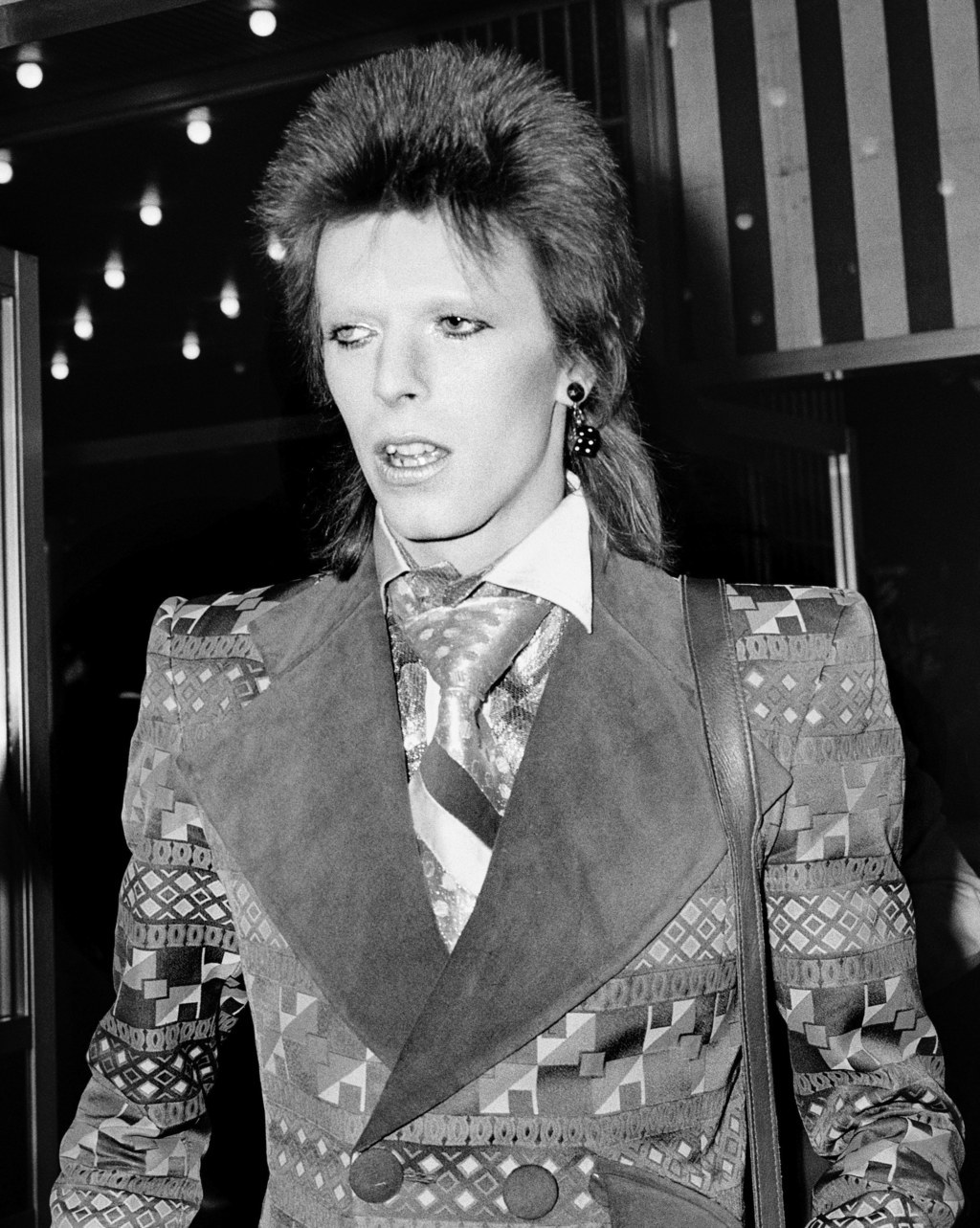 "What I have is a malevolent curiosity. That's what drives my need to write and what probably leads me to look at things a little askew. I do tend to take a different perspective from most people."
Onstage in London, 1973.
Performing as Ziggy Stardust at the Odeon Theatre in London, 1973.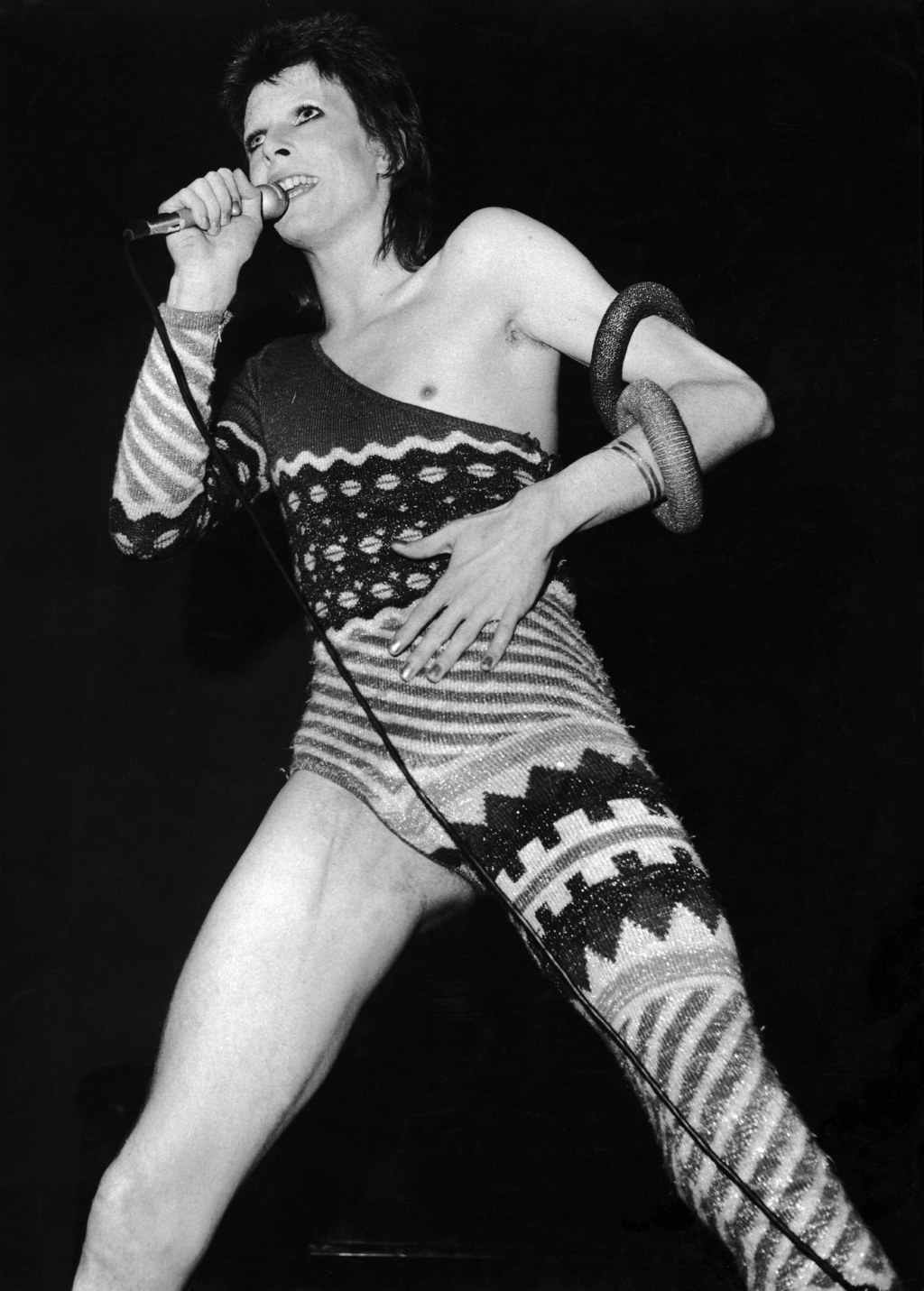 Performing onstage at Earls Court Arena in 1973 during the Ziggy Stardust tour.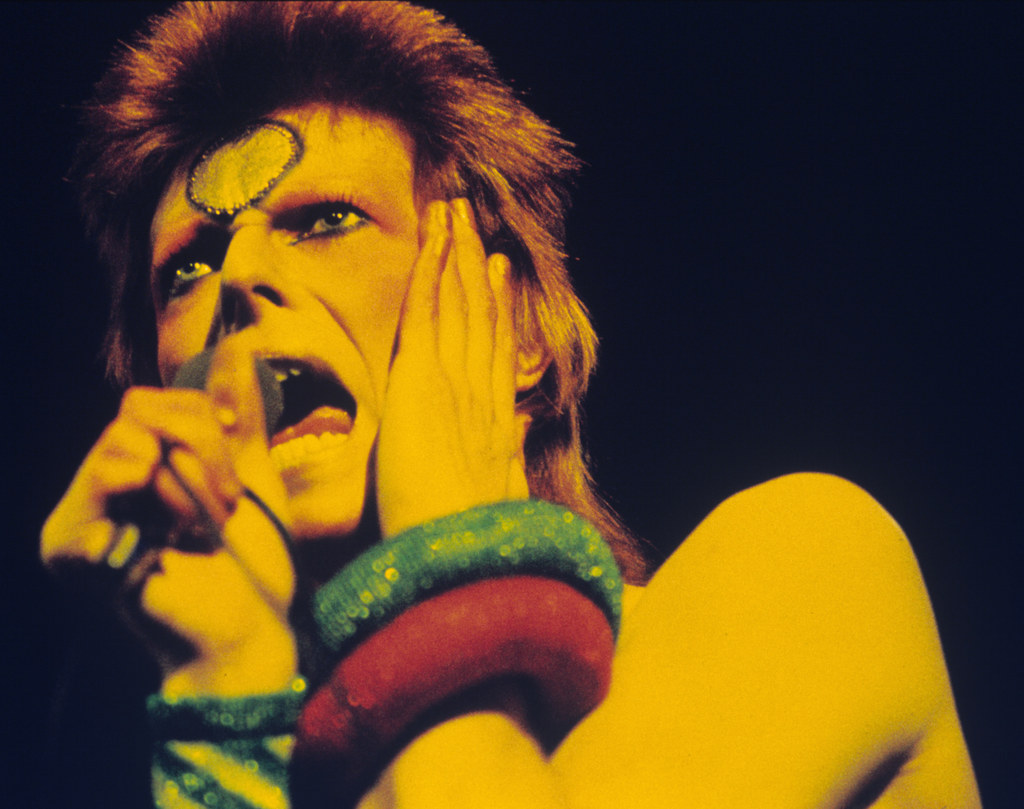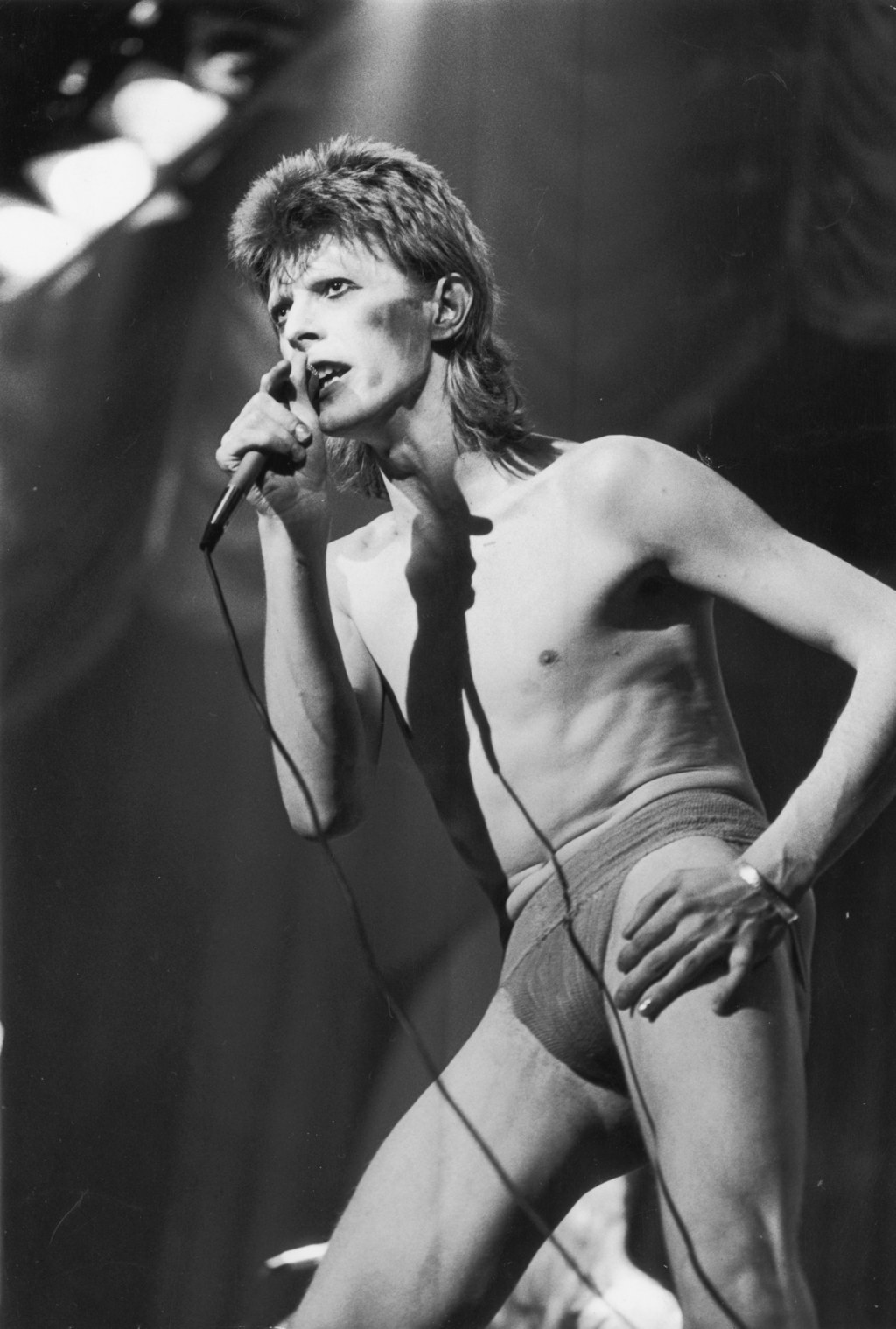 Performing his final concert as Ziggy Stardust at the Hammersmith Odeon, London, in 1973.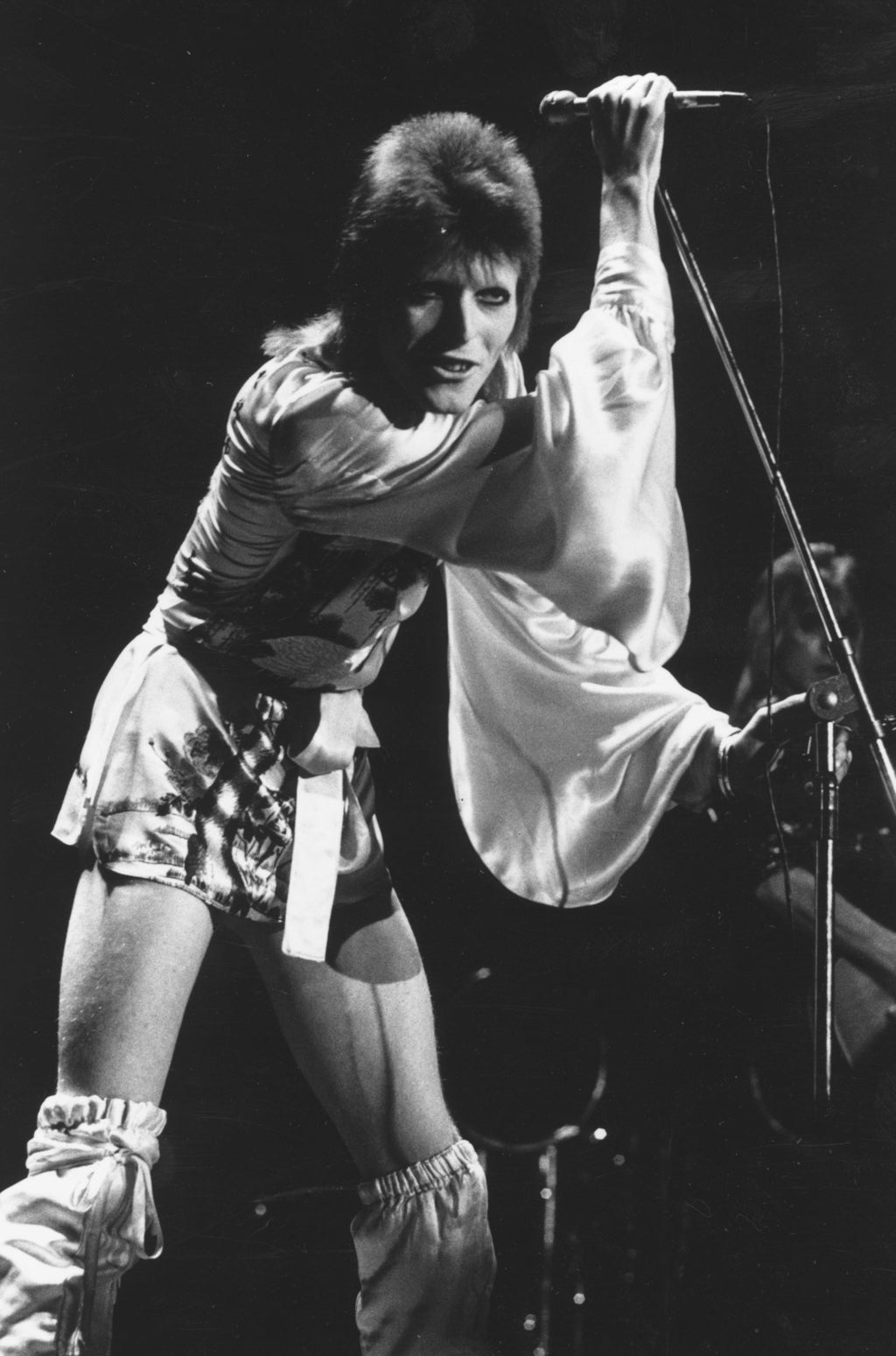 Twiggy posing with Bowie in Paris for the cover of his Pin Ups album, 1973.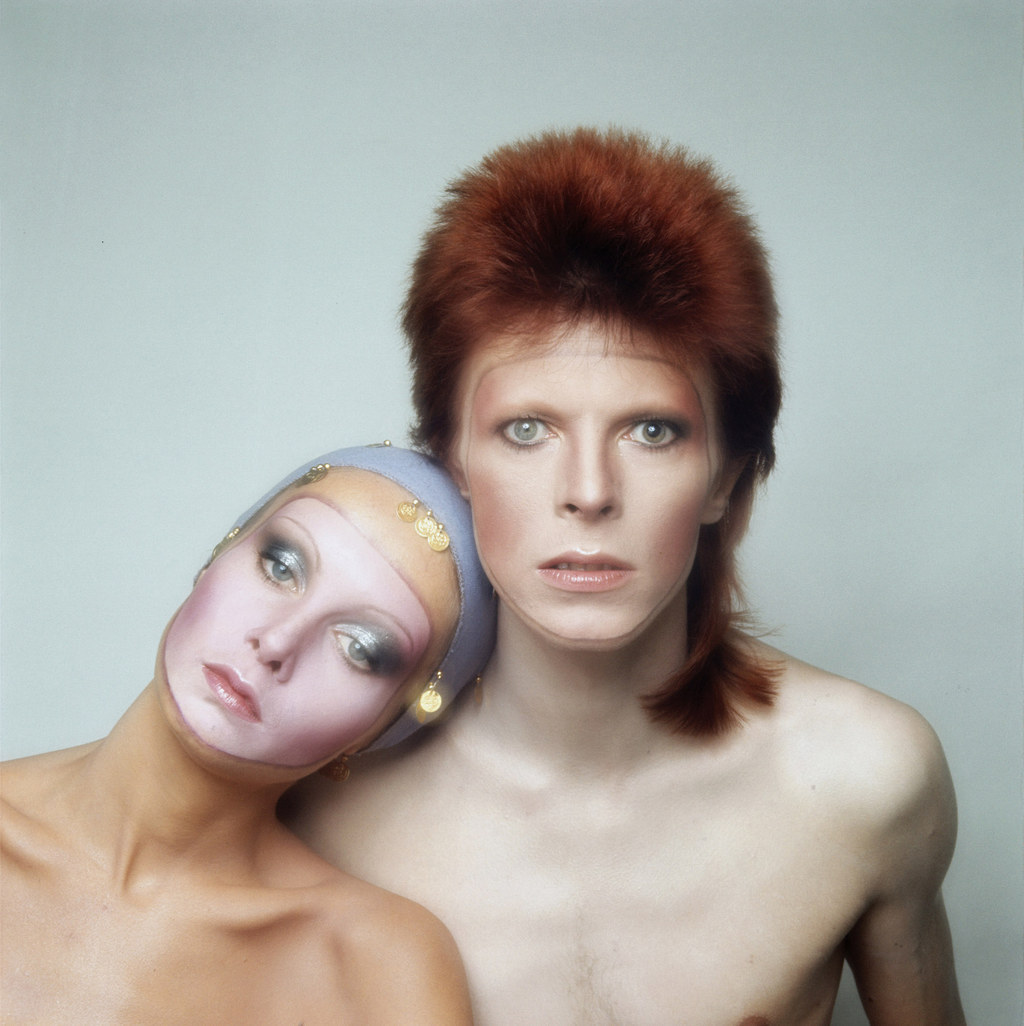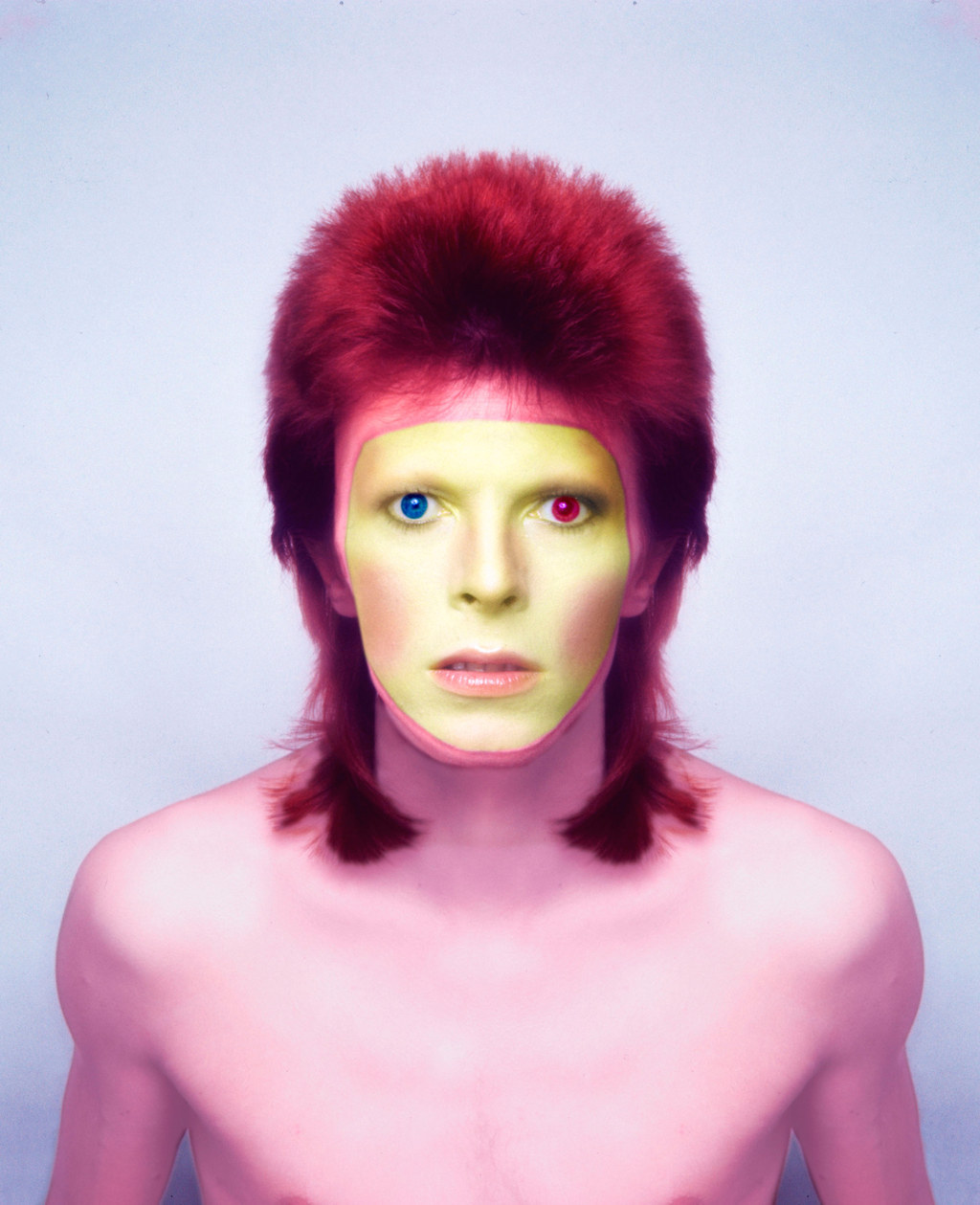 Posing for a portrait with dyed red hair and a mustard yellow suit in 1974.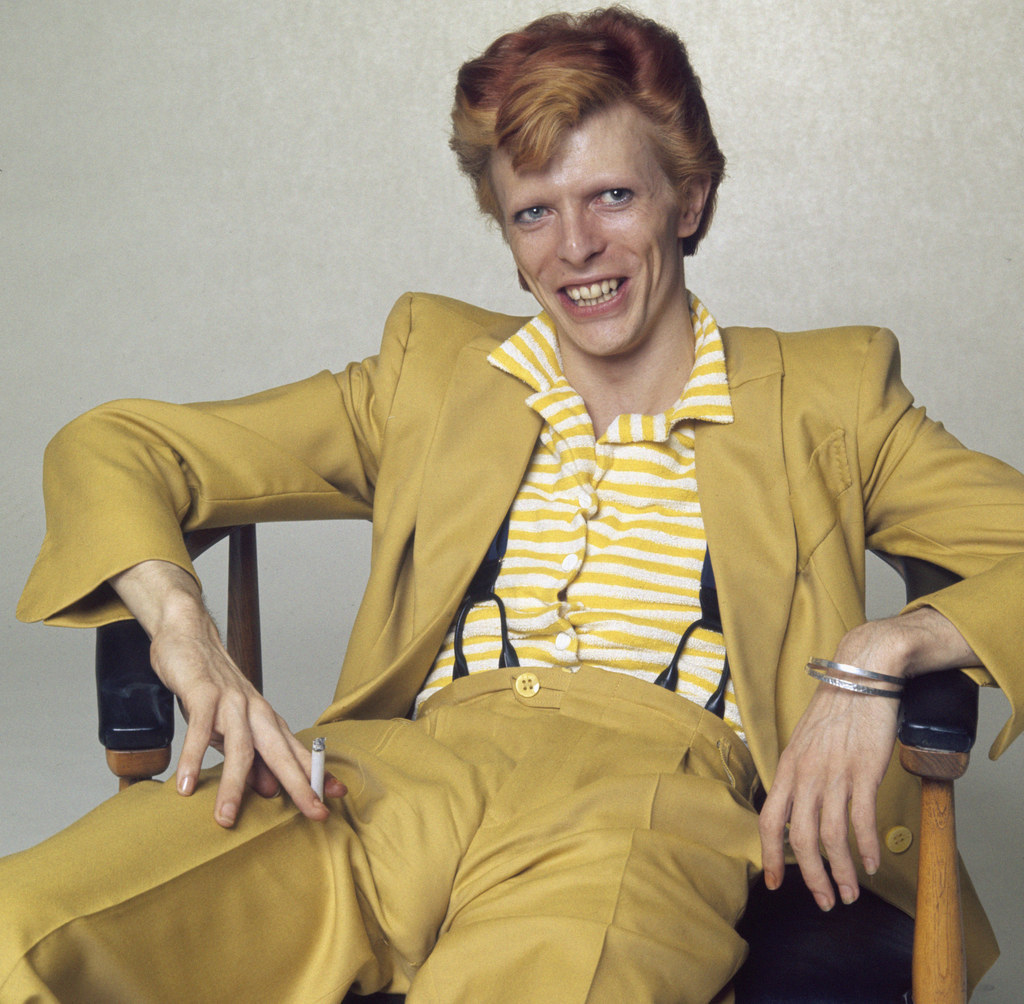 Performing "Rebel Rebel" on the TV show TopPop in 1974 in Hilversum, Netherlands.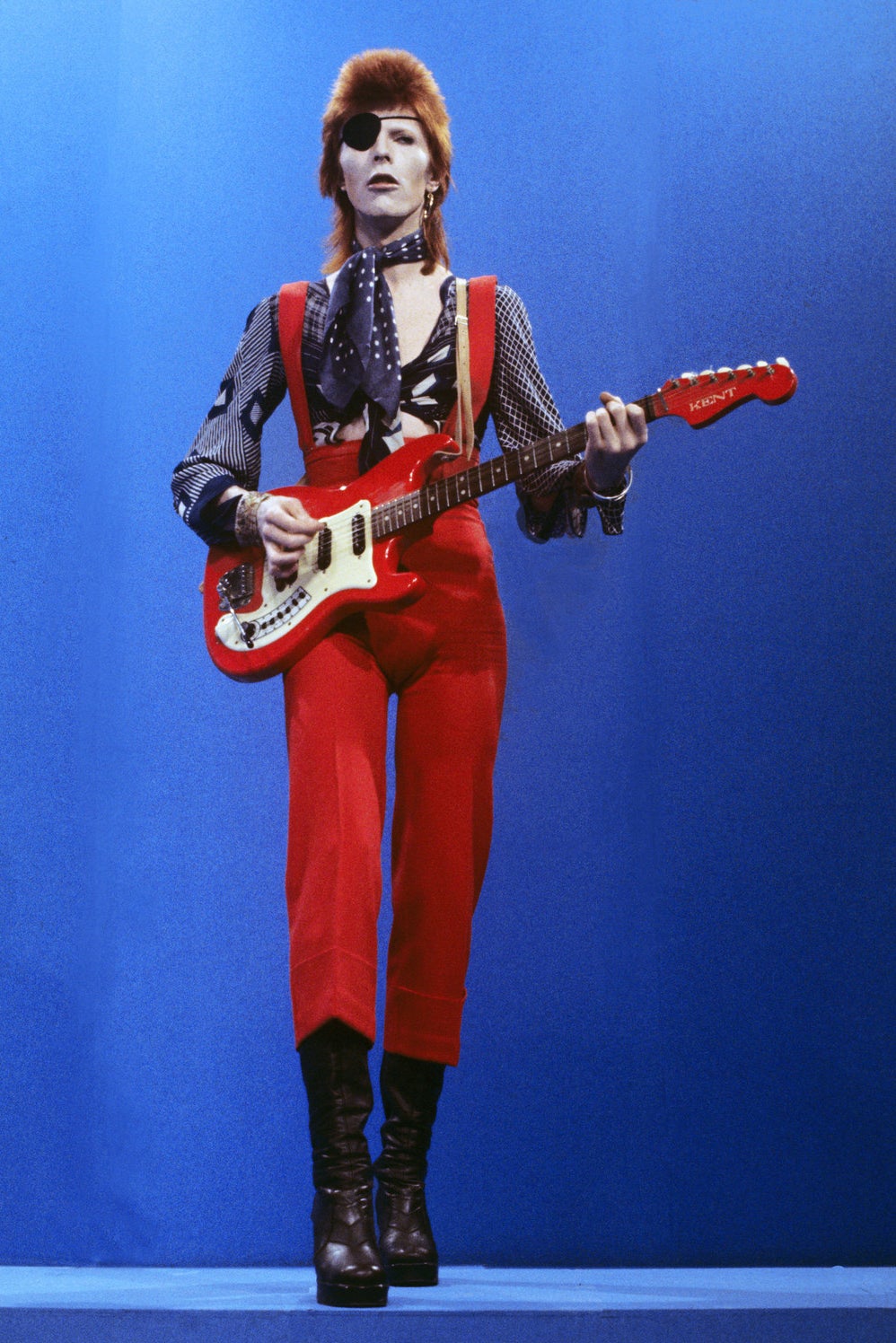 "I find that I am a person who can take on the guises on different people that I meet. I always found that I collect. I am a collector, and I always seem to collect personalities, ideas. I have a hotchpotch philosophy which is very minimal."
Posing for a portrait in 1976.
Starring in Nicolas Roeg's film The Man Who Fell to Earth in 1976.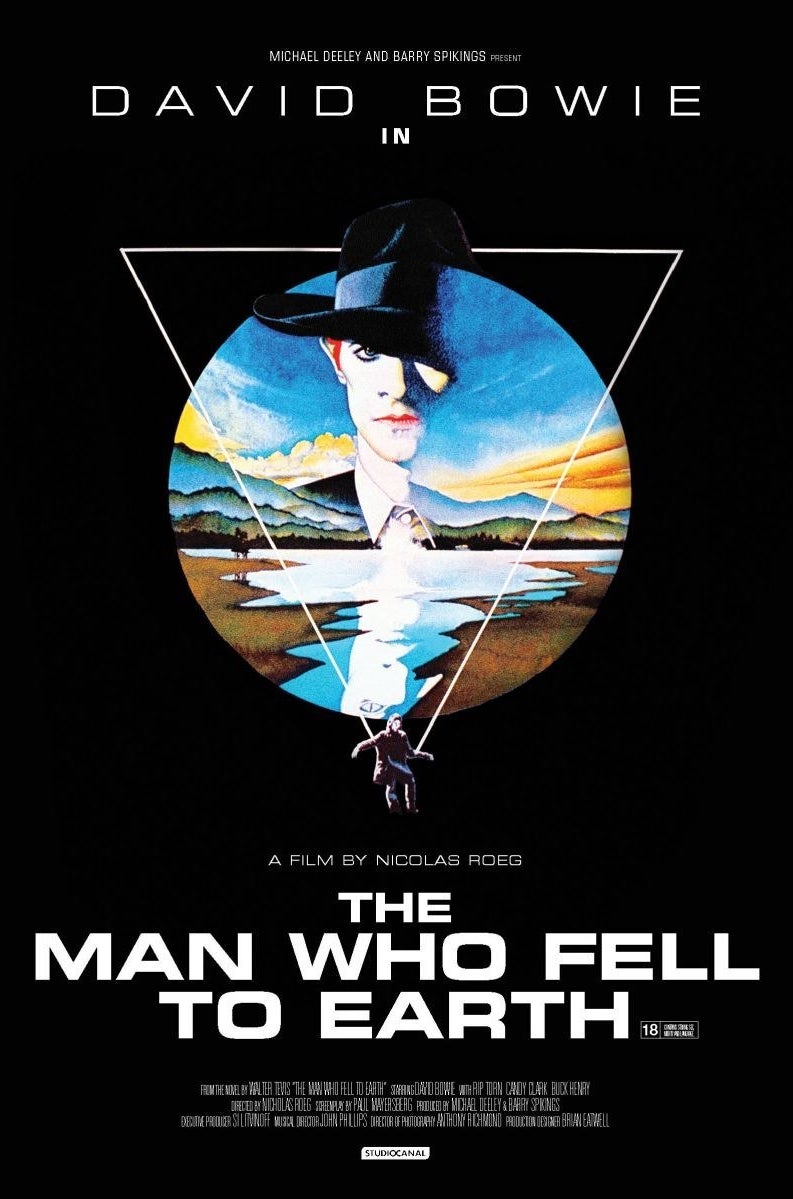 Posing for a portrait in 1977.
Performing at Aire Crown in Chicago, Illinois, April 1978.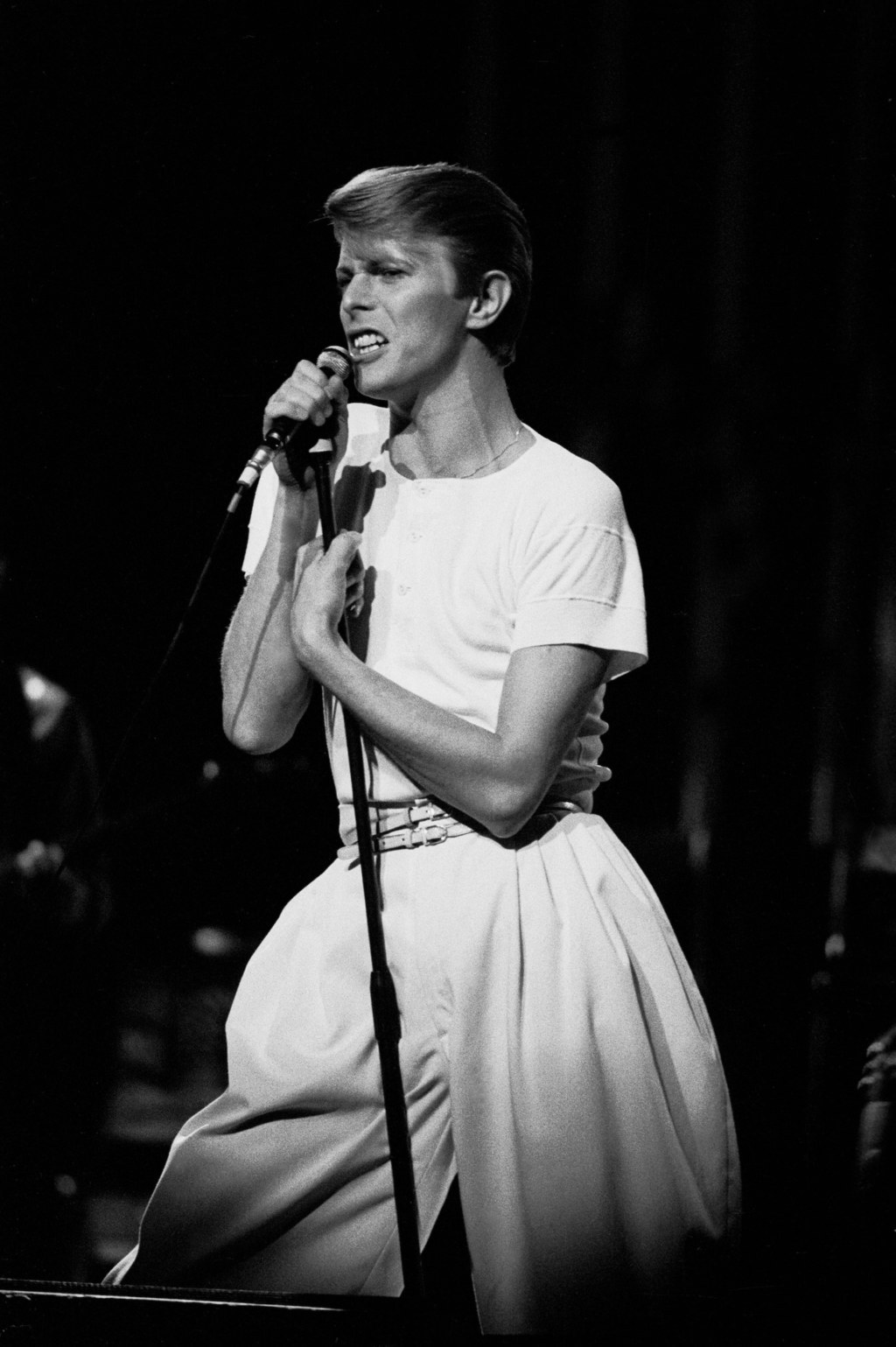 At Earl's Court, London, during his 1978 world tour.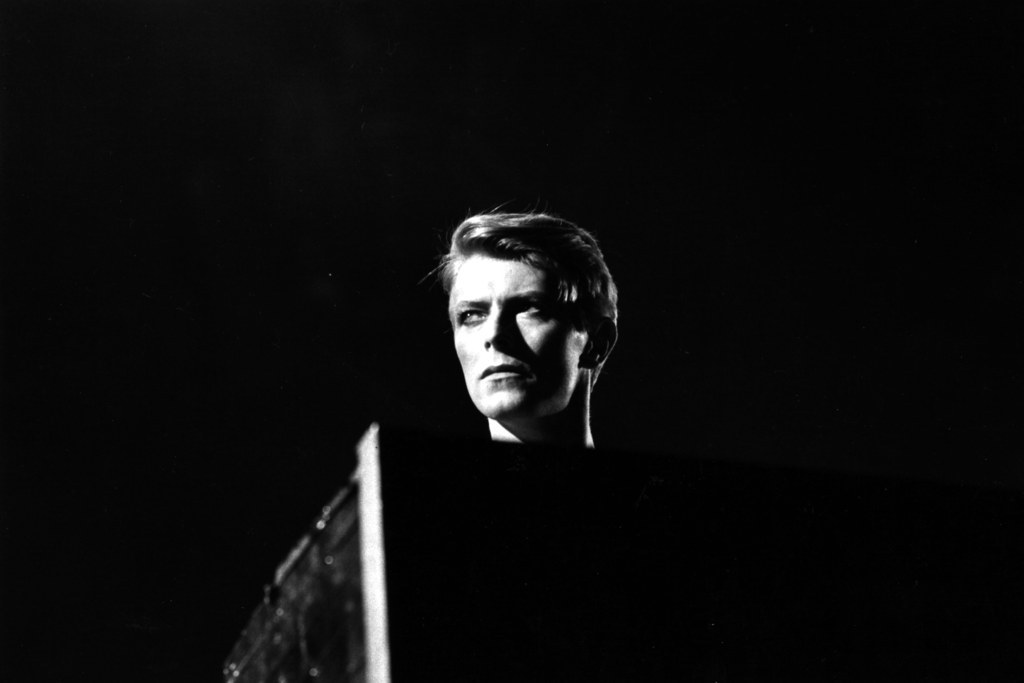 Backstage while acting in The Elephant Man in Broadway in 1980.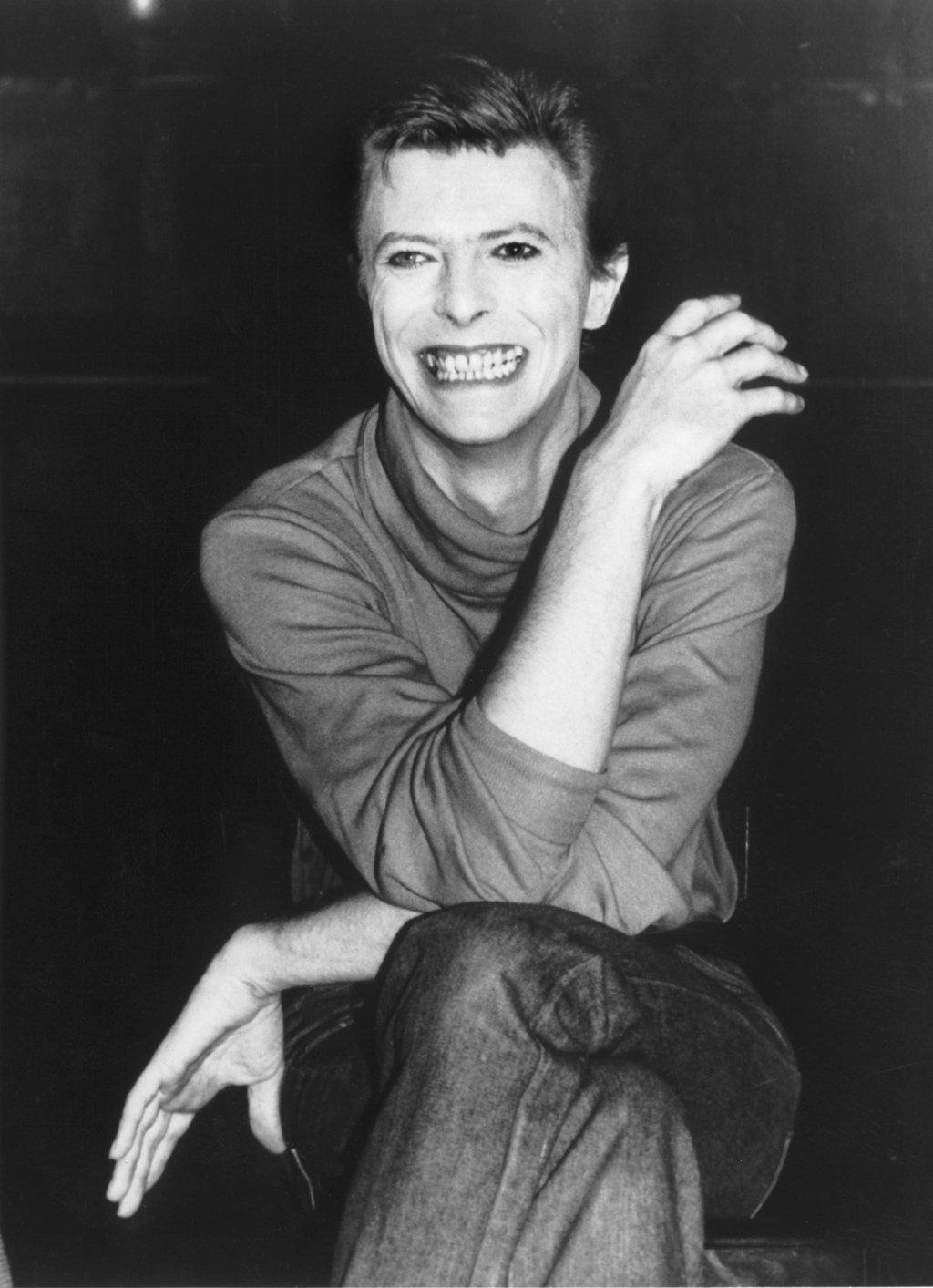 Performing at the Rosemont Horizon theatre, Rosemont, Illinois, in 1983.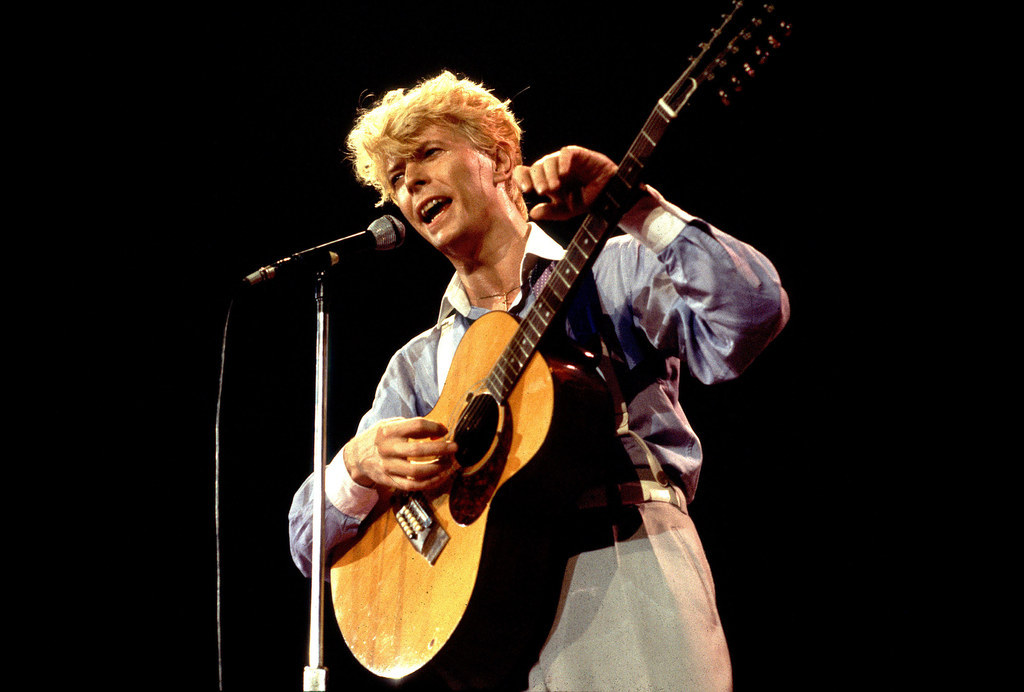 As Jareth the Goblin King in Labyrinth with Jennifer Connelly in 1986.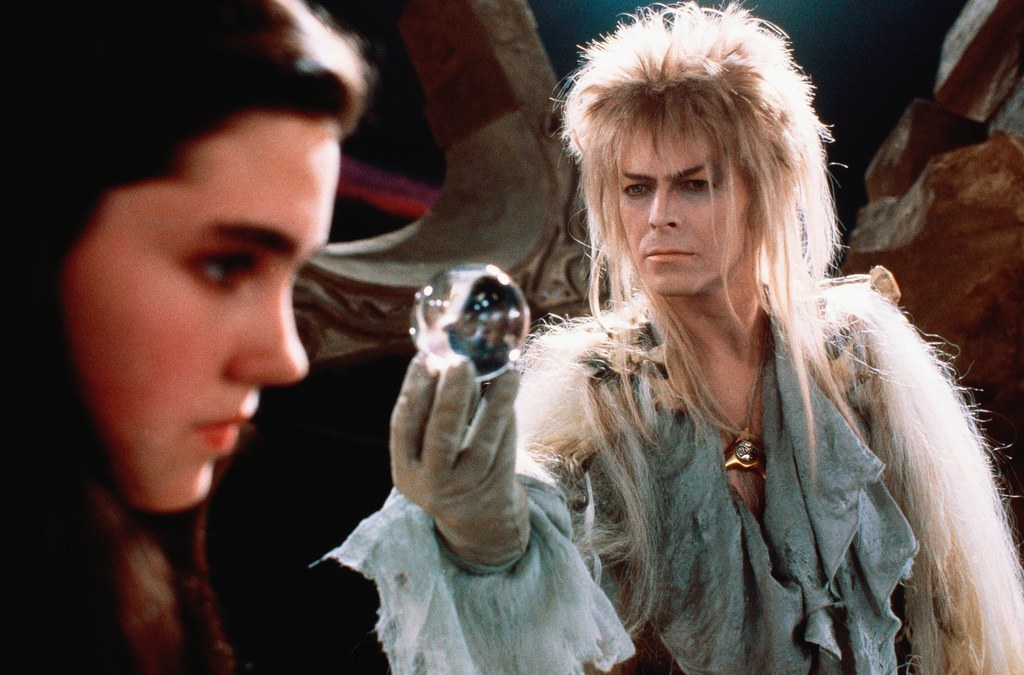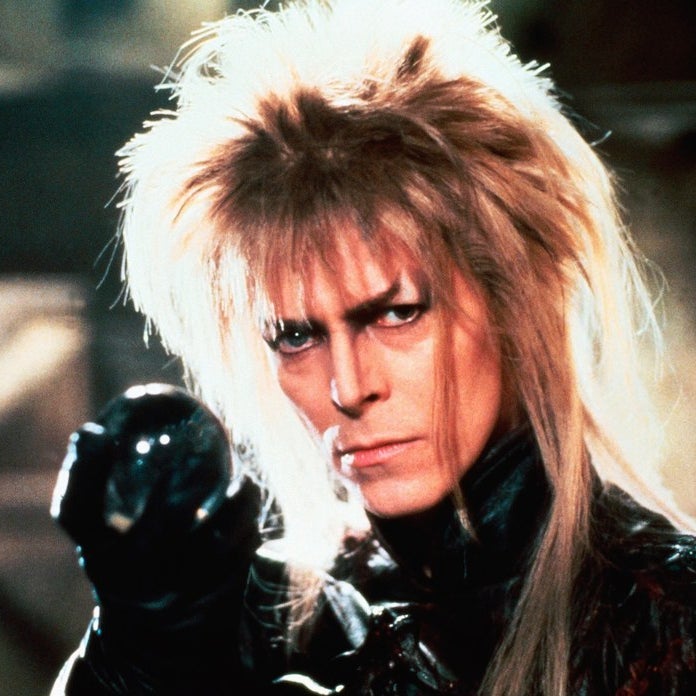 Reading a copy of Viz on the train in 1990.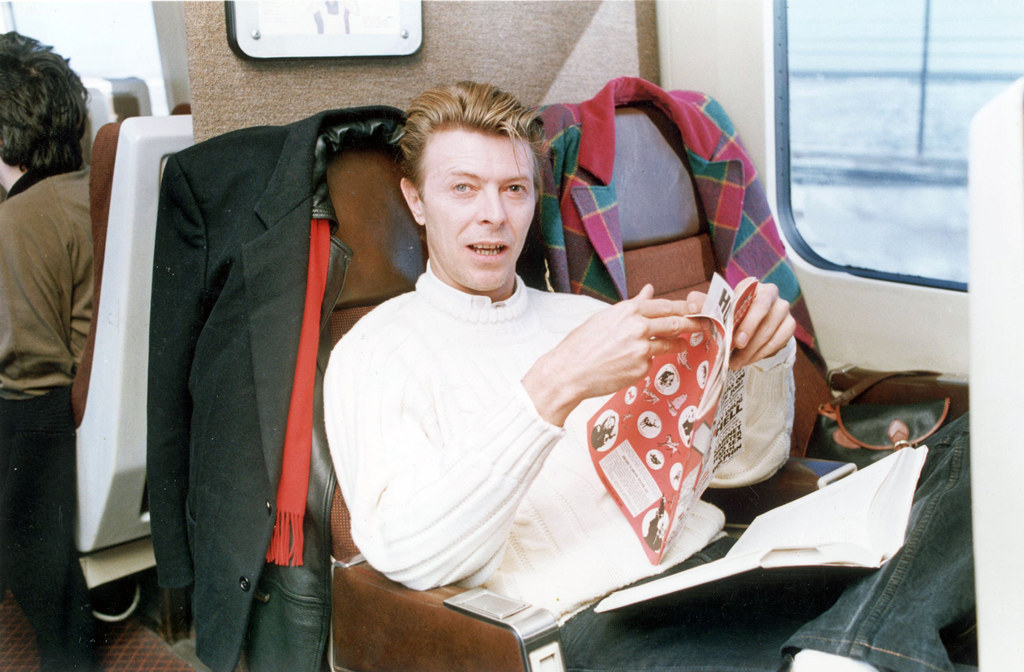 Bowie recollecting about playing at the Berlin Wall in 1987, according to a book written by Bill DeMain.
"It was one of the most emotional performances I've ever done. I was in tears. They'd backed up the stage to the wall itself so that the wall was acting as our backdrop. We kind of heard that a few of the East Berliners might actually get the chance to hear the thing, but we didn't realize in what numbers they would. And there were thousands on the other side that had come close to the wall. So it was like a double concert where the wall was the division. And we would hear them cheering and singing from the other side."
Playing in Toronto, Canada, in 1991.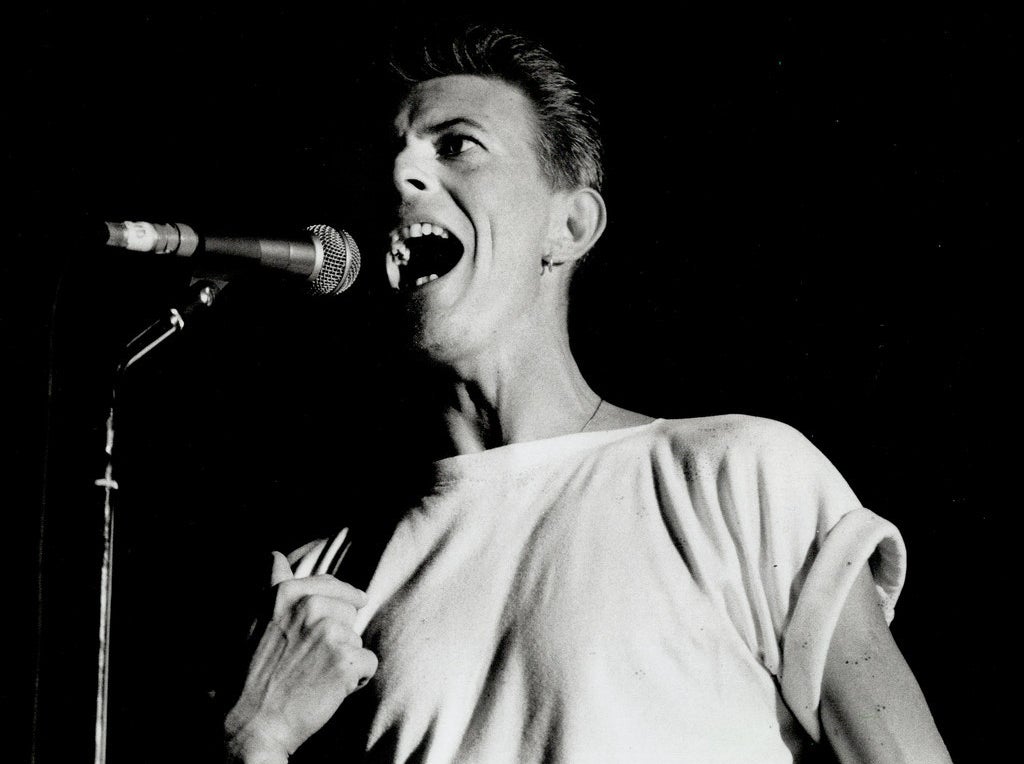 Bowie meets Diana, Princess of Wales and patron of the National AIDS Trust, in 1993.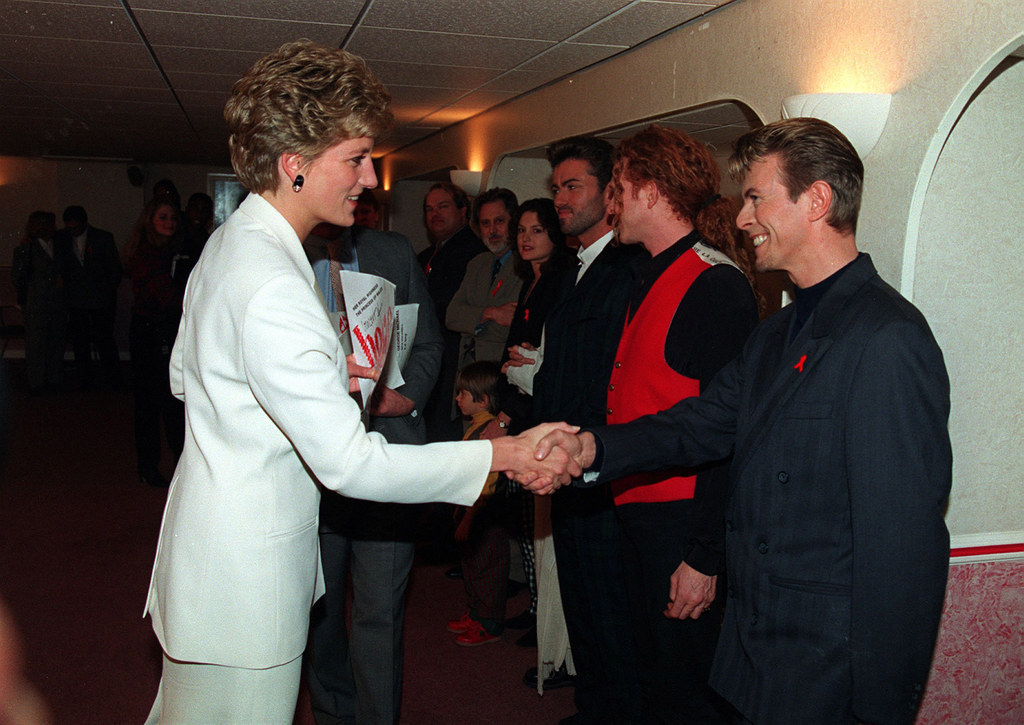 Bowie with his wife Iman in 1995.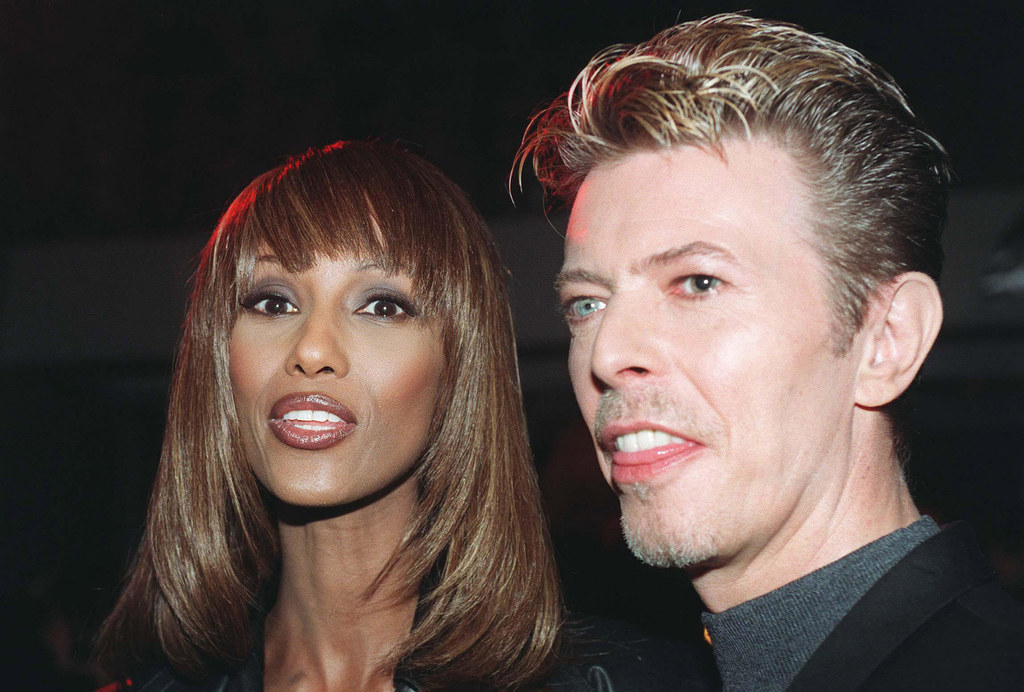 Posing for a portrait at age 50 in 1997.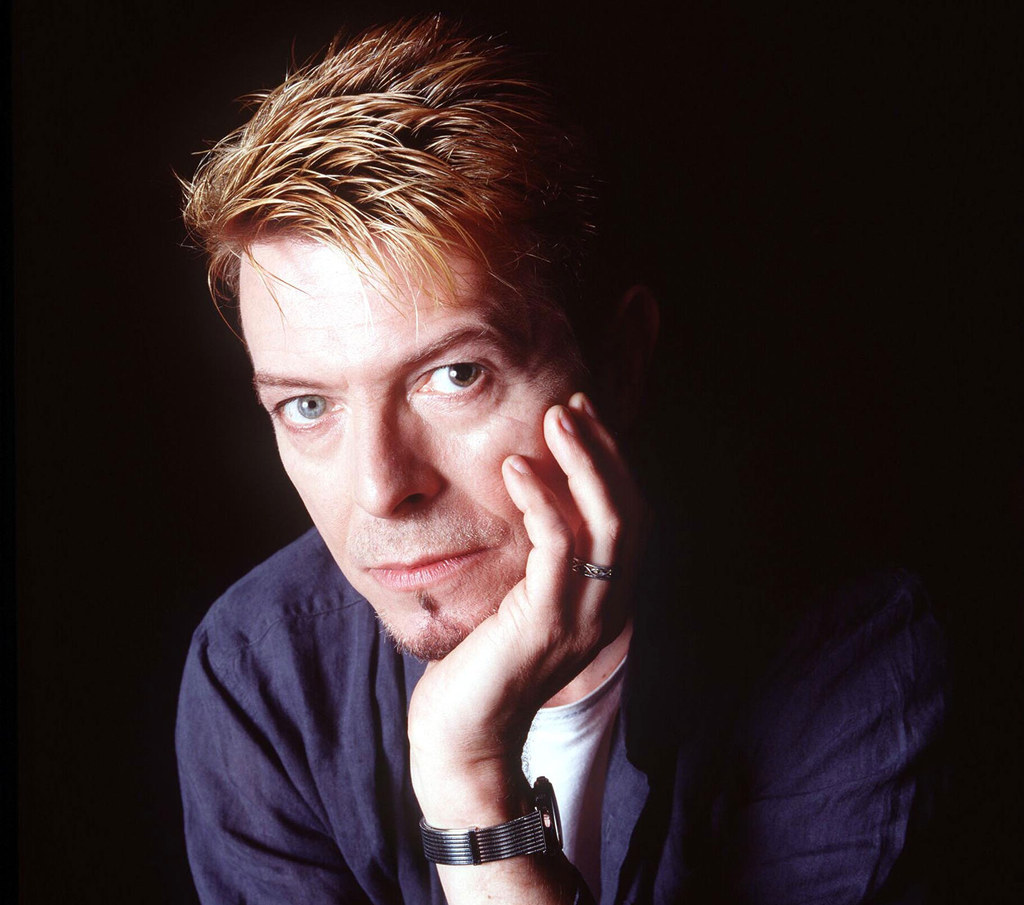 Bowie marks his 50th birthday with a celebration concert alongside 90s indie rock stars.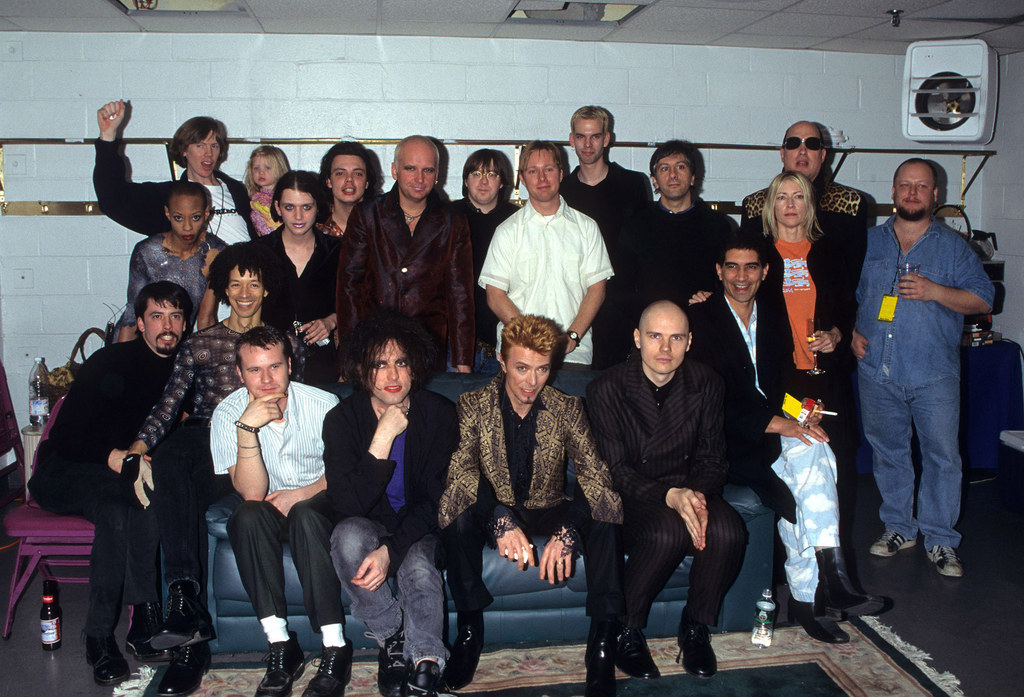 Bowie receiving his star on Hollywood Walk of Fame in 1997.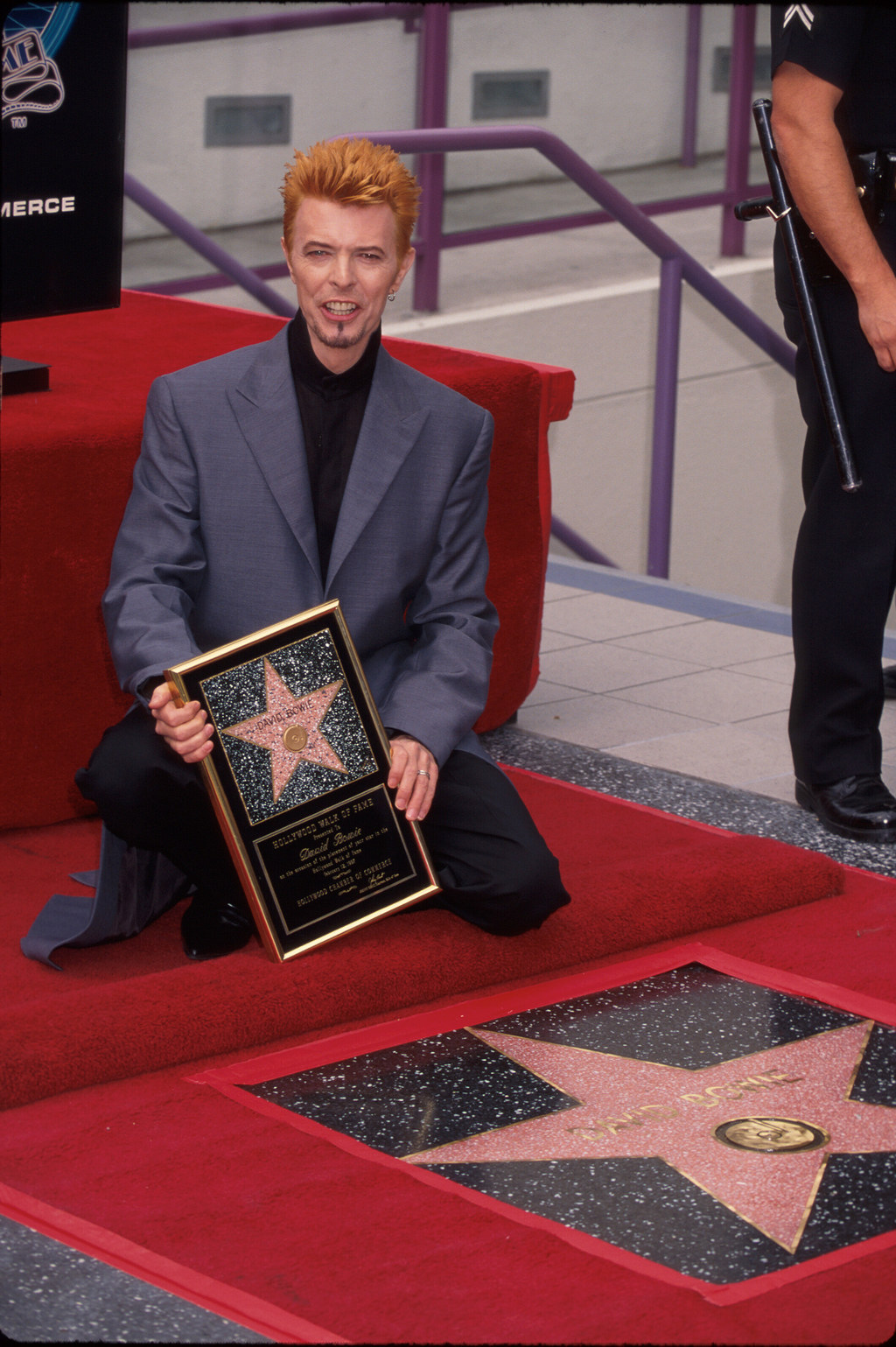 Performing at Glastonbury in 2000.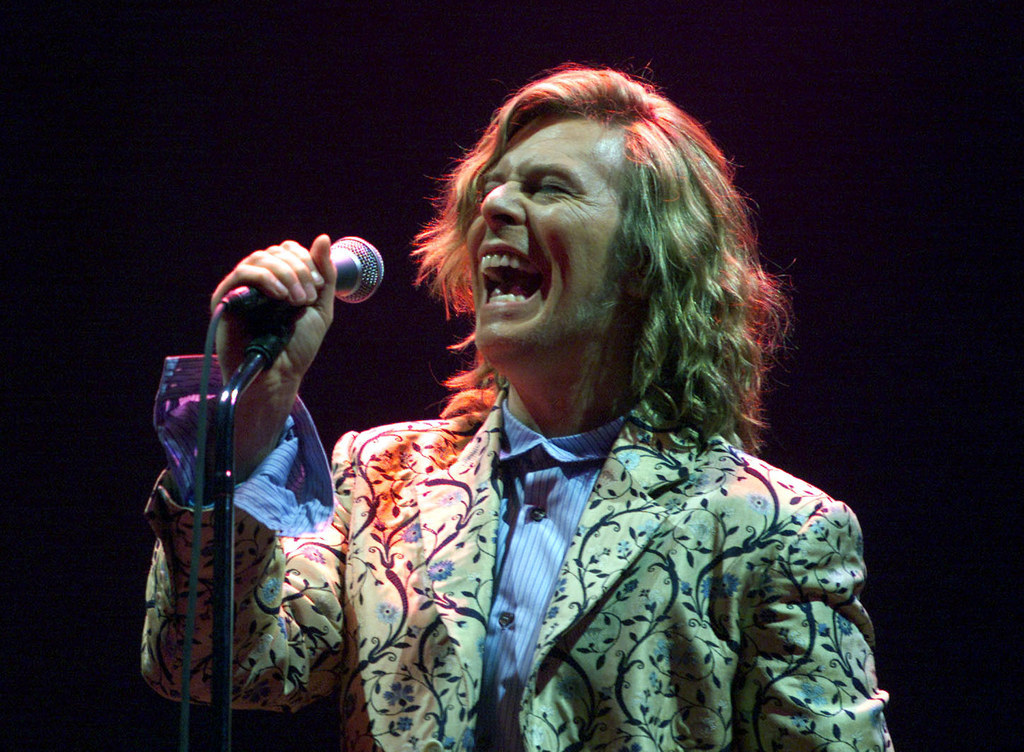 Bowie and Iman in 2002.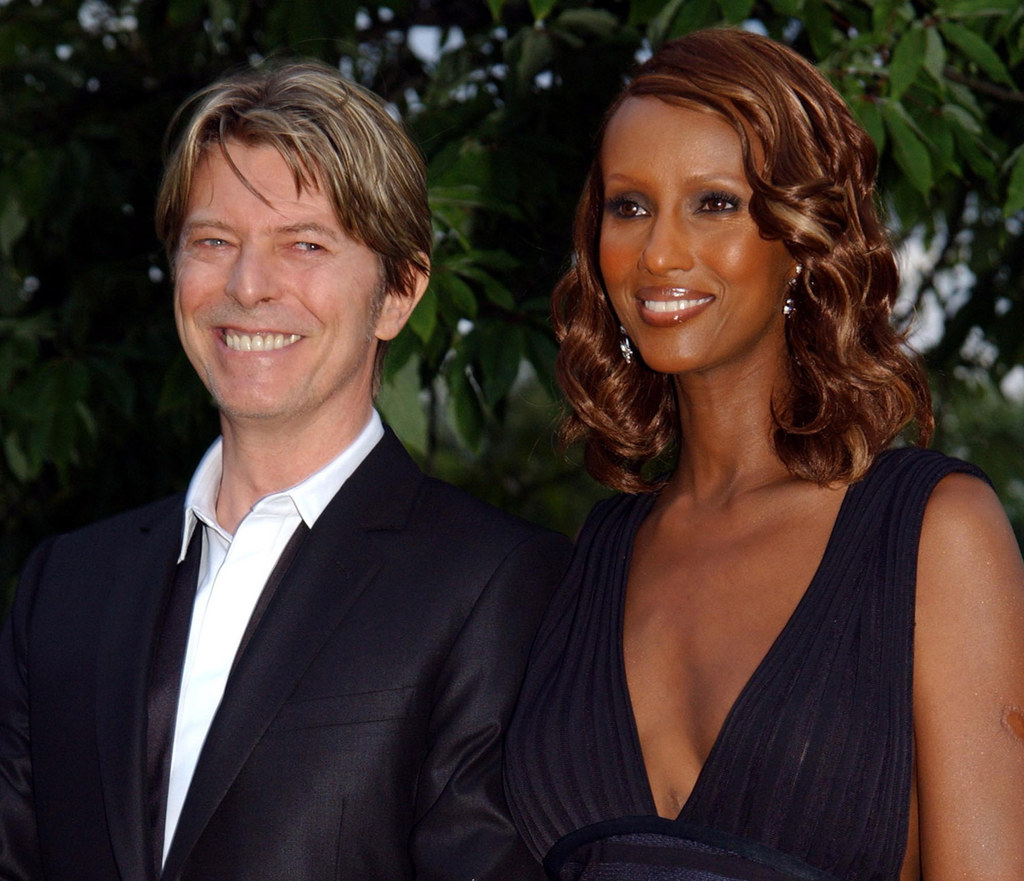 Performing on stage during his A Reality Tour in Montreal, 2003.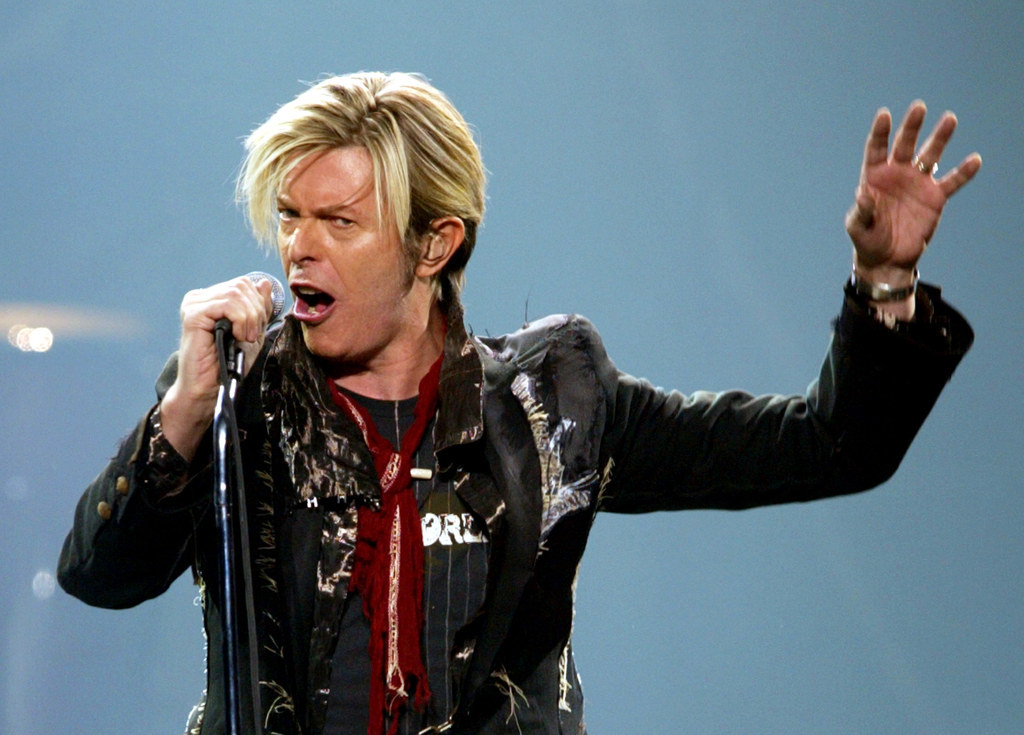 Performing onstage on the A Reality Tour in Prague, 2004.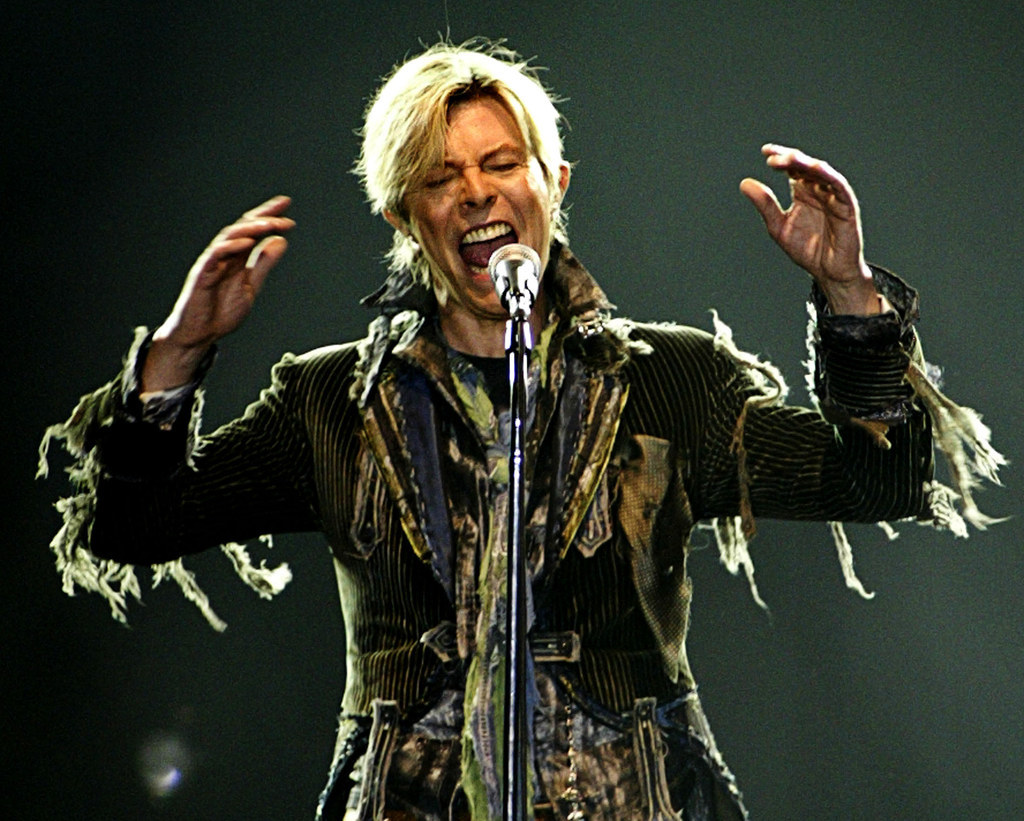 Bowie interviewed on BBC Radio 4's Front Row in 2013:
"It's not the age itself. Age doesn't bother me... It's the lack of years left that weighs far heavier on me than the age that I am. I feel pretty good frankly. I do what I've always wanted to do, I'm a writer, yet it's having to let go of it all."
Flowers are left below a mural of David Bowie on the wall of Morley's store in Brixton, London, the singer's birthplace, after his death in 2016.