I made my second pilgrimage to the Indianapolis 500 earlier this year. I always have a great time watching the IndyCar Series race there (indeed the races in 2011, 2012 and 2013 were terrific), but just as much to watch the people. You just never know who's going to show up.
There was Jim Harbaugh, former Indianapolis Colts quarterback and current San Francisco 49ers head coach, who had the honor of driving the Pace Car. There was that guy who ate too much in cities around America and made a series out of it (his name of course is Adam Richman, but apparently even the photo editor didn't know that). Olympic Gymnasts Shawn Johnson and Jordyn Wieber were there holding #indy500orbust signs. (Halfplug: Read more about that campaign here)
But then, just as unexpectedly, LIVE showed up: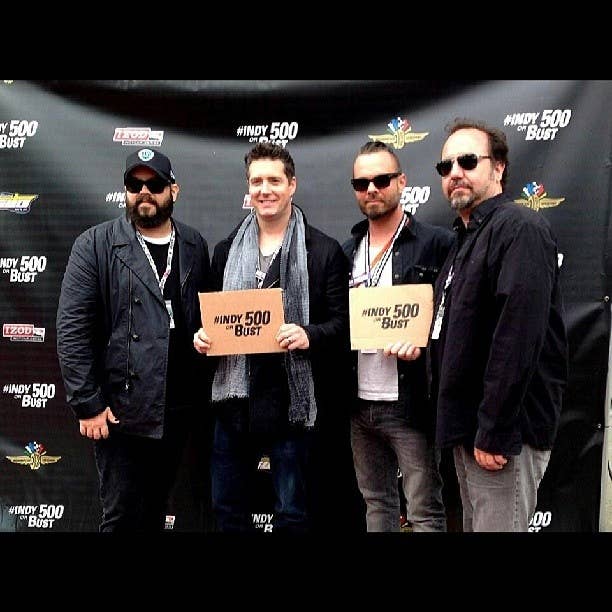 But - why were they there? And where was the bald guy? And, what happened to them? Turns out the backstory is more interesting than you might imagine.
Rise
In the mid-1990s, LIVE was everywhere. After forming in York, PA in the late 1980s, their first album, Mental Jewelry, released in 1991, was an alternative rock hit and would eventually go platinum.
But it wouldn't compare to what was next when their next album was released in 1994.
Hits such as...
What happened?
Then began the cycle of many hit music artists - as American music tastes changed, airplay starts to be tougher to get and album sales began to slow. Their next three albums performed well outside of the United States, but never reached higher than #22 on Billboard Top 200. Their last album, a live CD/DVD compliation failed to chart in the US.
Then, as if right out of "Behind the Music", things got tougher. In June 2009, the band finally decided to take a hiatus as band members worked on other projects.
Later in November 2009, LIVE guitarist Chad Taylor took to his blog (in a now deleted post) sharing news that lead singer Ed Kowlalczyk (yes, the bald dude), signed a publishing deal without the other members of the band, and demanded a $100,000 "lead singer bonus" for a performance earlier in the year . He at that point was "no longer be the vocalist for the band LIVE".
LIVE as we knew it was done.
LIVE "plugs in"
Meanwhile In 2009, Think Loud Development, a development company founded by LIVE members Chad Taylor, Patrick Dahlheimer and Chad Gracey , got approval to operate in Pennsylvania as a telecommunications access provider under the name "United Federal Data of Pennsylvania".
In early 2012, their company announced plans for a new technology center in York, PA to foster growth of an "unnamed" technology company.
In February 2013, the since renamed United Fiber & Data company announced support for a $40 million office building and other plans in Pennsylvania to help spur local growth:
"For over 27 years, we've used our energy to reach out and make a personal connection with literally millions of music fans around the world," Taylor said at a news conference streamed online late this afternoon from York, Pa. "To me, Live's music has always been about connectivity."
And just what does United Fiber & Data do?
"United Fiber & Data provides a superior alternative for fiber networking and broadband solutions. With our completely privately owned and operated network that is strategically positioned West of the North East Corridor's traditional route, UFD is diverse to single points of failure between New York City and Northern Virginia. Our Data Centers offer a cost-effective delivery of ISP bandwidth and carrier interconnects for our customers. And our hands-on Professional Services Group offers a complete suite of solutions that has the backing of an owner-operated, highly redundant and secure infrastructure."
Punk rock, indeed.