Fidget Spinner Cookies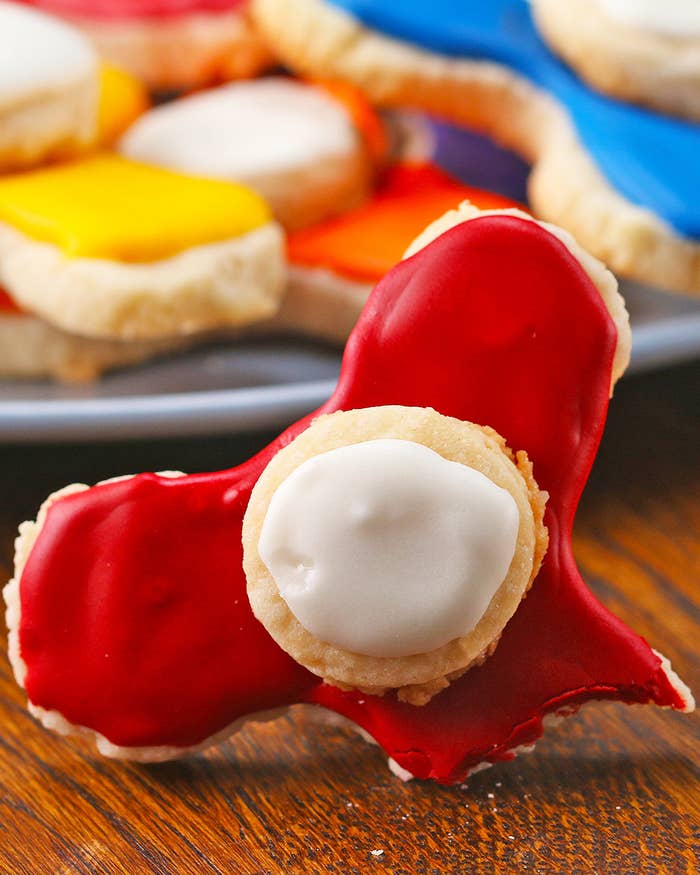 INGREDIENTS
2 ½ cups all-purpose flour
¾ cup sugar
¼ teaspoon table salt
1 cup unsalted butter, room temperature
2 teaspoons vanilla extract
2 tablespoons cream cheese, at room temperature
Royal Icing of any color for decoration
PREPARATION
1. Preheat oven to heat oven to 350°F/180°C.
2. In a large bowl, add the flour, sugar, salt, and mix together with a wooden spoon, until fully incorporated.
3. Add the softened butter and continue to mix until the mixture looks crumbly and slightly wet, about 1 minute longer. Add vanilla and cream cheese and mix until dough just begins to form large clumps, about 30 seconds.
4. Transfer the dough to the table and knead dough by hand until it becomes a cohesive ball. Wrap in plastic wrap and chill in the refrigerator for 30 minutes.
5. Roll out the dough to ¼-inch thickness. Cut into the desired shape using cookie a cutter or a fidget spinner for the spinning part, and a water bottle cap to cut to make 2 center circles for each cookie.
6. Take the extra dough and roll out again to ½-inch thickness. With a straw, poke out small pegs that will act as dowels for the fidget spinner cookies.
7. With the same straw poke holes in the fidget spinner cookie centers and move it around in a circle widening the hole to be larger than the diameter of the pegs that were just punched out.
8. Place all the shapes on parchment-lined baking sheet and bake until light golden brown, about 15 minutes, rotating baking sheet halfway through.
9. Cool the cookies completely. Then decorate as you like with your favorite frosting or decorations.
10. Use frosting, caramel, or royal icing as glue to attach a peg to the backside of one of the small circles, place the fidget spinner cookie base over the peg and attach the second circle cookie with more frosting. Let all the frosting dry before attempting to spin.
11. Enjoy!