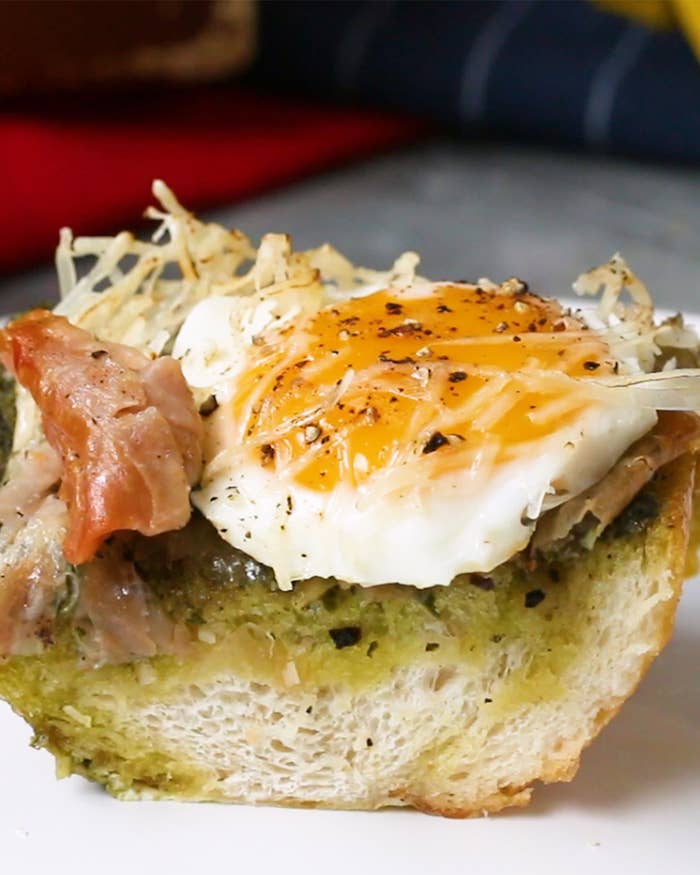 Ingredients:
for 12 servings
2 french breads, large, wide loaves, halved
¼ cup olive oil (60 mL)
1 tablespoon garlic powder
salt, to taste
pepper, to taste
MEAT LOVERS PIZZA PARTY BOAT
marinara sauce
fresh mozzarella cheese, sliced
pepperoni
sausage, crumbled
ham, diced
bacon, cooked, chopped
ALFREDO VEGGIE PIZZA PARTY BOAT
alfredo sauce
fresh spinach
artichoke
mushroom, sliced
freshly grated parmesan cheese
sundried tomato
BARBECUE CHICKEN PIZZA PARTY BOAT
barbecue sauce
chicken, cooked, sliced
shredded pepper jack cheese
bell pepper, sliced
red onion, sliced
PESTO PROSCIUTTO PIZZA PARTY BOAT
pesto sauce
prosciutto, sliced
red pepper, roasted
freshly grated parmesan cheese
large egg
black pepper
Preparation:
1. Preheat the oven to 450°F (230°C). Line a baking sheet with parchment paper.
2. Place the loaves of bread cut-side up on the prepared baking sheet.
3. In a small bowl, combine the the olive oil, garlic powder, salt, and pepper. Brush over the bread.
4. Bake for 10 minutes, or until the bread is golden brown and dried out.
5. Top the bread with the toppings of your choice. You can mix and match any flavor combinations you prefer!
6. For Meat Lovers pizza, add marinara sauce, mozzarella, mozzarella, pepperoni, sausage, ham, and bacon.
7. For Alfredo Veggie pizza, add alfredo sauce, spinach, artichokes, mushrooms, Parmesan, and sun-dried tomatoes.
8. For Barbecue Chicken Pizza, add barbecue sauce, chicken, pepper Jack, bell pepper, and red onion.
9. For Prosciutto Pesto Pizza, add pesto, prosciutto, roasted red pepper, Parmesan, eggs, and pepper.
10. Bake the pizza party boats for 15 minutes, or until the ingredients are heated through and the cheese is fully melted.
11. Slice and serve!
12. Enjoy!