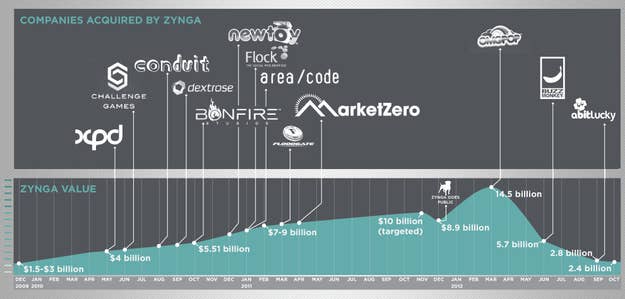 Three Zynga studios were hit by layoffs this afternoon during the Apple event:  Zynga Austin is reportedly losing over 100 employees; Zynga Chicago is reportedly being hit hard as well and Zynga Boston is apparently closing entirely.
Two of the three are made up of studios that were acquired by Zynga. A couple weeks ago, we looked at how studios acquired by Zynga and their games have performed. The results were not very good. The full chart's below.
Austin Zynga started life as Challenge Games, which was acquired by Zynga two years ago for over $20 million, according to TechCrunch. It's the Zynga studio responsible for The Ville, which has been cancelled and is where the bulk of the Austin layoffs hit. The game took 18 months to develop and did not meet Zynga's expectations, according to a source we had spoken to. According to AppData, The Ville's Daily and Monthly active user counts continue to drop, hovering just above 1.5 million and 17.5 million users, respectively.
Gamesutra hears that all of Zynga Boston — primarily made up of Zynga's acquisitions Floodgate and Conduit Labs — which is responsible for Indiana Jones Adventure World, has been closed entirely. As noted, Adventure World's user numbers had shrunk to just above 100,000 daily active users.
Zynga Chicago is in some amount of trouble too.
Zynga's expected to announce its quarterly earnings tomorrow, and you can expect that they will be brutal.