SEATTLE — In the early-morning hours of July 4, Summer Taylor, a 24-year-old nonbinary veterinary assistant and activist, was killed by a motorist as they protested for Black lives in downtown Seattle.
Taylor and Diaz Love, who both use "they"/"them" pronouns, were among a group of protesters that had taken over Interstate 5. They were hit by Dawit Kelete when he drove his car the wrong way on an off-ramp, around vehicles that blocked the freeway, and then into a crowd of frantically dispersing protesters. Taylor and Love were immediately taken to Harborview Medical Center, arriving in critical condition.
Taylor tragically died just hours after being taken off of life support in the hospital; Love would later be moved from the ICU and upgraded to stable condition there. "I cannot believe Summer was murdered," Love wrote on Facebook shortly after learning Taylor had died, according to the New York Times. "If they thought this murder would make us back down. They are very wrong. Very wrong."
In the wake of Kelete being charged with vehicular homicide, Taylor's friends and coworkers interviewed by BuzzFeed LGBTQ now find themselves echoing Love's sentiments to keep protesting, while also fighting to ensure that their friend's vibrant personality and life, which included a love of cartoon tattoos and Lizzo, is not erased.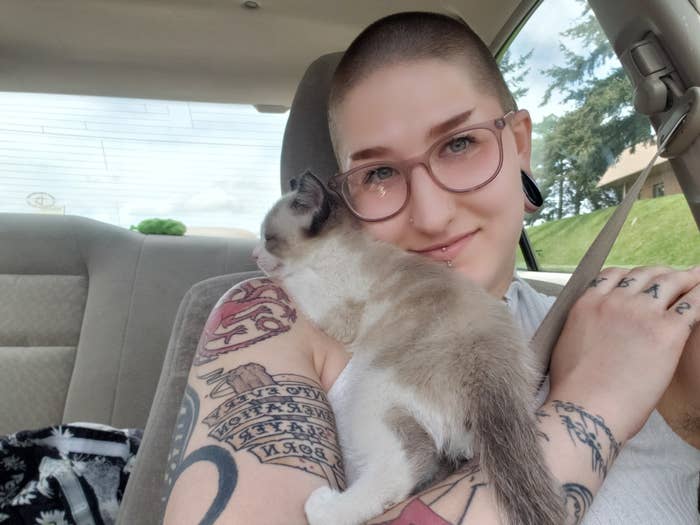 Speaking with friends of Summer Taylor, you learn something surprising about them that tells you a lot about who they were as a person: They loved planning their friends' birthday parties — like a Jersey Shore–themed party for former coworker Ashley Coleman, and Katelyn Hoberecht's 21st birthday, which included a boozy skate and karaoke session, or skate-a-roake, at a local roller rink. And then there was Taylor's laugh. "Everybody talks about that laugh. It was so infectious," said Coleman.
Taylor had worked at Urban Animal since 2017, and when Hoberecht began working there in 2019, she told BuzzFeed LGBTQ, "other than the person who trained me, Summer was the first person to talk to me and shine their bright-ass light on me."
And their journey from coworkers to close friends was almost immediate.
"A week after that we were hanging out, already super close. It's like we had known each other for so long ... they would just be themselves all the time, to the full extent," Hoberecht said. "They wouldn't care if people were staring or making fun of them."
Those close to Taylor say their authenticity put people at ease — that, and a collection of tattoos inspired by favorite television shows and movies, including SpongeBob, Battlestar Galactica, and Harry Potter. Taylor's ever-changing hair colors and styles showed they never shied away from a bold look — with friends saying this boldness was something that inspired them to also feel more bold.
"I have never felt more comfortable and myself around Summer than I have around anyone else," she said.
At work, queer-identified Taylor used that boldness to be an outspoken advocate for LGBTQ+ and social justice issues throughout their entire time there. "They made sure everyone was included and stood up for those who needed standing up for," remembered Ashley Coleman, a former coworker at Urban Animal.
"Summer was such an advocate for everything, whether it was LGBTQ, or Black Lives Matter," Hoberecht said. "Summer was a larger-than-life advocate, and would literally do anything to educate somebody, even if someone wasn't necessarily asking in the nicest way. Summer would stop you on the street and say, 'Hey, did you know about blah-blah-blah?' Just to a stranger. And loved doing it too."
In April, a month after the city of Seattle went under lockdown as the coronavirus raged on, Taylor made a big decision: They came out to their friends and coworkers as nonbinary. Though expressing as "super-femme" in the last couple years with crop tops, skirts, flared pants, and dresses, that wasn't the case recently, said Giana O'Shaughnessy, Taylor's roommate and close friend since high school. While the crop tops might have continued to be a staple in their wardrobe, the skirts were more frequently being swapped out for cargo pants and joggers, and a favorite cap that said "GAY."
"They were more going for dad vibes. They were finding euphoria around being called 'dad,'" O'Shaughnessy said. "When they told me that I was like, 'Summer, you just made our family nuclear, because now there's mom, dad, and two babies."
The two "babies" referred to the cats they were raising together.
Summer Marches On
After the killing of George Floyd in Minneapolis, Taylor, like so many others, found themselves angered by the footage of the 46-year-old man dying in police custody, and took to the streets.
Living only a few blocks away from the now-disbanded CHOP encampment, a radical space used by activists during many weeks of protests in Seattle, they thrust themselves into the Black Lives Matter movement. "They always said that they wanted to [protest] because being Black is dangerous every day and that they were willing to stand in front of any brutality they witnessed," O'Shaughnessy said.
And Taylor began to do just that — almost daily in their final months. But as Taylor became so involved, devoting most of their spare time to activism, O'Shaughnessy urged them to take time for self-care.
"There was one day where they were so tired. They had worked a 12-hour shift and they were putting on their clothes to go out and protest and they were just unbelievably wrecked," their roommate remembered. "I was like, 'Summer, look, it's okay to sleep for a night.' And they were like, 'Really?'"
Taylor continued to head out to the protests nearly every day.
They were present the day police drove protesters out of CHOP. And as officers broke up the site, Taylor scrambled to help people who were teargassed with a homemade mixture of water and milk of magnesia in a spray bottle. "When everyone got maced, they were going around helping people and at some point they realized, 'My hands are burning' and they had to come home to [wash it off]," O'Shaughnessy said.
On July 3rd, Taylor and O'Shaughnessy had marched together earlier in the day in a Rally for Black Lives in North Seattle. "Their energy was so high. They were really pumped. They wanted to go back out. I had to open the next morning. I was like, 'Are you sure you wanna go out without me? You need a buddy.'" O'Shaughnessy said Taylor told her, "I'm going to be okay, don't worry about me."
Later that evening they suited up to march and dance with dozens of other protesters in the nightly Black Femme March with Love on Seattle's west precinct. The group has become known for incorporating dancing into their activism on the streets as a way of mixing joy and raising awareness. Shortly after 1:30 a.m. on July 4, they entered the highway and started dancing the Cupid Shuffle. The Washington State Patrol had blocked off the I-5 nightly for these demonstrations.
Kelete, driving a white Jaguar, swerved around a barrier of protesters' vehicles and drove at a highway speed into the crowd of dancing activists, directly hitting Taylor and Love, and pitching them high into the air before they landed on the pavement, according to local officials.
Multiple phones capturing the tragic moment.
Summer Forever
Since Taylor's death, many of their friends and family have made their social media accounts private due to a shocking amount of hateful comments.
Diaz Love revealed that their Facebook page was filled with death threats as they recovered in the hospital, typing with one hand, and now has locked their accounts down from the public at large.
Urban Animal's social media manager, Liz Lavigne-Webber, has had the exhausting job of "filtering the negative comments just off the Urban Animal page and literally having to stay up all night to do it," said Hoberecht, who had to protect their own social pages too. "I had to make my Facebook private because I had multiple comments like 'Stop playing in the road, this is what happens,' or like 'Vroom vroom' with car emojis."
"It just makes me want to believe it's stupid bots, but it's not, which is the hardest part."
Seattle King County Detective Mike Brown was one of these trolls who posted an "All Lives Splatter" meme on Facebook that showed people getting hit by a car. And on July 8, Taylor's family met with the press and demanded Brown be fired. (King County Sheriff Mitzi G. Johanknecht announced on July 6 that Brown had been suspended.)
Despite the hate at Taylor for their participation in the Black Lives Matter protests and their nonbinary identity that has escalated in the wake of their death, there has also been an incredible amount of compassion and support across social media and on the ground in Seattle.
In the short time since Taylor's death, they have been honored in memorials across Seattle, including at Urban Animal's Capitol Hill location where they worked. Flowers are now frequently left on the doorsteps of the facility to honor their life.
And as those close to Taylor look to the future of the movement that they lost their life marching for, Hoberecht said that if they had survived, they wouldn't want the focus to be on them. Rather they'd want the attention to stay on what is at stake right now: Black lives.
"Summer would honestly want us to put that aside and take their place and make sure that change gets done," Hoberecht said. "Summer's still here. Summer's still marching with everyone and fighting, and I think that's what's important."