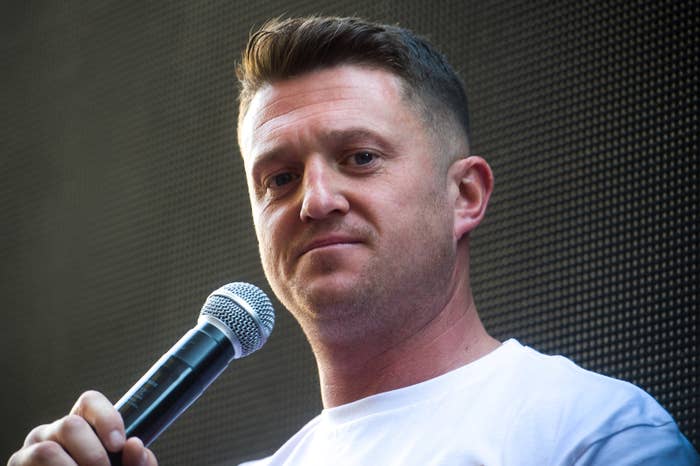 Anti-Islam activist Tommy Robinson is asking for donations and support for his European election campaign on a new YouTube channel that bypasses sweeping restrictions the platform placed on his main video channel last month.

The new channel called "Vote Tommy Robinson MEP for North West, England" was launched two weeks ago, just a few weeks after the video platform introduced measures to restrict the visibility of Robinson's main channel by removing it from search results and preventing him from live-streaming on it.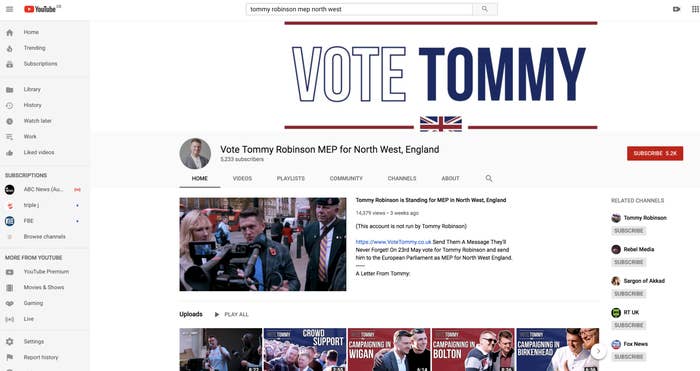 When approached about the new channel, YouTube declined to comment on the record, but BuzzFeed News understands that the company believes it doesn't breach its guidelines.

Labour MP Yvette Cooper, the influential chair of the Commons home affairs select committee told BuzzFeed News that YouTube was a "complete disgrace".
"On a day when governments across the world are pledging action against far-right extremism online, YouTube are exposed once again for promoting online hatred and racist abuse.
"They have repeatedly claimed to us that they put restrictions on channels like this but it's clearly a joke if the restrictions are this easy to get around."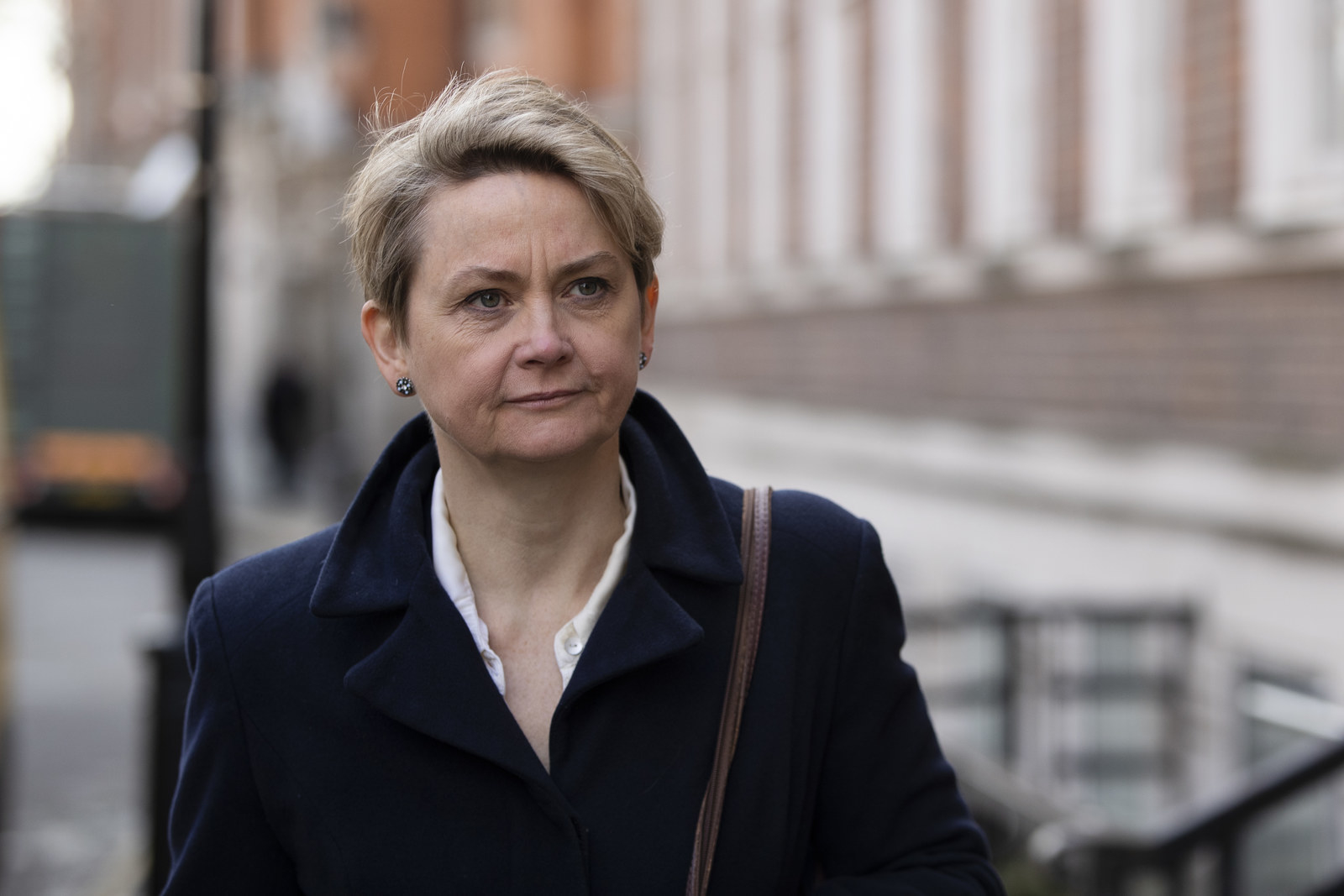 The new channel's main page and each video page includes a disclaimer: "This account in not run by Tommy Robinson", but Robinson has been distributing the videos on his TR News website and to his Telegram channel. On several occasions in recent days, TR News has featured YouTube videos on the channel.

The channel also carries multiple links to his main campaign website.
Shortly before this article was published, and after BuzzFeed News approached YouTube for comment, another line was added to the channel's main page: "This account is operated by the campaign to elect Tommy Robinson as MEP for North West, England."

Unlike Robinson's main channel which features YouTube's black warnings at the start of each video and doesn't feature in recommendations or searches, the new channel has all the regular YouTube features enabled.
Videos show up in search and can be recommended to users, while the channel can also live-stream – one of the most effective ways Robinson was able to gain more than 300,000 subscribers on the main channel. The new one is much smaller with just over 5,000 so far.
In the last 48 hours, five Robinson videos have been posted, including one titled "Tommy Robinson NEEDS your help", which features the former English Defence League leader asking for money to help his campaign and directing viewers to the donation page on his website.
The ease with which the new channel has got round YouTube's restrictions on Robinson illustrates how US tech platforms are struggling to come up with policies on the hoof that deal with UK far-right personalities posting on their platforms during the EU election campaign.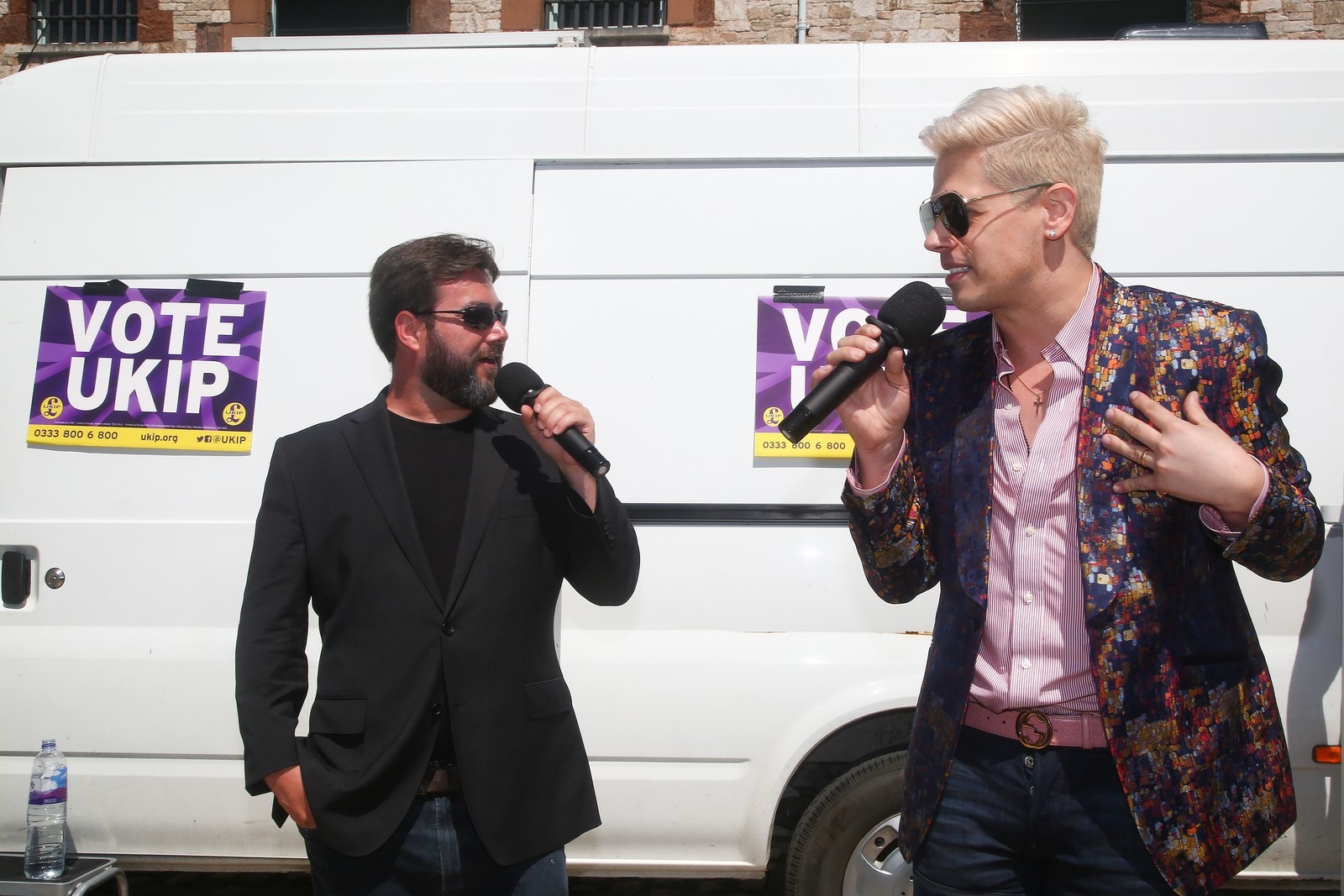 Last week, YouTube de-monetised UKIP candidate and Gamergate leader Carl Benjamin's Sargon of Akkad account after he made comments about raping Labour MP Jess Phillips.
Twitter, meanwhile, removed campaign accounts in the name of Benjamin and Robinson — both men have been previously banned from Twitter — which had many thousands of followers.
Cooper has been focusing her committee's efforts on getting more information from YouTube and its parent company Google on how it deals with hate speech and extremist content.
This week, she wrote to YouTube's director of public policy for Europe, Marco Pancini, in the wake of his latest appearance before MPs..
In the letter seen by BuzzFeed News, Cooper asked for further information about a dozen issues, including the Christchurch mosque attack and the removal of "hateful and abusive" content from the platform.
She also asked for more information about YouTube's suggested video algorithms and how the platform serves up far-right videos to users who are not searching for them.
"What action YouTube is taking to address the recommendation of offensive and controversial to users by its algorithms, including why YouTube promotes and recommends videos and channels featuring the likes of Stephen Yaxley-Lennon (aka 'Tommy Robinson') and Carl Benjamin (aka 'Sargon of Akkad')," Cooper wrote.
"Why YouTube users who have never watched similar videos have right-wing and far-right content recommended to them."
Cooper told BuzzFeed News that YouTube had "repeatedly failed to act" on what she called "pushing this poison".
"We have raised this issue with YouTube time and time again, yet they've repeatedly failed to act," Cooper said.
"We know what can happen when extremist, far-right content is allowed to proliferate online and yet YouTube and other companies continue to profit from pushing this poison.
"It's just not good enough. Other social media companies are at least trying to tackle the problem but YouTube and Google aren't taking any of this seriously enough. They should be accountable for the damage they are doing and the hatred, racism and extremism they are helping to spread".
UPDATE: On Friday, YouTube released a statement, which said the company wouldn't be taking action against the new Tommy Robinson channel.
"Balancing freedom of expression with our priority of ensuring that YouTube remains a safe environment for community is not always straightforward," said a YouTube spokesperson.
"That's why we've applied tougher treatment to Tommy Robinson's channel in keeping with our policies on borderline content.
"The third-party run 'Vote Tommy Robinson MEP for North West of England' channel shares information about an official political candidate running for public office. We'll take swift action should content on the channel violate our policies."