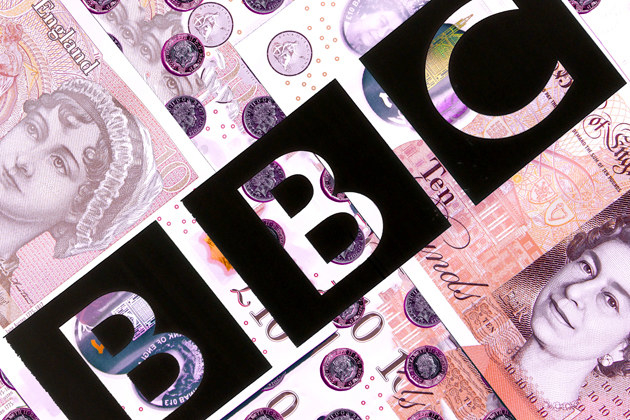 More than a dozen women have shared their personal experiences of finding out they were being paid thousands of pounds less than their male colleagues at the BBC, as a dramatic showdown now looms between female staff and the British broadcaster's management in Westminster.

In evidence presented to a Commons select committee, and published on Tuesday morning, BBC Women – a group of 170 women at the BBC who banded together after the broadcaster disclosed its highest-paid presenters last year – has handed over testimonials about what are alleged to be breaches of the country's equal pay law.
"In 2014 I was offered a contract to present a flagship arts programme," read one story from an unnamed BBC radio presenter. "Two men with no broadcasting experience who had also been given trial shifts presenting the programme during the search for a new presenter were paid 25% more per programme.
"Then I found out that the existing male presenter was being paid 50% more than me per programme. When I asked for the pay gap to be corrected the line manager told me 'The BBC doesn't do equal pay', and that in raising the issue I was being aggressive."
In other stories presented to the select committee:
An unnamed BBC Radio 4 reporter said she recently found out she was being paid £7,000 less than a man doing the same job. After beginning an official grievance process against the BBC, management offered her a £4,500 pay rise, but have yet to backdate the pay.

In 2012, an unnamed regional TV presenter, who had 28 years' experience as a journalist, found out her male colleague was earning one-third more. Years later, the presenter got a 5% pay rise.
Former BBC Scotland health correspondent Eleanor Bradford said she complained to management after finding out she was "one of the lowest-paid correspondents at BBC Scotland". Bradford claims she was given a £5,000-a-year pay rise, which was £10,000 a year less than male correspondents.
A BBC sport editor said she asked four men doing the same job at the broadcaster for their salary details. She said they were being paid up to £10,000 more than her.
Along with the testimonials, the BBC Women group said much of the recent media coverage was focused on the pay of senior presenters. It was revealed last week that six male journalists had agreed to take pay cuts in order to address the problem.
"Behind the headline, the most important issue of equal pay at the BBC, we believe, is a wider culture of gender discrimination which can be seen in the patterns of promotion, especially after women take maternity leave," the BBC Women statement read.
"Too often talented BBC women are overlooked in favour of male colleagues or outsiders brought in — sometimes at inflated rates — without the appointment being made through any transparent appointment process."
The written evidence was released by the Commons select committee on digital, culture, media, and sport on Tuesday, just hours before the BBC was due to make public its much-anticipated review into gender pay.

A BBC spokesperson said the organisation was looking forward to "an informed debate at the select committee based on all the facts".
"We have already set out how we plan to deliver real pay transparency for our staff, and today we'll publish proposals to significantly change how we manage on-air pay so we have a clear, transparent, and fair system for the future."

The BBC has been trying to respond to a gender pay crisis that began after the release of presenters' salaries last year, exposing how few of the broadcaster's top-paid talent were women.
The committee has also released the written evidence from the National Union of Journalists, which made similar bold allegations, claiming BBC management was engaged in illegal employment practices.

"Unnecessary secrecy, a lack of transparency and widespread misuse of managerial discretion has enabled a culture which has clearly normalised an approach to pay that the NUJ believes to be discriminatory and unlawful," wrote the NUJ.

The union claims several more women have joined in legal actions against the BBC since it lodged a case on behalf of 121 women who claim they're being underpaid compared with their male counterparts.
The chair of the Commons select committee, Tory MP Damian Collins, released a statement suggesting the BBC had a "cultural problem" on its hands with regards to the way it pays women.
"It is clear that the BBC still has a big problem in terms of gender pay," Collins said. "Whilst a few big names on high salaries have been the focus of media attention in recent weeks, we are concerned to see evidence suggesting a much deeper cultural problem that exists."

Its publication also comes a day before the BBC's former China editor Carrie Gracie will address the same committee, to walk the MPs through her sensational allegations against the British broadcaster.

As BuzzFeed News first reported earlier this month, Gracie quit her post as China editor and accused the BBC of running a "secretive and illegal" culture in the way it pays women.
On Wednesday, an hour after Gracie's appearance, BBC director general Tony Hall and the new director of BBC News, Fran Unsworth, will also give evidence to the Commons select committee.