Overlooking Sydney Harbour, the Australian office of Uber was the venue for a product launch on Tuesday, just days before the company introduced a mandatory booking fee for every ride.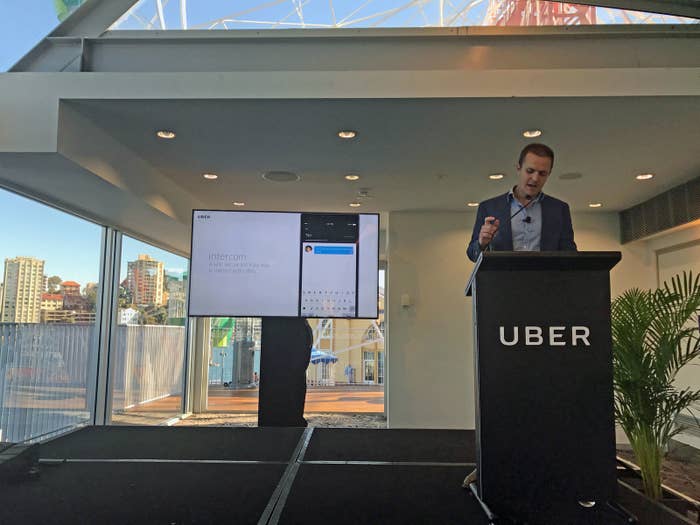 The American company will be slapping every Australian rider with a 55 cent booking fee from Friday, which is being introduced to cover "operational costs" of the local business.

"It's the first time we've launched a booking fee since we've launched three years ago," Uber Australia's head of operations Mike Abbott told BuzzFeed News on the sideline of the launch. "We're bringing it in place to cover the operational costs of the Uber Australia business."

Abbott also said the minimum trip cost will rise around the country. For example, in Sydney it increases from $8 to $9.

While executives took turns at unveiling new features on Tuesday - there's a new in-app messaging service called Telecom, and a commercial partnership with one of the country's "most progressive" fuel providers Caltex - Uber also wanted to talk about how the app helped people by giving them the opportunity to work a second job.
"We know there is low wage growth and costs of living continue to grow," Abbott said. "Uber is a great opportunity for people who want to earn extra money, to support themselves or their family."
The latest economic data shows Australian wages have failed to keep pace with the cost of living, which is becoming a key issue for political leaders, business executives and unions.
Uber has attracted praise for disrupting the taxi industry business model and creating flexible work, but also criticism for its treatment of drivers.
Abbott described Uber as a "safety net" for the unemployed.

"It's a great safety net for people in between jobs. With costs of living rising many people are looking to drive a few hours a week to support themselves and their families."
The launch comes against a backdrop of complaints from Uber drivers about poor pay and work conditions. In April Melbourne drivers were reportedly urging each other to go on strike. In South Australia, drivers complained to ABC News that they were earning "minimum wage".

It didn't deter about 100 Uber drivers who were invited to the product launch. They all had an average driver rating of 4.9 stars out of five. When they were introduced to the media, Uber employees in black t-shirts lining the room whooped and cheered.
"They enjoy driving for three reasons," Abbott told BuzzFeed News. "The earnings, the flexibility of being able to work... whenever they want, and the third is community."

Asked about a recent overseas push to introducing an in-app tipping function so riders could easily add a few extra dollars for drivers, Abbott said: "There are no plans to introduce tipping".