Pauline Hanson Was Left Speechless After Finding Out Sam Dastyari Is A Muslim
That awkward moment when you realise you're sitting next to a Muslim.
Pauline Hanson was left gobsmacked by Labor senator Sam Dastyari on Monday night's Q&A after he spoke about his family roots in the Muslim nation of Iran.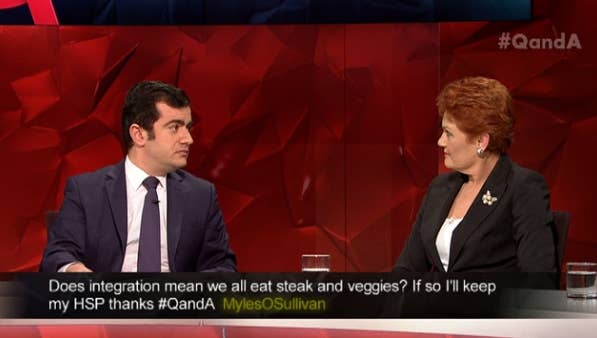 It was always going to be a problematic episode (hell, the producers sat Hanson and Dastyari next to each other) but the exchange delivered one of the most awkward moments in the show's history.
The Labor senator asked Hanson whether "five-year-old Sam Dastyari" should have been allowed to come to Australia from Iran in the late 1970s.
Pauline Hanson turned to Dastyari and asked "Are you a Muslim?"
"Yeah and I have never hidden it away," replied Dastyari.
"Were you sworn in under the Quran?" asked Hanson.
"I was born in an Islamic nation and by being born in an Islamic nation and under Iranian law... my parents fled to be able to come to this country," he said.
Greens senator Larissa Waters was on hand to break the ice, lobbing in, "Is it because he doesn't have three heads?"
BuzzFeed News confirmed with the senator after the show that he considers himself a "non-practicing Muslim" and was born to Muslim parents in Iran.
From that moment on, it was like Hanson never took her eyes off him.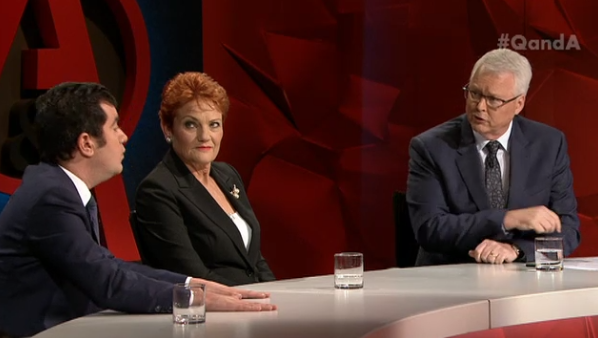 Like there was a moment where a Muslim audience member asked Hanson around for dinner – promising a "haram snack pack" – so he could educate her on his culture.
There was another tense exchange between Hanson and a Muslim man who accused her of stoking Islamophobia.
Outside the live recording at ABC's Ultimo headquarters, police horses and the riot squad were needed to separate pro and anti-Hanson camps who showed up to protest.
It may have been a car-crash of cringe... but at least we'll always have this photo of five-year-old Sam Dastyari.