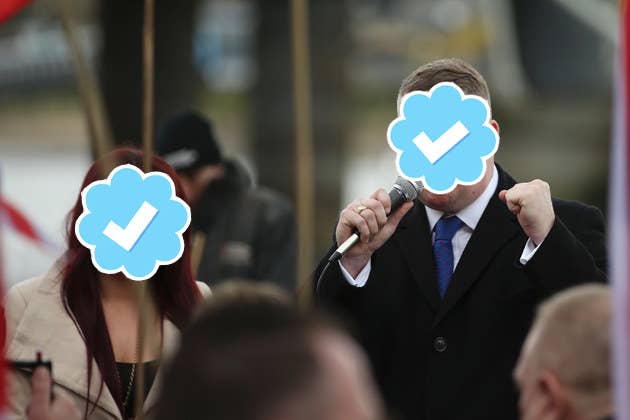 Twitter has repeatedly avoided questions as to why far-right UK accounts remain verified, after a week in which the US president retweeted a user from Britain First – a fringe-group that continues to benefit from having the social media company's blue tick.
BuzzFeed News showed Twitter a list of five British accounts monitored by social media advocacy group Hope Not Hate for posting anti-Muslim hatred, including those of Britain First leaders Jayda Fransen and Paul Golding.
The company refused to explain how and why the British accounts continue to have blue ticks despite an ongoing US crackdown on far-right tweeters.
The issue emerged after Donald Trump retweeted three contextless, anti-Muslim videos posted by Fransen, which sparked an emergency debate in the UK House of Commons and led to prime minister Theresa May distancing herself from the actions of the US president.

It's unclear exactly how Trump stumbled on to Fransen's account on Wednesday (the president retweeted three separate tweets, cherry-picking them from among other racist videos on her timeline), but the White House suggested Trump wasn't familiar with Fransen or Britain First.
As Breitbart London editor Raheem Kassam later said on the BBC, Fransen's blue tick may have played a role in the president's thinking: "It was retweeted into his news feed by one of the people he follows and he doesn't sit there and research who the original tweeter was... by the way, Jayda Fransen has a little Twitter verified symbol next to her name as well."
For context, Britain First is a fringe political party without any elected representatives, and is best known for a Facebook page with 1.7 million followers and incendiary stunts against British Muslims, such as sit-ins of mosques.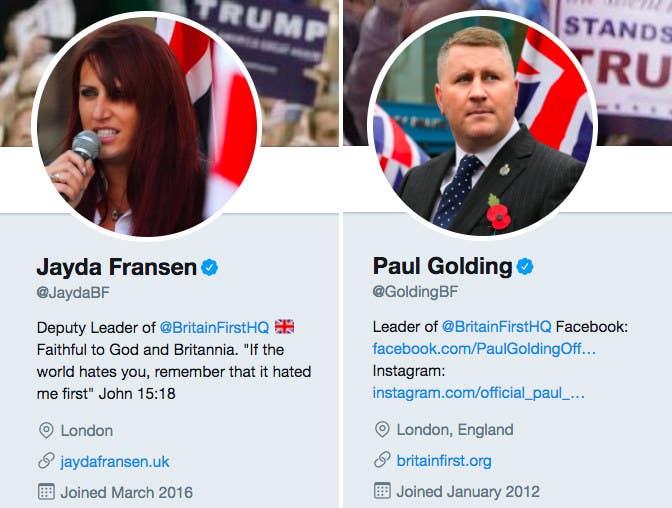 Trump's rogue retweets raise questions about why Fransen and other far-right UK tweeters remain verified by Twitter – seemingly giving their anti-Muslim tweets legitimacy.
After a storm of criticism, Twitter founder Jack Dorsey announced a review of the verification system, describing the current blue tick process as "broken".
It's seen longtime Trump ally Roger Stone kicked off the platform, while white supremacist Richard Spencer and videomakers Laura Loomer and Tommy Robinson were stripped of their verification ticks.
Hope Not Hate gave BuzzFeed News a list of UK accounts that the group monitor for posting anti-Muslim tweets. All have tens of thousands of followers and continue to be verified by Twitter.
The list includes the two Britain First leaders (@jaydabf and @goldingbf), YouTuber Caolan Robertson (@caolanrob), former "stand up comedian" Pat Condell (@patcondell), and former president of the British National Party Nick Griffin (@nickgriffinbu).
"Why is Jayda Fransen allowed on Twitter at all, let alone having a verified status?" a Hope Not Hate spokesperson said. "This is a woman who runs a hate group, pure and simple.
"The irony is that, before Donald Trump intervened, both she and Britain First were in the doldrums and in disarray.
"It is way beyond time for social media companies to wake up to their responsibilities as publishers, and to accept that their platforms cannot and should not be used to platform hate speech or hate content."
BuzzFeed News has approached Twitter on two different occasions this week with questions as to why the recent US crackdown hadn't extended to the UK, especially considering in light of the tweets from Britain First.
On both occasions, a Twitter UK spokesperson relied on a pro-forma statement that didn't address the concerns raised in the wake of Trump's tweets.
We are continuing a comprehensive review our verification policies, including an initial review of verified accounts. We will remove verification from accounts whose behavior does not fall within these new guidelines. We will continue to review and take action as we work towards a new program we are proud of.
On Friday, Fransen posted a tweet in Trump's mentions, pivoting off the president's attacks on the New York Times by seemingly threatening to show up at the homes of reporters.
Several users reported the tweet, while UK-based New York Times reporters would not comment about whether they've spoken to Twitter or authorities about Fransen's tweet.