Former prime minister Tony Abbott has given his first broadcast interview since being dumped from the top job and reminded everyone that nothing has changed under the new Malcolm Turnbull prime ministership.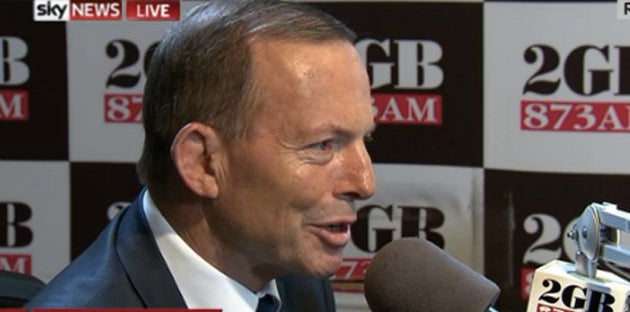 Abbott gave the interview to Ray Hadley on 2GB radio on Tuesday morning and said the fact that every policy is the same shows his government got it completely right on policy.
"Climate change, the same. Border protection policy, the same. National security, policy, the same and if you listen to the [new] PM and the treasurer, they're even using exactly the same phrases that Joe Hockey and I were using just a fortnight ago," he said.
And Abbott ~lavished~ more praise on the new leadership team of Turnbull and Morrison for not changing his trademark slogans.
"Now of course Malcolm and Scott are saying [the slogans] because they're right, they're absolutely right."
Amid the mess over whether Scott Morrison warned Abbott about the oncoming leadership spill, the former PM did reveal there was a "conversation" between Morrison and Abbott's chief of staff in the days before.
"Certainly there was a conversation as I understand it between Scott and Peta Credlin. He's obviously put one construction on the conversation, my office put a different construction on the conversation," he said.
He then snuck in a dig at Morrison, who a week earlier on the same radio show had his Christian beliefs called into question.
"In the end, I suppose all of us have got to answer to our god and our consciences. I'm just not going to get into who might have said what, who should have said what, to whom and when," said Abbott
Most people could see the funny side though.
Because it was an awesome lovefest.
It ended with a strangely detailed discussion about Abbott's choice of swimwear and the merits of Speedos during an ocean swim.
"Sure, put the boardies on for sun protection purposes as well as for aesthetics once you're back on the beach, but when you're in the water it's the Speedos, I'm afraid."
Two weeks ago Abbott gave his farewell speech and said, "There will be no wrecking, no undermining, and no sniping." And yet now...
Follow BuzzFeed Oz Politics on Facebook!