A talent agency for celebrities, radio stars and TV personalities has told BuzzFeed News it fields "commercial" opportunities for Liberal backbencher Tim Wilson.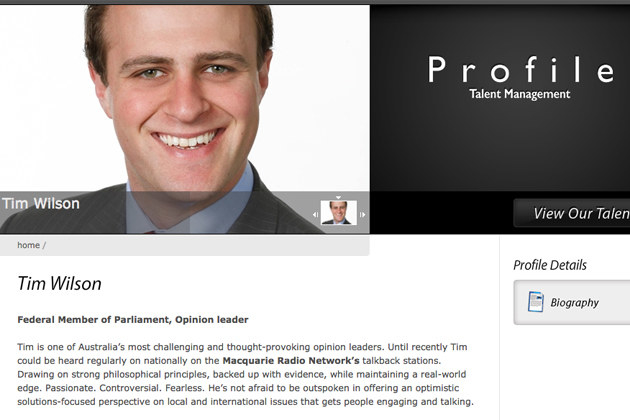 The Liberal member for Goldstein is listed as "one of Australia's most challenging and thought-provoking opinion leaders" on Profile Talent Management's list of clients, alongside radio stars Hamish & Andy, comedian Joel Creasey and TV personality Sonia Kruger.
The spiel for Wilson reads: "Drawing on strong philosophical principles, backed up with evidence, while maintaining a real-world edge. Passionate. Controversial. Fearless. He's not afraid to be outspoken in offering an optimistic solutions-focused perspective on local and international issues that gets people engaging and talking."
BuzzFeed News spoke to Shaun Levin, Wilson's representative at the talent agency, who said he'll continue to field "commercial" opportunities for the MP while Wilson sits in parliament.
"The decision to accept any commercial engagements, which Tim has not since being elected to Parliament, obviously remains with Tim."

In 2015 former prime minister Tony Abbott joined a global speakers' agency, charging more than $40,000 for a speech.

Australia's backbench MPs are allocated enough budget to employ about four staff members, with many hiring a media adviser to deal with speech requests.
Wilson told BuzzFeed News his talent agent often just forwarded requests to his media staff.

BuzzFeed News is not aware of any other first term backbenchers who have a talent agency to deal with commercial opportunities.